Brodie Mountain Ski Area
New Ashford, Massachusetts
Status:
Lost/Defunct
First Season:
1940-41
Last Season:
2001-02
Vertical Drop:
1250 feet
Standing Lifts:
0
Past Lifts:
4 doubles, surface lifts
Left: Brodie Mountain during its heyday
Recent NewEnglandSkiIndustry.com News:
Located in the shadow of Mt. Greylock, Brodie Mountain had a long history of skiing, dating back to at least the 1935-36 season. Around that time, the 1.1 mile, 930 vertical Brodie Mountain Trail opened. By the end of the decade, Brodie was home to a ski jump and night skiing.

Lift service on Brodie Mountain likely started when a 1,100 foot rope tow was installed at "Makaroff's" for the 1940-41 season. A beginner rope tow was likely added for the 1941-42 season.

In 1946-47, Walter Schoenknecht leased the now-somewhat established Brodie ski area from its owner, "Mad Russian" Gregory Makaroff. The area likely closed after Schoenknecht departed for Mohawk Mountain in 1947.

The land eventually ended up in the hands of the Kellys, a logging family. In 1963, the Federal government declared Brodie to be one of three ideal locations for a commercial ski development in Massachusetts.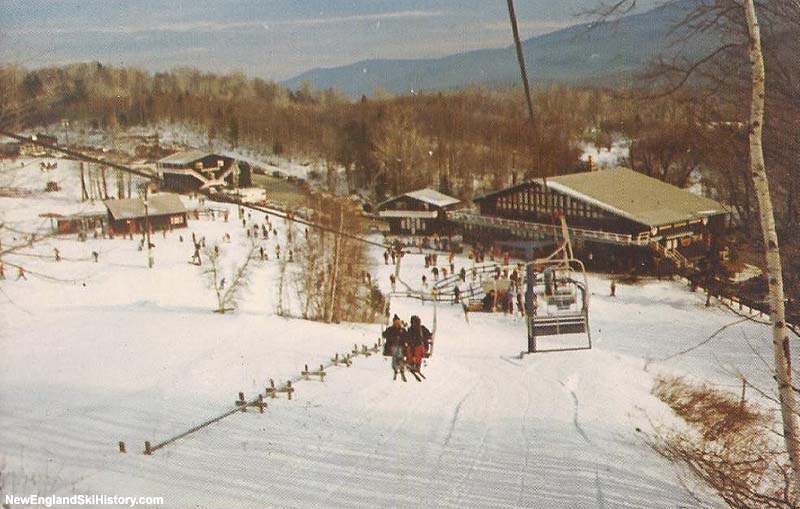 Matt's Chair circa the 1970s

A New Beginning
During early 1964, Jim Kelly scouted out locations for ski trails, seeking the counsel of regional ski experts such as John Hitchcock. Trail clearing commenced on April 28, 1964, followed by the installation of two Stadeli lifts and 360 lights for night skiing.

After being closed for over a decade, Brodie reopened in 1964-65 with five trails and an 850 foot vertical drop. In conjunction with night skiing, the large Blarney Room pub quickly became a happening place. The natural snowfall wasn't abundant, however, so Kelly had to get creative. That February, he used his logging trucks to haul snow from nearby Berkshire Hills Country Club to cover the slopes in time for President's Week.

For the second season, a new trail called Ryan's Express was cut. More importantly, a massive snowmaking system was installed, covering 90 percent of the terrain. The improvements paid off, as Brodie reported a 20% increase in business that season.

For 1966-67, two new trails opened, named JFK and Mickey's Chute. With 7 miles of trails open at night, Brodie now billed itself as the largest night skiing facility in the world.

Expanding to the Summit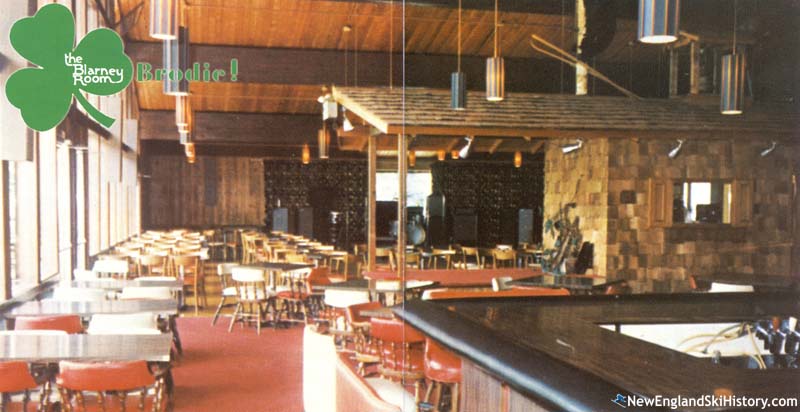 St. Patrick's Day slush jump in the 1990s

The ski area expanded to the summit in 1967, giving it the largest vertical drop in Southern New England. Along with the new T-Bar, 4 new trails opened. Thanks to snowmaking and decent weather, Brodie would operate for 145 consecutive days and nights.

Chairlift service extended to the summit for the 1968-69 season with the installation of Dot's Chair. Named after Jim Kelly's wife, the new 5,600 foot Borvig double was advertised as the longest and highest chairlift in the state. In addition to the chairlift, the famous Tipperary beginner trail was added.

Matt's Chair was added for the 1970-71 season, replacing the original novice T-Bar.

In the midst of the energy crisis, Kelly leased a nearby gas station circa 1973, offering to sell gas to anyone with a valid Brodie lift ticket.

A new Stadeli double chairlift, stopping just short of the summit, debuted along with two new trails for the 1977-78 season. This would be the final chairlift installed at Brodie.

Despite the snow drought of the early 1980s, Brodie kept on chugging, opening a new cross country ski center near the mountain for the 1980-81 season. Despite open the mountain on October 22 in 1982, warm weather kept the area only operated for 30 days prior to January.

In terms of facility size, Brodie remained about the same thereafter, adding little terrain and no new lifts. It did, nonetheless, remain a major player in the regional ski industry, especially around St. Patrick's Day. Every year around that time, trails and beer were dyed green, while the sound of bagpipes flooded the area.

Meanwhile, nearby Jiminy Peak was rapidly growing, eventually surpassing Brodie in both lift infrastructure and snowmaking firepower. By the time the 1990s drew to a close, Brodie's facilities were aging, as was its dwindling skier base.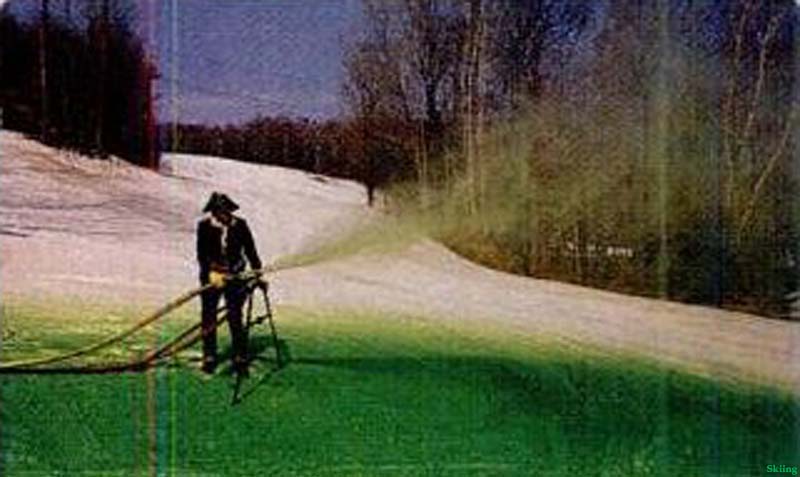 The Brodie base lodge in the 1990s

New Ownership and Closure
Ready to focus on golf rather than skiing, Jim Kelly sold the ski area to longtime rivals Brian Fairbank and Joseph O'Donnell in 1999

Jiminy Peak operated it for three seasons, initially with plans to install a high speed detachable chairlift. After investing in snowmaking improvements, the new ownership realized Brodie would require more investment than they could justify with the remaining skier-base. As a result, they shut down skiing operations after the 2001-2002 season, while keeping the tubing facility open.

In 2004, Fairbank and O'Donnell sold Brodie to Silverleaf Resorts for $2.6 million. As part of the deal, Silverleaf could not operate a commercial ski or snowboard area at Brodie.

Silverleaf planned to build 326 timeshares at Brodie for a cost of $50 million under the name of Snowy Owl. While the snow tubing operation continued through the 2006-2007 season and initial demolition of old lifts and buildings took place, the larger project was not to be. In the spring of 2012, reports came out that the mountain was once again for sale.




Post closure Brodie Mountain as seen from south of Mt. Greylock (2006)

While modern equipment, such as the Magic Carpet and newer fan guns, has been removed, much of the core infrastructure remains in place. The property is reportedly posted no trespassing.

Expansion History

Image Gallery


Lifts
Click on lift name for information and photos
Standing Lifts

Installed

Andy's Lift
Stadeli
Chairlift - Double - Fixed

1977-78

Dot's Lift
Borvig
Chairlift - Double - Fixed

1968-69

Matt's Chair
Borvig
Chairlift - Double - Fixed

1970-71




Maps

Year by Year History
Adult Weekend Full Day Lift Ticket; Adult Full Price Unlimited Season Pass

2000s
Ticket Price
Season Pass Price

Pass Payback

Opening Day

Closing Day

Skier Visits

2001-02
$29.00
March 17
2000-01
$40.00
1999-00
$40.00
1990s
Ticket Price
Season Pass Price

Pass Payback

Opening Day

Closing Day

Skier Visits

1998-99
$39.00
1997-98
$39.00
1996-97
$38.00
1995-96
$38.00
November 17
1992-93
$30.00
1991-92
$30.00
1990-91
$30.00
1989-90
$30.00
1980s
Ticket Price
Season Pass Price

Pass Payback

Opening Day

Closing Day

Skier Visits

1988-89
$30.00
1987-88
$28.00
1986-87
$24.00
1984-85
$22.00
1983-84
$20.00
1982-83
$19.00
October 24
1981-82
$17.00
1980-81
$15.00
1979-80
$14.00
October 19
90,000
1970s
Ticket Price
Season Pass Price

Pass Payback

Opening Day

Closing Day

Skier Visits

1977-78
$12.00
1976-77
$11.00
1975-76
$10.50
October 30
1972-73
$10.00
1971-72
$9.00
1970-71
$9.00
November 18
1969-70
$8.50
October 25
1960s
Ticket Price
Season Pass Price

Pass Payback

Opening Day

Closing Day

Skier Visits

1964-65
$6.00
December 12
Visitor Memories
"My Dad sold lift tickets every Sunday from 3 to 11pm so our family could have passes. Best time of my life. Learned how to snow plow on the tow rope to parallel skiing down shamrock! My one regret....never having enough courage to do the slush jump!!!!!! Best memories ever!"
Kelly Heffernan, May. 16, 2016
"Learned to ski there at night with my friend from work. Loved the atmosphere of the mountain. Was at the St Patty's slush jump in 1995, so much fun. I filmed it and put the video up on YouTube if anyone is interested. Just google Brodie Slush Jump and it should come up."
Sue Swanteson, Apr. 13, 2016
"I've missed brodie for years since J.P. took over and shut it down. Learned to ski there in the early 1990s. Great atmosphere, good folks. "
Gilles Heno-Coe, Apr. 10, 2016
"We loved skiing here with the kids. We put our daughter, 4 years old, in the nursery for a really reasonable price and we skiied all day, coming to the nursery to eat lunch with her. We would take her out for skiing, and put her back when she was tired. The lifts were slow, but I loved this place. Lovely family memories!"
Joanne Yurso, Apr. 2, 2016
"Grew up going to Brodie. Loved it there. Used to be pretty crowded in the 60's, I remember being turned away due to crowds and ending up at Jiminy. My son's HS Ski Club went to Brodie on Monday nights in the 90's,we used to go over and ski with him. Loved that place! Many memories- final time there was not for skiing, it was for an Anniversary Party - renewal of Wedding Vows held in the Blarney Room, probably was back in 12-years ago. - great time."
EIleen Finn-LeMatty, Mar. 17, 2016
"First tracs under Andy's lift. Fifteen inches of dry powder. Best mogul run of my life. Winter of 1979Bigger, smaller, Brodie is the most fun terrain around."
Jim Zawistowski, Mar. 17, 2016
"I could remember when I was working for K2 all of the pro races & on-site demos we had at brodie. Great place to hang out especially St Patrick's day."
John Rooney, Mar. 17, 2016
"We loved skiing at Brodie, it lives on in my heart!Lots of great memories!"
Dr.Robert Johnson, Mar. 17, 2016
"Remember the green snow on St.Patricks day"
Tom Parente, Feb. 28, 2015
"Skied at Brodie many times in the late 80s and early 90s while a student at WNEC in Springfield. In my heart, it's still my all time favorite place to ski."
Craig Hunter, Feb. 21, 2015
"My uncle taught us to ski at Brodie Mt in the mid eighties. When we started earning our own money, we would take advantage of the $10 Sunday and Monday night lift tickets. Once we were old enough, we enjoyed the time we had in the Blarney Room. I remember winning a contest, in the Blarney room, for having the least amount of cash on me! Those were the days."
Phil Sanford, Feb. 12, 2015
"Loved Brodie. Grew up skiing there in the mid 80's---- mid 90's. Used to be a large group of us from Eastern Long Island. Us kids then would do the 'twilight' skiing as our parents would drink lots of beer. Ohhhhh the memories!! We even used to sleep in our motor home some trips up there. If it were open again we would be still visiting every year with our expanding families. Progress blows some times. Wonderful Brodie, R.I.P There will never be another like you"
Tom Warner, Feb. 11, 2015
"Had awesome night ski times at Brodie, with my big bro Dave, and my Scotia NY ski buds Phil, Ken, Bill, and Pete, in the 70's."
Paul Hubbell, Dec. 6, 2014
"Ahhhhhhh the Blarney Room!!!! Got wasted and sang Van Morrisson's 'Browned Eyed Girl' with the band one night..........great memories ...oh yeah, and the skiing wasn't half bad either!! Where else could you get green swizzle sticks shaped like skiis for your drink and green snow?? Truly miss the good old days:~( !!"
Gary Allen, Oct. 9, 2014
"My parents put me on skies at 2...Brodie was a great place to be a kid and ski. The night skiing was fabulous ! So much fun. Unforgettable !"
Jennifer Johnson, Sep. 16, 2014
"3.23.14Skied at Titus Mtn Malone ny and part of my childhood was there. All of the Blue Brodie snow canons where there. Miss that old Mtn in Mass. "
larry jacques, Mar. 24, 2014
"Grew up there and still have all of my ski passes from there starting with 1973! Grandmother worked in the office, dad was a ski instructor and my first job was a ski instructor at age 13. I would buy it if I could! :)"
Kellie D'Elia-Laskin, Mar. 18, 2014
"I have great memories of skiing Brodie with friends and family from the 70's through the 90's. Today, I'm a guide for Steamboat Powdercats and have many conversations with guests from the east that have similar memories. One being skiing green snow on St. Patricks day..... Yeeeha!"
Kyle Pietras, Mar. 18, 2014
"Was the coolest place on earth! Skied almost every day and night !"
Alice Murray, Mar. 17, 2014
"Thinking of all the great St Patrick's Day festivities at Brodie. They will never be duplicated! Spent many, many great winters there! And had my wedding reception there. Not many people can say that........you had to KNOW people (Joe Gleason)"
Michaela Gleason Clancy, Mar. 14, 2014
"Brodie was THE place to ski on St Patricks Day, I still have a pair of Brodie green ski swizzle sticks :-)"
Dawn Gabel, Mar. 6, 2014
"Worked at Brodie as a ski instructor with my sister, grew up on the slopes, have had to settle teaching my son at the old rival Jiminy Peak! While it makes me sad there is no longer skiing there, I am so happy to have so many great memories of that place!"
Candace Mozzi (LaLonde), Feb. 23, 2014
"As part of the Brodie Mt. campers who wintered up in the trailer part on Brodie, we have many, many fond memories. My kids learned to ski there and it was wonderful to be able to just open the camper door and let them head off on the mountain. All the campers looked out for each other and the chairlift guys knew and helped all the kids. From all the parties the campers had, the famous jump at Tower 7, and taking Tip from the top as our route home to our camper, the times we spent at Brodie Mtn. were some of the best!"
Claire Haines, Feb. 21, 2014
"While in high school in the late 70's and early 80's, I skied here numerous times. Loved this ski area!! Just a beautiful, friendly place. Mickeys Chute was my favorite trail as it was somewhat challenging but unsurpassed for its beauty! The night skiing was magical. I cannot believe it is gone. Very sad news to hear. "
gerard cunningham, Jan. 29, 2014
"Like Carole! I met my sole mate there and we were married in 78, just recently lost him to a stroke, and I would love to come back and relive some of the good times in the blarney room! we too have the skies from the drinks! it was a great place back then , I miss it, The good Ol days. We tried to go there when it was snow owl, met by some guy and a shot gun, if you can believe it. we only wanted to drive around, but got into the lower parking lot and turned around. Oh wellDo they still have any condos there any one know??"
Sherry steuerwald-shook, Jan. 11, 2014
"As a musician/singer. i played many years at Brodie during ski season and enjoyed all the fun and great people I met there' and all the fab Kelly family were a souce of inspiration' perhaps its time to rebuild Brodie...? "
oliver kane, Oct. 6, 2013
"Worked at Brodie in the early 90s .Had the best time ever. Brodie was the places to be on St. PATRICK'S DAY."
John Nichols, Mar. 22, 2013
"I got engaged at Brodie Mountain St. Patrick's weekend 1975. Married in 1976. Everyone there bought us congratulatory drinks. I rmember the Green Beer Slalom and Green Plastic Crossed Skis with the Logo of Brodie on it placed in the Irish Coffees. (Still have ne ski). Also the patch with the lepreuchan."
Carole Schaefer, Mar. 13, 2013
"Grew up at Brodie in the mid-70s to mid-80s. Skied on the jr. racing team. Evenings with family in the Blarney Room. A gorgeous mountain that you could ski daily and it was always an adventure. Sad it's gone. Hope more photos and sites and home movies go up. Lost Ski Areas Project site also good. Would be nice to either add to that site or have another to share on. Thanks to this site for this forum!"
O Gottlieb, Mar. 2, 2013
"Brodie was my favorite mtn to ski growing up. I wanted to take my kids there to learn how to ski and was so sad to find out it was closed forever. :( I will miss Brodie."
Linda Dunn, Feb. 10, 2013
"Skied brodie many times on saturday nights 330 to 1100 pm ticket , then to the blarney rm for some great times ! mid 1980's"
john chiarizio, Jan. 29, 2013
---
External Links
Last updated: July 2, 2015