| | |
| --- | --- |
| | |
Located in the northwestern part of the state, Mohawk Mountain has been the cornerstone of the Connecticut ski industry for over half a century.

Mohawk Ski Trail

Downhill skiing on Mohawk Mountain may date back to 1937 or 1939, when the Connecticut Winter Sports Association reportedly cut an alpine ski trail in cooperation with the State Forest Department. It is not known if the trail was maintained during World War II, but some press accounts suggest it may have been in a state of disuse by the middle of the 1940s.

Surface Lift Era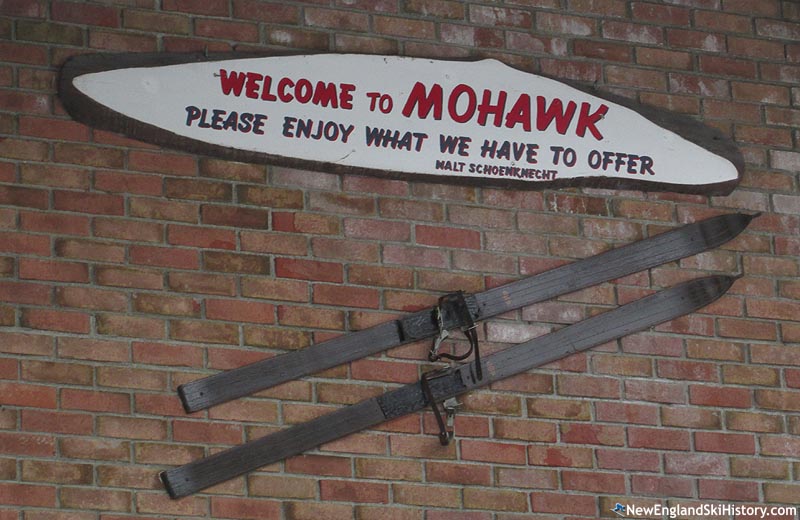 Walt's spirit lives on (2014)

Lift served ski development at Mohawk Mountain dates back to February of 1947, when Walt Schoenknecht, his wife, and father started developing a ski area around the Mohawk ski trail on land leased from the state. Initially a $45,000 investment, Mohawk was instantly one of the larger ski areas in New England when it opened in 1947-48, featuring half a dozen rope tows serving nearly 600 vertical feet of terrain.



Early Experiments in Snowmaking

While the ski area was initially successful, a snow drought in the winter of 1949-50 brought operations to a halt. Ever the creative thinker, Walt brought in countless truckloads of ice and used a massive chipper to create a snow surface, which allowed the area to open on one slope, served by multiple rope tows. At the same time, he was also taking part in preliminary experiments compressed air snowmaking. Further work was done in the fall of 1950 with Larchmont Engineering equipment at Mohawk. By the time the 1950-51 season rolled around, the new snowmaking system was advertised regionally.

Mt. Snow and Chairlifts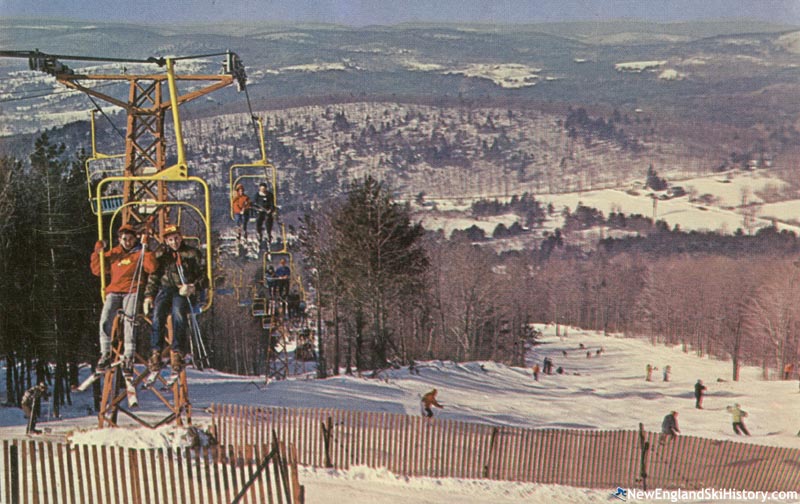 The Mohawk Double circa the 1960s

A couple of years later, Walt set his sights on developing a mega ski area on Mount Snow. In 1958, preparations began for a future chairlift installation at Mohawk. Connecticut's first chairlift was installed at Mohawk for the 1960-61 season, as well as expanded snowmaking. Future Butternut developer Channing Murdock took over day to day operations of Mohawk. Two more chairlifts were installed by the end of the decade, cementing Mohawk's status as the largest ski area in the state.

After losing ownership control of Mount Snow, Walt's focus returned to Mohawk in the early to mid 1970s. Later that decade, Mohawk installed its first triple chairlift, the Boulder Triple.

The 1980s brought sadness to Mohawk, starting in the early part of the decade when Walt began to fight cancer. His daughter Carol Lugar returned to the area she grew up at, and helped him manage it. Walt passed away prior to the start of the 1987-88 season.

Tornado

As the clocks at the mountain struck 4:37 on the afternoon of July 10, 1989, an F4 tornado ripped through Mohawk, leaving $1.5 to $2 million in damage. Pieces of the ski area were later found scattered miles away. Initial industry analysis was that the ski area would not be able to open for at least a year, if ever. However, with the help of ski areas across the country, Mohawk was able to rebuild in time to open for the 1989-90 season. Nonetheless, the financial impact would affect Mohawk for years.



Night Skiing Starts

Despite being located near a large population base, Mohawk Mountain operated as a day-only ski area for decades, in part due to the desire to avoid an alcohol fueled party atmosphere that plagued other ski areas at the time. Feeling confident that it could avoid that in an era that was "more socially conscious," Mohawk added night skiing for the 1991-92 season, in part to help pay off tornado related debt.



Modernization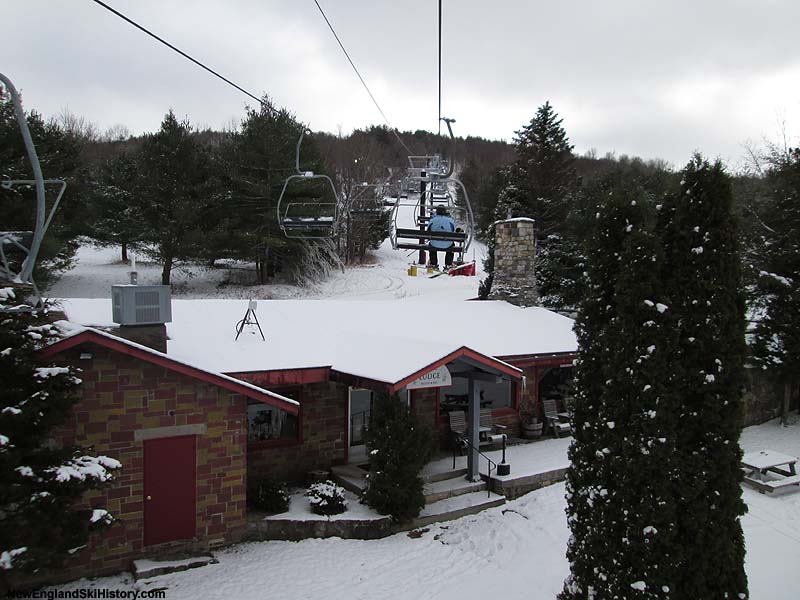 The Deer Run Triple passing over the original Pine Lodge (2014)

A major lift infrastructure initiative took place starting in the 2000s, resulting in the installation of four triple chairlifts. Mohawk's last double chairlift, the Arrow Head Double, was replaced in 2013 with the Arrowhead Triple.

With growing demand for more base facilities, Mohawk constructed major lodge expansion in 2015 which doubled seating capacity.

NewEnglandSkiConditions.com Reports
-- start conditions table -->
NewEnglandSkiIndustry.com News

Image Gallery


Lifts
Click on lift name for information and photos
Maps

Year by Year History
Adult Weekend Full Day Lift Ticket; Adult Full Price Unlimited Season Pass

2010s
Ticket Price
Season Pass Price

Pass Payback

Opening Day

Closing Day

Skier Visits

2016-17
$62.00
$639.00
10.3 days
December 17
April 2
2015-16
$60.00
$639.00
10.7 days
January 2
March 13
2014-15
$60.00
$639.00
10.7 days
November 28
March 29
2013-14
$58.00
$619.00
10.7 days
November 29
March 30
2012-13
$56.00
$619.00
11.1 days
December 15
March 30
2011-12
$54.00
$619.00
11.5 days
December 17
March 11
2010-11
$52.00
December 11
March 27
2009-10
$50.00
$599.00
12.0 days
December 12
March 28
2000s
Ticket Price
Season Pass Price

Pass Payback

Opening Day

Closing Day

Skier Visits

2008-09
$50.00
$599.00
12.0 days
2007-08
$47.00
$599.00
12.7 days
2006-07
$45.00
$599.00
13.3 days
2005-06
$42.00
$599.00
14.3 days
2004-05
$42.00
$660.00
15.7 days
2003-04
$39.00
$690.00
17.7 days
2002-03
$37.00
$690.00
18.6 days
2001-02
$35.00
2000-01
$32.00
$650.00
20.3 days
1999-00
$30.00
$605.00
20.2 days
1990s
Ticket Price
Season Pass Price

Pass Payback

Opening Day

Closing Day

Skier Visits

1995-96
$25.00
1994-95
$32.00
1992-93
$29.00
April 8
1991-92
$30.00
1989-90
$28.00
November 24
1980s
Ticket Price
Season Pass Price

Pass Payback

Opening Day

Closing Day

Skier Visits

1988-89
$25.00
1987-88
$24.00
1986-87
$23.00
1984-85
$18.50
1983-84
$17.50
March 25
1982-83
$17.00
1981-82
$15.00
1980-81
$13.50
1979-80
$12.50
December 22
1970s
Ticket Price
Season Pass Price

Pass Payback

Opening Day

Closing Day

Skier Visits

1978-79
$11.50
1977-78
$10.50
1976-77
$10.00
1974-75
$8.50
December 21
1960s
Ticket Price
Season Pass Price

Pass Payback

Opening Day

Closing Day

Skier Visits

1968-69
$6.00
1967-68
$5.50
1966-67
$5.50
1964-65
$5.50
1963-64
$5.50
1959-60
$2.50
1940s
Ticket Price
Season Pass Price

Pass Payback

Opening Day

Closing Day

Skier Visits

1948-49
December 2
1947-48
$2.00
Visitor Memories
"My second day of skiing was here in 1971. Age 8. I remember wood skis, leather boots and safety straps. I wore jeans over long johns and remember being soaked to the bone at the end of the day, the result of falling dozens of times on the beginner are"
Paul Friedman, Jun. 22, 2017
"I started working at Mohawk the first year it opened. I was 14 and madeSandwiches and helped in the kitchen. I worked there all through highSchool to get spending money. I loved it. "
Suzanne Hedden williams, May. 12, 2016
---
External Links
Mohawk Mountain - official site
Last updated: May 12, 2016