Snow Hill at Eastman
Grantham, New Hampshire
Status:
Lost/Defunct
First Season:
1972-73
Last Season:
1998-99
Vertical Drop:
250 feet
Standing Lifts:
Past Lifts:
1 double
Left: Looking down the lift line (2003)
Recent NewEnglandSkiIndustry.com News:
Located on the south shore of Eastman Pond in Grantham, Snow Hill ski area served the residents of the Eastman Community Association for over a quarter of a century.


Eastman Community Association Started

The Eastman Community Association was formed in July of 1971, as the new real estate development became to gain speed. Located just off Interstate 89 in Grantham, the development was to feature many forms of recreation, including water sports, golf, and skiing.

A new Stadeli double chairlift was installed on the southern shore of Eastman Pond in 1972. It is possible that the ski area did not open until 1973. Three trails descended from the top of the lift to the side of the pond. Though technically a private ski area, lift tickets were often sold to the general public over the years.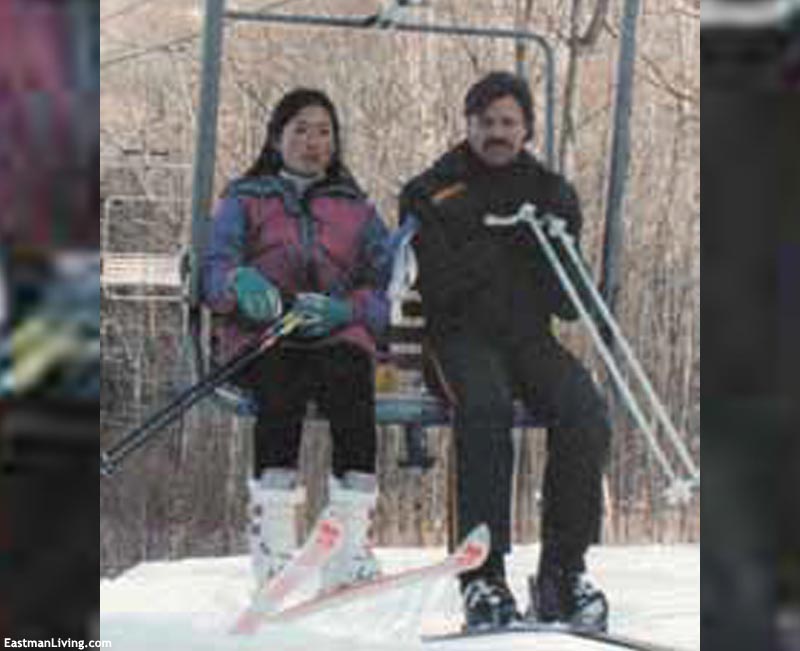 Riding the double chairlift at Snow Hill

In 1989, the first annual Eastman Winter Triathlon was hosted. In addition to a run to the top of Snow Hill and a cross country ski portion, the race included a slalom leg down the ski area.


Pressure to Close Snow Hill

Starting in the mid 1980s, many residents questioned the viability of the ski area. A Eastman Long Range Planning Committee survey revealed that the ski area was deemed of little importance to most residents. A 1998 Cilley & Associates study indicated that 68% of residents did not use the ski area.

On August 27, 1999, the Eastman Community Association Recreation Committee voted to close the Snow Hill ski area and accept an offer from nearby Whaleback to purchase the double chairlift. On September 4, 1999, Eastman Community Association Council voted for a similar recommendation. On September 17, 1999, the Eastman Community Association Board of Directors voted to close the ski area and sell the chairlift to Whaleback.

Soon after the decision, some association residents filed a lawsuit in hopes of overturning the decision. While the ski area remained closed, the chairlift was not removed at that time. Never installing the chairlift, Whaleback's management closed their ski area in 2001.

After nearly half a decade in the courts, the lawsuit was unsuccessful and the ski area permanently closed. The chairlift has since been removed. The former ski slopes are reportedly posted no trespassing.

Image Gallery

Lifts
Click on lift name for information and photos
Year by Year History
Adult Weekend Full Day Lift Ticket; Adult Full Price Unlimited Season Pass

1990s
Ticket Price
Season Pass Price

Pass Payback

Opening Day

Closing Day

Skier Visits

1992-93
$14.00
1989-90
$10.00
1980s
Ticket Price
Season Pass Price

Pass Payback

Opening Day

Closing Day

Skier Visits

1988-89
$10.00
Visitor Memories
---
External Links
Skiing Through The Years At Eastman - EastmanLiving.com
Last updated: December 17, 2016