Dorset Hollow Ski Area
Dorset, Vermont
Proposed in the 1960s

Overview
Dorset Hollow Ski Area was proposed to be built in Dorset, between Route 30 and US 7. A Manchester Chamber of Commerce brochure advertisement announced a planned December 1966 opening of the area, which was marketed as having the largest vertical drop (3000 feet) of any ski area in Eastern North America.

The first phase of the project included two double chairlifts and one T-Bar on Netop Mountain for the 1966-67 season, with a base area near the former Camp Wynakee complex.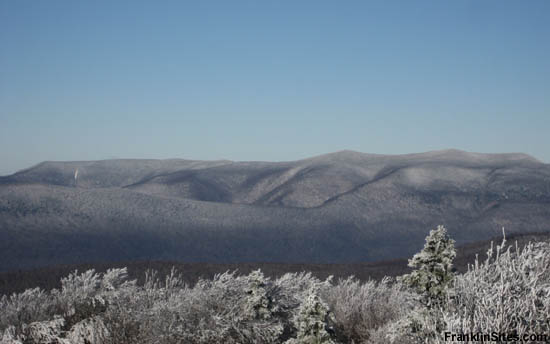 Dorset Mountain as seen from the east from Bromley Mountain


The overall project called for one aerial tramway, nine double chairlifts, two T-Bars, four base lodges, 16 miles of ski trails, and 70 acres of open slopes, covering six mountain peaks. In addition to the ski facilities, a golf course, tennis courts, pools, horse stables, a village, 100 chalets, and up to 250 hotel rooms. The developers, Dorset Associates, Inc., were in ownership and/or control of the 3,000 acres slated for the project.

Dorset Associates, Inc. was led by President George B. Breen (an original promoter of nearby Stratton), Vice President & General Manager Christopher Swezey Jr., secretary Thomas Martin, and treasurer Frederick W. Tetzlaff. Related companies included real estate developers Potentials Inc. and Swezey Lumber Company. Sel Hannah completed a feasibility study for Sno-Engineering, Inc. E.H. Lord-Wood Associates created the resort Master Plan.

The project was apparently cancelled in 1966 due to local opposition.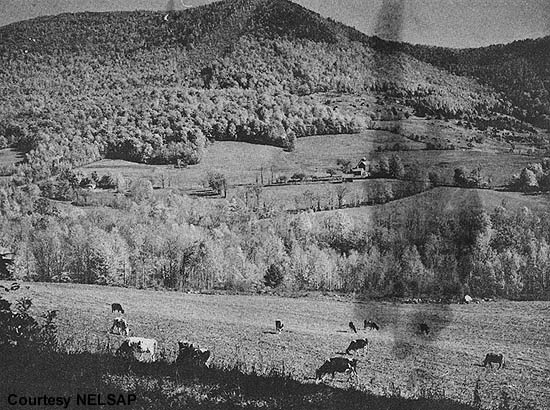 A 1965 photo of Netop Mountain, the proposed first phase of the Dorset Hollow Ski Area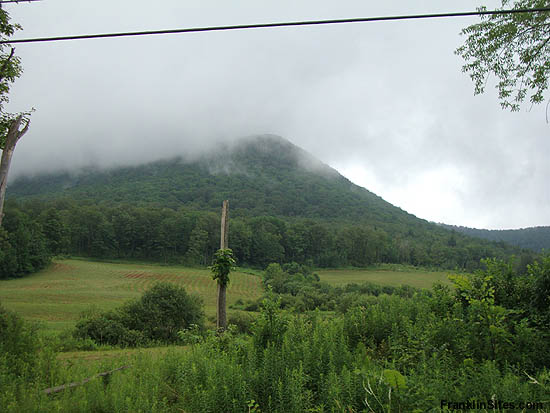 Netop Mountain (2010)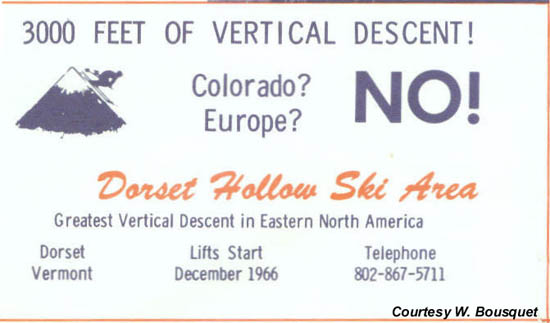 1965 Dorset Hollow Advertisement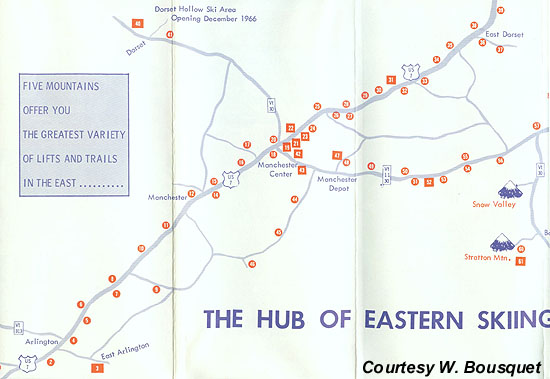 1965 Manchester Chamber of Commerce Location Map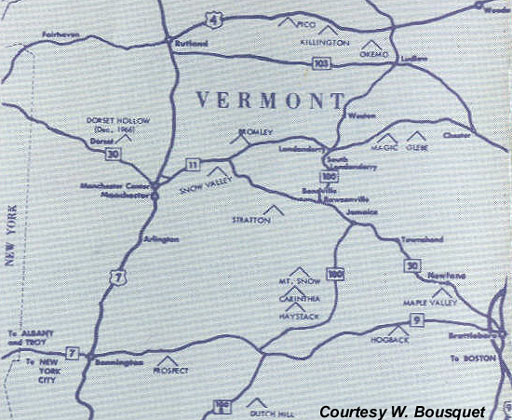 1965 Manchester Chamber of Commerce Location Map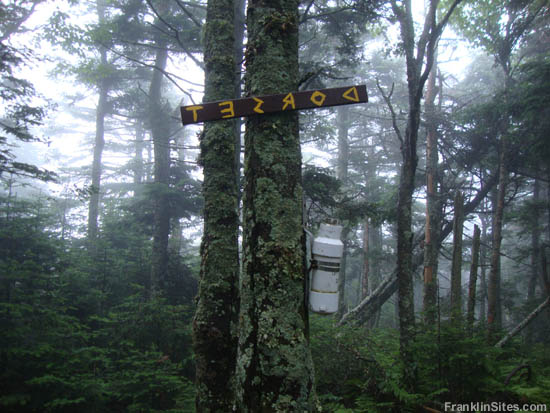 Dorset Peak Summit (2010)



Today
There are no known remains of the Dorset Hollow Ski Area proposal.

Quotes

| | | |
| --- | --- | --- |
| " | There's a nasty little story developing about the proposed Dorset Mountain ski area (near Manchester). Rich old blood live in this area, and Potentials, Inc., a money hungry land development-real estate outfit is promoting it with help of outsiders... | " |
| | Internal ski publication memo, December 2, 1965 | |
"
Anyway, rich old blood and even some young blood are complaining about the "rape" of Dorset mountain and its tranquil beauty destroyed by ski trails scarring the landscape and "those skiers" invading their privacy.

Area is scheduled for development next year.
"
Internal ski publication memo, December 2, 1965
| | | |
| --- | --- | --- |
| " | I am sure Roland Palmedo would say something about it (he has place on Dorset mountain, looked over potential of area 20 years ago). | " |
| | Internal ski publication memo, December 2, 1965 | |


Resources

Otis, Nancy H. "Multimillion Dollar Resort Area Going Up in Dorset Hollow" Bennington Banner. 8 Oct. 1965.


Last updated: December 18, 2012


Warning: include(../footer11.txt) [function.include]: failed to open stream: No such file or directory in /home/content/35/6551635/html/cancelledskiareas/footer.txt on line 1

Warning: include() [function.include]: Failed opening '../footer11.txt' for inclusion (include_path='.:/usr/local/php5/lib/php') in /home/content/35/6551635/html/cancelledskiareas/footer.txt on line 1