Temple Mountain Ski Area
Temple, New Hampshire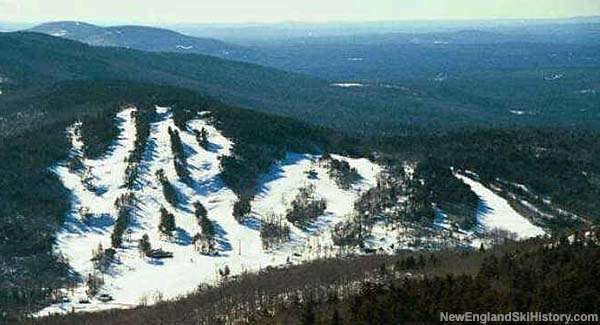 Temple Mountain in the 1990s
Temple Mountain Ski Area Details

Status:
Lost/Defunct
First Year of Operation:
1937
Last Year of Operation:
2001
Vertical Drop:
600 feet
Lifts in Operation:
Lifts Removed/Non Operational:
1 quad, 1 double, surface lifts
Located just south of Pack Monadnock Mountain, Temple Mountain was home to a regionally popular area for over six decades.

Early Rope Tow Years
The lift served origins of Temple Mountain ski area date back to December of 1937, when Charles Beebe established Temple Mountain Ski Tow, Inc. The small ski area opened that winter.

A second rope tow was likely installed for the 1941-42 season, serving a new novice slope on the north side of the ski area. While many areas shut down due to fuel and labor shortages and restrictions, Temple was able to remain open for most, if not all of the winters during World War II. Temple's third rope tow was added later in the decade.

STABIL Lift and T-Bars
After operating for over twenty years with rope tows, Temple installed a 1,700 foot long STABIL surface lift for the 1958-59 season. Reaching the upper mountain, the platter lift, along with two rope tows, served six trails. The rare lift's tenure at Temple was short lived, as it was replaced with a modern T-Bar in 1967.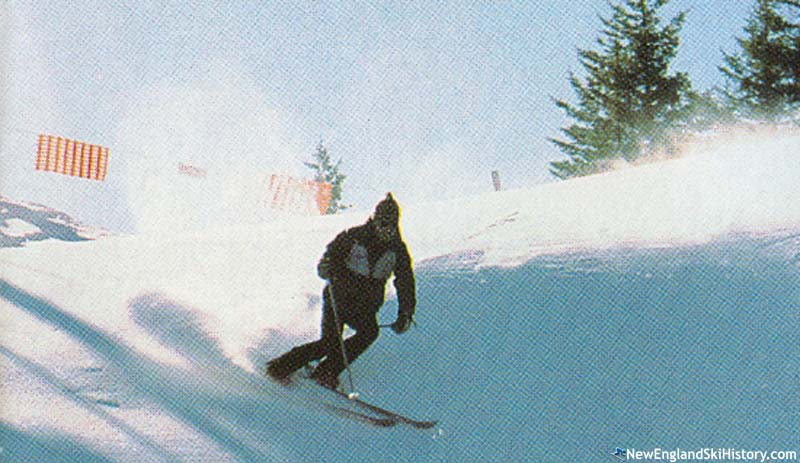 The Temple Mountain quad chairlift during the 1980s

Temple's first brand new T-Bar was installed for the 1965-66 season, opening up the West Side of the ski area. Unfortunately for Temple, the weather didn't cooperate that winter, with results coming in at 50% below its best season.

Lacking snowmaking, poor winters hit Temple Mountain particularly hard in the 1970s and early 1980s. The winter of 1979-80 was especially tough, as the ski area failed to open until mid February.

New Ownership and Expansion
Peter Martin, Jim Cooper, and Ronald DaSilva's Temple Mountain Ski Corporation purchased the ski area from the Beebe family in April of 1984 and quickly began to make changes. $1.2 million was invested in a wide array of changes for the 1984-85 season, most visible of which was New Hampshire's first quad chairlift. In addition, snowmaking and lights were installed on some 80 percent of the mountain. Finally, the main lodge, trail network, and parking lots were improved. 29 year old local Sandy Eneguess was named General Manager.

Shortly thereafter, 250 acres were purchased with the intention of developing an East Side complex, potentially increasing the advertised vertical drop from 600 to 1,100 feet.

Sandy Eneguess became owner of the ski area in 1988, investing in more snowmaking and lighting.

Temple's second chairlift, a used double from Mt. Watatic, MA, and Diamond Hill, RI, was installed to serve lower mountain slopes in 1992.

The mountain hit tough times in the late 1990s, resulting in bankruptcy in March of 1997. The area was given back to the previous ownership in 1998, in time for a 1998-99 reopening.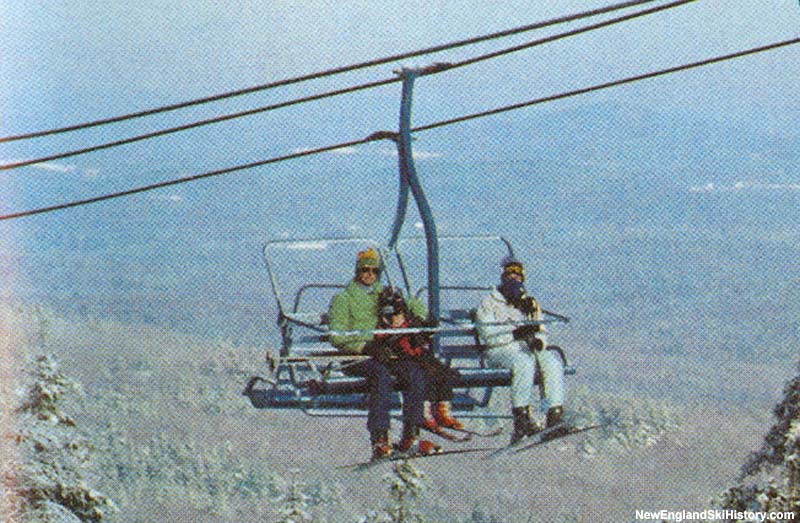 The Temple Mountain base area (2002)

Closure
On September 17, 2001, the owners of Temple announced it would not open for the 2001-2002 season. Instead, the 352 acre property was put up for sale. Peak Resorts considered developing the property but ultimately chose to reopen Crotched Mountain in 2003.

John and Connie Kieley of Temple Highlands LLC purchased the ski area in 2003. In 2004, the chairlifts were removed. The quad was sold to Nashoba Valley ski area in Massachusetts, while the double was sold to SkyTrans Manufacturing, LLC. In addition, the base lodge was demolished.

In December 2007 the State of New Hampshire, with some federal funds, purchased the 352 acres from John and Connie Kieley for $1 million after a multi-year effort to dismantle the ski area and preserve the land. Only concrete footings, the occasional pipe or light, and a garage remain. The rapidly revegetating ski area is now part of the Temple Mountain State Reservation. It is highly unlikely to ever reopen for lift served skiing.

Expansion History

Image Gallery


Lifts
Click on lift name for information and photos
Maps

Skier Visit History

Season
Skier Visits
Source
1990s
1995-96
80,000
Milford Cabinet

Ticket Price History
Weekend Full Day Lift Ticket
Season
Price
Source
2000s
2000-01
$27.00
templemtn.com
1999-00
$27.00
Boston Magazine
1990s
1996-97
$30.00
Milford Cabinet
1995-96
$28.00
Milford Cabinet
1992-93
$28.00
Boston Globe
1991-92
$25.00
Boston Globe
1990-91
$25.00
Boston Globe
1989-90
$22.00
Boston Globe
1980s
1988-89
$20.00
Boston Globe
1987-88
$19.00
Brochure
1986-87
$16.00
Skiing
1985-86
$16.00
Skiing
1980-81
$10.00
Ski America
1979-80
$9.75
Ski America
1970s
1977-78
$7.00
Boston Globe
1977-78
$9.00
Boston Globe
1970-71
$5.50
Boston Globe
1969-70
$5.50
Boston Globe
1960s
1967-68
$4.50
Eastern Ski Atlas
1964-65
$4.00
Eastern Ski Atlas
1963-64
$4.00
Buxton's Eastern Ski Slopes
1962-63
$4.00
Buxton's Eastern Ski Slopes
1959-60
$4.00
Directory of Ski Resorts
1950s
1958-59
$5.00
New Hampshire Winter Guide
Visitor Memories
"I worked at Temple mountain in the mid 70's for I think 2 seasons as a lift operator. It is so sad to go through these pages eading about the areas I used to ski at, Crotched, Onset, Indian Head (where I skied hundreds of hours after high school living in Hollis and was ski patrol) Warner Ski hill were I skied for the 1st time at 4 yrs old."
Bruce Brown, May. 6, 2015
"In the eighties I worked as a lift rat at Temple Mountain. I never thought I would have the sad feelings I have after seeing the pictures of the mountain. Those are also pictures of my past. I can only hope that the mountain never gets developed. I'll be hiking around up there this year. "
Greg Doran, Feb. 6, 2014
"I'm a relative to the Beebe family (I believe) and looking for more info. on the Beebe history with Temple Mt and the Peterborough area"
Peter Bradshaw, Sep. 1, 2013
"In 1953 My father purchased a 4 acre lot on the West side of the ski area from Charlie and Lucy Beebe and we built a camp with a great view of Mt Monadnock. Our family all skied, and to access the camp in the winter my brother and I cut a rudimentary trail from the Wapack Trail, which was the westernmost ski trail at that time, toward our camp and then looped back toward the base of the Wapack Trail. Charlie Beebe named it Taggart Trail. The property is now owned by my other son John Taggart since 1992, but the camp has collapsed under snow loads. The Beebe's were good friends with our family and we spent time together other than the ski area. He used his tractor to help haul some of our camp material up 1800 feet from the highway. A lot of it went up the hill on my brother's and my shoulders.When the ski area expanded to the West Area lifts and they put in Spruce, Birch, and Broadway it wiped out the Wapack ski trail and Taggart trail, but the Wapack hiking trail still went through that area. The expansion also wiped out one of the best high bush blueberries anywhere. One could get a gallon of berries just from that one bush.All three of our children did a lot skiing there. We even took a grandson there in about 1996. One of their fun events was the Easter Parade. I used to have a slalom flag with Temple Mt stenciled on it, but has probably rotted by now."
Bryant Taggart, Aug. 22, 2013
---
External Links
Temple Mountain - New England Lost Ski Areas Project
Temple Mountain - FranklinSites.com Hiking Guide
Last updated: April 21, 2015