| | |
| --- | --- |
| | |
Located north of Woodstock, Vermont, Suicide Six is a historic small but steep ski area.


America's First Ski Lift

Lift served skiing in the United States likely dates back to the 1933-34 season, when Robert and Elizabeth Royce hired David Dodd to construct a rope tow on Clinton Gilbert's farm to serve their inn's guests. The tow opened in January of 1934.

Recent Dartmouth graduate Wallace "Bunny" Bertram soon took over operating the ski area. Bertram later joked that he didn't even have a cash register while he was in charge.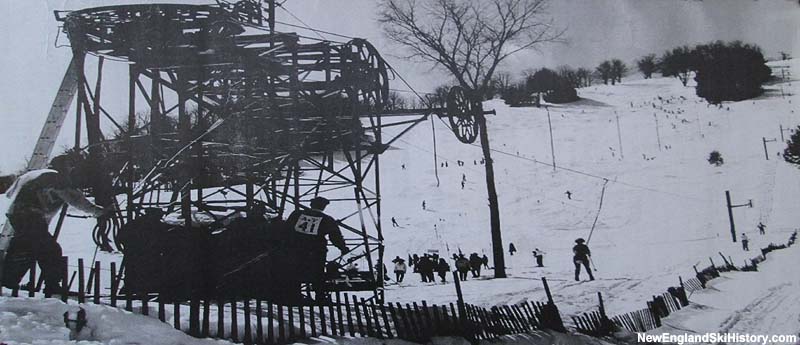 The new base lodge in the late 1970s/early 1980s

Suicide Six Is Born

Circa the 1936-37 season, Bertram installed a tow on Hill Number 6, noting that it would be suicide to ski straight down the face. By the time the 1939-40 season rolled around, Suicide Six was noted as having one of the best race courses in the country. Accomplished racers such as Brooks Dodge, Tom Corcoran, Bill Beck, and Betsy Snite.

A Poma was added for 1953-54 season, giving Suicide Six a modern lift.

Eight acres of new slopes were added for the 1956-67 season.



The Rockefeller Era

Bertram sold the ski area to Laurance Rockefeller in 1961, later remarking to Skiing magazine, "I was damn lucky to get out of the business." Rockefeller's RockResorts, Inc. proceeded to market it with its other Woodstock ski area, Mt. Tom, until the latter closed in the late 1970s.

Wanting to have "Cadillac" skiing, Rockefeller pushed through a significant expansion in the late 1970s, starting with the installation of a new double chairlift in 1975-76. A new J-Bar was added in 1977, while a second chairlift was installed in 1978. A new 10,000 square foot, $400,000 lodge was also unveiled for the 1978-79 season.

In February of 1982, Suicide Six hosted the first National Snow Surfing Championship, paving the way for competitive snowboarding.

As the 1980s progressed, the ski area was spun off from RockResorts, Inc. prior to the corporation being sold to CSX. Suicide Six and the Woodstock Inn ended up being part of the Woodstock Resort Corporation.

After having finding flaws in its aging summit double in back to back seasons, Suicide 6 replaced the lift with a new quad chairlift for the 2016-17 season.

NewEnglandSkiIndustry.com News

Image Gallery
Lifts
Click on lift name for information and photos
Maps

Year by Year History
Adult Weekend Full Day Lift Ticket; Adult Full Price Unlimited Season Pass

2010s
Ticket Price
Season Pass Price

Pass Payback

Opening Day

Closing Day

Skier Visits

2017-18
$72.00
$579.00
8.0 days
December 18
2016-17
$68.00
$549.00
8.1 days
December 20
March 19
2015-16
$68.00
$549.00
8.1 days
January 7
March 13
2014-15
$66.00
$579.00
8.8 days
December 19
2013-14
$64.00
$599.00
9.4 days
2012-13
$64.00
$675.00
10.5 days
December 26
2011-12
$64.00
December 22
2010-11
$60.00
$629.00
10.5 days
2009-10
$59.00
2000s
Ticket Price
Season Pass Price

Pass Payback

Opening Day

Closing Day

Skier Visits

2008-09
$57.00
$735.00
12.9 days
2007-08
$55.00
$714.00
13.0 days
2006-07
$52.00
2005-06
$52.00
2004-05
$50.00
2003-04
$48.00
2002-03
$46.00
2001-02
$46.00
2000-01
$42.00
1999-00
$40.00
$516.00
12.9 days
1990s
Ticket Price
Season Pass Price

Pass Payback

Opening Day

Closing Day

Skier Visits

1998-99
$38.00
$496.00
13.1 days
1992-93
$29.50
1991-92
$29.00
1990-91
$28.00
1989-90
$26.00
1980s
Ticket Price
Season Pass Price

Pass Payback

Opening Day

Closing Day

Skier Visits

1988-89
$24.00
1987-88
$22.00
1986-87
$20.00
1984-85
$18.00
1982-83
$16.50
1980-81
$13.50
1970s
Ticket Price
Season Pass Price

Pass Payback

Opening Day

Closing Day

Skier Visits

1978-79
$10.50
1974-75
$90.00
1969-70
$5.50
1960s
Ticket Price
Season Pass Price

Pass Payback

Opening Day

Closing Day

Skier Visits

1968-69
$4.50
1967-68
$4.50
1964-65
$4.50
1963-64
$4.50
1962-63
$4.50
1961-62
December 15
March 31
1959-60
$4.00
---
External Links
Suicide Six - official site
Last updated: January 21, 2017