Mt. Tom Ski Area
Holyoke, Massachusetts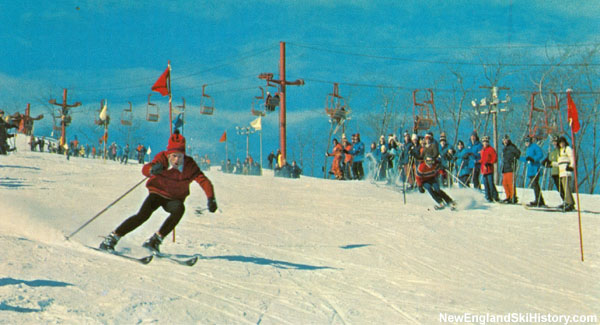 1960s racing at Mt. Tom
Mt. Tom Ski Area Details

Status:
Lost/Defunct
First Year of Operation:
1960
Last Year of Operation:
1998
Vertical Drop:
680 feet
Lifts in Operation:
0
Lifts Removed/Non Operational:
4 doubles, surface lifts
Located north of Springfield, Mt. Tom has been a recreational getaway for centuries.

Early Recreation on Mt. Tom
For many years, Mt. Tom in Holyoke Massachusetts was best known for everything but skiing. Starting around the 1890s, the Holyoke Street Railway Company developed what would become Mountain Park. Around the turn of the century, an elaborate summit building was constructed, serviced by a cable car. The amusement park at the base was expanded throughout the beginning of the century.

During the middle of the twentieth century, multiple ski trails and rope tows operated on parts of the long Mt. Tom ridge. None of these operations would achieve a fraction of the popularity of the one that was about to come.

A New Ski Area is Developed
Daniel O'Connell of O'Connell and Sons Construction Co., owner of quarry land on the east face of Mt. Tom, became interested in building a facility to keep local kids busy in the winter. In September of 1960, O'Connell began development of a small ski area with the vision of building something much larger. Advisors to the development included Roland Palmedo, Walter F. Stugger of Carinthia, and Stan Brown of Berkshire Snow Basin.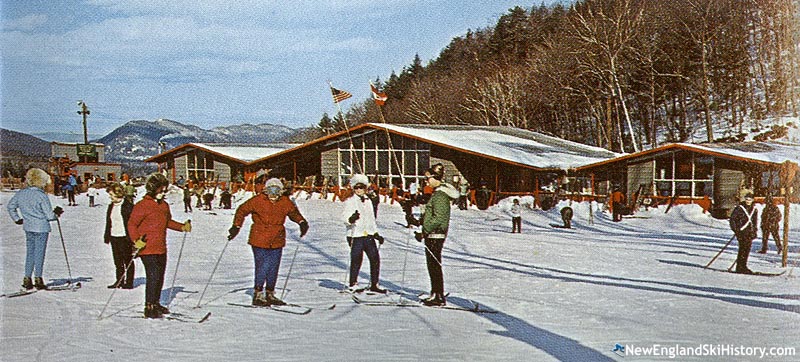 The slopes of Mt. Tom

On December 17, 1960, Mt. Tom ski area opened as a surface lift operation with snowmaking. A 1,400 foot T-Bar served the Big Tom slope, while a 400 foot rope tow operated on the Little Tom slope. Beyond those slopes, the Big Tom trail was advertised as being open via snowcat service, giving skiers some additional 300 vertical feet above the 285 feet provided by the T-Bar. Ed Wakelin was listed as manager of the ski area while Robert Savard ran the ski school for the inaugural season.

Expansion and Popularity
Mt. Tom's debut was enough of a success to justify immediate investment following the season. For 1961-62, a new 3,450 foot double chairlift was installed, making Mt. Tom a major player in Southern New England. Jules Eberhard took over the ski school for the sophomore season, while Cal Conniff took over as manager.

To help satisfy growing beginner demand, a new slope, served by a 600 foot rope tow, was added for 1962-63. This slope would later become part of Boulevard. For the following season, an upper mountain T-Bar as installed on the Upper Tom slope to take some stress off the popular chairlift.

Mt. Tom made headlines in 1964 when S. A. Fenton & Son Co. installed 280 feet of plastic matting, allowing for year round skiing.

While other areas were left struggling following the winter of 1964-65, Mt. Tom was operating at full steam. During that off season, noted architect Alexander McIlvaine designed a sizable expansion to the base lodge. In addition, a beginner slope and J-Bar were added. General improvements included enhanced trail lighting and new chairs on the summit double chair. The double chairlift would be completely rebuilt for the following season.

For 1967-68, the Boulevard slope and double chairlift were added. Part of a $250,000 off season investment, the new slope featured night skiing and a powerful snowmaking system.

With two chairlifts, a widely popular ski school, and a large night skiing business, Mt. Tom had become a powerhouse in Southern New England. Notable figures such as John Glenn, Governor Sargent, John F. Kennedy Jr., and Ted Kennedy skied at Tom during its heyday. A second summit chairlift was added for 1978-79 to help handle massive crowds. At Mt. Tom's peak, it recorded 300,000 skier visits, making it one of the most popular ski areas in all of New England.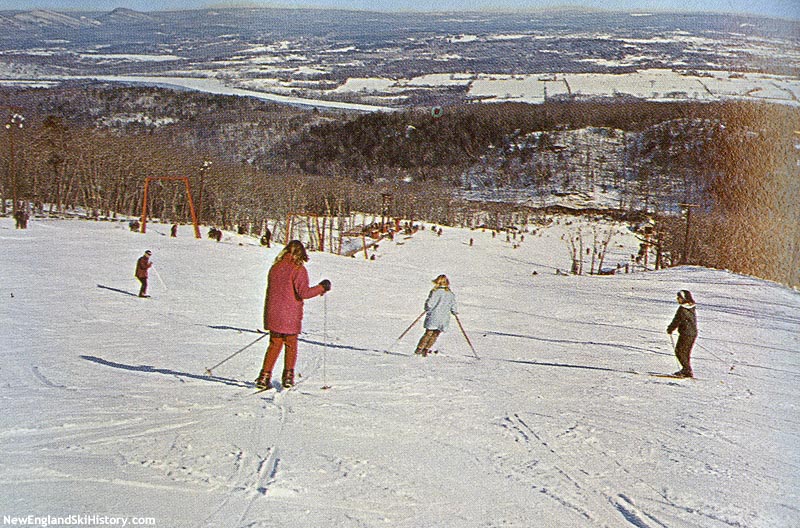 The top of the old Mt. Tom ski area (2006)

Skiing was not the only activity offered at Mt. Tom. In 1977 an alpine slide was added, followed by a water park about half a decade later.

Daniel J. O'Connell Sr. died of cancer during the summer of 1983, leaving O'Connell and Sons and Mt. Tom under the watch of his son, James Joseph O'Connell.

Nearby Mountain Park closed in 1987 and was subsequently liquidated, making Mt. Tom's summer attractions the only ones in town.

The Final Days
1995 saw the installation of a fourth double chairlift, serving novice terrain. That fall, James Joseph O'Connell passed away, leaving ski operations to his widow Mary Rose O'Connell. Most likely around this time, Joseph O'Donnell acquired a stake in the ownership of the area.

Following the 1997-98 ski season, the ownership decided to close Mt. Tom ski area and focus on operating their adjacent quarry. By the end of the decade, the chairlifts, snowmaking equipment, and night skiing lights had been removed and sold. Soon thereafter, the plots of land comprising the ski area were sold to different owners, effectively putting an end to any chances of revival.

Image Gallery


Lifts
Click on lift name for information and photos
Skier Visit History

Season
Skier Visits
Source
1960s
1962-63
91,563
New York Times
1960-61
28,851
New York Times

Ticket Price History
Weekend Full Day Lift Ticket
Season
Price
Source
1990s
1996-97
$29.00
Skiing The Pioneer Valley
1992-93
$25.00
Boston Globe
1990-91
$29.00
Brochure
1989-90
$27.00
Boston Globe
1980s
1988-89
$25.00
Ski Massachusetts Brochure
1987-88
$23.00
Boston Globe
1984-85
$18.00
Brochure
1983-84
$17.00
Ski America
1982-83
$16.00
Rand McNally Winter Recreation Map
1981-82
$15.00
Berkshire Vacation Bureau
1980-81
$14.00
Ski America
1970s
1971-72
$8.00
Boston Globe
1970-71
$8.00
Boston Globe
1969-70
$7.00
Boston Globe
1960s
1967-68
$6.00
Eastern Ski Atlas
1966-67
$6.00
Brochure
1964-65
$4.75
Eastern Ski Atlas
1963-64
$4.75
Buxton's Eastern Ski Slopes
1962-63
$4.75
Buxton's Eastern Ski Slopes
Visitor Memories
Rick Payer
Jan. 24, 2015
Too many to mention, many close to the heart. But I'm happy to say they span a time from when i was very young, skiing with my father, to intoducing my children to skiing, initially through the great afer school lesson programs they had. Remember the mid station on the original main chair lift, and my favorite lift, the upper tbar, with its long reach through the woods and lava rock. Those mats did a number on the ptex bottoms of skis.
A Bailey
Jan. 9, 2015
I started skiing at Mt Tom around 1971 when our school in CT offered it as part of their phys ed class. I skied there all through high school whenever I had the chance and could afford it, I loved it so much. When the Alpine Slide opened, I began bringing my son there and we had a blast together! We would race down the hill side by side (crazy!). We both look back at those times with much fondness. Great memories for both skiing and the alpine slide. :)
Philip Barton
Jan. 8, 2015
Wow, my friend said were going skiing, grab some boots that fit, and some skis that those boots will fit on, and letís go. 30Min later there I was falling off the T-Bar, let to fend for myself, well with my other buddy who was a first timer too, by our exert friend. Parents dropping us off for the Twinight special, getting chased by the Ski Patrol, sometimes getting caught. Realizing even then, thereís not many things better than a well-timed run down the mountain. Like so many I started at Mt. Tom and owe it so much. It really is one of the best places I spent some time as a teenager, loved it. Hey does anyone know of any memorabilia available?
Robert Burgess
Nov. 4, 2014
What a great place that will forever be burned into my childhood memory. I first learned to ski at Mt Tom in 1989 after being 'talked into it' by a friend. Who by the way left me on the bunny slope to fend for myself. Nevertheless I have been skiing ever since and so do my children. I owe that to Mt Tom. I now live in Vt with all the big areas but would do anything to take my kids to Mt Tom and re live the best skiing memories anyone could ask for.
john fontaine
Nov. 2, 2014
learned to ski there on wooden edge skis in 63. in high school learned to race and get big air being chased by ski patrol, smoky and deck were great risk takers and could really rip
Bob Rehm
Aug. 10, 2014
A good friend and I learned how to ski in the winter of '68' which went on for quiet a few years, right through high school racing on the Holyoke High ski team. Had many nights skiing and riding up the chair through the dark areas trying to steal a kiss from a ski night 'date'. Was a good time in my life with good relaxing memories.
Paul Babbidge
Jun. 17, 2014
My father developed a small ski area in Maine in the early '60s and he would take us to other small ski areas, I presume to get ideas for running his. One summer we visited Mt. Tom and tried out the plastic snow. I loved it and always wondered what ever became of it.
Michael jurkowski
Mar. 26, 2014
SO much fun at Mt Tom.Thursday twilight ticket, Tom's tavern and great skiing. Right in my back yard growing up in Chicopee,Ma.The best that's ever happened to Holyoke,Ma!
Tim Connelly
Jan. 29, 2014
We certainly had some fun times as teenagers, at mt tom. One of my friends made a fake ski pass using a good camera, and a laminator. He got caught eventually, and the crap hit the fan. One of the chair lifts was so low to the ground, you could jump off before you reached the top. I am disappointed that it eventually closed as I would have liked to teach my son to ski there.
Chris Topor
Jan. 23, 2014
Skied rode and worked at Mt Tom everyday in the winter all through my teenage years up until 1998 when it closed. And as I remember got yelled at a lot by Bubba with my friends. Mt Tom was my favorite place to be and is sadly missed!!!
Michael Long
Jan. 21, 2014
Fond memories of Mt. Tom in high school. Attended Wilbraham & Monson Academy and took skiing as a elective class. Great fun.
Bubba Hamelin
Jan. 17, 2014
I worked at mt tom for 12 years starting on the j - bar and closing the area as night lift supervisor. Mt TOM was a great place to work , we were one big happy family. The thing I miss most of all is all the skiers, it was almost the same people every night. If it was still open I would probably still be there. The last night I turned the lights off I did'nt think it would be forever. Yes, I really do miss the place! Mt. TOM forever !!!
Kevin C
Jan. 3, 2014
Wow do I miss Mt Tom. My brother and I both took lessons at the ski school while in grade school. I remember one of my teachers from Maple St was my instructor. Used to go with White Brook ski school. My friend Bart and I would always try and sneak a final ride up the hill to come down before closing. Cut it real close a couple times. Great memories. Very sad to see it go. I would reopen it in a heartbeat if I had the $$.
Bill Schnepp
Dec. 30, 2013
What a great place. I would to go there as a kid with the school on bus trips once a week. I went from the 5th grade through the 12th grade. Great times bombing Upper T and Lower T to the bottom. I started my boys ski life at Tom in the early 90's. I miss seeing the lights from route 91 in Connecticut. Sad to see it gone.
Mickey McMahon
Dec. 16, 2013
I miss that mountain, what a lot of good people I met there and great memories that were created. I still see skiers up north from the Mt. Tom days and somehow the area still always comes up in conversation.
Doug Finck
Nov. 30, 2013
Mt. Tom was the second place I ever skied (Cummington Ski Basin was the first). Mt. Tom was about a 15 minute drive so my mother could drop me off on Saturday morning, I'd ski till 12:30PM, get picked up and still be able to deliver my newspapers (Daily Hampshire Gazette). When I got older I discovered night skiing and spent a lot of time at Mt. Tom. Took some lessons, bought skis and boots at the ski shop (Garmont foam-injected boots). Great place to learn how to ski!
J. Castro
Nov. 28, 2013
Mt Tom was one of my favorite places to go in the summer. I loved alpine sliding in the early 90's it was a thrill. I broke my first bone there. So sad that its closed. I miss alpine sliding.
david blum
Nov. 27, 2013
Made the first turns of my life on Mt Tom, what a life time ago ! late 60's. so sad to hear about the closure ! my ski life has not ended since, we moved to crested butte and i became extreme ! live in the cascades now and still ripping turns ! Thanks for the awesome memory's !
Jim Viola
Nov. 19, 2013
The lighted trails on Mt Tom were clearly visible from my childhood home on route 5 in Enfield, Connecticut. That's how I knew the area was open or at least making snow, usually a few days before Christmas. My parents didnt ski so I would hitch a ride with whoever was willing. I couldn't get enough and sometimes skied alone all day and night, splurging for a burger in the fancier reastaurant in the basement of the lodge. Was that called The Cellar? Those were great times that made me skier for life. My favorite trail was Waterfall. Long live Mt Tom.
Robin Jordan
Nov. 8, 2013
What wonderful memories I have of Mt. Tom. We started going there as kids in the late 60's. My dad became an instructor and my sister and myself soon to follow. We were there evey weekend and one night during the week. One of of the most happiest time in my life and will cherish the memories forever! It's sad to drive by on 91 and look up and not see the snowguns blasting or the lights on the main slope....met alot of great people there.
John Malinowski
Nov. 1, 2013
Started skiing Mt. Tom at age ten with the Sacred Heart Ski Club. In 1967 Friday night skiing with the club cost $2.75...What a deal. Taught my kids there, and enjoyed skiing with family and friends. I wish I had the opportunity to teach my grandchildren on the same mountain. Forty six years later still enjoying skiing.....Thanks Mt. Tom........
David Gilkes
Sep. 3, 2013
I skied on Mt Tom in the 80's. Bit of a mellow hill, but the ski lift famously came within an inch of the snow, incredibly challenging to get off the lift. Also I left a good part of my right forearm on the alpine slide and the water slide had to have been the most painful in the nation, great times.
Brenda Copithorne
Aug. 1, 2013
learned to ski there as a young adult, have many fond memories and it was a great place to learn, was so sorry when it closed.
Pat L.
Jun. 29, 2013
So odd this places closed, it was always incredibly busy. It was a great place to learn to ski and super easy to get to. Remember being crushed by the removal of the Alpine Slide in the early '90s. I think I still have some scars on my knee from a particularly bad wipe out.Not sure why but for some reason they only took cash. People with credit cards would always be outraged that they couldn't use them to buy tickets.
Dan Dutra
Feb. 16, 2013
I have been skiing for 37 years, and I fondly remember my first time on skiis at Mt. Tom. That day changed my life forever.....I became a life long ski bum after that trip...sad to see it closed....
Steve Baran
Feb. 15, 2013
Mt.Tom,Was a Great memory for me. every Sunday Night 5 to 10 of us went up for Night skiing. As soon as we saw the lights from South Hadley, we knew She was open! I have done it all up there,Snow Ski,Grass Ski, even the Alpine Slide. My Dad owned Baran's Shell Station on South Street Holyoke for years..
Bruce Swift
Jan. 22, 2013
What a sad ending. I have vivid and fond memories of this ski area. The views to the north were quite impressive. A neighborhood friend and I took our first ski trip there from Framingham in 1967 as I remember. It was a real adventure for us.
Add a memory of Mt. Tom Ski Area
First Name:
Last Name:
E-Mail Address:
Comments:
---
External Links
Last updated: March 26, 2013