Atlantic Forests
Amesbury, Massachusetts
Status:
Lost/Defunct
First Season:
1940s
Last Season:
1991-92
Vertical Drop:
330 feet
Standing Lifts:
0
Past Lifts:
Surface lifts
Left: Amesbury circa the late 1970s
Recent NewEnglandSkiIndustry.com News:
Located just south of the New Hampshire border, 331 foot Powwow Hill was home to lift served skiing for nearly half a century.

The earliest known reference to lift served skiing is from the 1946-47 season, in which a floodlighted, tow-served slope was open. It is not known if this was on Powwow Hill, or if this was a reference to Lone Tree Hill (which later became home to the New England Sports Park tubing hill).

Locke's Hill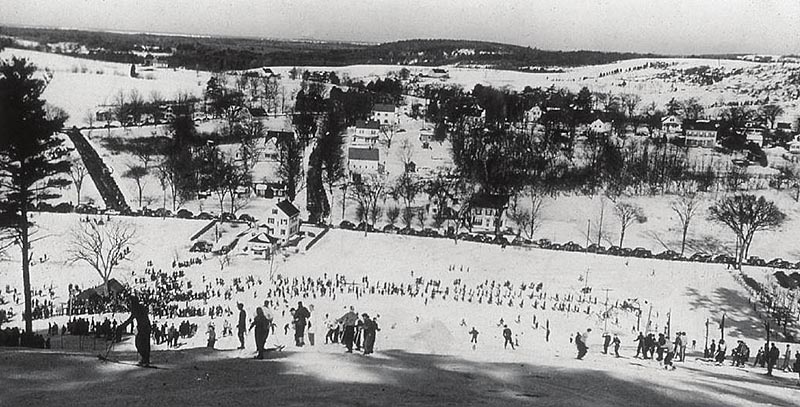 An undated photo of Locke's Hill

By the time the 1948-49 season rolled around, Everett Locke had three rope tows operating on Powwow Hill, boasting improved night skiing lighting. In addition, there are references at the time of a new 'hill' being used. An early 1950 Boston Globe article refers to "two hills, side-by-side, each with its own tow set up, and both good medium length runs."

The popularity of the area grew, drawing more than 1,000 skiers on a single day in 1951. A new parking lot has recently been added, as well as "music to ski by."

At the start of the 1952-53 season, the Boston Globe referred to Locke's Hill as "the North Conway of northeastern Massachusetts, because of its perfectly groomed slopes, and the long run from the top." Allie Gray was listed as the manager in 1952-53 and Don Langeley in 1953-54.

Keeping up with its reputation for smooth skiing, a new snow cat was purchased for the 1957-58 season.

Amesbury Ski Tows

In December of 1961, Amesbury Ski Tows, Inc. and Locke Realty, Inc. were incorporated. In January of 1962, Everett Locke sold the ski area to Locke Realty, Inc. In a related transaction later in the year, Joseph Deschenes was listed as the President of Locke Realty. Deschenes was also known as "Donnie."

The area was still advertised in some places as Locke's Hill during the 1962-63 season, featuring 4 tows. Moving forward, however, it took the name of Amesbury Ski Tows.

By the time 1965 rolled around, Amesbury had grown to 6 tows.

For the 1968-69 season, two Pomalifts were installed at the ski area.

Snowmaking reportedly was installed at the area for the devastating 1979-80 season.

Atlantic Forests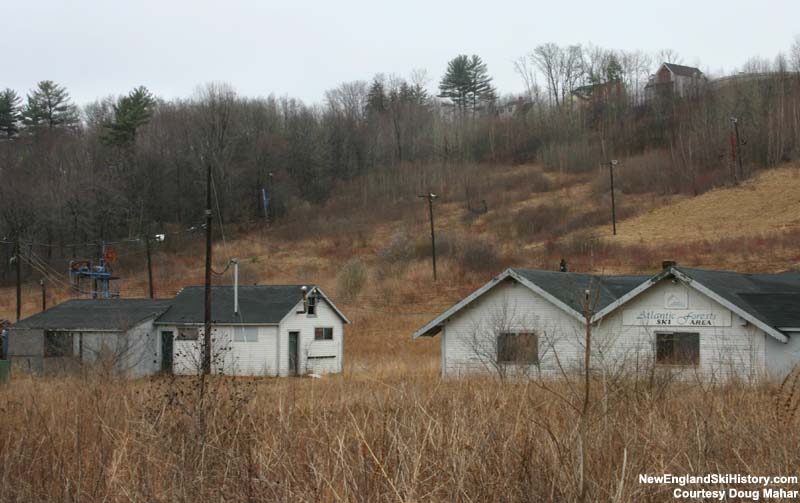 The abandoned Atlantic Forests ski area circa the early 2000s

During the 1986-87 season, Amesbury saw its name changed to Atlantic Forests. Deschenes's Amesbury Ski Tows, Inc. and Lockes Realty were dissolved in March 1987, whilst David Marcus's Atlantic Forests Ski Area, Inc. was incorporated in April.

During the late 1980s, Atlantic Forests advertised 5 trails, serviced by 3 lifts and 80 percent snowmaking coverage.

Atlantic Forests continued to operate into the 1991-92 season. There are no known references to operation in 1992-93. By the time 1994-95 rolled around, the ski area was listed in an article about local operations that had fallen by wayside.

In subsequent years, housing has been developed on portions of the old ski area.



Lifts
Click on lift name for information and photos




Year by Year History
Adult Weekend Full Day Lift Ticket; Adult Full Price Unlimited Season Pass

1990s
Ticket Price
Season Pass Price

Pass Payback

Opening Day

Closing Day

Skier Visits

1991-92
$16.00
1990-91
$16.00
1989-90
$14.00
1980s
Ticket Price
Season Pass Price

Pass Payback

Opening Day

Closing Day

Skier Visits

1988-89
$14.00
1960s
Ticket Price
Season Pass Price

Pass Payback

Opening Day

Closing Day

Skier Visits

1962-63
$2.50
1940s
Ticket Price
Season Pass Price

Pass Payback

Opening Day

Closing Day

Skier Visits

1948-49
December 20
Visitor Memories
"I grew up right across the street, on South Hampton Rd. I learned To ski there and raced there also. I worked there in my teens. Made Snow at night. Had fun growing up there. Miss the old days and the old Neighborhood. "
Chris Tirone , Feb. 4, 2023
"My fondest memories of Locke Ski Tow started in 1962 at the age of five. Wooden skis, cable bindings, leather boots. I skied there weekends and night skiing all the time into the mid seventies, till I was old enough to get rides to the White Mountains with friends. Great place close to home to learn to ski."
Albert Page, Dec. 16, 2021
"My fondest memories of my father is when I was 3 he would bring me here and teach me to ski. To this day I often dream of the happiness I felt skiing there. Thanks for the Memories!!!!!"
MaryAnn Brazzo , Dec. 5, 2021
"Ski Race Training 1991-1993 with Dover High Ski Team perfect slope to get laps in"
Corey Madden, Nov. 30, 2021
"Spent slot if time there as a kid!! My dad, John Eaton was an instructor there for many years!"
Diana Eaton Smith, Jan. 24, 2021
"I lived at 6 Vine Street and could look from my back porch and watch the skiers. My property met up with the Terrio family's land."
Carol Santosuosso, Jun. 3, 2018
"I learned how to ski here in 1982. Made the front page of the Daily News with my red plastic skis on at the age of two. Skied this hill till they closed. My mom worked in the office at night and we skied. My uncle Tony Wallaga was ski patrol. I have so many memories on this hill. I wished I could have shared them with my children here as well. "
Amy LeBlanc, Mar. 2, 2017
---
External Links
Atlantic Forest - New England Lost Ski Areas Project
Last updated: January 27, 2018