Ski Bradford
Haverhill, Massachusetts
Status:
Open
First Season:
1949-50
Vertical Drop:
248 feet
Standing Lifts:
3 triples, surface lifts
Past Lifts:
Surface lifts
Left: Hornet (2014)
Recent NewEnglandSkiIndustry.com News:
Located in northeastern Massachusetts, Bradford has long been a popular ski area.


Bradford Ski Tow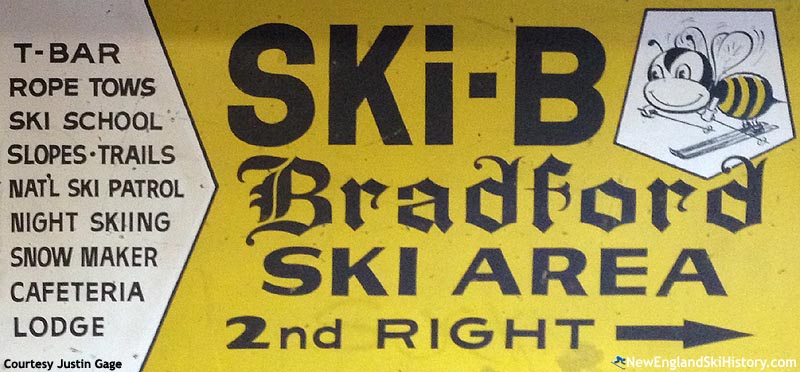 A Bradford sign likely from the 1970s

Ski Bradford dates back to the winter of 1949-50, when the Bradford Ski Tow was constructed on Dead Hill, serving mostly local skiers. Hugh Pearson and Ken Boyd reportedly cut the first trail.

Circa 1956, Roger and Evelyn Sawyer purchased Bradford Ski Tow. The Sawyers later purchased the land on which the ski area operated, then gradually acquired adjoining parcels.

By 1965, Bradford featured night skiing and 3 rope tows.

After over two decades of rope tow service, Bradford installed the Hornet T-Bar in the center of the ski area for the 1971-72 season.

Sawyer Enterprises, Inc. was formed in October of 1972, owned by the Sawyer family and led by Roger and Evelyn's sons, Neil and Bradley. In December of that year, Roger and Evelyn transferred ownership of Bradford to Sawyer Enterprises, Inc.

Later that decade, a used T-Bar was purchased from Stratton and installed on the Wasp slope.



Chairlift Age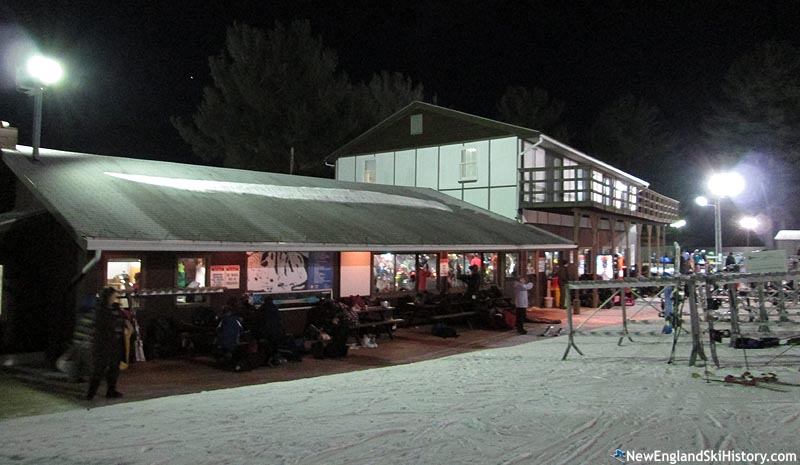 The base area (2014)

Bradford moved into the chairlift age in 1983, when it installed the Hornet triple chairlift in the center of the ski area. A second triple was installed a few years later on the Wasp slope.

A third triple chairlift was installed on the southeastern side of the ski area for the 2003-04 season.

Evelyn Sawyer passed away on February 15, 2009 at the age of 92. Her son and Bradford co-owner, Brad Sawyer, passed away on September 5, 2016.

At present, Bradford features snowmaking and night skiing on all of its terrain. As of 2014, the area logs about 60,000 ski and snowboard lessons per season.

NewEnglandSkiConditions.com Reports

NewEnglandSkiIndustry.com News

Lifts
Click on lift name for information and photos
Maps

Year by Year History
Adult Weekend Full Day Lift Ticket; Adult Full Price Unlimited Season Pass

2010s
Ticket Price
Season Pass Price

Pass Payback

Opening Day

Closing Day

Skier Visits

2017-18
$52.00
2016-17
$52.00
$665.00
12.8 days
December 17
March 19
2015-16
$50.00
$665.00
13.3 days
January 6
March 7
2014-15
$48.00
$665.00
13.9 days
December 13
March 29
2013-14
$48.00
$695.00
14.5 days
December 13
2012-13
$45.00
$670.00
14.9 days
December 26
2011-12
$45.00
$670.00
14.9 days
December 22
2010-11
$43.00
March 13
2009-10
$42.00
$670.00
16.0 days
2000s
Ticket Price
Season Pass Price

Pass Payback

Opening Day

Closing Day

Skier Visits

2008-09
$42.00
$670.00
16.0 days
2007-08
$38.00
$630.00
16.6 days
2006-07
$38.00
$630.00
16.6 days
2005-06
$33.00
$600.00
18.2 days
2004-05
$30.00
$550.00
18.3 days
2003-04
$30.00
$500.00
16.7 days
2002-03
$30.00
$500.00
16.7 days
2000-01
$28.00
$500.00
17.9 days
1999-00
$25.00
1990s
Ticket Price
Season Pass Price

Pass Payback

Opening Day

Closing Day

Skier Visits

1998-99
December 19
1994-95
$23.00
1992-93
$20.00
1991-92
$20.00
1990-91
$20.00
1989-90
$18.00
1980s
Ticket Price
Season Pass Price

Pass Payback

Opening Day

Closing Day

Skier Visits

1988-89
$18.00
1987-88
$16.00
1960s
Ticket Price
Season Pass Price

Pass Payback

Opening Day

Closing Day

Skier Visits

1962-63
$2.00
Visitor Memories
"I have been skiing all over New England on some of the toughest terrain that the region has to offer. I suffered my first major ski injury at Bradford (a concussion when I was in fourth grade) as did my sister (broken middle finger)! That said, I have very fond memories of doing Ski Club through the Rupert Nock Middle School and then the ski team from Haverhill High School, namely the camaraderie, the friendly races, the mogul field between races, and the icy chute that is the Honeycomb. I hope to get my kids over to Bradford so that they too may cut their teeth and pay their dues (but hopefully not get beat up in the process!) before tackling the bigger areas."
Dan Kilgour, Dec. 10, 2017
"I Remember during the summer Chris Petro and his shoe shop lobster party (cooks Dennis Laubner & Ross Turco) Start breakfast at 8 a.m., continuing all day Until early evening, Neal & Diane Saywer over seeing the event, the good old days Ross"
Ross Turco, Dec. 25, 2016
" In 1949 my grandfather hue Pearson along with his great friend Ken Boyd built Bradford. My mom and my dad met at Bradford my mother the daughter of Hugh Pearson was working in the warm-up shack and my father was a ski instructor his name was Duke Gage. Today there is a trail named for my dad called Dukes yard and a trail for my grandfather Hugh's run. In 1950 my grandfather took a couple of barn boards off the back of his house painted them white and then used the red paint which his current home still is today a red cape with white trim and he painted the original Bradford ski tow sign. About 15 years ago my mom was in an antique shop and she found the original sign which hangs in my home today!!"
Justin Gage, Sep. 9, 2016
"I can vividly remember Buddy Werner league racing when I was 7 or 8 years old. Mid-1970's. Our coach was the esteemed Roger Buchika. We were incredibly lucky to have him. He made us walk up the hill instead of taking the rope tow. Hard core for a 7 year old. I miss those days. Thanks, Roger..."
Kristen Durocher, Feb. 23, 2015
"In order to be a skier, you needed to first pay your dues...on a rope tow..on your side with your mittens going up the rope ahead of you..as you tried to figure out how to get back up on your feet..get at least one mitten back and grab your poles to continue the ride to the top..What a great place to learn the joy of skiing on a Friday night under the lights with your friends.."
Jay Cleary, Jan. 27, 2015
---
External Links
Ski Bradford official site
Last updated: October 19, 2016