Willard Basin Ski Area
Jefferson, Kilkenny, Lancaster, New Hampshire
Proposed and surveyed in the 1960s


Overview
Willard Basin would have been only the third ski area in the state to have lift service reaching 4,000 feet in elevation. The area would have encompassed over 5,000 acres of land, ranging from Willard Notch to a proposed aerial-tramway-serviced and hotel-topped Mt. Starr King. The $5,000,000 proposal failed due to lack of finances.

History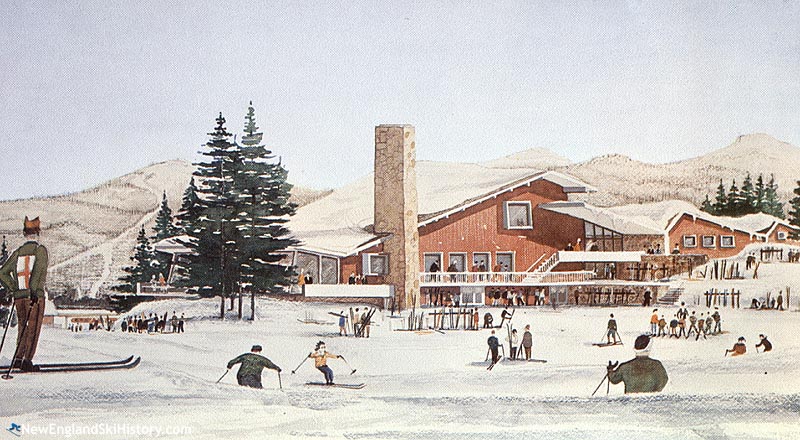 Willard Basin base lodge rendering (1964)

The effort was led by the Lancaster Development Corp. in Lancaster, NH. The corporation was filed in January of 1962. The president of the corporation was Raymond V. Hartshorn. The design of the Willard Basin/Kilkenny development was by Dan Kiley of Charlotte, Vermont. Kiley had previously done design work for Sugarloaf in Maine.

Five hundred year round jobs were expected to be created, in addition to hundreds of seasonal positions. Due to restrictions and topography, no homes or condominiums were expected to be built in Jefferson or Kilkenny, thus resulting in nearly all of the real estate development being planned for Lancaster.

South facing terrain was planned for the slopes of Terrace Mountain. In addition to the tramway-topped Mt. Starr King, adjacent Mt. Waumbek was to feature 2,200' vertical trails in the area of 2 miles long, served by chairlift. 1,200 acres of open slopes were planned, generally ranging from 100 to 400 feet wide. A ravine was to be clearcut to 2,000 wide, to resemble Tuckerman Ravine on nearby Mt. Washington. At one point, a monorail was to encompass the entire development.

A $300,000 state funded 2 1/4 mile access road was to serve the resort, which was to also feature golf, horseback riding, water activities, hunting, fishing, and climbing.

The proposal fizzled by the end of the 1960s due to a lack of finances.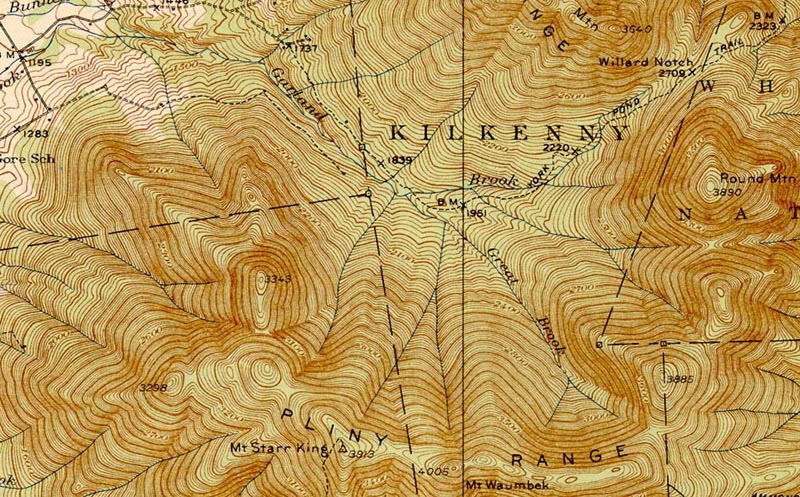 1938 USGS Topographical Map

1964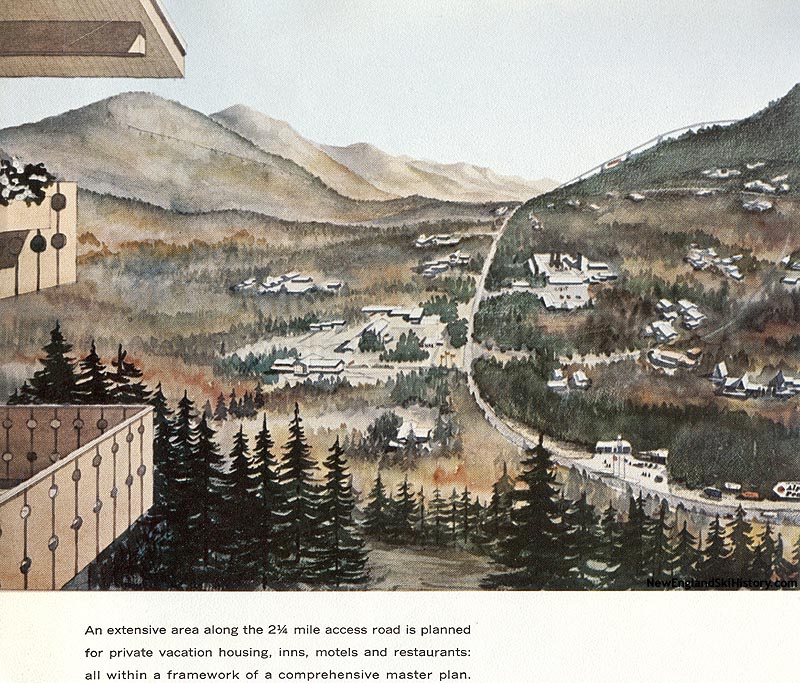 Willard Basin access road rendering (1964)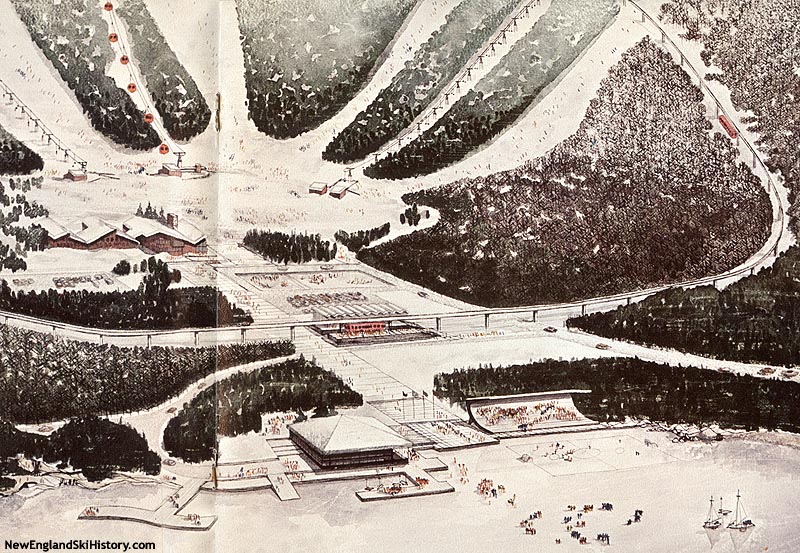 Willard Basin base area rendering (1964)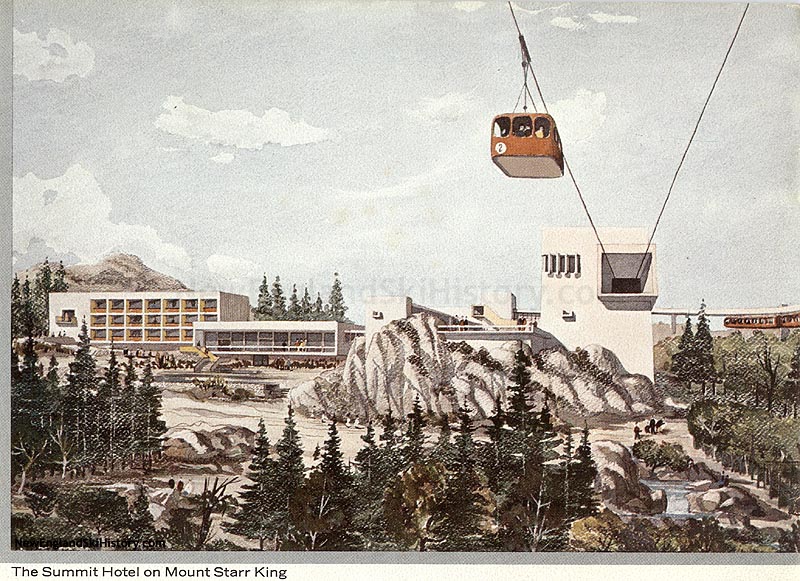 Mt. Starr King summit rendering (1964)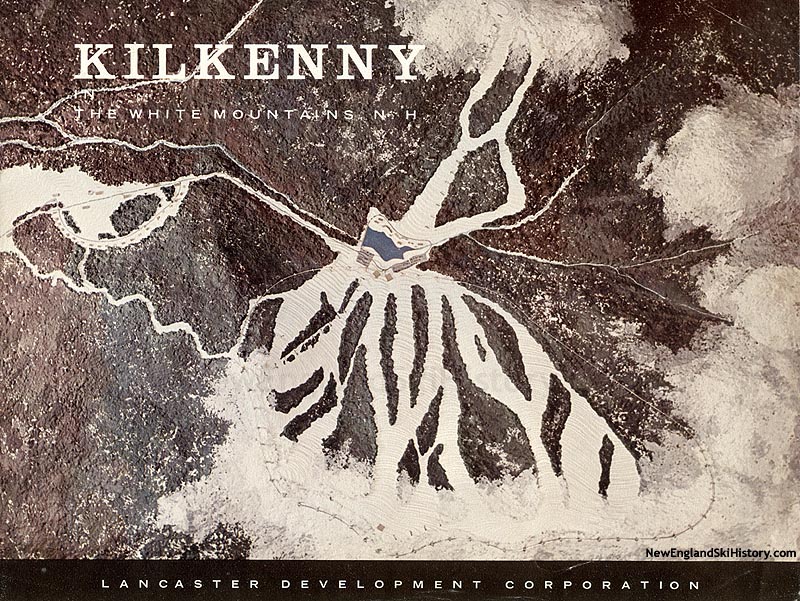 Willard Basin conceptual map (1964)




Today
There are no known remains of the Willard Basin Ski Area.

Quotes

| | | |
| --- | --- | --- |
| " | "Our state, I feel, is now beginning to make rapid progress," Senator Drake said. "In January of this year, I sponsored an act relative to access roads. It was enacted into law after five months. Then, last June, I introduced a bill calling for a fund of $300,000 for an access road to the proposed Willard Basin development at Lancaster. This bill was amended to include $25,000 for another access road to Ragged Mountain in Danbury. It was passed and subsequently signed by the Governor." | " |
| | Michael Strauss, 1963 | |
"
Planners of a $5 million ski and recreation resort in the Willard Basin area of the White Mountains will seek financial assistance from the Area Redevelopment Administration (ARA) it was announced today.

The Kilkenny Resort, which reportedly would be the largest in the East, is in Coos County, an area designated two years ago as eligible for ARA aid.
"
Hartford Courant, 1964
| | | |
| --- | --- | --- |
| " | Kilkenny in Lancaster, is New Hampshire's latest bid for greater skiing prominence. Plans for this $5 million project call for development the largest ski and resort development in the East. Lift-capacity will be the yardstick used to determine which area holds the title. | " |
| | Dot Birmingham and Walt Pesko, 1964 | |
"
The base, at Willard Basin in Kilkenny, is a horsehoe-shaped bowl ringed by seven mountains. The elevations ranged from 3,160 to a towering 4,005 ft. Upon completion there will be enough trails to merit the service of four chairs, two T-bars, a tramway and gondola.

No opening date has been announced. However, the area reports that their gondola, 8,500 ft., will have a total lift capacity slightly larger than the present title holder. Mt. Snow in Vermont is reputed to be the largest ski area in the world.

Dan Kiley, Kilkenny's designer, is one of the foremost landscape architects in the country. His credits include participation in the design of the U.S. Air Force Academy, Colorado; Jefferson Memorial National Park, St. Louis; Dulles International Airport, Washington; and Sugarloaf Ski Area in Maine.

Kilkenny will also be the first Irish ski area in America. We don't know how they arrive at that distinction. Anyhow, Erin go bragh!
"
Dot Birmingham and Walt Pesko, 1964
| | | |
| --- | --- | --- |
| " | Work did continue this year at two other promising New Hampshire ski areas. Kilkenny, mentioned in Appalachia last season as the Granite State's newest major addition, will begin construction in 1965 of a vast complex of trails, slopes, and lifts matching any area in the north country. The unique topography of the basin, in which large mountain masses exist to the south and west of the proposed development, will provide Kilkenny with a northeast exposure ensuring prolonged and windless ski conditions. Dan Kiley, of Charlotte, Vt., is undertaking the planning. | " |
| | Edward D. Hurley, Appalachia, 1964 | |
| | | |
| --- | --- | --- |
| " | Several others are in the works but not scheduled for completion until the winter of '66. These include a $4.5 million development at Bolton, VT.; the first monorail ski area at Mt. Agassiz, Bethlehem, N.H., and a three mountain complex called Kilkenny at Lancaster, N.H. | " |
| | Hartford Courant, 1966 | |
| | | |
| --- | --- | --- |
| " | This ambitious proposal would have turned the western slopes of the Kilkenny Range into an enormous winter recreation area stretching all the way from the summit of Mount Starr King near Jefferson to remote Willard Notch to the north. Preliminary plans called for the construction of six ski lifts, two rope tows and a dozen or more ski trails The project would have impacted seven different mountains and more than 5,000 acres of land, much of it in the White Mountain National Forest. | " |
| | Mike Dickerman, 2005 | |
| | | |
| --- | --- | --- |
| " | How close did this plan come to fruition? Well, in late 1964 it had gained interim approval from the U.S. Forest Service and a subsequent "open house" at the proposed development site in early 1965 drew more than 1,300 interested people. Ultimately, the developers of the planned $5 million project never did get their financing in order, thus the ski area was never developed. | " |
| | Mike Dickerman, 2005 | |
| | | |
| --- | --- | --- |
| " | However, with the proposed Kilkenny Ski Development on the N side of the ridge, there are several sets of blazes, some orange paint, and other axe marks which have no connection with the trail [from Mt. Starr King to Mt. Waumbek]. | " |
| | The A.M.C. White Mountain Guide, 1966, p. 373 | |
| | | |
| --- | --- | --- |
| " | Early 1960s: Major ski development, "Willard Basin Ski Area," proposed for N slopes of Starr King and Waumbek. Plans call for six chairlifts, two T-bar lifts, and 9000-ft tramway, with 2100-ft. vertical drop. Lease on 1800 acres of land is obtained from Forest Service, field surveys begin, and open house held Jan. 1965 is attended by 1,300, who enjoy free hot dogs and ski-doo rides, but lack of financing eventually scuttles project. | " |
| | The 4000-Footers of the White Mountains: A Guide and History, p. 525 | |
| | | |
| --- | --- | --- |
| " | I was a teenager in the area during that time period & remember the effort. One of the failure mechanisms was the Town of Lancaster watershed occupied the same terrain. The developer spent a lot of time/money trying to develop a new water supply with wells. | " |
| | Mike Connors, 2009 | |


Resources

Birmingham, Dot, and Walt Pesko. "Skiers and Skiing" Hartford Courant. 3 Dec. 1964.
Dickerman, Mike. "Abandoned ski plans would have altered area landscape." Littleton Courier. 19 Jan. 2005.
Crane, Peter.
Goff, Howard M. The A.M.C. White Mountain Guide. Eighteenth edition. Boston, MA: The Appalachian Mountain Club, 1966.


Hurley, Edward D. "New England Ski Developments" Appalachia. December 1964.
Mount Washington Observatory Archives


"Planners of Ski Resort To Seek Aid from ARA" Hartford Courant. 2 Oct. 1964.
"Skiing...It's a New Ball Game" Hartford Courant. 23 Jan. 1966.
Smith, Steven D. and Mike Dickerman. The 4000-Footers of the White Mountains: A Guide and History. Second edition. Littleton, NH: Bondcliff Books, 2008.


Strauss, Michael. "New England Promises More Areas And Stepped-Up Safeguards" New York Times. 27 Oct. 1963.


Last updated: December 11, 2012


Warning: include(../footer11.txt) [function.include]: failed to open stream: No such file or directory in /home/content/35/6551635/html/cancelledskiareas/footer.txt on line 1

Warning: include() [function.include]: Failed opening '../footer11.txt' for inclusion (include_path='.:/usr/local/php5/lib/php') in /home/content/35/6551635/html/cancelledskiareas/footer.txt on line 1