Stratton Mountain Resort
Stratton, Vermont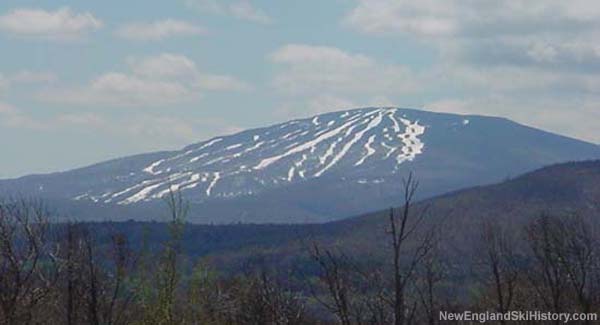 Stratton in 2002
Stratton Mountain Resort Details

Status:
Open
First Year of Operation:
1961
Vertical Drop:
2,003 feet
Lifts in Operation:
1 gondola, 4 high speed six packs, 3 quads, 1 triple, 1 double, surface lifts
Lifts Removed/Non Operational:
Located in Southern Vermont, Stratton Mountain is one of the tallest peaks in New England at 3,936 feet in elevation.

Lift served skiing debuted on the northern peak of the mountain when Stratton Mountain ski area opened with 3 double chairlifts (installed using a then-unique helicopter method) in December of 1961. Designed by Gene Gillis of Sel Hannah's Sno Engineering firm, the area also sported a three story base lodge.

While the facilities were top notch, the muddy access road was called a 'tank-proving ground' by the press. The road received much needed pavement in time for the area's second season.

Stratton's uphill capacity was improved for its third season with the installation of two T-Bars.

A sizable expansion took place the following season, when 30 acres of terrain, served by a new double chairlift, were opened in the new Snow Bowl.

1966-67 saw an expansion of the base lodge, as well as the installation of another double chairlift. The Grizzly Bear and Polar Bear trails were added for the following season.

A New Base Area
The Sun Bowl was developed for the 1968-69 season, adding a new base area, 5 miles of trails, and a new double chairlift.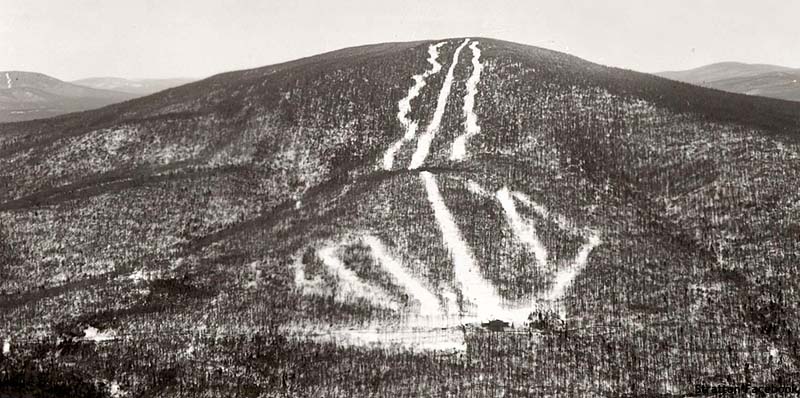 Main Line (2004)

An additional two chairlift expansion was planned for the 1971-72 season, however Stratton became one of the first ski areas in the state to run into trouble with the new Act 250 law, when residents of Winhall forced the ski area to first overhaul its sewer system in advance of potential increases in skier vists.

The Main Line pod was partially developed in the early 1970s, however development was halted prior to the installation of a chairlift.

Snowmaking was expanded to the summit circa 1974.

Also in 1974, James Sunday was paralyzed after a fall while skiing at Stratton. In a landmark decision three years later, Sunday was awarded $1.5 million by a jury. The decision resulted in significant price increases throughout the ski industry, due to skyrocketing liability insurance costs.

New Ownership, Part 1
Late in 1979, Stratton purchased nearby Bromley and assumed its multi-million dollar debt. Stratton's debt was now reportedly up to $7 million. Moore and Munger, Inc. came to the rescue and purchased Stratton in early 1980. During during the 1980s, Jake Burton found an ally in Stratton, when it became the first ski area to allow snowboarding. In addition to this, Stratton also became home to the first snowboard school, and would start hosting US Open snowboard races in 1985. Stratton would later become home to the first half pipe and formal terrain park on the east coast.

In the mid 1980s, in conjunction with the expansion of Stratton Village, the lift network at Stratton was modernized. Four new Poma chairlifts were installed in 1985 and 1986, replacing aging Heron-Pomas.

In the fall of 1987, Moore and Munger, Inc. sold Bromley to the owners of nearby Magic Mountain. The following year, the famous Gondola was installed to the summit of Stratton.

New Ownership, Part 2
In the spring of 1989, Victoria USA, Inc., a Japanese sporting goods company that owned Breckenridge, purchased Stratton. Later that year, the Kidderbrook area debuted.

New Ownership, Part 3
Intrawest purchased the ski area from Victoria USA, Inc. in 1994 and quickly started another round of new lift installations, eventually rolling out four new high speed six pack chairlifts.

With the installation of these new high speed chairlifts, the fixed grip quads of the area quickly lost popularity. With its parent company facing some tough times, Stratton removed the often-idle Kidderbrook chairlift following the 2006-07 season.

Intrawest announced $6.5 million of projects for the 2013-2014 season, including new snowcats, improved snowmaking, two new glades, and base resort improvements.

Expansion History

Image Gallery


Lifts
Click on lift name for information and photos
Maps

Skier Visit History

Season
Skier Visits
Source
2000s
2005-06
390,000
Intrawest AIF 2006
2004-05
400,000
Intrawest AIF 2005
2003-04
368,000
Intrawest AIF 2004
2002-03
417,000
Intrawest AIF 2003
2001-02
387,000
Intrawest AIF 2002
1980s
1981-82
350,000
Ski
1980-81
310,000
Ski

Ticket Price History
Weekend Full Day Lift Ticket
Season
Price
Source
2010s
2014-15
$98.00
stratton.com
2013-14
$92.00
stratton.com
2012-13
$87.00
stratton.com
2011-12
$87.00
stratton.com
2009-10
$82.00
stratton.com
2000s
2007-08
$78.00
stratton.com
2006-07
$75.00
stratton.com
2005-06
$72.00
stratton.com
2004-05
$72.00
stratton.com
2003-04
$72.00
stratton.com
2002-03
$72.00
stratton.com
2000-01
$60.00
stratton.com
1999-00
$59.00
stratton.com
1990s
1997-98
$50.00
stratton.com
1996-97
$49.00
stratton.com
1992-93
$39.00
Boston Globe
1991-92
$39.00
Boston Globe
1990-91
$38.00
Boston Globe
1989-90
$36.00
Boston Globe
1980s
1988-89
$35.00
Rock Hill Herald
1987-88
$34.00
Boston Globe
1983-84
$25.00
Ski America
1982-83
$24.00
Nashua Telegraph
1981-82
$23.00
Ski America
1980-81
$20.00
Boston Globe
1970s
1974-75
$12.00
Skiing
1969-70
$10.00
Boston Globe
1960s
1963-64
$6.50
Buxton's Eastern Ski Slopes
1962-63
$6.50
Buxton's Eastern Ski Slopes
Visitor Memories
Augustus Stimpson
Jan. 29, 2015
Every year I go with my friend Revel, and we always have the greatest time! I remember when I graduated ski school it was one of the proudest moments of my life! I recommend this to ANYONE! See you on the slopes!
Jim Hall
Feb. 21, 2013
I remember going to Stratton for a grooming trade show. I was a groomer at nearby MT Snow at the time. We were able to hop into any machine that was on the snow and running to operate it and get a feel for it. Others would have an operator take you for a ride. The Hagglund was most impressive and fast. I believe this was 1990. Also fond memories of ski trips from school.
Add a memory of Stratton Mountain Resort
First Name:
Last Name:
E-Mail Address:
Comments:
---
External Links
Stratton Mountain - official site
Stratton Mountain - FranklinSites.com
Last updated: June 6, 2014