Ascutney Mountain
Brownsville, Vermont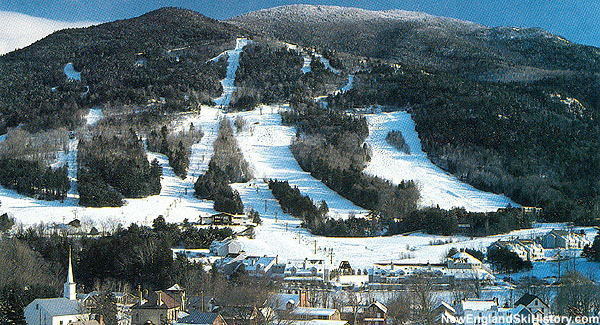 Ascutney in the 1980s
Ascutney Mountain Details

Status:
Lost/Defunct
First Year of Operation:
1946
Last Year of Operation:
2010
Vertical Drop:
1,800 feet
Lifts in Operation:
1 double
Lifts Removed/Non Operational:
1 high speed quad, 3 triples, 2 doubles, surface lifts
At 3,150 feet in elevation. Mt. Ascutney towers over the Connecticut River Valley along the border of Vermont and New Hampshire.

Early Skiing on Mt. Ascutney
Organized skiing on Mt. Ascutney dates back to at least the winter of 1935-36, when the CCC and Windsor Outing Club opened the Mt. Ascutney Trail. At 5,400 feet in length, this intermediate trail immediately captured the interest of skiers throughout the region, as did the nearly completed Ascutney auto road nearby.

A group of people including Catharine "Kip" Cushman, Bob Bishop, Dick Springer, Bob Ely, Robert Hammond, and Dr. Peter Patch worked together to get lift served skiing on Mt. Ascutney in 1946. Composed of tiered rope tows, two slopes, and a few trails, the Mt. Ascutney Slopes development was likely located at the present day bottom of the Brownsville Trail on Route 44. The ski area was considered a success, drawing crowds of 800 during the Christmas-New Year's holiday week in 1946-47.

Mt. Ascutney Proper Opens
For 1947-48, the rope tow operation was relocated west to the present location of Mt. Ascutney Resort. The improved operation included diesel rope tows, many new trails, night skiing, and snowcat served skiing (via a 3.5 mile ride in a Tucker machine on the other side of the mountain).

Another rope tow was added for the 1948-49 season. Poor snowfall resulted in a changing of the board.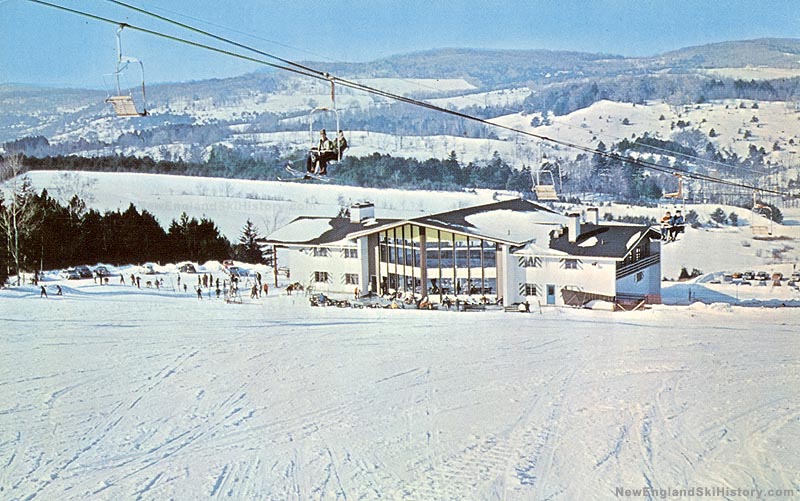 The new base lodge in 1963

After another poor season in 1949-50, Ascutney found itself in bankruptcy for the first time. Cushman's brother, Percival Ranney, purchased the area and handed back over to Kip.

In 1955, George Dunning took over as manager of Ascutney for a season. Following 1955-56, Dunning apparently headed over to New Hampshire and attempted to open Ragged Mountain. Meanwhile, Ascutney was sold to John Howland.

Circa 1957, the Mt. Ascutney Ski Area, Inc. company was formed by Howland, with Walter Paine becoming the first outside shareholder. The capital injection funded significant improvements for the 1957-58 season, including a 2,250 foot T-Bar and Larchmont snowmaking equipment.

For 1959-60, Ascutney attempted to install a Larchmont chairlift in the vicinity of its novice area. Operating on a track, the lift was plagued with mechanical problems. After being marketed for the 1960-61 season, the lift quietly removed.

After narrowly avoiding bankruptcy, West Slope Area was developed for the 1962-63 season, served by a new T-Bar. Also around this time, Walter Paine (publisher of The Valley News), became principal owner in the ski area, keeping John Howland on as General Manager.

Ascutney's First Real Chairlift Debuts
Ascutney moved into the big leagues in 1963-64 when it expanded upward with a new Hall double chairlift, increasing the area's vertical drop from 620 to 1,470 feet. In addition, a novice T-Bar was added and a new lodge built.

For 1968-69, night skiing was expanded and a mid station added to the double chairlift, allowing for novices and intermediates to access easier terrain. In addition, the Novice T-Bar was relocated to a new slope between the double chairlift and Main T-Bar.

In 1970-71 the Sunrise Mountain area opened, featuring novice and intermediate terrain serviced by a new Hall double chairlift.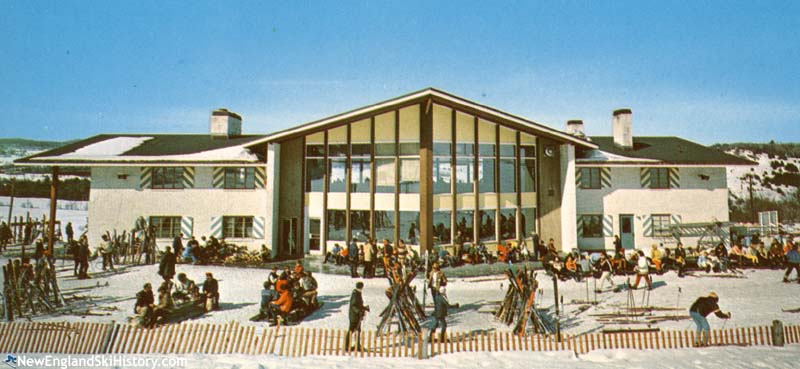 The Village Area in the 1980s

Ownership Changes
In September of 1972, it was announced that Walter Paine then sold the 820 acre ski area to a group led by John and Sarah Giles. The timing wasn't great for the new ownership, however, as a January 1973 thaw and a rough 1973-74 left the New England ski industry in bad shape. By March of 1974, Ascutney was "mortgaged to the hilt," according to Assistant Manager Bob Straw.

Apart from some real estate development, Ascutney ski area did not change much during the 1970s. After yet another rough winter, the Giles sold the ski area to Dr. Ronald Massa in July of 1981 for an estimated $1.35 million.

The subsequent seasons proved to be difficult as well. In March of 1983, The Mt. Ascutney Ski Area Corp. filed for Chapter 11 bankruptcy, with some $2 million of debt (as compared to $2.5 million of listed assets).

Massive Growth
That summer, a group named Summit Ventures, Inc. purchased Ascutney for an estimated $1.5 million and began an aggressive 10 year investment plan. The main shareholders included Joseph Grano Jr., Lou Guido, Daniel Tully, and Ira Lampert.

In conjunction with the development of 100 condos, big changes took place on the ski area in 1984-85. Two new triple chairlifts were installed, expanding the ski area downward to the new Village Area. In addition, significant investments were made in snowmaking and grooming.

For 1986-87, the summit double chairlift was upgraded to a triple, giving Ascutney a top to bottom modern lift system. In October of 1986, the Tax Reform Act of 1986 was signed, resulting in a change in deductions for real estate investments. According to the ownership, this started a downward spiral.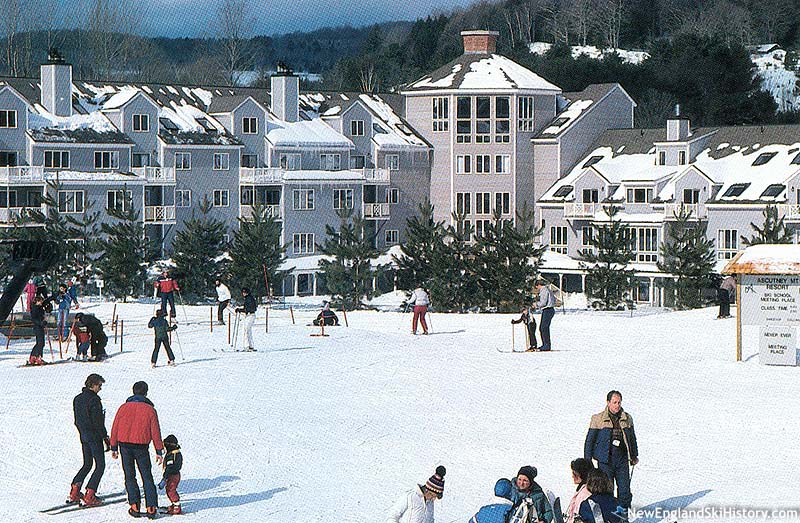 The Gateway trail (2005)

Bankruptcy and Closure
By the end of the decade, some $65 million had been invested in Ascutney. With debts mounting, Ascutney filed for bankruptcy protection in April of 1990. While the area was able to operate during 1990-91, creditors forced it into liquidation that spring.

By the end of 1991, wounds were only getting worse. The town of West Windsor was owed $350,000 in back taxes, accounting for near a year's budget. Details of lavish expense accounts also emerged, such as nearly a half million dollars spent on travel and entertainment (including private jet flights) by ownership during the late 1980s.

Reopening and Expansion
In June of 1993, Steve and Susan Plausteiner purchased Ascutney at auction for $1.1 million, beating the owners of Smugglers Notch and an equipment liquidator. Ascutney reopened in December of 1993.

A five year investment plan started in the middle of the decade with an initial focus on snowmaking and base facility improvements. Also around that time, the Plausteiners attempted to go public with their Snowdance company. With some of the $13 million in funds they hoped to raise, the Plausteiners hoped to purchase and reopen Hogback in southern Vermont. The IPO was dropped circa 1998.

In 2000, $3 million was invested, including a new high speed detachable quad. Capping the five year expansion campaign, the new North Peak development resulted in nearly 300 more vertical feet of terrain above the top of the triple chairlift. Unfortunately, debt was growing.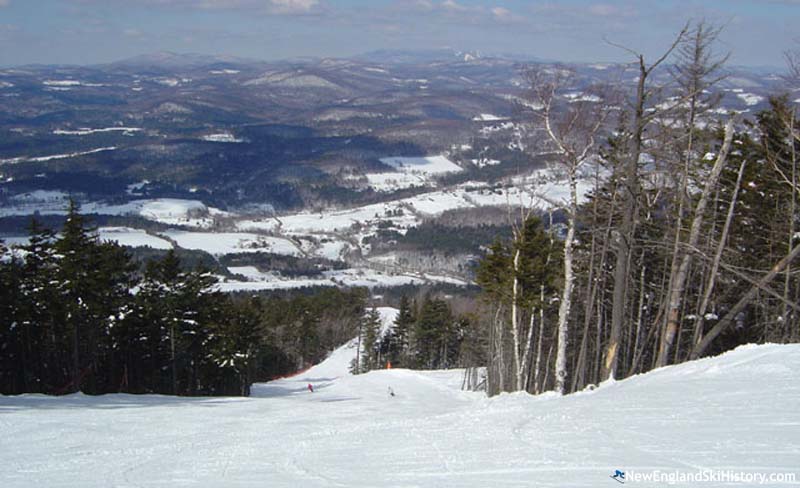 The abandoned base lodge (2012)

Closure
By 2008, Dan Purjes' MFW Associates was commencing foreclosure proceedings on the ski area, citing $1.86 million in debt and $917 per day in interest charges. Two years later, the Plausteiners sold their share in Ascutney to Purjes, who then unsuccessfully attempted to liquidate the area that summer. That fall, word spread that Ascutney would not operate in 2010-2011.

In early 2011, Burke looked to have a $1.55 million deal in place to purchase the high speed quad. Removal costs resulted in Burke backing out and instead purchasing a brand new lift.

In early 2012, Crotched Mountain, NH announced it had purchased the high speed quad. The refurbished lift debuted as the "Crotched Rocket" in December of 2012. Fixed grip chairlifts still remain standing at Ascutney.

The area was reportedly auctioned to MFW Associates for $1.5 million in early November 2013. While the title was reportedly free and clear, the area remained idle for a fourth consecutive season during the winter of 2013-2014.

While MFW Associates initially had hoped to reopen the ski area, it was unable to find a financially viable plan. Instead, the triple chairlifts were sold to Pats Peak and removed during spring and summer 2014.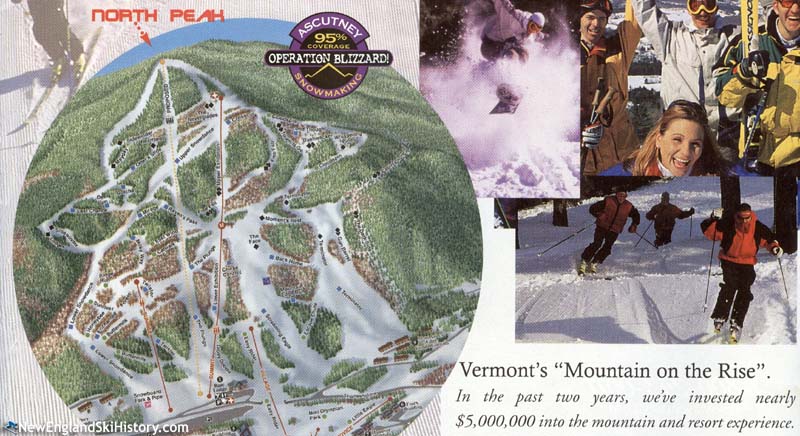 Removal of the lower mountain chairlifts (2014)

On October 14, 2014, West Windsor voters approved the purchase of 469 acres of Ascutney, as well as the former base lodge. The ski area could reopen in the future as a small operation served by the remaining Sunrise Double Chairlift.

NewEnglandSkiIndustry.com News

Expansion History

Image Gallery


Lifts
Click on lift name for information and photos
Maps

Skier Visit History

Season
Skier Visits
Source
2000s
1999-00
80,000
Boston Globe

Ticket Price History
Weekend Full Day Lift Ticket
Season
Price
Source
2010s
2009-10
$62.00
ascutney.com
2000s
2008-09
$62.00
ascutney.com
2007-08
$60.00
ascutney.com
2006-07
$58.00
ascutney.com
2005-06
$56.00
ascutney.com
2004-05
$55.00
ascutney.com
2003-04
$54.00
Brochure
2002-03
$52.00
Brochure
2001-02
$49.00
Eastern Ski Atlas
2000-01
$46.00
ascutney.com
1999-00
$43.00
Brochure
1990s
1997-98
$39.00
ascutney.com
1993-94
$34.00
Boston Globe
1990-91
$30.00
Boston Globe
1989-90
$30.00
Boston Globe
1980s
1988-89
$30.00
Boston Globe
1987-88
$27.00
Boston Globe
1986-87
$24.00
Skiing
1981-82
$16.00
Ski America
1980-81
$15.00
Ski America
1970s
1969-70
$7.00
Boston Globe
1960s
1968-69
$6.50
NELSAP
1967-68
$6.50
Eastern Ski Atlas
1964-65
$5.50
Eastern Ski Atlas
1963-64
$5.50
Buxton's Eastern Ski Slopes
1962-63
$4.00
Buxton's Eastern Ski Slopes
1959-60
$3.75
Directory of Ski Resorts
Visitor Memories
Jon Crane
Jan. 11, 2015
I grew up skiing at Ascutney, my family had a place on the mountain from 1969-1992. With the base lodge fire now added to the area's other challenges, perhaps it is time to move past any type of resort concept. Ascutney is a beautiful spot and the community has wonderful people. I love the area and continue to visit without the skiing.
Bryan Burr
Jan. 10, 2015
Just days ago the vacant main lodge was destroyed by a fire. If there was even any chance of reopening with some of the lifts removed, its certainly gone now. As a child skiing in the sixties and seventies this was a great place to be. Thursday night skiing with high school friends brings back memories. My dad took me skiing there for the first time when I was 4 or 5 years old some fifty years ago.
Hunter Waldron
Dec. 22, 2014
R.I.P. Ascutney, I hope your Resurrected some day. I grew up riding your lovely icy slopes. Cloud Spin to Lower exhibition was my jam(and jelly).
Mark Fromhell
Nov. 18, 2014
I loved skiing, and snowboarding at Ascutney Mt.My ski club would go there often. We would stay in the slopeside village, where it was always fun to snowtube at night. If you were lucky enough to be at Ascuntey on a powder day, you had the whole mountain to yourself. Such a shame to see this place close.
William Szyman
Sep. 7, 2014
I developed my skiing skills on Mt. Ascutney in the 60's, tested those skills when I moved to the west in the 70's at Aspen, Snowbird, and Mammoth. The comparison showed me that east coast skiers get better training!
james hart
Aug. 11, 2014
This is one of the most dangerous mountains for skiing.The latitude position on the map is set so on very cold days the sun melted the snow then it froze causing ice.The proper maintenance budget was always short of funds in its history.The amount of insurance claims always spelled trouble.People stopped going due to the poor safety conditions!End of story!
Bill Aldrich
Jul. 9, 2014
I skied there a few times in the 1980s. My family has a place across from the mtn. What a nice view! I have biked up the mountain road (first half is tough). Going down, well, the rims got hot. Sadly, none of the investors and property owners did a serious study of demographics. N.E. has too many ski areas. Ascutney was too big for the small areas and too small to compete with the big areas. It had no nearby nightlife (sorry, Claremont). As a family ski area it did not draw free-spending and partying singles. Apart from the condos it never had significant, nearby lodging. Maybe the GMHA and mountain bike groups can draw more visitors during the dwindling number of non-cold weeks. Could global warming change Brownsville for the better? ;-)
John Searle
Jul. 6, 2014
All of my fond childhood memories revolve around AMR. My parents raised us as a 'skiing' family here. I had nervously awaited some type of positive outcome looking forward to my two young children being afforded the same upbringing with Grandparent time at this wonderful hill. Having worked for the resort through multiple owners, it is quite sad to see it go. Literally as towers go down rt. 44 on trailers. I as well will always remember Fleet St. Fifth Ave. glades the cabin, Thunder Rd. Lot of resort to fall off the map. So sad. Thank you for all the wonderful memories!
Ken Ross
May. 28, 2014
May 14 2014 all lifts but the double chair are being dismantled they were sold on the 13th chairs have already been removed from the novice trple
bill gardella
Mar. 18, 2014
We love you Ascutney, warts and all!skied her circa 1969 thru 2010 closing.ruined many ski bottoms on her bountiful, seldom fully covered, boulders! The little trails off to the sides thru the woods made runs longer and alot of extra fun. We hope she returns, diminished and all. We'll ski you regularly, for sure.
kevin alix
Feb. 9, 2014
ascutney was always a great day trip or weekend mtn. traveling from ct. wasn't always in the greatest snowbelt, but when we got a dump, the terrain was awesome! it's an old school new england mountain with classic winding tight trails to open slopes. i can remember skiing with my brother dan here back in the 70's and it's something that just sticks with you!! it's kinda like heading up rt.91 now, seeing the mtn., but knowing nobody is riding the lifts or cruising down the trails. it would be great to find investors to bring life back to brownsville and surrounding communities! bring back MT. ASCUTNEY!!!
Daniel K
Feb. 5, 2014
This is one of two areas I have skied that have since closed (the other being Tenney). I remember skiing with my dad in the mid/late-90's and I remember it as a fun area to ski, especially the top half of the area. It's a shame it closed since it was a rather challenging mountain with a lot of character to it.
Mary Jo Cully (Moran)
Jan. 29, 2014
My six brothers and I learned to ski at Ascutney in the early 60's and it was a perfect mountain for it. I still have my lift tag from my jacket which holds my 1964 photo. It was a wonderful childhood growing up in Windsor for the few years we had there. On one memorable run down the mountain, our father, headed down ahead of us kids to demonstrate something. A large puff of snow below drew us toward it only to find our father surrounded by the ski patrol with a broken femur. It was a long winter that year! Thanks for the memories Ascutney!
Tim Quinlan
Dec. 15, 2013
I basically grew up at Mt Ascutney in the 60's,worked the lifts in the late 70's, and continued to occasionally ski there until it finally closed in 2010. If it reopens that would be fantastic, if not then I'll still have many fond memories of Thunder Road, Fleet Street, Miller's Mile, and the cabin off of 5th Ave!
Courtney Davis
Oct. 25, 2013
I grew up on and learned how to ski at Mt. Ascutney. My dad ran the cross country ski center for years so that we could get seasons passes. Most of my childhood memories are of adventures on the mountain. I also met my husband a Mt. Ascutney. Love my mountain!
Alison Hersey Risch
Jun. 5, 2013
I arrived as a neophyte ski instructor in the 1963-64 season under the guidance of Jerry Hickson, ski school director and Bob Ely, master mountain manager and forerunner snow maker. I earned my coveted
Add a memory of Ascutney Mountain
First Name:
Last Name:
E-Mail Address:
Comments:
---
External Links
Mount Ascutney - New England Lost Ski Areas Project
Ascutney Mountain Resort - Wikipedia
Last updated: October 15, 2014