Pine Ridge
Barre, Massachusetts
Status:
Lost/Defunct
First Season:
1950s
Last Season:
2005-06
Vertical Drop:
224 feet
Standing Lifts:
0
Past Lifts:
Surface lifts
Left: The base area in 1958
Recent NewEnglandSkiIndustry.com News:
Located between Barre and South Barre, Pine Ridge was a small ski area that operated for more than half a century.


Barre Ski Tow

Originally known as the Barre Ski Tow, Pine Ridge likely dates back to at least 1950, when Bob Anderson purchased ski area. At the time, the area likely sported a 880 foot rope tow on a wide slope. A beginners tow was likely added for the 1951-52 season.


Pine Ridge Grows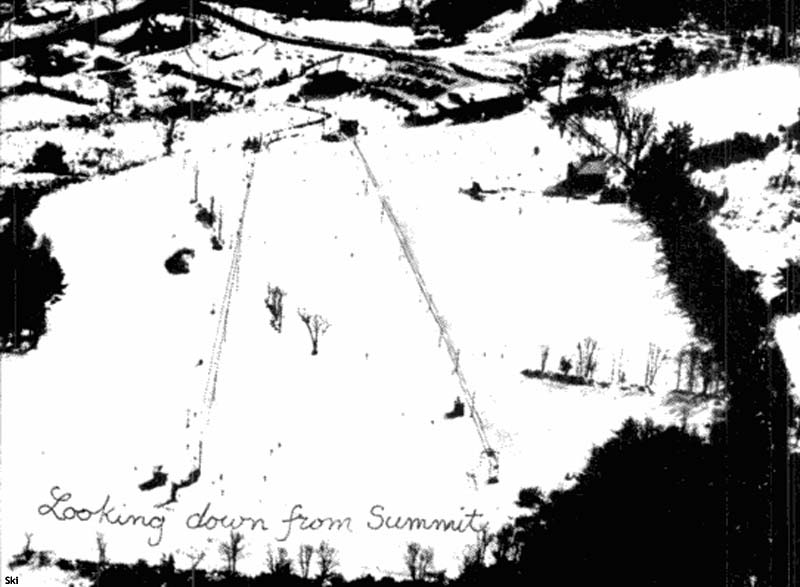 An aerial rendering of Pine Ridge circa the 1970s

On December 10, 1965, Pine Ridge Ski Area, Inc. was formed as a Massachusetts corporation. Later that month, Anderson and his wife Ina transferred land to the corporation, whilst acquiring additional tracts.

By the start of the 1966-67 season, Pine Ridge was advertised as having two Poma lifts and a J-Bar, as well as night skiing and snowmaking. There are no known references to the Poma lifts after this point.

Additional land was purchased by Pine Ridge Ski Area, Inc. in late 1967.

In 1970-71 listings, Pine Ridge had two T-Bars and a J-Bar serving 3 trails and 2 slopes. It appears the J-Bar was removed following this season.

Circa the mid 1970s, terrain was cleared to the north of Pine Ridge with the aim to enlarge the area and install a chairlift. While a chairlift was reportedly procured, local opposition reportedly stopped the project.


First Closure

According to the New England Lost Ski Areas Project, Pine Ridge closed circa 1982 due to Anderson falling into ill health. By the end of the decade, the Town of Barre had placed a tax lien on the property.

With Bob Anderson in ill health, Gail A. Anderson took over as President and Treasurer of Pine Ridge Ski Area. Inc. According to the New England Lost Ski Areas Project, the O'Connor family began operating the ski area in 1990. On July 1, 1993, Jill O'Connor's Auto H2O, Inc. purchased the tracts of land for $250,000, with Pine Ridge Ski Area, Inc. providing a $245,000 mortgage. According to the New England Lost Ski Areas Project, the longer T-Bar was removed around this time.


Second Closure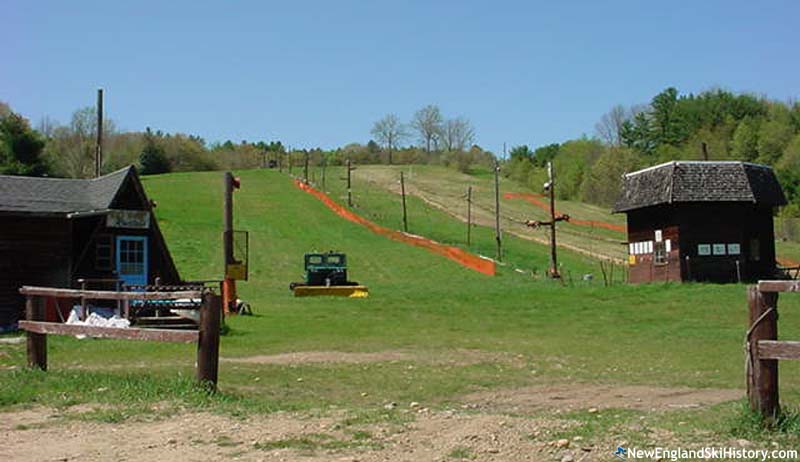 An idle Pine Ridge in 2002

After operating throughout the 1990s, Pine Ridge ski area closed in 2001. On December 12, 2002, James Caruso formed C. R. Development Corp. In the summer of 2003, Auto H2O, Inc. transferred land back to Pine Ridge Ski Area, Inc., which then sold the land to C.R. Development Corp. for $285,000.

After some uncertainty, Pine Ridge reopened for the 2003-04 season. While an investment was made in the bar, the on hill infrastructure continued to age. In an attempt to rebrand, the area became known as Pine Ridge Snow Park.


Final Closure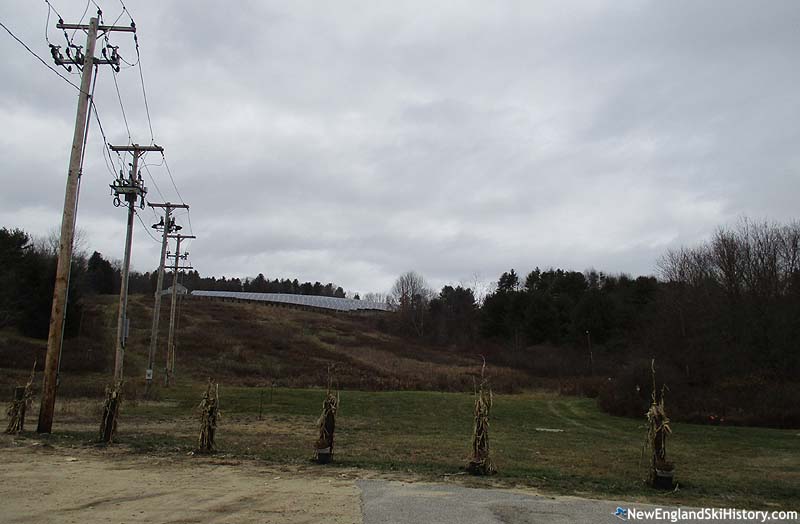 Pine Ridge and Kearsarge Barre I (2016)

On March 4, 2006, the T-Bar caught fire and was damaged beyond repair. As a result, the ski area closed for good. The Upper Deck Sports Bar is still in operation as of 2017.

In May 2014, the 2.4 megawatt Kearsarge Barre I solar energy plant opened on the upper slopes of Pine Ridge.



Lifts
Click on lift name for information and photos




Maps


Year by Year History
Adult Weekend Full Day Lift Ticket; Adult Full Price Unlimited Season Pass

2000s
Ticket Price
Season Pass Price

Pass Payback

Opening Day

Closing Day

Skier Visits

2005-06
$24.00
$240.00
10.0 days
March 4
2004-05
$20.00
$200.00
10.0 days
Visitor Memories
"I skied at Pine Ridge the winters of 1968-1969, and I went almost every single weekend if the weather was good. I eventually achieved what might be considered intermediate status, i.e. I could ski parallel, but never quite mastered it. It was virtually my entire skiing experience, because the next year I went off to college, so could no longer (rationally) afford to ski. I DO however have many fond memories of the place! "
Richard Savary, Nov. 14, 2020
"Fond memories. I went to school in N. Brookfield and we'd do group trips. I may have it wrong but around 1973 give or take a year I seem to recall my girlfriend at the time- Robin Lee riding the chair above me floundering below on skis. I remember her yelling: Use your poles!! I was so embarrassed that I skied at night behind the school and studied every ski book I could. I became an instructor years later and eventually a ski school director on Mt Hood Oregon. And now I'm yelling: Use your poles!! Thank you Pine Ridge and Robin Lee 💚⛷🌲🎿"
Jeal Breckenridge, May. 23, 2020
"Back in the day I payed 10.00 for a season pass! One night the wind was blowing and it was 20 degrees below zero. That night I made 50 runs using the rope tow. Wonderful memories back in the 1950's . I now live in Maine, but grew up in North Brookfield. Marie"
Marie Benvenuti Orrell, Feb. 21, 2019
"I remember traveling to Pine Ridge to learn to ski with classmates from New York City and staying for ski school. You could earn bronze, silver and gold stars for achieving certain proficiency at skiing and we would sew patches and stars on our parkas. This was around the late 1960s. Good fun."
Christian Westermann, Jul. 11, 2018
---
External Links
Last updated: January 20, 2017