| | |
| --- | --- |
| | |
Located on the northern end of Pleasant Mountain, Shawnee Peak is the oldest major ski area in Maine.



Early Skiing on Pleasant Mountain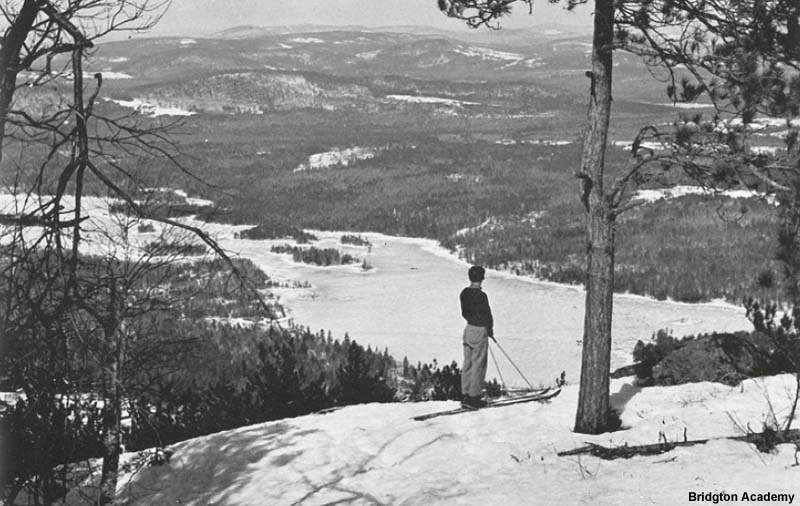 Early skiing on Pleasant Mountain

Shawnee Peak's skiing history dates back to 1935, when multiple groups started developing a winter recreation area on the northern slopes of Pleasant Mountain. The Bridgton Lions Club, Bridgton Chamber of Commerce, Bridgton Academy, Portland Ski Club, and Bridgton Civilian Conservation Corps joined together to construct the Wayshego Trail (reportedly first referred to as the Cohechee Trail). Laid out by Max Wheildon, Bud Dow, and Clarence Kneeland, the 1.5 mile trail was only the start of what was to come.

In 1937, Bridgton selectmen obtained a Works Progress Administration grant for further development of the ski area. A team of 40 started work, eventually growing to 125. A 1,100 foot rope tow reportedly opened on January 23, 1938, serving lower mountain slopes. The Wayshego Trail was also widened and smoothed for that winter, while other attractions included a ski jump and cross country skiing. By the time the 1938-39 season rolled around, some $20,000 had been invested in the project.

The Wayshego Trail was expanded to 50 to 100 feet wide with corduroy-logged banked curves for the 1939-40 season. The Pleasant Mountain Ski Club hosted prominent races on the trail that winter.

Around this time, the Pleasant Mountain Ski Club took charge of improvements. For the 1940-41 season a 300 foot rope tow was added for beginners, while a tow was reportedly installed near Highland Lake for a toboggan chute. Meanwhile, in the fall of 1940, the voters of the town of Bridgton appropriated funds to acquire the land on which the ski area was located. The Bridgton Chamber of Commerce operated the ski area that winter. In the spring of 1941, the town acquired the land and subsequently leased it to the chamber, which was which was developing plans to install an aerial tramway on the mountain.

For the 1941-42 season, the parking lot was tripled in size and a new slope was reportedly constructed. Operations continued through the winter, but momentum was stalled with the onset of American involvement in World War II.

Following World War II, Russell Haggett became general manager of the ski area. Meanwhile, the Wayshego Trail was renamed Jack Spratt in honor of Pleasant Mountain's second manager. Starting in the spring of 1946, the Pleasant Mountain Ski Development Corporation began to acquire property. During the 1947-48 season, the partners of Pleasant Mountain Ski Development Corporation were Haggett, Pleasant Mountain House owner Ray Riley, and ski instructor and ski shop manager Luke Evans.

The main slope was extended further up the Jack Spratt trail for the 1948-49 season, while a new intermediate trail was cut and a new rope tow constructed. In the midst of a snow drought, prominent races were postponed or cancelled that winter, including the January Pleasant Mountain Ski Club Downhill.


Many Firsts at Pleasant Mountain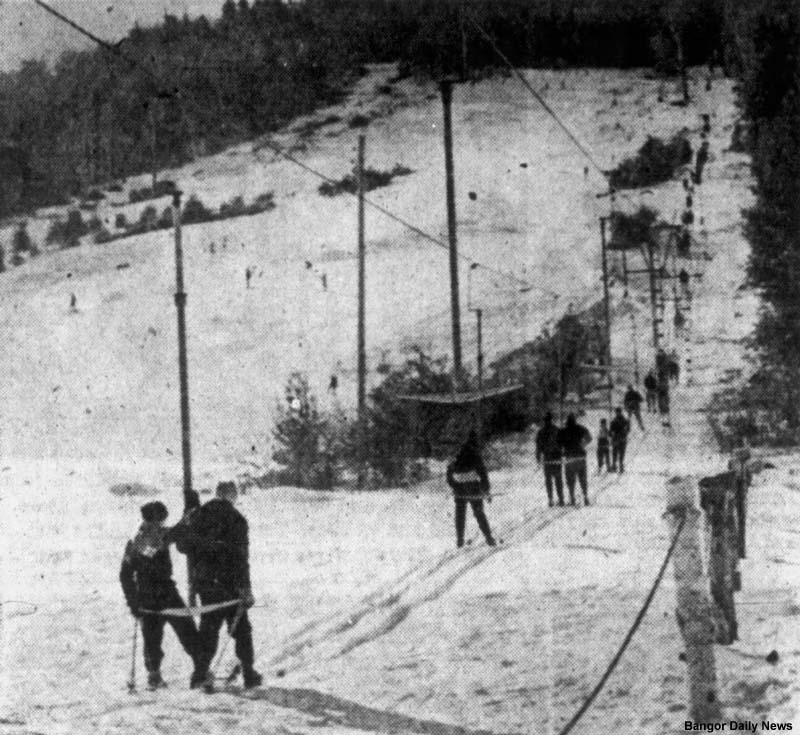 The first T-Bar circa 1955

Pleasant Mountain announced a $40,000 expansion project in June of 1953, the centerpiece of which was a 2,000 foot long T-Bar. Maine's first T-Bar, the lift replaced two lower mountain rope tows.

Circa 1954, Ray Erickson (of Sam Aceto Construction Company) became a stockholder, joining Haggett, Riley, A.B. Cooley, and Eli Morin. In early 1955, construction began on a double chairlift. The lift had a $100,000 price tag, with E.G. Constam financing $45,700 of it. The first double chairlift in Maine, the lift climbed 1,200 vertical feet to the north peak of the mountain. Later known as "Old Blue," the lift was installed with summer and fall sightseeing in mind and likely opened before the snow flew in 1955.

After the two major lift projects, 1956-57 off-season work was limited to improving trails and expanding parking. Access was improved with a new paved access road, which also served as overflowing parking.

Tragedy struck on August 7, 1957, when a lift malfunction resulted in four injuries. The most seriously injured customer subsequently suffered a heart attack, spending more than a month at Maine Medical Center. A series of lawsuits followed over the next few years, as the failure was attributed to a fault bolt.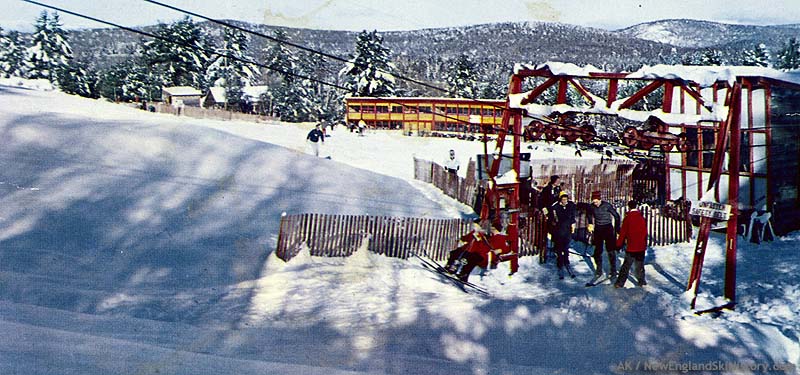 Old Blue

The chairlift was repaired in time for the 1957-58 season, with a mid-station added to increase operating days, since the lift had been on hold due to limited upper mountain snow at times during prior years. In addition, the Jack Spratt trail was widened.

The 1957-58 season got off to a slow start, losing the Christmas to New Year's holiday period. Snow soon arrived, resulting in strong business and a season that extended into April for a total of 118 days of operation.

Riley's Run was cut for the 1958-59 season, while the West Slope it led to was regraded to remove a side-slope. Meanwhile, Switzerland native Hans Jenni was hired as ski school director; his wife Barbara also played an active role in the ski school and office. Access to the mountain was improved with the reconstruction of US 302. With record crowds flocking to Pleasant Mountain that winter, Russ Haggett announced plans for another chairlift and expanded base facilities.

Cooley's Caper was cut as a dedicated race trail and base lodge was expanded for the 1959-60 season.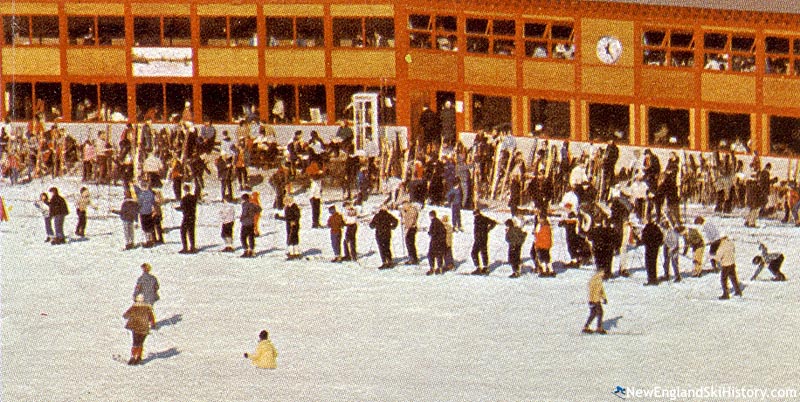 The base lodge circa the 1960s

For the 1960-61 season, a short Doppelmayr T-Bar was installed, serving a newly cleared five acre novice slope in the vicinity of the present day Rabbit Run. The base lodge was once again expanded as well. Russ Haggett, described by the Boston Globe as "a giant of a man equally at home on a pair of skis, hunting in the woods or fishing a mountain stream," told the paper, "This has always been a family area catering to recreational skiers. Every improvement we make is done with these basic facts of operation in mind."

For the 1961-62 season, a "3000-foot slope cut 300 feet wide" was added. Named the East Slope, the 25-acre trail was augmented with a new T-Bar in 1962-63.

A new three-story wing was added to the base lodge for the 1963-64 season. In addition, $15,000 was spent on regrading and planting grass on one of its slopes. While northern ski areas struggled to open, Pleasant Mountain received enough natural snow to start operations in mid-December due to the track of the storms that winter.

Pleasant Mountain wasn't as lucky with the start of the 1964-65 season, as mild weather resulted in limited December skiing and the postponement of January races. When conditions improved by late February, a record number of skiers hit the slopes. As was the case for 1963-64, Pleasant advertised yet another lodge expansion that winter.

The lodge expansion was announced as completed for the 1965-66 season, with new cooking facilities added. Meanwhile, a new 1,000 foot trail (possibly an early version of Parmalee's Paradise) was cut from the top of the mountain, reportedly designed to retain snow better than the other upper mountain trails that tended to be battered by wind. In addition, room for another 100 cars was added to the parking lot. Washed out by an early January rain storm, 1965-66 was classified as an average season in an April business roundup.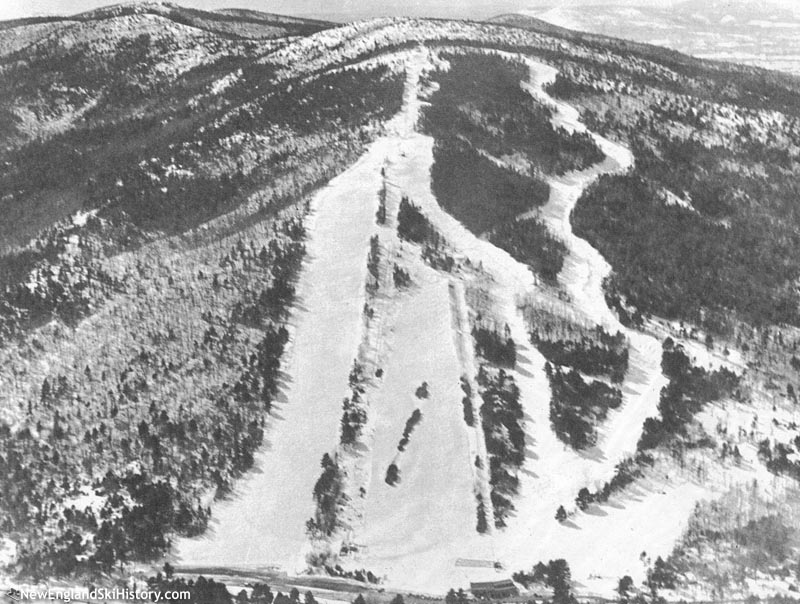 Pleasant Mountain in the 1960s

After a quiet 1966 off-season, in 1967 Haggett announced additional land had been purchased and new trails and real estate opportunities would soon follow. Ralph Woodward took over as ski school director for the 1967-68 season. Governor Ken Curtis and his family hit the slopes at Pleasant Mountain in January.

A 400-unit housing development on Moose Lake was announced circa the 1968-69 season, including plans for a village center.


New Ownership

On April 3, 1969, Sumner T. Bernstein, Virginia W. Libby, and Viola E. Smith formed the Pleasant Mountain Corporation. In early June, Russell Haggett announced the Pleasant Mountain Ski Development Corp. would be selling to the new company. The transaction was completed on June 30, with Ted Logan serving as president of the new company and Haggett remaining as general manager. In addition to moving forward with the real estate development, the new ownership announced the construction of a new lower mountain chairlift. A ten-inch snowstorm in October was seen as a preview of a strong season, though it did slow construction of the new lift. Ruedi Wyrsch took over as ski school director, as Ralph Woodward returned to Wildcat. Formerly the director of the Jiminy Peak ski school, Wyrsch was known for on-slope acrobatics, dressing up like a clown, and experimenting with new ski technology.

Due to congestion related to the new chairlift, the novice T-Bar was relocated for the 1970-71 season. The new area was located across the road from the main mountain and featured a vertical drop of about 60 feet.



The East Area Debuts

The Pleasant Mountain East Area opened for the 1972-73 season. Serviced by a double chairlift, the new complex featured intermediate and expert terrain, as well as a new base area.

After running Pleasant Mountain for three decades, General Manager Russ Haggett retired prior to the 1975-76 season. Squaw Mountain's Ron Kutkiewicz took over as General Manager for a short time before departing for Big Vanilla in New York.

Freestyle skiing became increasingly popular at Pleasant Mountain during the 1970s. In 1978-79, four of the ten United States qualifiers at the North American championships came from Pleasant Mountain. Meanwhile, to attempt to keep up with other ski areas, $100,000 was spent upgrading its trails, while the Old Blue chairlift was rebuilt.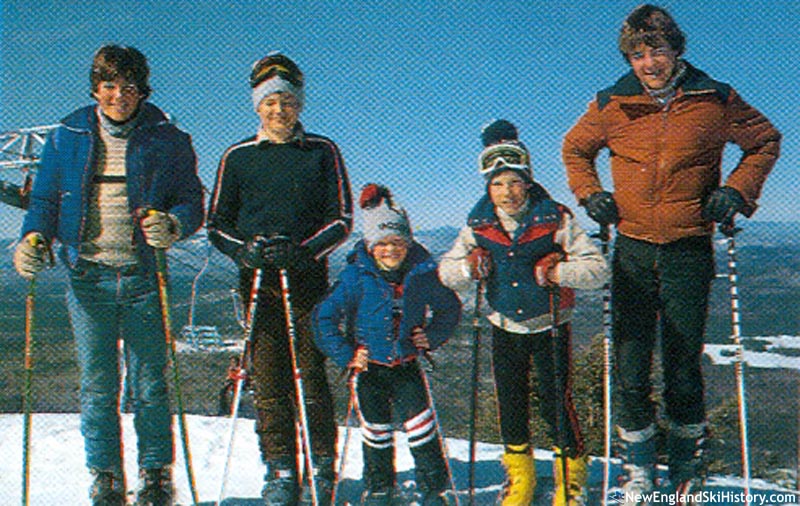 Pleasant Mountain in the 1970s

While Pleasant Mountain had been at the top of the state's ski industry for its first few decades, it found itself lagging behind the pack as the 1980s started. Lacking snowmaking, the ski area operated only 7 days in 1979-80 and a few dozen days in 1980-81.

On October 29, 1981, Pleasant Mountain Corporation leased the ski area to New PMC, Inc. for a one year term, with options to extend or purchase. A snowmaking system was quickly installed for the 1981-82 season. Later in 1982, an alpine slide opened for summer operations.

Okemo General Manager Ed Rock was hired to run Pleasant Mountain for the 1983-84 season. A Labor Day weekend 1983 fire at Pleasant Mountain's base lodge threatened to set the ski area back, however hard work resulted in the ski area opening that December. Top to bottom snowmaking debuted that winter.

Following the 1983-84 season, "Old Blue" was removed and replaced with a new Riblet triple chairlift.

$600,000 was invested in the snowmaking system for 1985-85 season. Amongst the improvements was a new pipeline from Moose Pond, providing significant water to the operation. Snowmaking was expanded to the East Side for 1987-88.



Pleasant Mountain Becomes Shawnee Peak

Following the 1987-88 season, the owners of Pleasant Mountain found themselves in financial trouble. That off season, they sold the ski area to Shawnee Mountain Corp. for $1.4 million. Pleasant Mountain was subsequently renamed to "Shawnee Peak," the name of the owners' Pennsylvania ski area.

For its debut season as Shawnee Peak, major changes were made to the ski area. A new Borvig double chairlift was installed near the original location of the novice T-Bar. Snowmaking was further expanded, while base area facilities were improved. Finally, night skiing was added on the lower mountain.

Night skiing was expanded to the summit for the 1989-90 season, giving Shawnee Peak the most lit terrain in New England. The 121 day season ended up setting records for length of season and number of skier visits.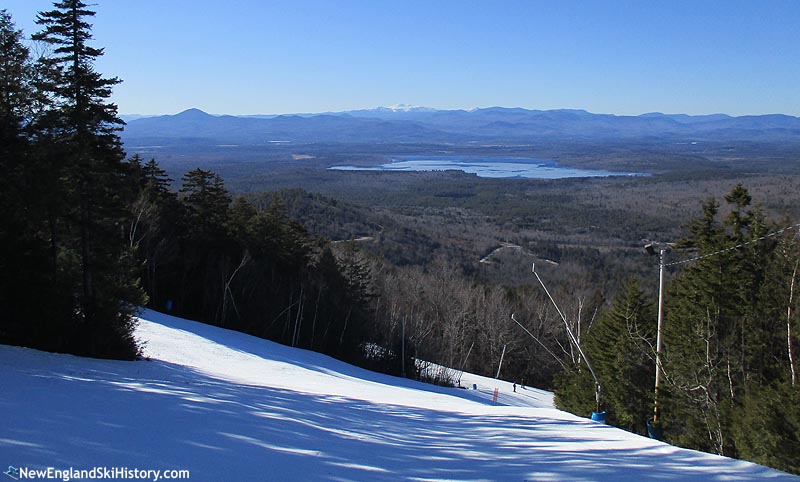 The classic Mt. Washington view (2016)

Chet Homer Buys Shawnee Peak

Circa 1992, the parent company decided to divest its skiing holdings, resulting in banks taking control of Shawnee Peak. After a couple of season on the bubble, Shawnee Peak was purchased by Tom's of Maine executive Chet Homer in September of 1994. Though Homer considered restoring the ski area's original name, he opted to keep the Shawnee Peak identity due to the brand that had been established.

After making under the hood improvements, Homer made a splash in 1997 when $1.2 million was invested in Shawnee Peak. In addition to a new beginner lift, two chairlifts were upgraded. The East Area's double chairlift was converted into a triple while the Pine Double was replaced with a new CTEC Quad chairlift.

For the 2010-11 season, the aging summit Riblet triple was replaced with a rebuilt CTEC triple, purchased from Loon, NH. The new lift was complemented with a conveyor loading system, allowing it to run faster than its predecessor. Four years later, the Rabbit Run chairlift was upgraded to a triple.

Ralph Lewis, Loon's Director of Ski Operations, became General Manager in September 2016 when Ed Rock retired. A new Magic Carpet lift was installed for the 2017-18 season.

On October 22, 2021, Chet Homer announced that he had sold Shawnee Peak to Boyne USA Resorts.

On September 14, 2022, the ski area reverted to its original Pleasant Mountain name.



NewEnglandSkiConditions.com Reports

Month
Average Percent of Terrain Open
December
10% (1 report)
January
48% (7 reports)
February
90% (2 reports)
March
90% (4 reports)
April
60% (1 report)

-- start conditions table -->

Recent Conditions Reports

Apr. 3, 2021 by newenglandskier13
Spring Snow, Frozen Granular
Mar. 28, 2021 by nhalex
Corn, Bare Spots
Mar. 27, 2021 by nhalex
Corn, Frozen Granular
Feb. 5, 2019 by rocket21
Spring Snow, Frozen Granular
Jan. 4, 2019 by newenglandskier13
Packed Powder, Powder

Pleasant Mountain on NewEnglandSkiConditions.com
NewEnglandSkiIndustry.com News
Expansion History
Image Gallery
Lifts
Click on lift name for information and photos
Maps
Year by Year History
Adult Weekend Full Day Lift Ticket; Adult Full Price Unlimited Season Pass

2020s
Ticket Price
Season Pass Price

Pass Payback

Opening Day

Closing Day

Skier Visits

2023-24
$94.00
2022-23
$89.00
$924.00
10.4 days
December 16
April 2
2021-22
$88.00
$825.00
9.4 days
December 17
April 3
2020-21
$86.00
$795.00
9.2 days
December 18
April 4
2019-20
$82.00
$770.00
9.4 days
December 7
March 15
2010s
Ticket Price
Season Pass Price

Pass Payback

Opening Day

Closing Day

Skier Visits

2018-19
$75.00
$760.00
10.1 days
December 1
April 1
2017-18
$72.00
$725.00
10.1 days
December 16
April 1
2016-17
$69.00
$715.00
10.4 days
December 17
April 2
2015-16
$65.00
$710.00
10.9 days
December 12
March 26
2014-15
$63.00
$705.00
11.2 days
December 6
April 5
2013-14
$62.00
$699.00
11.3 days
December 7
April 5
2012-13
$59.00
$699.00
11.8 days
December 15
March 31
2011-12
$59.00
$709.00
12.0 days
December 17
March 24
2010-11
$56.00
$709.00
12.7 days
December 11
2009-10
$53.00
$709.00
13.4 days
2000s
Ticket Price
Season Pass Price

Pass Payback

Opening Day

Closing Day

Skier Visits

2008-09
$52.00
$779.00
15.0 days
December 13
2007-08
$49.00
$699.00
14.3 days
December 8
April 6
2006-07
$47.00
$699.00
14.9 days
December 16
March 25
2005-06
$45.00
$679.00
15.1 days
December 10
March 26
2004-05
$44.00
$699.00
15.9 days
March 27
2003-04
$42.00
$709.00
16.9 days
December 13
March 28
2002-03
$42.00
$699.00
16.6 days
December 7
2001-02
$41.00
$699.00
17.0 days
2000-01
$39.00
$675.00
17.3 days
1999-00
$39.00
$599.00
15.4 days
March 26
1990s
Ticket Price
Season Pass Price

Pass Payback

Opening Day

Closing Day

Skier Visits

1998-99
December 12
1997-98
$38.00
December 6
1996-97
$35.00
December 13
April 6
1994-95
December 15
March 26
1993-94
April 3
1992-93
$31.00
1991-92
$31.00
1990-91
$30.00
March 31
1989-90
$29.00
December 2
1980s
Ticket Price
Season Pass Price

Pass Payback

Opening Day

Closing Day

Skier Visits

1988-89
$27.00
1987-88
$23.00
1985-86
$19.00
1983-84
$17.00
1982-83
$15.00
1980-81
$12.00
1979-80
$10.00
1970s
Ticket Price
Season Pass Price

Pass Payback

Opening Day

Closing Day

Skier Visits

1978-79
$10.00
1977-78
$9.50
1976-77
$9.00
1975-76
$8.50
1974-75
$8.00
1973-74
$8.00
1972-73
$8.00
1971-72
$7.00
1970-71
$6.50
1969-70
$6.00
1960s
Ticket Price
Season Pass Price

Pass Payback

Opening Day

Closing Day

Skier Visits

1968-69
$6.00
1967-68
$5.00
1965-66
December 18
1964-65
$5.00
December 29
1963-64
$5.00
December 14
1962-63
$5.00
1961-62
$4.00
April 2
1959-60
$4.00
1950s
Ticket Price
Season Pass Price

Pass Payback

Opening Day

Closing Day

Skier Visits

1958-59
$4.00
April 5
1957-58
18,000
1954-55
December 23
Visitor Memories
"We had a camp on Moose Pond and skied Pleasant Mt during the '50's. As proof, we were featured in the picture of the 2 kids and parents loading the chair lift in this article. I spend my mornings skiing, but spent my afternoons scouring the parking lot for dimes - which were immediately exchanged for the honey dipped donuts. Most notably, that same picture was featured on the bottom of all the glass ash trays sold in the gift shop for which I still haven't see any royalties. My brother and I will be doing an autograph session sometime before we die. "
Peter Dresser, Mar. 3, 2022
"My father Russ Haggett loved this mountain. Spent much of his life there .we lived in the first hut in the early years. He started the first ski program for local kids as I remember it was free. Of course that was in the 50s. Times have sure changed as far as being affordable for some."
Janet Underwood, Feb. 11, 2019
"Myself and my twin brother Tom learned to ski at Pleasant Mt. starting in 1964 at the tender age of 5, I remember the best honey dipped donuts at the base, and a ski patrol gentlemen named Mr. Fanklin who would allow us , after we became better skier to accompany him on the last sweep of the day! "
Alie Shaughnessy, Feb. 14, 2017
"I skied here while I was attending Bridgton Academy (59-60)It was a fun place but small.Looks much better now."
bill jenks, Feb. 7, 2017
"Our family history says my grandfather, Hugh Douglas MacCormack, an employee of Mr. Malcolm cleared the first trail on Shawnee Peak with a horse and plow. It was some sort of business deal between Mr. Malcolm and the owner of Land. Mr. Malcolm used the wood from clearing the trail to build 'Trails End' the first compound on Long Lake in Bridgton. My grandfather built this compound for Mr. Malcolm. My grandfather was born in 1890 in Canada. My dad his eldest was born in 1923 about the time this would have happened. The road leading to 'Trails End' in Bridgton, is named after Mr.Malcolm. "
susan maccormack - mclaughin, May. 18, 2014
---
External Links
Shawnee Peak Ski Area - official site
Last updated: September 14, 2022