Brookline Ski Area
Brookline, New Hampshire
Status:
Lost/Defunct
First Season:
1935-36
Last Season:
1983-84
Vertical Drop:
600 feet
Standing Lifts:
Past Lifts:
Surface lifts
Left: Art on the old slopes (2012)
Recent NewEnglandSkiIndustry.com News:
Located just over the border in New Hampshire on Potanipo Hill, Brookline was one of the first lift served ski areas in New England. It would later be known as Big Bear and Musket Mountain.


Early Years

Brookline Ski Area first opened in the winter of 1935-36 with a 950 foot long by 300 foot vertical gas powered rope tow serving multiple slopes. Wes Blake and Don Reynolds added a second tow for the following season.

By the start of World War II, the ski area had grown to two rope tows (1,200 feet and 500 feet long), multiple slopes, and five trails.

Arthur DeRosa took over the ski area in 1959 and dramatically expanded it three years later, adding a T-Bar and 8 new trails. As a result of the expansion, the ski area, under the direction of Arthur DeRosa, Sr. and Arthur DeRosa, Jr., saw business increase by 40%. While a second T-Bar was planned for the following season, it never came to fruition.


Big Bear and Musket Mountain

According to NELSAP, Brookline Ski Area became Big Bear in 1973.

Bad luck started to hit later in the decade. The area's snowmaking system burned in late 1976, resulting in a delayed opening. The business found itself in arrears in property taxes for much of the balance of the decade.

James Swisher purchased Big Bear along with Dave and Bonnie Gucwa in 1982 and renamed it Musket Mountain. New snowmaking equipment was purchased, along with a new rope tow and ski rentals. A cross country ski operation was also added.


Closure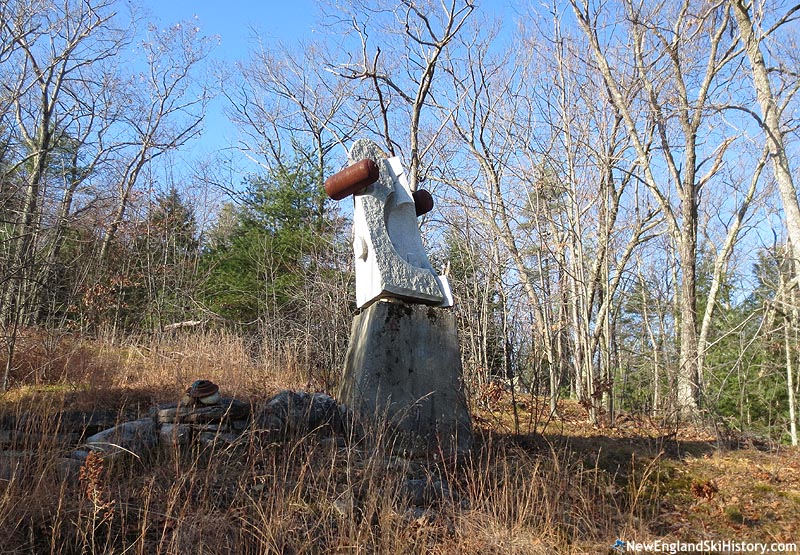 Art on the old slopes (2012)

Hard times continued at the ski area, resulting in its closure after the 1983-84 season. It would eventually be sold to Eddie Whitcomb in 1985, never to reopen.

In 1996, Paul Andres purchased the property and began developing the Andres Institute of Art. The facility now features dozens of outdoor art exhibits throughout the old ski area.

Lifts
Click on lift name for information and photos
Year by Year History
Adult Weekend Full Day Lift Ticket; Adult Full Price Unlimited Season Pass

1970s
Ticket Price
Season Pass Price

Pass Payback

Opening Day

Closing Day

Skier Visits

1971-72
$4.50
1970-71
$4.50
1969-70
$4.50
1960s
Ticket Price
Season Pass Price

Pass Payback

Opening Day

Closing Day

Skier Visits

1968-69
$4.50
1963-64
December 7
1961-62
December 27
March 10
Maps
Visitor Memories
"Remember a race from the Montachusetts racing league held here and all of in the lodge listening to Jeremya was a bull frog on the juke box. Love'd it"
Jeff Nichols, Mar. 20, 2021
"What a surprise to happen across this history of Brookline Ski Area! One of the places I learned to ski in the late 1940's and early '50's. We'd arrive early and each time our dad asked « how much today? » I recall hearing "fifty cents each". Dad's reply was always "well, there are six of us so I'll have to try the snow first to see if it's worth it." They always let him go up and we kids would wait at the bottom and watch him come down. He was a beautiful skier. There were times when he'd say "No, not good enough" and we'd head to Suicide Six. I'll ever forget trying to learn how to hang onto the rope tow without being thrown down by grabbing too fast. Great memories! "
Bruce MacKinnon, Feb. 3, 2021
"I grew up on this Mountain learning how to ski!! From the mid seventies until it closed in 84'my Dad Lawrence Maylin and Barbara Maylin made sure we had season passes and taught us how to ski which I still LIVE TO SKI!!! THANKS MOM & DAD! You are the best and always made sure we had the best! My Brother Larry and sister Carrie and I spent countless days/years meeting friends and family here and had the times of our lives! It was awesome to be a kid in Brook line living a mile and a half from this awesome place! The memories are countless and I'm so blessed to have been a part of this great piece of Brookline's history! Oh and Auntie Val, I remember well the Mad Dog ski team! The ski bobs were fun to watch! Love you Auntie, and thank you to all who made this ski area what it was, pure awesomeness!"
Ross Maylin, Mar. 1, 2019
"I was about 9 or 10 .....the rope tow.........I had to get between two of my dads friends..to keep my feet on the ground.........remember eating at the....old station at the bot. Across the street.......big pot belly stove.......old train station type place as I remember......it was a great time to be a kid......."
Steve Goodspeed, Jan. 4, 2019
"I lived in the old inn growing up in the 60s that at one time used to rent out the top of the barn for skier's and hung around with the Whitcomb's this was a very heart breaking sight ,it was so beautiful to look out our living room window and watch the action in the winter can't believe what use to be our sleepy little town progress I guess still have my memories"
Jeannine Keeler(ladewig, Sep. 21, 2018
"im very thankful i grew up in town with a ski area i le arned how to ski and later worked there the varricchio family made the area way the head of its time the skateboard park the maddog ski team the buses that came up from boston with people for using the skibikes some being newengland patriot foot ball players the nightclub that was none throught newengland for rocking bands its a shame then when dick sold it to the swishers and gucwas they changed the name and only operated it for 1 season hats off to the varricchio family for very fond memories of my childhood oh and one more thing for 10 dollars and your parents signing a waiver you could go off the maddog jumps!! place was awsome"
tomaso terrence, Jan. 10, 2018
"My son, visiting from NY for the Thanksgiving holiday, suggested that we get outside and visit the Andres Art Exibit in Brookline yesterday. I was delighted to learn that this was the site of the old Big Bear ski area that I used to go to at the age of 12-14 years old with my CYO group. So sad to see old, family run areas like this now defunct, but nice to see the property in use as a funky outdoor art display. Worth the trip to reminisce and recall an era gone by. "
Keith LeFebvre, Nov. 26, 2017
"I learned to ski here..,my mother and father took us here on weekends. I remember the t bar lift for the front slope. It use to lift me up and turn me around! Ha. I was five or six years old! We would ski here or Boston hill on the weekends. Thanks for the memories Nils"
Nils Reed, Jan. 11, 2017
"My Uncle, was Richard Varricchio, and I have fond memories of visiting the ski area with my family. I recall my uncle putting his heart and soul into planning many renovations.....I'm so glad to have found this article, because I have lost contact with my Varricchio relatives, and it brings back such pleasant memories."
Karen , Jul. 29, 2013
"Over the years, the old lodge had completely deteriorated to the point that it became an eye-sore. It was leased and renovated in 2000-2001, and reopened as "
Val Stewart, Jul. 27, 2013
"I was so suprised to find this article has a void of ownership and activities from 1973 through 1982. My parents Richard and Bridget Varricchio owned the business in that period and it was very successful in the early years only to succumb to insurmountable challenges. Some notable accomplishments in their tenure were the building of the first Skateboard Park in the North East,having X-treme freestyle skiing events showcasing the Mad Dog Ski Team before X games were even a thought,allowing Ski Bikes access to the mountain when no other areas would recognize them as well as numerous local charitable events.Hopefully research will give them the recognition that they deserve. Thanks! "
Varricchio Friends & Family, Apr. 4, 2013
---
External Links
Brookline/Big Bear/Musket Mtn. Ski Area - New England Lost Ski Areas Project
Andres Institute of Art - located on the site of the former ski area
Potanipo Hill - FranklinSites.com Hiking Guide
Last updated: November 26, 2016