| | |
| --- | --- |
| | |
Located in northwestern Massachusetts, Berkshire East is known for having the most challenging terrain in southern New England, as well as for a growing number of novice and intermediate trails.

A Vision for Mt. Institute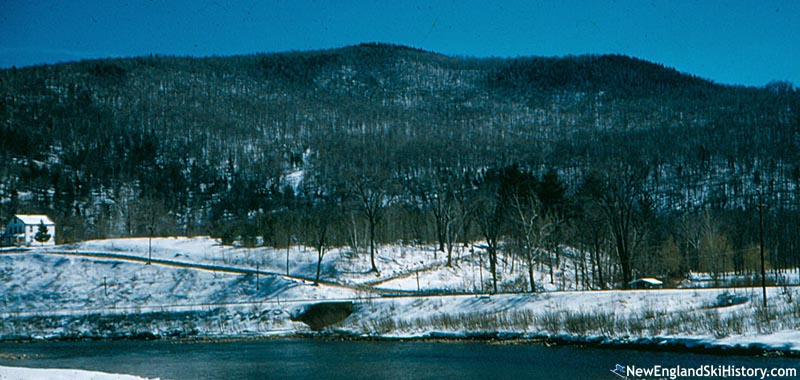 Mt. Institute circa 1960, prior to expansion to the summit

Standing over the village of Charlemont, 1,538 foot Mt. Institute was named by prominent education figure Horace Mann.

Circa July 1951, Paul and Philip DiBenedetto acquired the historic Hawkes home at the base of Mt. Institute off East Hawley Road and began renovations. Circa December 1951, the "year-round sports center" opened was the "Plantation House," geared towards swimming, fishing, and hunting, leveraging a pond on Bozrah Brook and 800 acres of land. With the railroad station around the corner and Chickley Alp just a few minutes away, the facility catered to skiers in the winter. One such skier was Arthur Parker.

While staying with his family at the Plantation House on a ski trip, Parker began dreaming of building a ski area. In October of 1953, the formation of "Thunder Mountain Ski Association" by a "group of skiers tired of crowded slopes and trails" was announced at the Plantation House. Directors of the organization included Parker, Phil and Paul DiBenedetto of the Plantation House, and Paul Adams and Wayne Pierce from defense contractor Norden.

A cornerstone of the concept was a 300-member limit to prevent overcrowding. A three-year plan was announced, consisting of rope to service in 1953-54, a lower mountain T-Bar for 1954-55, and a top-to-bottom T-Bar for 1955-56. Mackin Construction Company was hired to build the ski area. On November 18, 1953, Parker signed a lease for the property on the northwest face of Mt. Institute. Thunder Mountain was born.

Thunder Mountain was hailed as a 'first of its kind' ski club in the December 20, 1953 New York Times, drawing similarty to a golf club payment model. Memberships were offered for $30 (family) and $20 (single), with $2 day passes available for non-members. The area featured three trails and one slope, served by two rope tows. A skating pond was also available. A "modern ski chalet" was built, featuring a kitchen, six-foot circular hearth, heated rest rooms, and a second floor sun deck. Construction was reportedly mostly complete by early December.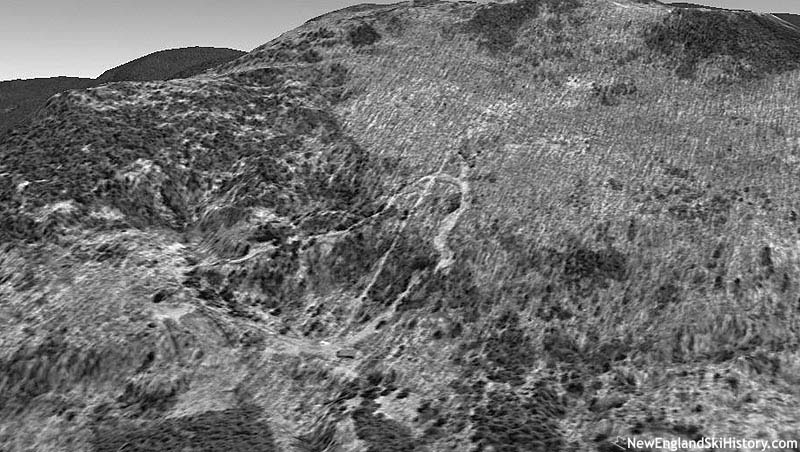 Thunder Mountain circa 1960, prior to expansion to the summit

Legend has it that in 1954, after one day of skiing, the rains came - and thieves; Thunder Mountain was closed and the rope was stolen off the rope tow.

Without a resoundingly successful debut season, year two plans were scaled back. Two new trails were cut off the 1,200 foot main rope tow, while the beginners area saw a new 650 foot tow constructed above the existing 450 foot tow. Bob Munsinger operated the ski school.

Thunder Mountain struggled with natural snowfall again, sitting idle until the first weekend February. After missing another weekend, Thunder Mountain reopened for Washington's Birthday weekend, seeing a crowd of 150, half that of nearby Chickley Alp. The season likely wrapped in early March due to a heavy rainstorm.

Though there were plans to open for the 1955-56 season, summer and fall storms heavily damaged the trails and prevented the area from opening. By 1956, the North Adams Transcript announced that Thunder Mountain had "thrown in the sponge after meeting with tough luck all around." A subsequent legal filing described the area as 'dismantled' in 1958.


A New Thunder Mountain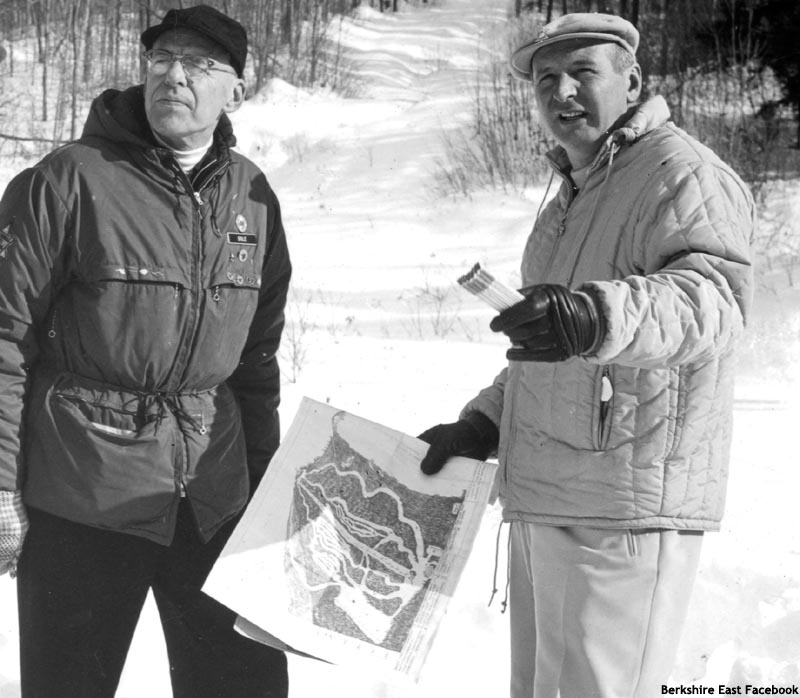 Thunder Mountain President Arthur Parker showing Minnie Dole (left) plans for the 1961-62 development

Despite the failure of the original Thunder Mountain, Arthur Parker still kept his vision of skiing in Charlemont alive. On July 30, 1960, the lease for the original Thunder Mountain was formally terminated erroneously citing hurricane and flood damage in 1954 as ending operations. A new 15 year lease was enacted starting on August 1, 1960, for initial cost of $1,000 for each of the first 5 years.

Initial trail cutting was done mostly with the help of horses. The present-day Liftline and Competition trails were the first to be cut and graded. Two new Mueller lifts were slated to be installed once the trails were ready - a double chairlift to the summit and a T-Bar serving the Thunder Bowl slope. A new base lodge was also being constructed - the small lodge (still standing today near the end of Lower Mohawk) would not be enough to handle the new scale of operations.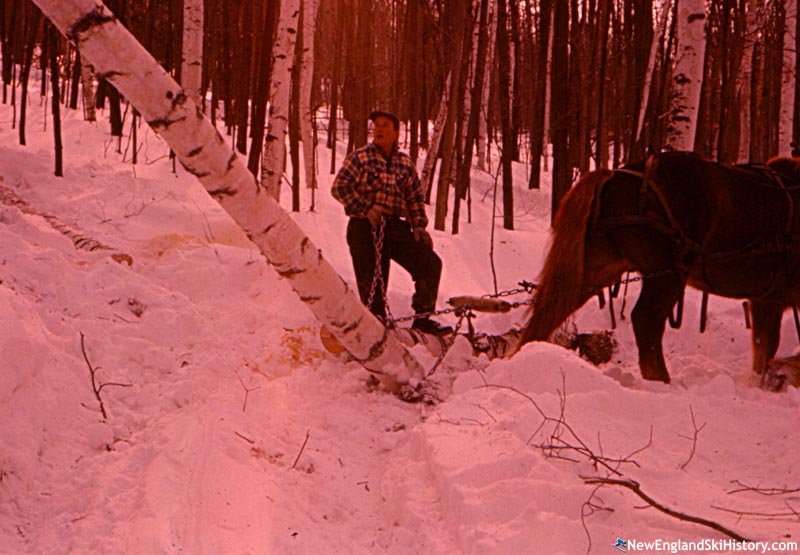 Clearing for the new Thunder Mountain

Thunder Mountain opened in 1961-62 at the top of the Massachusetts ski industry. With a solid thousand foot vertical drop, a double chairlift, challenging terrain, and snowmaking on the lower trails, Thunder had very little competition within the state. A sledding hill and an outdoor ice skating rink were also available.

Early 'celebrities' on Thunder's slopes included Massachusetts Governor Endicott Peabody and Senator Edward Kennedy.

Drawing comparisons to Mad River Glen due to its challenging terrain, Thunder Mountain added a second Mueller Double Chair for the 1962-63 season in effort to appeal to novices. For 1963-64, the novice T-Bar was moved to a new slope cut adjacent to the new double chairlift.


A Change in Ownership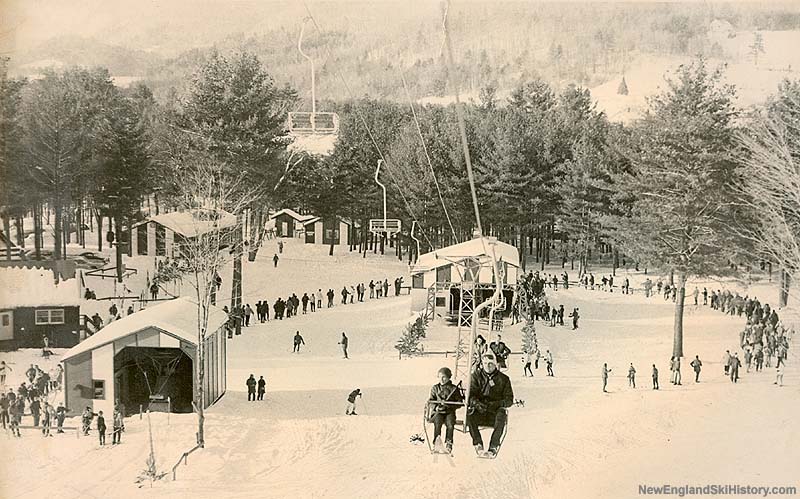 The (future) West Lodge, Competition T-Bar, and Summit Double in the late 1960s

Things did not go smoothly, however. There were bills to pay, equity issues, and some bad winters. In the fall of 1965, Richard Tambussi bought over half the voting stock in Thunder Mountain and thus took over. Starting that season the new Natur Teknik of parallel skiing was taught by the ski school. In addition, a J-Bar was installed to replace the recently moved T-Bar on the new novice slope.

The mountain was renamed "Berkshire East" for the 1969-70 season, for ski conditions reporting and credit purposes. Most of the trails were also renamed, following more of an Indian theme inspired by being located in the Mohawk Trail region.

An interesting addition in this time period was the construction of a second lodge - directly in front of the Main Lodge. This was done to force the owners of the Main Lodge to sell to the ski area's lease. Once accomplished, the lodge was moved and became the West Lodge.


Bankruptcy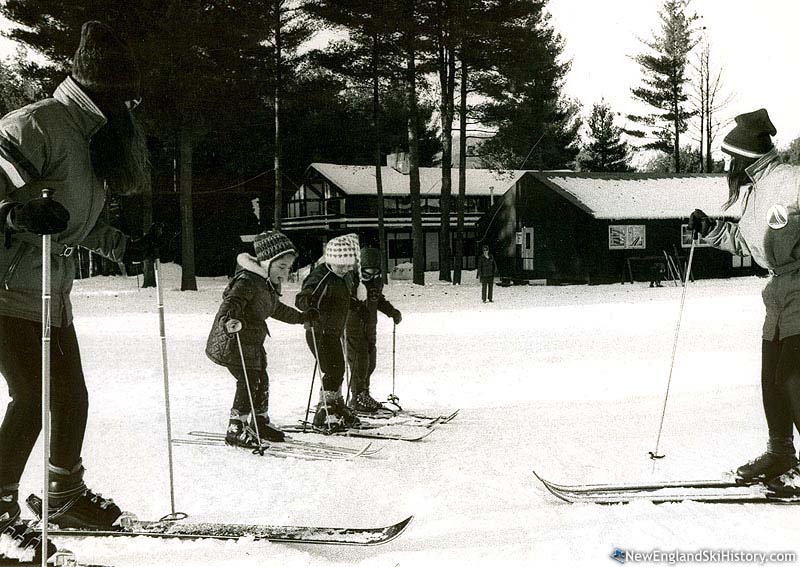 The base area circa the late 1960s or early 1970s

Richard Tambussi had big ideas for Berkshire East for the early 1970s - a massive development was planned, including three new chairlifts, shops, restaurants, a chapel, and many condominiums. The lower portion of the current Little Spruce trail in fact follows one of the development roads. The top of the present day Outback ski trail was the proposed site for a summit restaurant.

In 1972, two Thiokol double chairlifts were ordered - a 1,700' long chairlift to run opposite the Exhibition Double and a 500' long chairlift to serve the beginner slope near the old lodge. Another double chairlift was planned for 1973, to run opposite the Competition T-Bar.

Money woes hit, however. The small double chairlift was partially installed - the footings, three towers, and a top terminal were put in place and the base footings for the longer double chairlift were poured. The footings from the shorter lift are still visible from lower Big Chief and lower Mohawk. The base terminal area for the longer double chairlift was removed when the West Quad was installed in its place.

By 1975, the owner of Berkshire East was a bank. The ski area was in jeopardy - money was needed to fix things up and smart management was needed to keep things running. An experienced ski resort operator from Michigan would soon hear this opportunity.


A New Beginning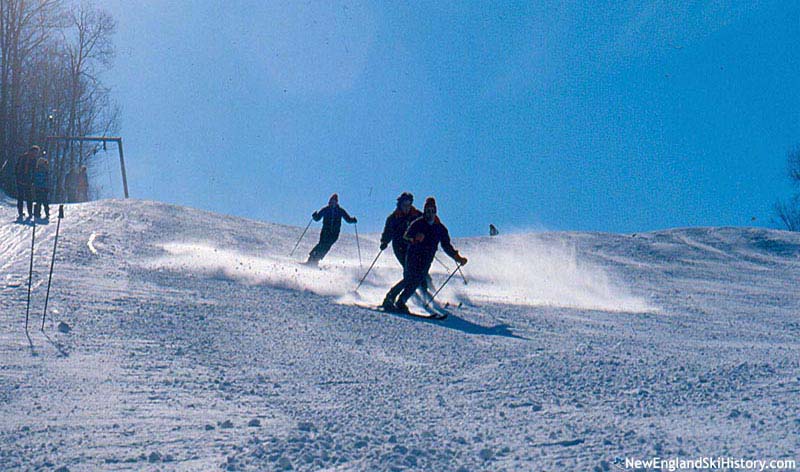 Skiing on Competition in March 1979

Roy Schaefer, a ski area general manager and PSIA Certified Examiner, heard about a bankrupt Massachusetts ski area from an industry associate. After checking out the area, he decided to move his family to Massachusetts and run the area for the bank.

Schaefer saw issues with the area's snowmaking and lift system. As a result, he secured funds to modernize the aging Mueller lifts and upgrade the lacking snowmaking system.

After a relatively successful season of operating the area for the bank (1976-77), Schaefer and Michigan corporation Union Terminal Piers bought the ski area. His priorities included adding fan guns, removing poor trails, lining trails with wind-breaking-snow-saving trees, adding/improving trails, and adding lifts.

In 1977, Berkshire East built the Little Beaver complex, installing a 1000' SLI double chairlift purchased from a defunct ski area on Mackinac Island in Michigan.

In 1978, Berkshire East purchased a Hall double chairlift from Sierra Ski Ranch in California and installed it on the Flying Cloud trail. One interesting note was that, while excavating the base area for the lift terminal, remains from a crashed plane were discovered. The exact date of this crash is not currently known, however the small plane apparently fell apart while still in the air.

The management of Berkshire East leased nearby Berkshire Snow Basin for two seasons, from 1980 until 1982.

High interest rates and poor snow years resulted in no large scale expansions at Berkshire East during the early to mid 1980s. Other than snowmaking expansions, some small trail additions/improvements, and the aborted Timber Village condo development (only two units built), there was not much to note. In fact, by the mid 80s, there was a reduction at Berkshire East - the aging Competition T-Bar was removed and the seldom-used Little Beaver chairlift operated for the last time.

The late 80s promised to be intriguing. A massive condo development was proposed - up to 326 units were to be built near the West Lodge and the original Thunder Mountain areas. With this, the base area was to be rebuilt - a dramatic glass-dominated Main Lodge, a new building at the end of the parking lot, and some additional sports options.

Six Deerfield River Club model units were built in 1988. Unfortunately, the late 80s real estate crisis hit, killing the rest of the project.

After the Deerfield River Club condominium project fell through, things seemed quiet at Berkshire East. No lifts or sizable trails were added in the early 1990s.

Behind the scenes, there was work being done. A capital campaign resulted in the installation of tower mounted fan guns on multiple trails. Night skiing was now available top to bottom on Big Chief, Flying Cloud, Upper Competition, Competition, Top Notch, and Exhibition. More importantly, big stuff was being planned.


A New Berkshire East


Expansion of the Main Lodge in the fall of 1995

Chain saws and explosions could be heard in the 1994 offseason. Something big was going on, but it wasn't quite visible from Charlemont. A sizable expansion was taking place on the back side of the mountain, called The Outback. Four new beginner trails were cut that offseason - Ridge Run, Riva Ridge, Sun Dance, and Roundabout. Ridge Run, which would later be renamed Outback, required significant dynamiting, resulting in a small share of press coverage as far away as Boston. Ridge Run, Riva Ridge and Sun Dance would all open for the 1994-95 season, curing one of Berkshire East's biggest issues at that time - the lack of beginner terrain.

After building the Outback complex in 1994, many were shocked to see the plans for the 1995 offseason. After nearly 35 years of service, the aging Summit Double was removed. In its place, a nearly-brand new Poma triple chairlift was brought in from the defunct Magic Mountain Ski Area in Vermont. In addition, a massively expanded base lodge was planned.

With cooperative weather conditions, the crew was able to install the triple chairlift by crane - no helicopter was needed. The space age design of the bottom terminal quickly modernized an otherwise aging base area.

After throwing a 100th birthday bash for local war hero Carroll E. "Pop" Adams Sr., construction on the lodge hastened - by the time the season rolled around, Berkshire East had a beautifully expanded Main Lodge with over two stories of picture windows overlooking the slopes. The lodge was now 250% larger and housed ski school and rentals under the same roof.

In the fall of 1996, a two story addition to the lodge was constructed, featuring larger restrooms located on the main floor, additional kitchen space, and room for multiple new offices. Though the new offices were not immediately finished, the added space would eventually allow for the demolition of the antiquated Main Office building.

Since the rental and ski shops had been moved to the expanded Main Lodge, the old rental shop building was up for grabs. Ski Patrol soon moved their operations to this building, rendering their old building behind the Diamond Express Double chairlift obsolete.

With the old Ski Patrol building demolished, there was room for a gradual novice slope between the chairlift and the main parking lot. In the fall of 1997, clearing commenced on the Bobcat slope. A rope tow was also installed, though it would soon be replaced with a new handle tow.

A major event shocked the Massachusetts ski industry in 1998 - the popular Mt. Tom ski area shut down and liquidated. Berkshire East made its first purchase of Mt. Tom equipment, acquiring a fleet of new Areco snow cannons and a modern fleet of Rossignol rental skis.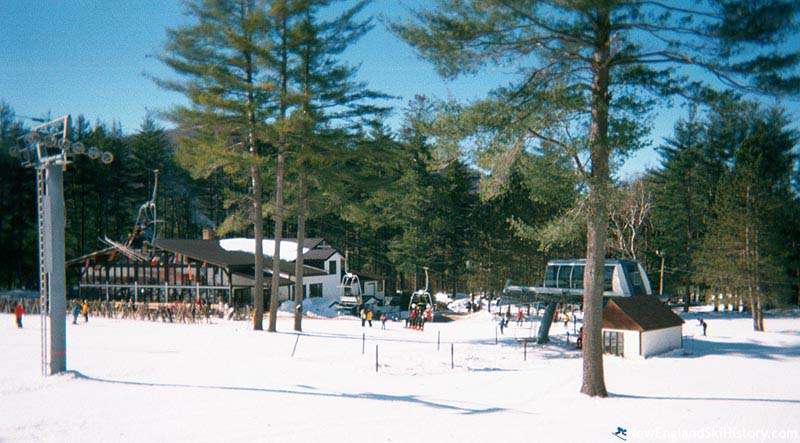 The base area in 2001

Snowmaking crews absolutely buried some trails during the 1998-99 season. In fact, the snow on upper Flying Cloud was piled up higher than some of the tower snowguns! Though the last day of the season was at end of March, there were still significant patches of snow on the mountain well into the spring.

As the 1999 off-season rolled around, there were some rumors being spread about more skiable terrain being added. Sure enough, locals spotted a new trail creeping up from the old Little Beaver complex. While this trail wouldn't be completed that summer due to lack of adequate equipment, four new trails were opened.

Beast, a radical double diamond trail, was finally added to the map after a few seasons of unofficial status. Two glades, Horace's Grove and Tomahawk, were cut. Finally, a small new Outback trail, Snowdance (not to be confused with Snow Dance in the old Little Beaver complex), was cut to facilitate another addition - night skiing on Outback and War Dance.

For the 2000-2001 season, Berkshire East added and improved numerous things. On the top of the investment list was a $300,000 snowmaking expansion. In addition, a brand new snowboard rental inventory was purchased. Finally, two trails were added to the map - Avalanche and Hayfield. While Hayfield would not end up reopening, Avalanche was cleared and remained an official trail for a few seasons.

While this expansion was in progress, something big was happening near Exhibition - the Wilderness Peak complex was being cut.

Beyond skiing, Berkshire East briefly became a school in 2001, as Hawlemont Regional Elementary School students moved to the Main Lodge while the school underwent renovations.


Wilderness Peak Opens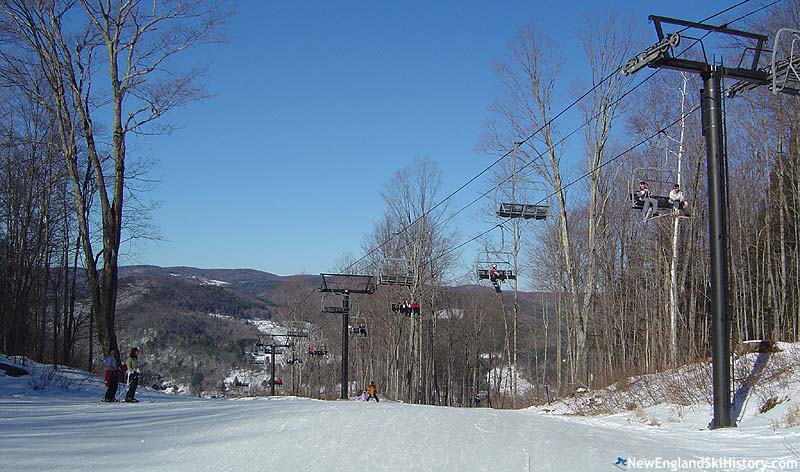 The West Quad in 2005

One of the largest expansions in Berkshire East's history was planned for 2001-2002. With the recent logging on Wilderness Peak, five new trails were graded and 'opened,' including Roundabout (originally cut with the Outback complex), Hemlock, Little Spruce (the lower part following an abandoned housing complex road), and Wilderness Peak (the middle part of a proposed lift line). Due to one of the worst winters in modern history, none of these trails would open.

In addition to the Wilderness Peak trails, Upper Exhibition was cut to facilitate a planned double chairlift. The plans for this lift were placed on hold, however, two lifts would be installed. A brand new O'Connor handle tow replaced the never-opened Bobcat Rope Tow and a Hall double chairlift from Mt. Tom replaced the vintage Hall J-Bar lift on Top Notch.

Beyond the trails and lifts, Berkshire East purchased hundreds of new rental skis from Temple Mountain ski area and seven brand new fan guns from SMI. The snow guns would come in handy in particular, as the cold weather and snow never really stuck. In fact, Berkshire East and many other areas closed in early March, cancelling the Cardboard Classic for the first time in recent memory due to lack of snow.

After the poor winter of 2001-2002, off season expansion was expectedly low key. While other ski areas did little more than general maintenance, Berkshire East still kept moving forward, focusing on improving snow conditions.

Two Bombardier snow cats were added to the fleet and the snowmaking system was once again upgraded. In addition to that, "Kenny's Condo" was torn down and replaced with a new, larger summit ski patrol building.

Cold temperatures allowed for a strong start of the season, thanks to the expanded snowmaking system. The first "Skiing with Santa" (complete with a visit from the Grinch), event was held on December 22, dazzling kids of all ages. As is the trend, the March skiing was amongst the season's best.

Two years after being cut, it was time to put the Upper Exhibition lift line to use. After forty-one years of service, the Mueller double chairlift was removed during the 2003 offseason. Its replacement, a Borvig-Leitner fixed grip quad chairlift, came from the defunct Berthod Pass ski area in Colorado.

Due to lackluster snowfall and temperatures in late fall/early winter, the new chairlift didn't open until December 27, 2003. The addition was immediately noticed - families could now enjoy the west side of the mountain, including the Roundabout trail, day and night via a spacious chairlift. In conjunction with this, the West Lodge was renovated and opened for the first time in nearly a decade. Abundant natural and manmade snow allowed for tremendous late season coverage all the way up to closing day on March 28, 2004.

After installing the West Quad in 2003, the focus of the 2004 offseason was to continue to improve snowmaking and grooming. In addition, some work was done on the Main Lodge, including updating the cafeteria area and building a short-lived bag check area.

Despite an early November light snowfall, temperatures didn't allow snowmaking to start until December 13. Sizable snowstorms occurred on January 22nd, February 10th and March 12th. Good spring skiing allowed the ski area to stay open a week after the Cardboard Classic.

As the 2005-2006 season approached, fall work quickly hastened. In September, some additional snowguns were delivered, further increasing the snowmaking firepower. In early October, the Mighty Mites building, better known as the long time Main Office building, was demolished (Mighty Mites would move to the former Bag Check room in the Main Lodge). In addition to these projects, additional snowcats were added to the fleet and some trail improvement work was done.

The first notable snowfall occurred on October 25, with the top few hundred vertical feet of the mountain getting a dusting. Actual snowmaking started in late November, continued on December 3rd, allowing for the mountain to open the weekend of December 10th.

Once again, decent late season conditions allowed the mountain to stay open through the last weekend in March.

Many projects were underway during the 2006 off-season. In addition to significant snowmaking infrastructure work, a new trail was cut from the top of the Summit Triple to the top of the Diamond Express Double, allowing for an easier way down with better conditions. Finally, significant work was done on the Main Lodge, including painting, carpeting, and cafeteria renovations.

Snowmaking started on December 4th and, despite seasonably warm temperatures, Berkshire East was able to open on December 8th with the West Quad. The top of the mountain opened the following day.

Spring and summer like weather soon arrived, and the mountain was closed for an extended period at the beginning of January - temperatures reached 70 on the 7th! All was not lost, however, as the modern snowmaking system allowed for a quick recovery, as well as continuous skiing through the end of March.


The Schaefer Family Buys the Ski Area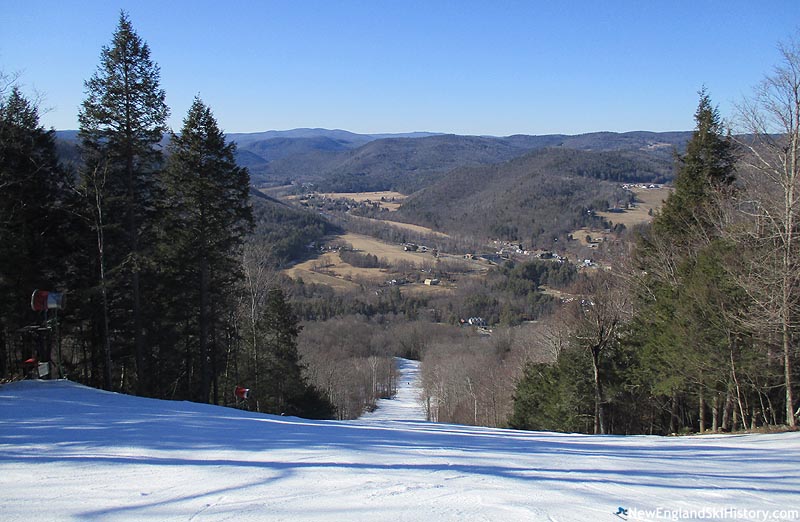 UMass during the snow free March of 2016

In July of 2007, word came through that Berkshire East had been sold by its parent corporation; Roy Schaefer and his oldest son Jim had purchased the ski area.

Significant work was done in the offseason, including even more snowmaking expansion. The old ski patrol building (formerly the ski shop) was torn down and replaced. A tubing area, served by a Magic Carpet, was built on the bottom of the former Running Brook ski trail. A barn was built for the tubing area.

Apparently Mother Nature approved of this work, as she provided the best winter in recent memory. As a result, nearly all of the terrain was open for nearly all of the season.


Year Round Recreation

The 2008-2009 season featured decent early and mid-season snowfall. Opening day was December 6th and closing day was March 22nd. At the end of the season, a new business named Berkshire East Canopy Tours was announced, with a 2009 opening.

Berkshire East went green, with a 291 foot tall wind turbine completed near the top of the mountain during the winter of 2010-2011. A solar farm was added during 2012.

Starting in 2011, a major mountain biking complex was constructed throughout Berkshire East and adjacent areas, named Charlemont Trails.

For the 2012-13 season, Berkshire East invested an estimated $1.5 million in snowmaking upgrades, including a new summit pond, new pumps, and new snowguns. Once fully operational in early winter, the new system dramatically increased Berkshire East's snowmaking firepower.

Another sizable expansion was announced for the 2013-14 season, including a massive base lodge expansion and dozens of additional Areco fan guns. The UMass and Hemlock trails were widened and lined with the tower guns.

In 2014, Berkshire East replaced the Summit Triple with a new loading carpet fixed grip quad, installed a mountain coaster, acquired 140 acres of land abutting land, purchased the Warfield House Inn at Valley View Farm, and started work on a downhill mountain bike park.

The expansion of non-skiing activities continued in 2015 with the addition of a whitewater rafting business and the grand opening of Thunder Mountain Bike Park. Additional mountain bike trails and rope courses were added for 2016, while the groundwork was being laid for ski expansion on the north side of the mountain. Two new trails were opened for the 2017-18 season.

In May 2018, the Schaefer family acquired Catamount. The former Summit Triple was installed at Catamount later that year. Two years later, the Schaefer family began operating Bousquet.

In 2023, Berkshire East announced the installation of a new high speed quad, following the line of the former Competition T-Bar.





NewEnglandSkiConditions.com Reports

Month
Average Percent of Terrain Open
November
10% (1 report)
December
36% (8 reports)
January
90% (1 report)
February
91% (5 reports)
March
92% (6 reports)
April
85% (1 report)

-- start conditions table -->

Recent Conditions Reports

Mar. 19, 2023 by brianna
Loose Granular, Frozen Granular
Mar. 19, 2023 by rocket21
Loose Granular, Frozen Granular
Feb. 26, 2023 by indyskier29
Packed Powder, Loose Granular
Feb. 5, 2023 by rocket21
Loose Granular, Frozen Granular
Dec. 30, 2022 by indyskier29
Loose Granular, Spring Snow

Berkshire East Mountain Resort on NewEnglandSkiConditions.com
NewEnglandSkiIndustry.com News
Recent Articles
Work Continues on Berkshire East High Speed Quad - Nov. 19, 2023
Mid-November 2023 Lift Construction Roundup - Nov. 11, 2023
Mid-October 2023 Lift Construction Roundup - Oct. 15, 2023
Paul Putnam Passes Away - Sep. 11, 2023
Mid-June 2023 Lift Construction Roundup - Jun. 11, 2023
Gerry Seibert Passes Away - May. 31, 2023
Early May 2023 Lift Construction Roundup - May. 7, 2023
Berkshire East to Install High Speed Detachable Chairlift - Feb. 20, 2023
Berkshire East Wind Turbine Blade Snaps - Feb. 18, 2022
Berkshire East and Catamount Announce Major 2021 Expansion - Mar. 10, 2021
Berkshire East Mountain Resort NewEnglandSkiIndustry.com News Page
Expansion History
Image Gallery
Lifts
Click on lift name for information and photos
Maps
Year by Year History
Adult Weekend Full Day Lift Ticket; Adult Full Price Unlimited Season Pass

2020s
Ticket Price
Season Pass Price

Pass Payback

Opening Day

Closing Day

Skier Visits

2023-24
December 2
2022-23
$104.00
$704.00
6.8 days
December 11
April 8
2021-22
$104.00
$679.00
6.5 days
December 22
March 27
2020-21
$83.00
$659.00
7.9 days
December 17
March 24
2019-20
$77.00
$659.00
8.6 days
November 16
March 12
2010s
Ticket Price
Season Pass Price

Pass Payback

Opening Day

Closing Day

Skier Visits

2018-19
$74.00
$659.00
8.9 days
November 23
April 6
2017-18
$68.00
$659.00
9.7 days
December 2
April 8
2016-17
$65.00
$659.00
10.1 days
December 11
April 2
2015-16
$62.00
$569.00
9.2 days
December 30
March 13
2014-15
$60.00
$539.00
9.0 days
November 29
March 29
2013-14
$60.00
$519.00
8.7 days
December 14
March 29
2012-13
$58.00
$519.00
8.9 days
December 22
March 31
2011-12
$58.00
$519.00
8.9 days
December 26
March 11
2010-11
$58.00
$499.00
8.6 days
December 11
April 3
2009-10
$55.00
$479.00
8.7 days
December 19
March 21
2000s
Ticket Price
Season Pass Price

Pass Payback

Opening Day

Closing Day

Skier Visits

2008-09
$52.00
$459.00
8.8 days
December 6
March 22
2007-08
$50.00
$449.00
9.0 days
December 8
2006-07
$48.00
$429.00
8.9 days
December 9
March 25
80,000
2005-06
$45.00
$429.00
9.5 days
December 10
March 26
2004-05
$42.00
$429.00
10.2 days
March 27
2003-04
$40.00
$429.00
10.7 days
December 6
March 28
2002-03
$38.00
$399.00
10.5 days
December 7
March 23
2001-02
$38.00
$399.00
10.5 days
December 22
March 2
2000-01
$35.00
$379.00
10.8 days
December 2
April 1
1999-00
$35.00
$399.00
11.4 days
December 24
1990s
Ticket Price
Season Pass Price

Pass Payback

Opening Day

Closing Day

Skier Visits

1998-99
$35.00
$399.00
11.4 days
December 19
March 27
1997-98
$35.00
March 22
1996-97
$32.00
1995-96
$32.00
December 16
1994-95
$32.00
December 17
1993-94
$32.00
December 18
April 3
1992-93
$30.00
1991-92
$28.00
December 7
1990-91
$28.00
1989-90
$28.00
December 2
1980s
Ticket Price
Season Pass Price

Pass Payback

Opening Day

Closing Day

Skier Visits

1988-89
$26.00
1987-88
$24.00
1986-87
$23.00
March 22
100,000
1985-86
$20.00
1984-85
$20.00
1983-84
$17.00
1982-83
$17.00
1981-82
$15.00
1980-81
$15.00
1979-80
$13.00
December 15
1970s
Ticket Price
Season Pass Price

Pass Payback

Opening Day

Closing Day

Skier Visits

1978-79
$12.00
1977-78
$10.50
$175.00
16.7 days
December 10
1976-77
$9.50
December 4
March 27
1975-76
$8.00
December 20
30,000
1974-75
$8.00
December 16
March 23
1973-74
$8.00
December 19
March 3
1972-73
$8.00
December 15
1971-72
$8.00
December 25
March 26
1970-71
$7.50
December 19
April 11
39,000
1969-70
$7.00
December 26
March 29
1960s
Ticket Price
Season Pass Price

Pass Payback

Opening Day

Closing Day

Skier Visits

1968-69
$6.50
December 21
March 23
1967-68
$6.50
December 29
March 17
1966-67
$5.50
December 17
April 2
1965-66
$5.50
December 29
March 27
1964-65
$6.00
December 19
April 4
1963-64
$5.50
December 8
March 22
1962-63
$5.50
December 22
March 31
30,000
1961-62
$5.50
$100.00
18.2 days
December 20
April 1
18,000
1950s
Ticket Price
Season Pass Price

Pass Payback

Opening Day

Closing Day

Skier Visits

1954-55
February 5
March 6
1953-54
$2.00
$20.00
10.0 days
Visitor Memories
"My family and I had family passes at BE for many years. My oldest daughter taught at the ski school and every weekend and winter vacation week was spent there. My memories of BE are some of the best times of our lives. My husband has passed but our memories live on. Thanks Roy and Roger for such great family time!!"
Sharon Moylan, May. 9, 2020
"Skied Thunder Mountain during junior high years (1961-64). Best part for me was skiing Plantation Glade and laughing the entire time while trying to avoid hitting any trees in this woods trail. I survived with wonderful memories."
Lucinda Kerivan, Apr. 27, 2020
"Taught skiing at Berkshire East the first year they opened after Thunder Mt. They were only opened weekends and Al Bobowicz was the ski school director. Stayed at the Charlemont Inn with some instructors from Chickley Alp. Had some of the best times of my life that winter. I should also mention that there was a restaurant bar in town owned by the ski area [The Black Stallion] that was our haunt after skiing."
Ronald Ardizoni, May. 12, 2018
"I worked at thunder mt the first year in the ski shop and rental shop for art parker and Ray Ball ski shop owners.My family and children skied there for over 50 years from 1961 until 2011. MY son Barry skied every day he could and raced for Billy Farrell and Paul Putnam and many others couches and dedicated friends who supported Berkshire East and with many thanks to the Schaffer family and many others I will always have a fond memory of the area. I have skied over 70 different ski areas but my most enjoyable times were at the Beast"
Edward Galvin, May. 12, 2016
"On a trip to Vermont last year I stopped and did a day at Berkshire East and had the best day of skiing as I ran into four other skiers my age and ability. It was the end of March and we had mid winter condition and we all did first lift and last. We stopped for a quick lunch and a couple of pit stops. What a great day we hadJon OsbornOSBORN2SKI"
Jon Osborn, Aug. 19, 2014
"Started skiing at BE (Thunder Mountain) 1961, and loved the mountain regardless of the sketchy conditions back then, just more of a challenge as we used to say. Started on Ski Patrol 1968, the first year as B.E. (I believe). I'm still on patrol there and love the mountain just as much. Great things are happening with Berkshire East now. "
Rit Gorman, Dec. 10, 2013
"I learned to ski at Berkshire East over Christmas vacation when I was about 8 or 9 years old...we took lessons twice a day for a whole week....Berkshire East was (and still is) our family's go to mountain. My daughter started skiing there at age 3 and I started working there shortly thereafter.....we still continue to ski there and will, as it is such a great family place! Keep up the great work Berkshire East! "
Carol Lively, Jul. 6, 2013
---
External Links
Last updated: November 18, 2023