Lead Mountain
T 28 MD, Maine
Proposed in the 1990s

Overview
In 1995, Robin and Danny Brooks proposed a $7 million ski area on Lead Mountain in Hancock County, Maine. The proposal was to include 12 trails and 6 lifts, while creating 200 jobs.

The owner of the land at the time, Champion International Corp., rejected the proposal in November of 1995 and likely again in early 1996. A land swap had been proposed at one point.

After the Lead Mountain ski area development attempts were abandoned, nearby Passadumkeag Mountain was proposed.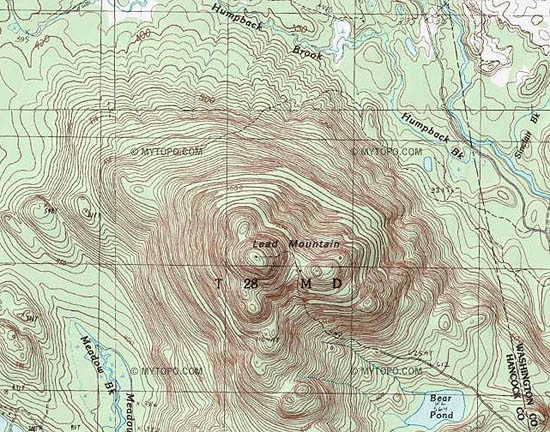 A USGS map of Lead Mountain



Today
There are no known remains from the Lead Mountain proposal.

Quotes

| | | |
| --- | --- | --- |
| " | Robin and Danny Brooks continued to develop plans for the project that would install six lifts and 12 trails on paper company land, according to Robin Brooks. The ski resort would be located about 45 miles east of Bangor on the north side of Lead Mountain, located in Township 28 M.D. | " |
| | Doug Kessell, 1995 | |
"
An ambitious proposal to develop a ski resort on Lead Mountain in eastern Maine has been scrapped by its developers.

The decision to end the $7 million project came Tuesday after Champion International Paper Co., the owner of the land, rejected a request to swap land on the northeast side of Lead Mountain for an unspecified parcel elsewhere.

The request was made by the Ski Lead Mountain Association, a private group which for months has been trying to get the go-ahead for the ski resort in Washington County Township M.D., about 45 miles east of Bangor.
"
Doug Kessell, 1996
Resources
Kessell, Doug. "Ski center proponents suffer setback." Bangor Daily News. 08 Nov. 1995.
Kessell, Doug. "Ski resort proposal scrapped." Bangor Daily News. 28 Feb. 1996.
Last updated: November 26, 2012