Powdr Corp.
New England Ski Presence: 2007-Present


Born in Vancouver, Canada, Ian Cumming's psychiatrist and sociologist parents moved around Canada and the United States during his formative years, arriving in Kansas as he transitioned from high school to college. Receiving a zoology degree from the University of Kansas in 1962, Cumming realized his passion was business and soon earned his MBA from Harvard in 1970.

Moving from New England to Utah for investment work, Cumming was a single parent, raising sons John and David.

In 1979, Cumming and Harvard classmate Joseph Steinberg acquired Talcott National Corporation, which they renamed the Leucadia National Corporation after a town they had happened upon in Southern California. With Steinberg working out of New York and Cumming out of Utah, the investment firm grew to $6.8 billion at the time of Ian's retirement in 2013. Despite his wealth, Cumming did not become a famous celebrity, as he avoided the media and refused to have his photo published, stating he had always "preferred to make money, rather than headlines."

While John was college, Ian introduced his son to Nick Badami, majority shareholder of Alpine Meadows of Tahoe Inc., owner of Park City and Alpine Meadows ski areas. Under his tutelage, John spent two years in various ski area jobs.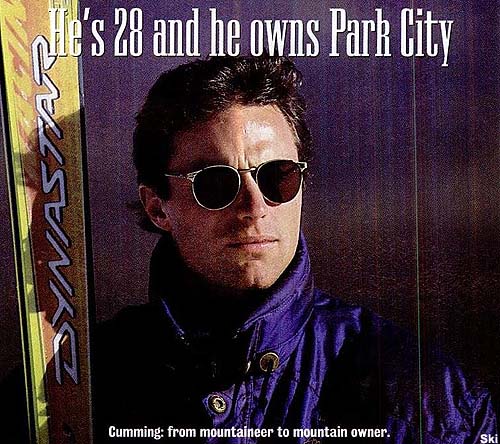 John Cumming


While climbing Denali with his father Ian in 1992, John reportedly declared he was ready to put aside his mountain guiding career in order to "get a real job" but to not "end up in New York wearing a suit." On that trip, Ian expressed interest in mountaineering boot technology, which morphed into attempting to purchase outdoor company Sierra Designs. When the transaction could not be agreed upon, the Cummings were able to attract some of Sierra Designs' top talent to co-found Mountain Hardwear in 1993.

In 1994, John and Ian Cumming founded Powdr, with his son John serving as President, his younger son David as Vice President, and Nick Badami as Chairman of the Board. In April 1994, Powdr acquired the stock of Alpine Meadows of Tahoe Inc., thereby purchasing Park City Mountain Resort in Utah and Alpine Meadows in California. Investments in Park City soon followed, as Powdr worked to prepare the resort for the 2002 Olympic snowboard events. John was quoted as saying, "Snowboarding is fun, and our business is selling fun."

In August 1995, Powdr announced it had acquired Boreal Mountain and Soda Springs, adding to its California holdings.

In the spring of 1999, Powdr acquired the defunct Parleys Summit Ski Area on the outskirts of Park City, Utah. Originally known as Gorgoza Resort, the area had been closed since 1981. Powdr reopened Gorgoza in the winter of 1999-2000 as a lift served tubing park and added learn to ski facilities for the 2010-11 season. The learn to ski area operated through the winter of 2014-15.

In May 2001, Powdr acquired Mt. Bachelor in Oregon for a rumored $28 million.

In November 2003, Powdr announced it had acquired Las Vegas Ski & Snowboard Resort. The resort was renamed Lee Canyon for the 2015-16 season.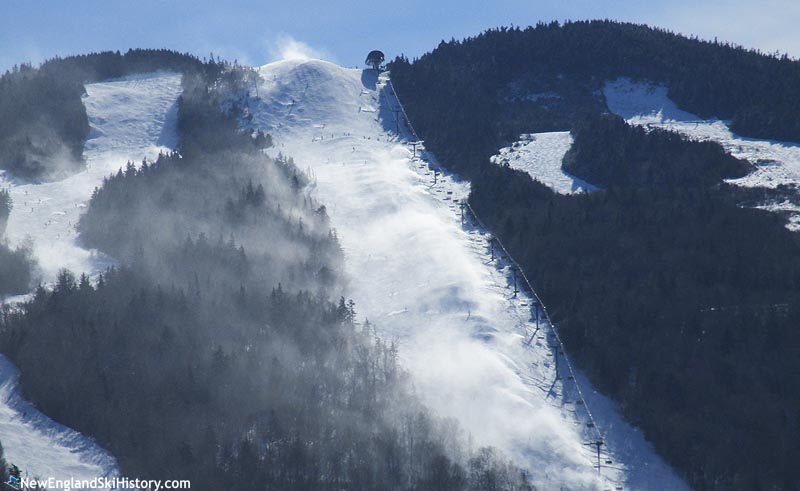 Killington


As word emerged that the American Skiing Company would be liquidating, Powdr looked into entering the New England market. On May 11, 2007, Powdr partnered with SP Land Co. to purchase Killington and Pico for $85.2 million. To free up capital for the purchase, Powdr sold Alpine Meadows to JMA Ventures in July 2007.

The Killington venture had a bumpy start, as the termination of Sherburne Corp. investor lifetime season passes resulted in bad press and a lawsuit, which was eventually dismissed. In addition, Powdr opted to stop the focus on first-to-open, last-to-close status, drawing additional scorn from longtime Killington skiers. Powdr eventually reversed the decision and recaptured Killington's longest season in the East crown.

In December 2009, Copper Mountain was acquired from struggling Intrawest for a reported $107 million, giving Powdr its first Colorado ski area.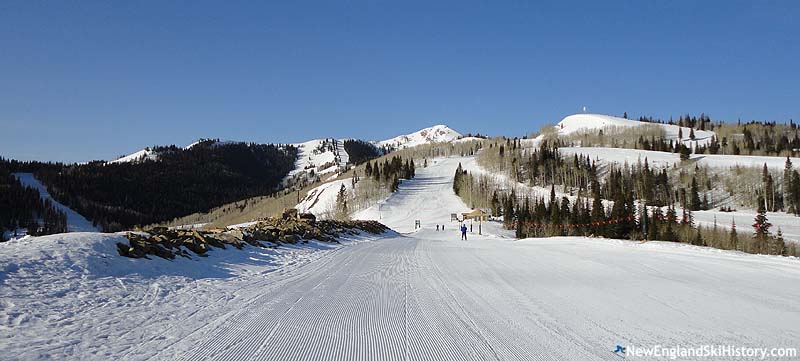 Park City


In the spring of 2011, Powdr missed a deadline to notify Park City Mountain Resort landowner Talisker of its intent to renew an option term of its lease. The situation escalated that season, as Talisker demanded new lease terms. In May 2013, Vail Resorts entered into a lease with Talisker to operate the Canyons with the potential to lease the Park City land. Months later, Talisker served Park City Mountain Resort an eviction notice. After Talisker and Vail prevailed in court, in September 2014 Vail Resorts announced it had purchased Park City Mountain Resort from Powdr for $182.5 million in cash.

In May 2014, Snowbird announced Ian Cumming had become majority owner of the resort. The area was not rolled into the Powdr family of resorts.

On June 6, 2016, Powdr announced it had acquired a second Colorado area, Eldora Mountain Resort.

In January 2018, Powdr received approval from the Snyderville Basin Planning Commission to build a Woodward Camp at Gorgoza Park. Scheduled to open at the end of 2019, the new facility will include a quad chairlift.

Ian Cumming passed away on February 2, 2018 at the age of 77. In keeping with his penchant for privacy, Cumming did not have a funeral.

In June 2018, Powdr announced John Cumming had stepped down as CEO, citing the need to spend more time on the other corporations he was involved in. Wade Martin and Justin Sibley were named co-presidents.



Powdr Corp. Resources on NewEnglandSkiHistory.com:
Powdr Corp. External Links:
Powdr - official site
Last updated: July 19, 2018