Mount Snow
Dover, Vermont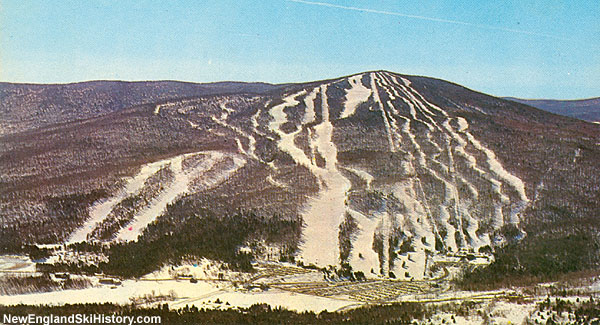 Mount Snow as seen in the 1960s
Mount Snow Details

Status:
Open
First Year of Operation:
1954
Vertical Drop:
1,700 feet
Lifts in Operation:
1 high speed sixpack, 3 high speed quads, 1 quad, 6 triples, 4 doubles, surface lifts
Lifts Removed/Non Operational:
Mount Pisgah Becomes Mount Snow
As the story goes, Walt Schoenknecht visited a snow covered Mt. Pisgah in Vermont on October 2, 1946 and decided he would one day build a world class ski area there. Walt then operated Brodie, MA that winter and then developed Mohawk, CT the following season.

Circa May 1953, Schoenknecht purchased 500 acres of land on Mt. Pisgah from the family of Reuben Snow for $15,000. Snow's name would eventually be used as the name of the new ski area.

Initially a $4 million project, the ski area opened in late fall 1954 (actual dates of first operation vary depending upon the source) with two unique, chain-driven double chairlifts and a rope tow, serving five trails and two slopes. 1954-55 proved to be a 'sensational' year snowfallwise, thus helping push Mount Snow into a strong sophomore year expansion.

For its second year, Mt. Snow added its longest chairlift yet, a 3,800 foot chain double chairlift. The new chairlift pushed Mt. Snow over the 1,700 foot mark in advertised vertical drop, making it one of the largest ski areas in the northeast. The snowfall was once again abundant, with the ski area reportedly staying open into May.

Business Booms
For the 1956-57 season, the South Bowl slope was opened. For beginners, the Mixing Bowl chain double chairlift was installed. Locally, the positive effects of suddenly having a large ski area were felt. Hourly wages in town reportedly increased by 25 to 50%. Gas stations saw 500% increases in gallons pumped. Property values soared.

Another bottom to top chain lift combination was installed in 1957 and 1958, as the Sap Bucket and South Bowl double chairlift lifts were installed. Also during this time period, a "test trail," called the Jaws of Death, was cut. Three expert trails officially debuted in the new North Face complex for the 1959-60 season, though a long trek back to the main mountain was required for the next few years due to the lack of a lift. In addition, the famous Long John Trail was also built for the 1959-60 season.

Now billing itself as the World's Largest, Most Exicitng Ski Resort, Mount Snow debuted its Sun Dance area for the 1960-61 season with a new double chairlift and base lodge. After years of complaints about noise and dripping oil, the Sundance and Beaver double chairlifts installed this year were of traditional design, built by Carlevaro & Savio.

Meanwhile, a private ski club named Carinthia opened south of the Sun Dance area during the 1960-61 season. Developed by Walter Stugger, Carinthia would remain a surface lift only area for near the first two decades of its existence.

Additional Carlevaro & Savio double chairlifts were installed at Mount Snow for 1961 and 1963, the latter of which finally provided lift service to the expert North Face area.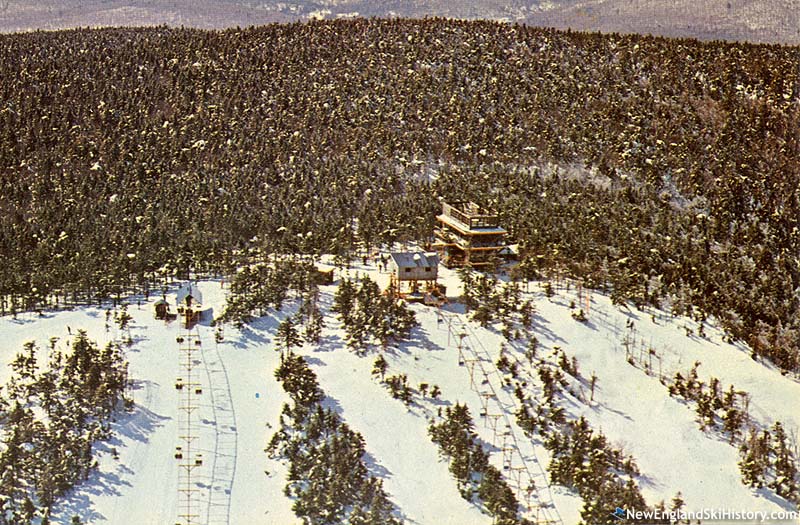 The Mount Snow 1960s base area

Considering his 10 year plan complete after only 8 years, Walt Schoenknecht pitched a new 20 year plan following the 1962-63 season. By the mid-1970s, he planned to have 21 double chairlifts, 6 gondolas, 4 tramways, and 6 trail complexes, with the capacity to handle 40,000 skiers per day. The overall estimated price tag for the development was $75-$85 million. As part of the conversation, he (jokingly or not) suggested using an atomic bomb to lower the base elevation of part of the mountain, in order to increase the vertical drop.

Struggling with back problems, Schoenknecht loathed taking his skis off. As such, he devised a skis-on gondola for Mount Snow. His $900,000 G1 'Telecabine' two person gondola (also known as a bubble chairlift) debuted in March 1965. Also that spring, the Air Car opened, a small Carlevaro & Savio tramway connecting the Snow Lake Lodge to the ski area.

Also this season, a new 'luxury' ski area popped up down this road. Complete with a wine and cheese shop, Haystack Mountain opened with ambitious long term plans. Though the upper mountain at Haystack would open the following season, much of the planned luxury remained on the drawing board.

A fourth floor was added to the Mount Snow base lodge in 1967, while an exotic outdoor heated pool was constructed at Snow Lake Lodge.

Starting around 1968, work began on yet another trail complex, later known as Sunbrook.

Mount Snow's second Telecabine gondola, the G2, was installed for the 1969-70 season, further increasing uphill capacity. In addition, the new Sunbrook complex made its debut later that season.

Financial Woes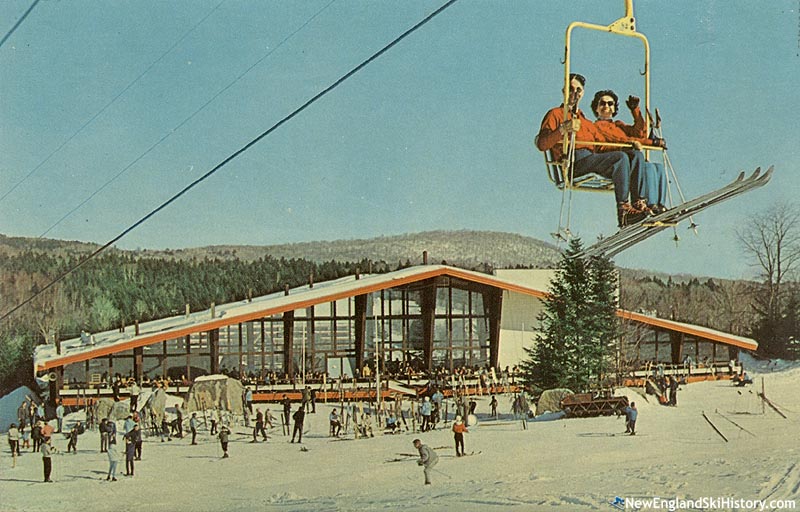 Skiing at Mount Snow in the early 1980s

Mount Snow started to run into financial problems as a result of the capital expenditures and increased energy costs. In the middle of the 1970-71 season, a merger with Davos, Inc. was announced. Walt Schoenknecht stayed on board for a few years, but returned solely to Mohawk likely following the 1973-74 season.

Energy issues and multiple bad winters forced Mount Snow into bankruptcy in 1975. First Wisconsin Mortgage Trust and North American Mortgage Investors ended up taking control of the ski area. Mount Snow was eventually purchased by the Sherburne Corp. in 1977 for $4.5 million. The ski area was later rolled into S-K-I Ltd. (1984), American Ski Company (1996), and Peak Resorts (2007).

Expansion by Acquisition
The adjacent Carinthia ski area was absorbed into Mount Snow in 1986. Nearby Haystack Mountain ski area was added (though never connected) shortly thereafter and would remain aligned with Mount Snow until being sold in 2005.

While the overall footprint of the ski area has remained steady in recent years, critical upgrades have been rolled out for both the snowmaking and lift systems. A high speed six pack bubble chairlift was installed for the 2011-2012 season.

In January 2014, it was announced that Mt. Snow had been approved for taking part in the EB-5 program. Under the EB-5 program, a foreigner can invest $1 million in an approved United States business (which must then create jobs), in exchange for a green card. With Vermont labeled a Targeted Employment Area, the minimum investment is cut in half to $500,000, making participating rural businesses such as Mount Snow more attractive. Mt. Snow is hoping to attract $52 million in capital to fund snowmaking improvements (including the West Lake Project) and a new Carinthia base lodge.

NewEnglandSkiIndustry.com News

Expansion History

Image Gallery


Lifts
Click on lift name for information and photos
Maps

Skier Visit History

Season
Skier Visits
Source
2010s
2013-14
468,900
Peak Resorts Form S-1 2014
2009-10
447,100
Peak Resorts Form S-1 2011
2000s
2008-09
418,313
Mount Snow
2007-08
408,218
Mount Snow
2006-07
347,469
Mount Snow
2005-06
430,000
American Skiing Company Form 10-K 2006
2004-05
524,000
American Skiing Company Form 10-K 2005
2003-04
490,000
American Skiing Company Form 10-K 2004
2002-03
546,000
American Skiing Company Form 10-K 2003
2001-02
472,000
American Skiing Company Form 10-K 2002
2000-01
558,000
American Skiing Company Form 10-K 2001
1999-00
513,000
American Skiing Company Form 10-K 2000
1990s
1998-99
513,000
American Skiing Company Form 10-K 1999
1997-98
602,000
American Skiing Company Form 10-K 1998
1996-97
517,356
Mount Snow
1995-96
510,533
Mount Snow
1994-95
425,739
Mount Snow
1993-94
432,149
Mount Snow
1992-93
550,659
Mount Snow
1991-92
483,954
Mount Snow
1990-91
427,795
Mount Snow
1989-90
470,874
Mount Snow
1980s
1988-89
471,595
Mount Snow

1997-2005 skier visit figures include Haystack

Ticket Price History
Weekend Full Day Lift Ticket
Season
Price
Source
2010s
2014-15
$90.00
mountsnow.com
2013-14
$85.00
mountsnow.com
2012-13
$83.00
mountsnow.com
2011-12
$83.00
mountsnow.com
2010-11
$79.00
mountsnow.com
2009-10
$75.00
mountsnow.com
2000s
2008-09
$75.00
mountsnow.com
2007-08
$72.00
mountsnow.com
2006-07
$72.00
mountsnow.com
2005-06
$69.00
mountsnow.com
2004-05
$67.00
mountsnow.com
2003-04
$64.00
mountsnow.com
2002-03
$61.00
mountsnow.com
2001-02
$56.00
mountsnow.com
2000-01
$55.00
mountsnow.com
1990s
1998-99
$52.00
mountsnow.com
1997-98
$49.00
mountsnow.com
1996-97
$47.00
atplay.com
1993-94
$43.00
Brochure
1992-93
$41.00
Boston Globe
1991-92
$40.00
Boston Globe
1990-91
$37.00
Boston Globe
1989-90
$36.00
Boston Globe
1980s
1988-89
$34.00
Boston Globe
1987-88
$32.00
Boston Globe
1983-84
$25.00
Ski America
1982-83
$23.00
Rand McNally Winter Recreation Map
1970s
1976-77
$22.00
1976 White Book
1973-74
$11.00
Brochure
1969-70
$10.00
Boston Globe
1960s
1967-68
$8.50
Eastern Ski Atlas
1966-67
$8.50
Brochure
1964-65
$6.50
Eastern Ski Atlas
1963-64
$6.50
Buxton's Eastern Ski Slopes
1962-63
$6.50
Buxton's Eastern Ski Slopes
1950s
1958-59
$5.00
Sports Illustrated
Visitor Memories
"I have worked at Mount Snow for the past 3 years. I love it. I also learned to ski here when I was 3 years old. I have been ripping up Mount Snow ever since. "
Madison Scott, Mar. 15, 2015
"My family visited Mt. Snow yearly for Christmas break in the 70s. One year we piled up with other kids and got about 14 of us into the Air Car from Snow Lake Lodge."
John Kohl, Mar. 1, 2014
"My father John (Pat) Patenaude worked as a chef at Snow MT. Inn, Snow Lake Lodge for many years and in 1968 managed the Snow Barn Cafeteria with my mother. We lived in the apartment downstairs. I have wonderful memories of those days. Jame's did you by chance know my dad? Many of the ski bums stayed in the staff quarters at the Snow Barn. I can recall championship ping pong matches in the loft!"
Dave Patenaude, Jan. 21, 2014
"My first few years as a ski bum (1961) I worked at the Snow Mt Inn (waiter), was a life guard at the pool (outside) and worked ski repairs at the base.Mt Snow was by far the best place to ski bum. We had great times during the weekly standard races.Great music in Wilmington. My last year was working as a waiter at Snow Lake, then with family headed out only to come back in 1990 as a patroler. Great times great mountain, greater people."
james (Pepe) gariepy, Dec. 17, 2013
---
External Links
Mount Snow - official site
Last updated: March 30, 2015