Stowe Mountain Resort
Stowe, Vermont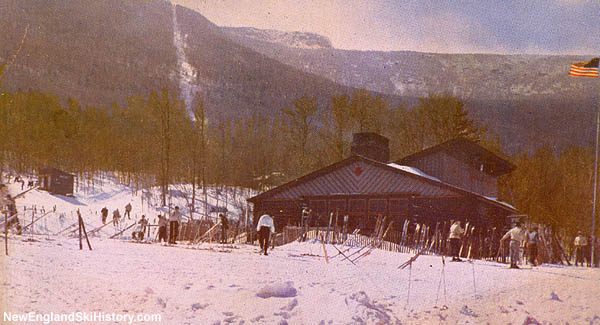 The Stowe base area (likely early 1940s)
Stowe Mountain Resort Details

Status:
Open
First Year of Operation:
1937
Vertical Drop:
2,160 feet
Lifts in Operation:
2 gondolas, 3 high speed quads, 1 quad, 2 triples, 2 doubles, surface lifts
Lifts Removed/Non Operational:
1 gondola, 1 high speed quad, 5 doubles, 1 single, surface lifts
Located on the eastern shoulder of the tallest mountain Vermont, Stowe Mountain Resort has long been known as a premiere New England ski destination.

CCC Days
Organized skiing on the eastern face of Mt. Mansfield dates back to 1933, when the Bruce Trail was cut. The trail was the sight of the first Mt. Mansfield ski race in February of 1934. Construction of the Barnes Trail started soon thereafter, later becoming better known as the Nose Dive Trail.

Lift serviced skiing at present day Stowe started when Sepp Ruschp and the Mt. Mansfield Ski Club opened a rope tow on the Toll House slope on February 2, 1937.

A Chairlift Is Built
On November 17, 1940, Ruschp, Lowell Thomas, and Roland Palmedo's Mt. Mansfield Lift, Inc. made national headlines when it opened what was billed as the longest and highest chairlift in the world, at 6,330 feet in length and 2,030 feet in vertical. Though it broke down on its first day operation (with dozens of reporters on board), the single chairlift would remain a fixture at the mountain for nearly half a century.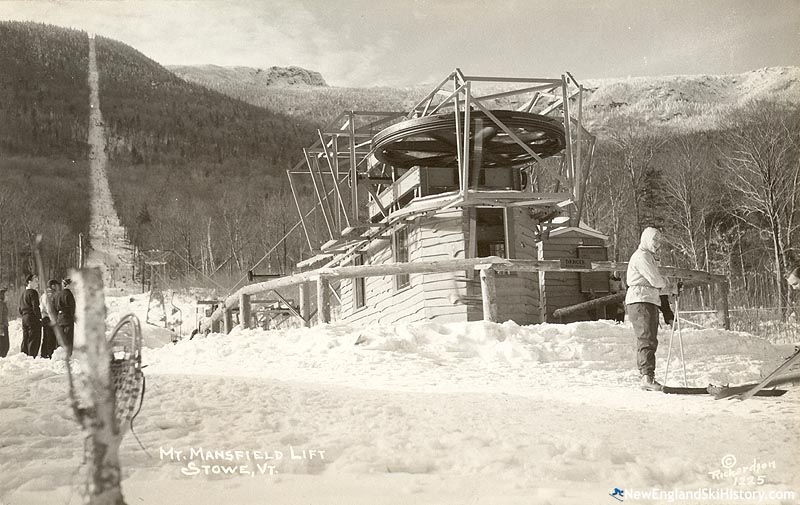 The gondola (1990s)

Two years later, American International Group (AIG) founder Cornelius Van der Starr visited Stowe and quickly fell in love with the area. His long history of financing and owning the ski area started circa 1946, when the Mt. Mansfield T-Bar opened, thanks in large part to his funds. Around that time, five separate companies owned the various aspects of the ski area. Starr gradually purchased majority shares and had them all rolled them into Mt. Mansfield Co. by the time 1950 drew to a close.

Spruce Peak debuted for the 1949-50 season, initially served by rope tows. While a chairlift was originally planned for the following season, only a T-Bar would be constructed. The Spruce Peak double chairlift would be installed for the 1954-55 season.

Snowmaking arrived at Stowe for the 1967-68 season, initially on the West and East slopes of Spruce Peak.

A Gondola Is Built
Stowe's largest expansion to date took place starting in the late 1960s, as new terrain was developed between the existing chairlift pods. A gondola started service to the new Chin area in either November or December of 1968. Included in the complex were base and summit lodges as well as five trails.

A major modernization effort took place during the 1980s and early 1990s, as original lifts were replaced with new ones. The original single chairlift was amongst the last to go, as the Forerunner Quad, the first high speed detachable quad in New England, took its place. The famous Stowe gondola was replaced with a new Poma gondola for the 1991-92 season.

2000s Modernization
In the midst of a major redevelopment of Spruce Peak in the 2000s, Stowe was eventually affected by the financial problems owner AIG. As a result, AIG spun off Stowe to a new subsidiary company called Chartis at the end of 2009. Major changes during this time included new high speed quad chairlifts in 2004 and 2005, as well as a gondola connecting the Spruce Peak base area to the main mountain.

For the 2011-12 season, the original Forerunner Quad was replaced with a new high speed quad, named the Fourrunner.

Following the 2013-14 season, the Alpine and Easy Street doubles, as well as the alpine slide, were removed. Replacing the chairlifts was new a fixed grip quad.

NewEnglandSkiIndustry.com News

CCC Trails

Expansion History

Image Gallery


Lifts
Click on lift name for information and photos
Maps

Skier Visit History

Season
Skier Visits
Source
2010s
2010-11
330,000
Stowe Reporter
1950s
1957-58
140,000
Daytona Beach Sunday News-Journal

Ticket Price History
Weekend Full Day Lift Ticket
Season
Price
Source
2010s
2014-15
$108.00
stowe.com
2013-14
$98.00
stowe.com
2012-13
$92.00
stowe.com
2011-12
$92.00
stowe.com
2010-11
$89.00
stowe.com
2009-10
$89.00
stowe.com
2000s
2008-09
$89.00
stowe.com
2007-08
$84.00
stowe.com
2006-07
$76.00
stowe.com
2004-05
$65.00
stowe.com
2003-04
$62.00
stowe.com
2001-02
$58.00
stowe.com
2000-01
$56.00
stowe.com
1990s
1997-98
$50.00
stowe.com
1995-96
$48.00
atplay.com
1992-93
$39.00
Boston Globe
1991-92
$39.00
Boston Globe
1990-91
$38.00
Boston Globe
1989-90
$36.00
Boston Globe
1980s
1988-89
$35.00
New York Times
1987-88
$33.00
Boston Globe
1983-84
$24.00
Ski America
1982-83
$23.00
Rand McNally Winter Recreation Map
1981-82
$21.00
Ski America
1980-81
$19.00
Ski America
1970s
1969-70
$10.00
Boston Globe
1960s
1963-64
$6.50
Buxton's Eastern Ski Slopes
1962-63
$6.50
Buxton's Eastern Ski Slopes
1959-60
$6.50
Directory of Ski Resorts
Visitor Memories
Paul Lahaye
Feb. 15, 2015
Left Boston in 1990 to become a ski bum at Stowe. Worked at the muffin ski shop where I rented skis and delivered the fresh tune skis to every inn on the access road. This was when AIG was leaning on all the small inns and right before some modifications to the resort I rember some inns still having the sixties and seventies feel and feeling the mountain was not keeping up... boy was I wrong it really is a true New England resort, especially since I live in California and have not seen the resort in several years after skiing the sierras for many years I understand why the east produces great skiers a lot of them from Stowe I will never forget the steeple or the folks I met there.......
Stanley shepard
Jan. 29, 2015
We used to go up a lot Once was when shuttle did not make it 29 years agoMy ski mister said they used to get coupon books to ride single I rember the wool blankets on cold days to ride up withLastly we went Stowe for Easter spring skiing them head up to Jay for winter skiing on Sunday
Matt Baker
Oct. 18, 2014
Climbed the mountain from the west several times while a student at Middlebury. My wife, Milly, and I spent our honeymoon at Stowe in 1957. Then you bought coupons for rides on the chairlift. Still have a book of them. I think that it cost .90 per ride or ten rides for 8.00.
Peter Benoliel
Mar. 26, 2014
I remember the day tickets starting at $16 in the late 70's. The tickets themselves were shaped liked the Gondola. In the early 70's, Stowe was using coupon books.
Anders, jr Hengsteler
Oct. 7, 2013
My Father's 1st trip to Stowe (Mt. Mansfield) was in 1939 an he stayed at Barnes Camp Inn that was owned by Chelsea Lyons. My 1st trip there was in March 1944, just after my 12th birthday. We returned almost every spring (from Buffalo, N.Y.) until we bought land and moved to Waitsfield, Vt. (Mad River Glen) to build and operate the first ski lodge in Waitsfield in 1949. (Ski Center Lodge) My memories of Stowe and many of the local people there then will be in my mind forever.
Add a memory of Stowe Mountain Resort
First Name:
Last Name:
E-Mail Address:
Comments:
---
External Links
Stowe Mountain Resort - official site
Mt. Mansfield - FranklinSites.com Hiking Guide
Last updated: January 28, 2015