Enchanted Mountain Ski Area
Jackman, Maine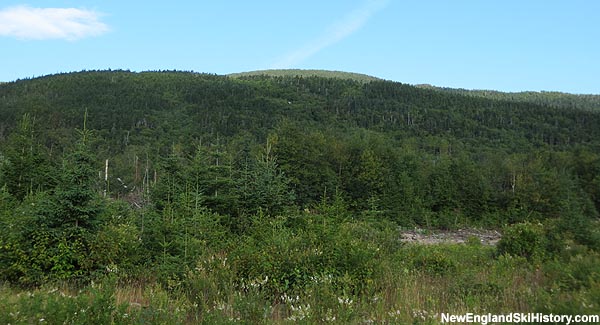 Enchanted Mountain Ski Area and Coburn Mountain (2013)
Enchanted Mountain Ski Area Details

Status:
Lost/Defunct
First Year of Operation:
1966
Last Year of Operation:
1973
Vertical Drop:
1,200 feet
Lifts in Operation:
Lifts Removed/Non Operational:
1 double, 1 T-Bar, surface lift
Located south of the rural near-border town Jackman, Coburn Mountain is one of the most prominent mountains in all of New England. Towering over timber country, the 3,717 foot tall peak was the site of a massive ski area proposal in the 1960s. Named Enchanted Mountain, the ski area never progressed beyond its first phase. Geographically only a few miles west of Big Squaw ski area and north of Baker Mountain ski area, Enchanted Mountain operated for less than a decade.

Early Years
Designed by E. H. Lord-Wood Associates and built by North Haven Construction Company, Enchanted Mountain debuted in early 1966 with a 1,200 foot T-Bar lift and possibly a 900 foot novice Poma lift. The ski area was reportedly built on land leased from Scott Paper Company, which would later become owner of nearby Big Squaw ski area.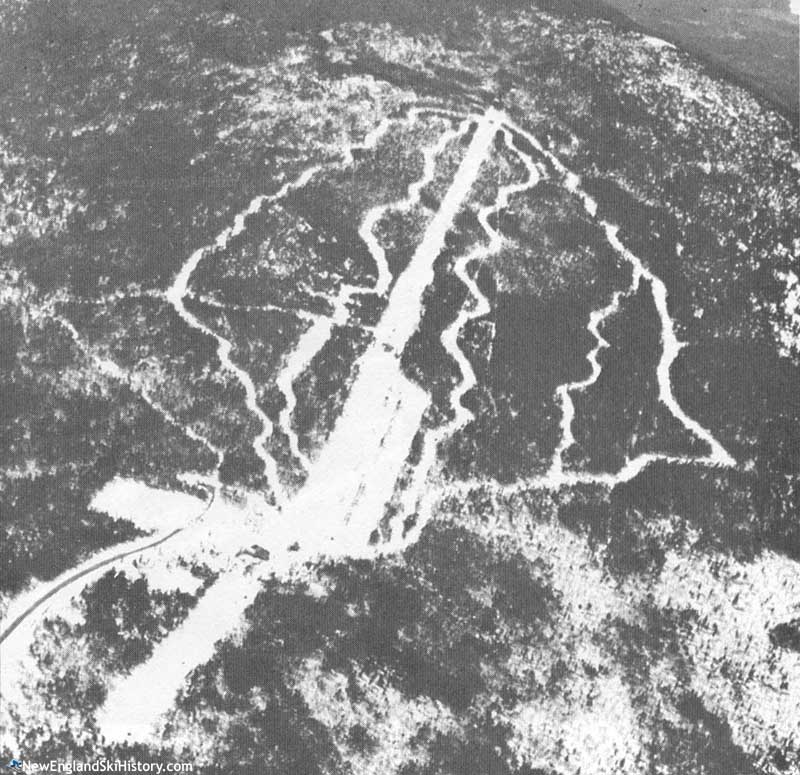 The top footings from the double chairlift (2013)

A 4,200 foot Poma double chairlift was added for the 1966-67 season, increasing the trail count to seven. In addition, a new access road was constructed.

Long term plans included three more trail pods, a tramway, and six double chairlifts, covering some 14,000 acres. Financial problems intervened, however.

Financial Problems
By the time the fall of 1969 rolled around, Enchanted Mountain was out of business and on its way to the auction block. The area was eventually sold by the Small Business Administration to Terry Tyler (founder of Maple Valley), Willis LeFavour, and Robert LeFavour. The new ownership reopened the ski area in February of 1970.

Heading into the early 1970s, the area tried to provide unique offerings, such as night time snowshoe tours and free board for anyone who brought their own sleeping bag.

Closure
The LeFavours were unable to rescue the remote ski area from financial doom. While listed in some ski publications for many years after, there is no known record of Enchanted Mountain operating beyond the 1972-73 season. The area was advertised as for sale in industry publication Ski Area Management in 1973. With no buyer found, the Small Business Administration moved to liquidate the area in 1974.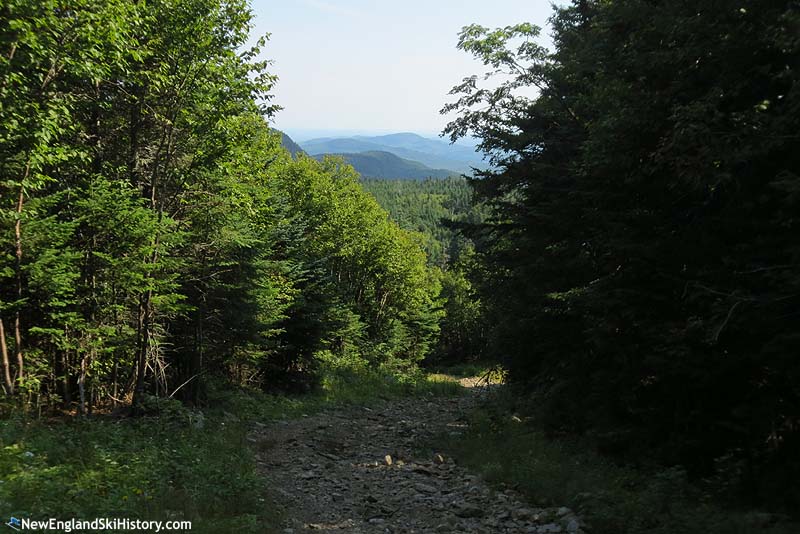 One of the Enchanted Mountain ski trails (2013)

Since then, the lifts and buildings have been taken down. A small communications facility was built near the top of the chairlift, while a larger one sits at the top of Coburn Mountain. All terrain vehicles and snowmobiles still use some of the otherwise overgrown trails.

A large logging project commenced in the early 2010s, further eliminating the remaining traces of the lower portion of the ski area.

Image Gallery


Lifts
Click on lift name for information and photos
Ticket Price History
Weekend Full Day Lift Ticket
Season
Price
Source
1970s
1971-72
$6.00
Boston Globe
1970-71
$6.00
Boston Globe
Visitor Memories
Michael W
Jan. 30, 2015
A friend and I drove snowmobiles to the top of enchanted ski area about the year of 2001. When stepping off the sleds, I was warned not to step past the packed snow. It was so deep, the 'shrubs' I was standing near we're actually treetops!! Had I stepped too far, I could have been swallowed by the snow! Beautiful up there.
Add a memory of Enchanted Mountain Ski Area
First Name:
Last Name:
E-Mail Address:
Comments:
---
External Links
Enchanted Mountain - New England Lost Ski Areas Project
Coburn Mountain - FranklinSites.com Hiking Guide
Last updated: December 24, 2013