Boyne USA Resorts
New England Ski Presence: 2007-Present


Boyne Resorts has been a major player and innovator in the ski industry for over half a decade. In addition to running many successful ski areas in North America, Boyne has pioneered major advancements in lifts and snowmaking. Boyne ski areas have the distinction of featuring the first triple, quad, and high speed six pack in United States history.

Boyne Resorts was started by Everett Kircher (1916-2002) in 1947, when he purchased land on Boyne Mountain in Michigan for $1. Installing a 1936 used single chairlift and cutting two trails, the ski area opened on January 1, 1948.

In 1953, Kircher built the Gatlinburg Sky Lift in Tennessee.

Circa 1964, Kircher purchased the nearby Harbor Highlands ski area, known today as Boyne Highlands.

In 1967, Thunder Mountain, Michigan, started a decade earlier by Dorian "Dee" Adgate (1927-2005), was purchased by Boyne Resorts. The area would later be abandoned.

By 1970, Walloon Hills was added to Boyne Resorts. Walloon Hills would later be donated to a disabled skier charity run by Darla Evans in 1984 and subsequently renamed "Challenge Mountain."

In 1976, Boyne Resorts acquired Big Sky in Montana for $1 million, plus $7.6 million in debt assumption. Also that year, Everett Kircher transferred the ownership of Boyne Resorts to his four children.

In 1986, Boyne Resorts purchased Brighton in Utah.

In 1997, Boyne Resorts purchased Crystal Mountain in Washington.

On December 22, 2005, CNL Lifestyle Properties, Inc. purchased Gatlinburg Sky Lift, TN, and Cypress Mountain, BC from Boyne USA Resorts for $47.5 million, leasing both back to Boyne for operational control.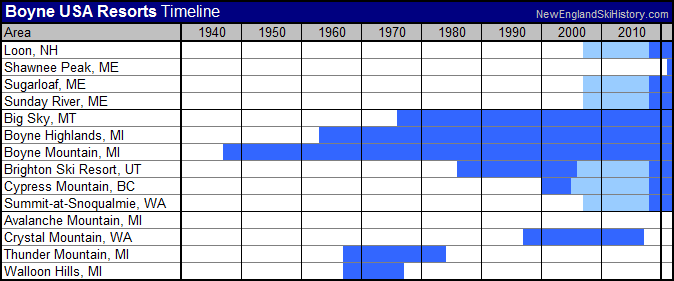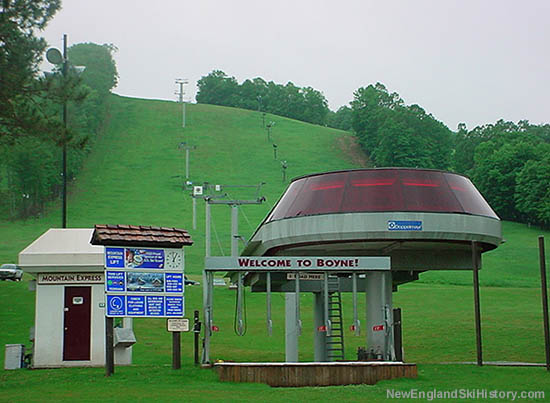 On January 9, 2007, CNL Lifestyle Properties, Inc. purchased Brighton Ski Resort, UT, from Boyne USA Resorts for $35 million. Boyne then agreed to a 20 year lease with four additional 5 year options.

On August 8, 2007, American Skiing Company sold Sunday River and Sugarloaf for $77 million to Boyne USA Resorts. CNL Lifestyle Properties, Inc. then purchased Sunday River, ME, and Sugarloaf, ME, from Boyne USA Resorts for $76.5 million. Boyne USA Resorts then leased the two areas from CNL Lifestyle Properties, Inc., through 2026, with additional option years.

On October 5, 2007, Booth Creek Ski Holdings, Inc. transferred the operational leases of Summit-at-Snoqualmie, WA and Loon Mountain, NH, to Boyne USA Resorts.

On September 23, 2008, CNL Lifestyle Properties, Inc. agreed to loan Boyne USA Resorts $68 million for development use at Big Sky, MT. In addition, CNL acquired the option to purchase the ski area outright, with Boyne USA Resorts maintaining operational control, in September, 2010 for $74 million.

On March 31, 2017, John Kircher acquired Crystal Mountain from Boyne Resorts.

On April 6, 2017, Ski Resort Holdings, LLC acquired CNL Lifestyle Properties, Inc.'s Boyne holdings.

In May 2018, Boyne USA Resorts acquired the assets to its Brighton, Cypress Mountain, Gatlinburg Sky Lift, Loon, Sugarloaf, The Summit at Snoqualmie, and Sunday River areas from Ski Resort Holdings, LLC.



Boyne USA Resorts Resources on NewEnglandSkiHistory.com:


Boyne USA Resorts External Links:


Last updated: June 6, 2018