| | |
| --- | --- |
| | |
Located just east of the northern White Mountains, Sunday River is one of New England's largest and most popular ski areas.

Local Beginnings
In the spring of 1958, the Bethel Area Development Corp., led by President Howard Cole, announced plans to develop a ski area on the northeast slope of Bald (Barker) Mountain. Soon thereafter, the Sunday River Skiway Corporation was formed and work was commenced.

Initial plans called for a 1958-59 opening with one lift and trails designed by Sel Hannah. The company likely ran into issues with funds and a lack of time, resulting in a one season postponement.

Activity began to accelerate in the summer of 1959, as funds were released to cut trails and install a T-Bar. A firm deadline was set for December.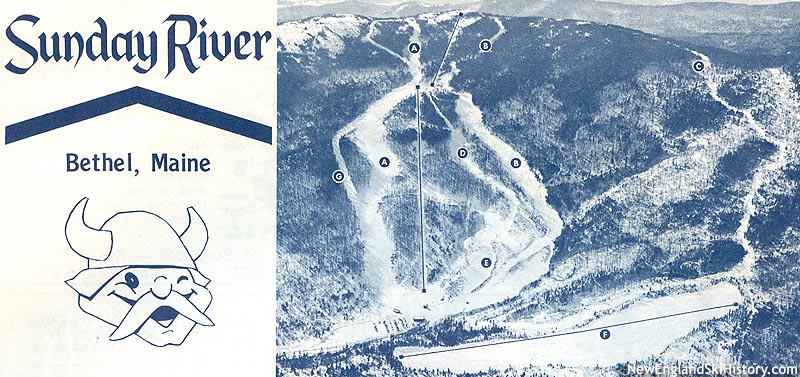 One of the T-Bars (early 1960s)

Sunday River Skiway Opens
The $90,000 Sunday River Skiway opened on December 19, 1959 as a modest, surface lift served ski area. A 3,200 foot long T-Bar served two intermediate slopes, while a rope tow was constructed on a smaller novice slope.

For its third season, Sunday River expanded to the top of the ridge as it opened the Locke Mountain area. A 2,200 foot long T-Bar was added, serving an extended stretches of the Cascades and Sunday Punch trails. Overall, the ski area's vertical drop improved to 1,400 feet.

The novice rope tow was replaced with a new T-Bar for the 1963-64 season. Known as the Mixing Bowl, the expanded slope would be the site of Sunday River's first snowmaking installation in 1970-71.

Big Changes
Sunday River finally took the plunge into the world of chairlifts for the 1971-72 season, when it installed a 5,100 foot long Pullman-Berry double chairlift to its new Barker Mountain area. The following year, the ski area was taken over by Killington's parent company and, in 1973, Les Otten was named General Manager.

Under the new ownership, the ski area saw numerous under the hood changes, such as improved snowmaking and base facilities.

Otten Takes Over
Les Otten purchased the ski area in 1980 and quickly turned dreams into reality while growing skier visits exponentially.

For 1981-82, Otten pushed through an aggressive expansion program, including the addition of the South Ridge double chairlift, 20 more acres of snowmaking, and 4 new trails.

Sunday River's first triple chairlift, the Locke Triple, was installed for the 1984-85 season. Along with Pleasant Mountain's summit lift, the Locke chairlift was the first triple in Maine. Expansions had only just begun.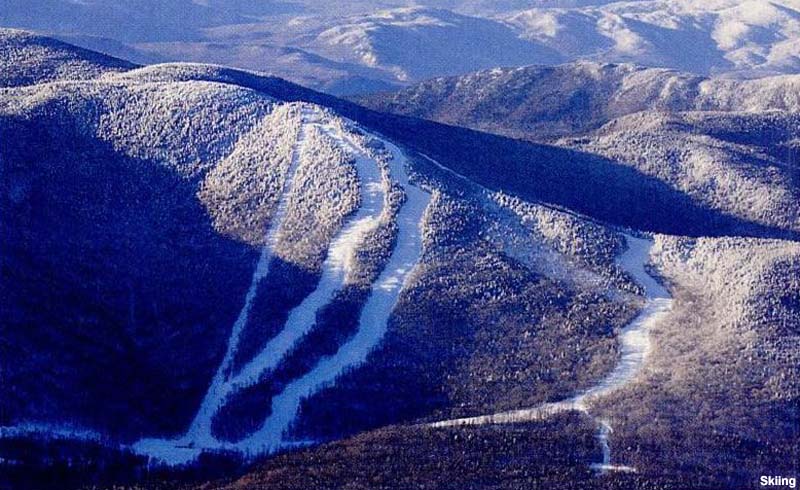 The Sunday River Express (2007)

For the 1985-86 season, North Peak was added. For 1986-87, Spruce Peak. For 1987-88, the first phase of Whitecap. 1987-88 also saw the installation of the Sunday River Express, Maine's first high speed detachable quad chairlift. Sunday River had started the decade as a minor player in the industry and finished the decade as one of the largest in the East.

Even with all of the additions of the 1980s, investments did not halt in the new decade. For 1991-92, Aurora Peak was added, followed by the Jordan Bowl in 1994 and Oz in 1995.

Mergers and Aquisitions
Meanwhile, Les Otten formed LBO Resort Enterprises in 1994 and started to compete with former boss Pres Smith's S-K-I Ltd.. In rapid fashion, LBO purchased Attitash, NH and Sugarbush, VT that year, followed by Cranmore, NH in 1995.

The following year, LBO Resort Enterprises and S-K-I Ltd. merged to form American Skiing Company, bringing Sunday River and rival Sugarloaf under the same ownership.

For the following season, the Perfect Turn Express detachable quad was installed. With the American Skiing Company quickly sliding into, this would be the last new lift at Sunday River for over a decade.

On August 8, 2007, American Skiing Company sold Sunday River and Sugarloaf for $77 million to Boyne USA Resorts, which immediately sold the assets to CNL Properties Inc. while procuring a lease agreement to operate the areas.

For the 2008-09 season, the new ownership made quite a splash by installing New England's first chondola (a combined gondola and chair lift), while also adding night skiing. In addition, Sunday River has continued to see heavy investment in snowmaking, resulting in it having some of the earliest openings in New England in recent years.

NewEnglandSkiConditions.com Reports
-- start conditions table -->
NewEnglandSkiIndustry.com News

Recent Articles
Skiing Expected in Three States Tomorrow - Nov. 17, 2015
Ski Season Resumes in New England - Nov. 15, 2015
No Saturday Skiing in New England Again - Nov. 13, 2015
Sunday River to Offering Only Weekend Skiing in New England - Oct. 30, 2015
Killington Discontinues Ticket Sales - Oct. 23, 2015
Killington First Ski Area Open in North America - Oct. 18, 2015
Snowmaking In Progress at Killington, Sunday River, and Wildcat - Oct. 17, 2015
Killington Announces October 18th Planned Opening - Oct. 16, 2015
Sunday River Announces October 19th Planned Opening - Oct. 14, 2015
Coos County Still Working on Balsams Zoning; Otten to Open Restaurant at Sunday River - Oct. 9, 2015
Sunday River NewEnglandSkiIndustry.com News Page

Expansion History

Image Gallery


Lifts
Click on lift name for information and photos
Maps

Year by Year History
Adult Weekend Full Day Lift Ticket; Adult Full Price Unlimited Season Pass

2010s
Ticket Price
Season Pass Price

Pass Payback

Opening Day

Closing Day

Skier Visits

2015-16
$89.00
$1245.00
14.0 days
October 19
May 1
2014-15
$89.00
$1245.00
14.0 days
November 3
May 2
2013-14
$87.00
$1210.00
13.9 days
October 26
April 21
2012-13
$85.00
$1175.00
13.8 days
November 6
April 21
2011-12
$80.00
$1149.00
14.4 days
October 29
April 15
2010-11
$79.00
$1079.00
13.7 days
October 22
April 24
2009-10
$77.00
$1049.00
13.6 days
October 14
April 19
2000s
Ticket Price
Season Pass Price

Pass Payback

Opening Day

Closing Day

Skier Visits

2008-09
$77.00
$1049.00
13.6 days
October 31
April 26
2007-08
$72.00
$999.00
13.9 days
October 31
April 27
2006-07
$67.00
$1400.00
20.9 days
November 21
2005-06
$59.00
$1300.00
22.0 days
November 17
473,000
2004-05
$59.00
$1100.00
18.6 days
November 10
525,000
2003-04
$56.00
$1249.00
22.3 days
November 10
523,000
2002-03
$53.00
$1249.00
23.6 days
501,000
2001-02
$52.00
$1245.00
23.9 days
May 1
521,000
2000-01
$51.00
547,000
1999-00
$49.00
513,000
1990s
Ticket Price
Season Pass Price

Pass Payback

Opening Day

Closing Day

Skier Visits

1998-99
$49.00
526,000
1997-98
$47.00
552,000
1995-96
October 30
1994-95
$43.00
November 10
546,000
1993-94
October 11
525,000
1992-93
$39.00
November 1
525,000
1991-92
May 17
502,507
1990-91
$36.00
November 9
439,000
1989-90
$33.00
November 1
May 24
396,000
1980s
Ticket Price
Season Pass Price

Pass Payback

Opening Day

Closing Day

Skier Visits

1988-89
$30.00
November 13
1987-88
$27.00
1986-87
$24.00
November 12
1985-86
$22.00
1984-85
$20.00
November 21
1983-84
$18.00
November 15
110,000
1982-83
$16.00
1981-82
$15.00
November 24
1980-81
$13.00
November 15
1979-80
40,000
1970s
Ticket Price
Season Pass Price

Pass Payback

Opening Day

Closing Day

Skier Visits

1978-79
November 16
1977-78
$9.75
November 19
1976-77
$9.25
1975-76
$8.00
1973-74
$7.00
1971-72
$7.00
1970-71
$6.00
$90.00
15.0 days
1969-70
$6.00
1960s
Ticket Price
Season Pass Price

Pass Payback

Opening Day

Closing Day

Skier Visits

1968-69
$4.50
$60.00
13.3 days
1967-68
$4.50
1964-65
$4.00
1963-64
$4.00
1962-63
$4.00
1961-62
December 10
April 8
1959-60
December 19
Visitor Memories
---
External Links
Sunday River - official site
Last updated: October 17, 2015