Lonesome Pine Trails Ski Area
Fort Kent, Maine
Status:
Open
First Season:
1964-65
Vertical Drop:
440 feet
Standing Lifts:
Surface lifts
Past Lifts:
Surface lifts
Left: The Lonesome Pine Trails (2017)
Recent NewEnglandSkiIndustry.com News:
Located on Stevens Hill (also referred to as "Klein Hill" and "Kline Hill") on the south side of Fort Kent, Lonesome Pine is the northernmost ski area in New England.

References to skiing on "Lonesome Pine Hill" in Fort Kent date back to at least the winter of 1937-38. There is no record of any lift service at this location at the time.


County Ski Tow

During the summer of 1954, Philip Pelletier constructed a ski area on his family's farm off Route 1 in Fort Kent. Two rope tows were installed (a 1,100 foot long novice tow and a 1,800 foot long expert tow), powered by tractors. Known as the County Ski Tow, the area likely operated for only a few seasons.

In February 1964, Elmer Pelletier chaired a meeting at which the Fort Kent Ski Association was formed. Ed Cates was elected as chairman of a ski tow and site committee, soon becoming association president. Though nearby Bosse Mountain was considered, the group reportedly decided to develop the ski area on the northern slope of Stevens Hill for cost reasons. Clearing started on the Vincent Jalbert property in May 1964, as the group debated whether a rope tow or T-Bar should be purchased.

As the project gained momentum, the non-profit Lonesome Pine Trails, Inc. was formed on July 16, 1964. A 20 acre tract of land was reportedly purchased in September 1964 for $3,000. By November, a 26 by 30 foot lodge had been framed under the supervision of local contractor J. Wilfred Ouellette and a 1,300 foot rope tow was being constructed by James Daigle. Overall, the project totaled nearly $10,000, much of it coming from fundraisers and other local contributions.


Lonesome Pine Trails Opens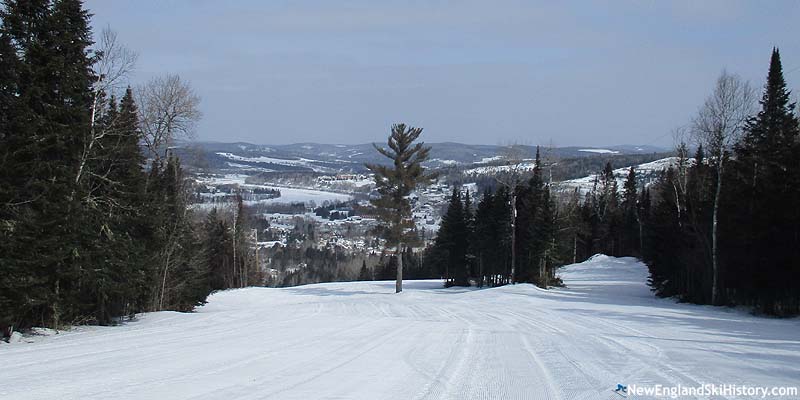 A lonesome pine tree atop the Founders slope (2017)

Due to a lack of snow, the rope tow likely did not start operating until the weekend of January 30, 1965. Initial hours of operation were Wednesday afternoons and weekends with the present-day Founders slope as the centerpiece of the ski area. A winter carnival featuring snowmobile races was hosted in mid-February. Lonesome Pine recorded $6,482 in income that winter.

For the second season of operation, Elmer Pelletier was elected president, while Paul Pelletier, son of former County Ski Tow owner Philip Pelletier, was appointed chairman of the committee in charge of operating facilities. A bunny slope rope tow was likely installed for that winter. Jean Paul Duval was likely hired that winter to operate Lonesome Pine.

The base lodge was expanded for the 1968-69 season, at which point the area was reportedly drawing Sunday crowds of 500 to 600 people. Meanwhile, the ski area was hosting major ski races.

Lonesome Pine applied for a liquor license for its expanded lodge in early 1970.

A 25-meter ski jump was constructed for the 1972-73 season using donated time and materials. Later that winter, the Valley Sno-Riders Snowmobile Club was founded, using the Lonesome Pine base lodge as their headquarters.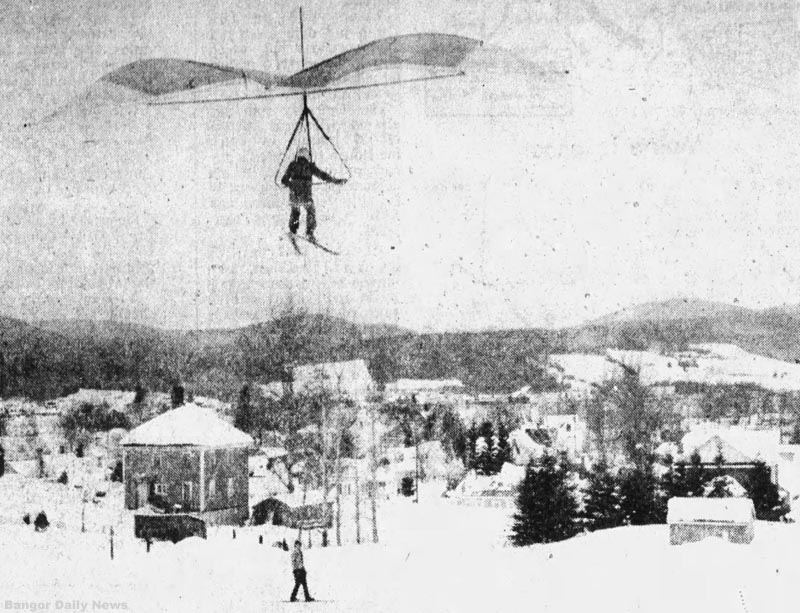 Paul Pelletier hang gliding at Lonesome Pine (1975)

Paul Pelletier put Lonesome Pine in the newspapers in 1975, when he leveraged his recently-learned hang-gliding skills to fly down the slopes on skis.



T-Bar Era

At the May 1984 annual meeting, the members of Lonesome Pine recommended moving forward with plans to install a T-Bar to improve uphill capacity and bring in more skiers. By February of 1985, fundraising tallied $37,000. Though it considered purchasing a new lift, the group opted to purchase a used T-Bar from an area in northern New York. Realizing the group did not have the skills necessary to install the lift, Lonesome Pine reached out to the community. Local farmer Claude Morin led the job, with help from the Fort Kent Highway Department, Daigle Oil Company, and Valley Airlines.

The T-Bar debuted for the 1985-86 season, significantly boosting business at Lonesome Pine. Circa 1986, Darold Bossie took over the reins as general manager from Jean Paul Duval.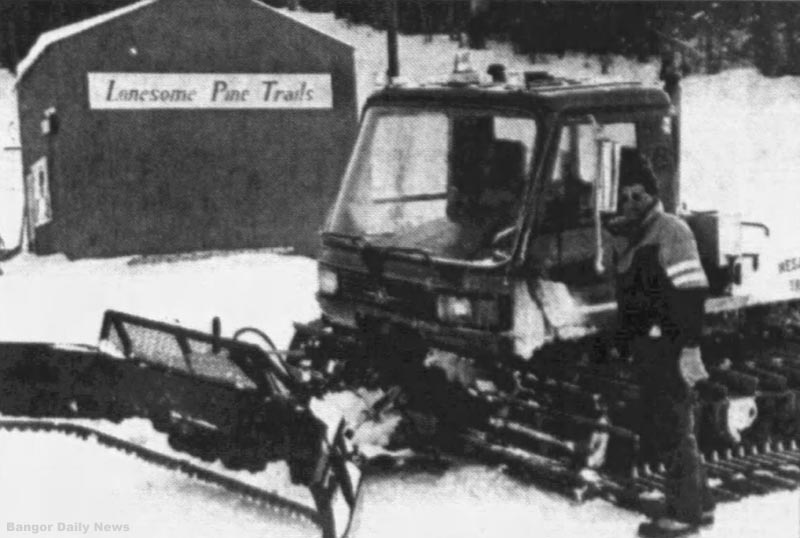 General manager Darold Bossie (1990)

To modernize slope conditions, Lonesome Pine acquired a snow cat from an area in Vermont for the 1987-88 season. One year later, the Valley Trail was cleared.

Mike Voisine likely became general manager of Lonesome Pine in the 1990s.

Circa 1994, Lucien Theriault designed an expansion to the base lodge that doubled it in size. A group of volunteers likely completed the project in time for the 1995-96 season.

Meanwhile, in 1999 the Fort Kent Outdoor Center was established near Lonesome Pine Trails with funding from the Libra Foundation. Some of the nordic ski area's trails reach Lonesome Pine Trails.

A temporary snowmaking system was leveraged during the winter of 2001-02, as Lonesome Pine failed to open until mid-January. Soderberg Construction loaned the area snowmaking equipment, which allowed Lonesome Pine to cover one trail for key ski races. Soderberg Construction later constructed the Caribou High School ski area.

A fundraiser for the installation of a permanent snowmaking system was kicked off in May 2003, quickly amassing $55,000. Leveraging the municipal water, the system was constructed for the 2003-2004 season, initially covering the Maine and Reservoir trails. Snowmaking was subsequently expanded to cover the Founders and Garbonstingle trails.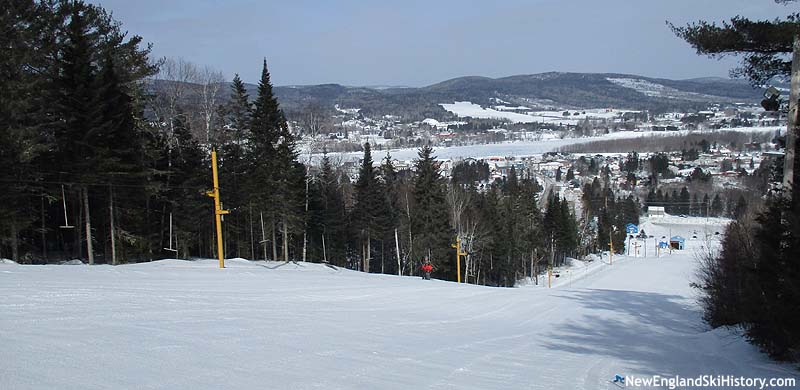 The Maine (2017)

Lonesome Pine Trails continues to operate to this day as a non-profit entity with the T-Bar, snowmaking, and night skiing.



NewEnglandSkiConditions.com Reports





Lifts
Click on lift name for information and photos




Maps


Year by Year History
Adult Weekend Full Day Lift Ticket; Adult Full Price Unlimited Season Pass

2020s
Ticket Price
Season Pass Price

Pass Payback

Opening Day

Closing Day

Skier Visits

2022-23
$25.00
$215.00
8.6 days
December 10
April 8
2021-22
December 11
April 9
2020-21
$25.00
$205.00
8.2 days
December 12
April 3
2019-20
$25.00
$205.00
8.2 days
December 14
March 15
2010s
Ticket Price
Season Pass Price

Pass Payback

Opening Day

Closing Day

Skier Visits

2018-19
$25.00
$205.00
8.2 days
December 15
April 7
2017-18
$20.00
$195.00
9.8 days
December 16
April 8
2016-17
$20.00
$195.00
9.8 days
December 10
April 2
2015-16
$20.00
$195.00
9.8 days
December 12
2014-15
$20.00
December 13
2013-14
$20.00
December 14
2012-13
$20.00
December 15
2011-12
$20.00
April 1
2010-11
$20.00
April 10
2009-10
$20.00
1990s
Ticket Price
Season Pass Price

Pass Payback

Opening Day

Closing Day

Skier Visits

1989-90
$125.00
Visitor Memories
"It was a nice time skiing but you need hotel and a chairlift and more trails but nice place. "
Nah Levesque, Oct. 28, 2021
---
External Links
Last updated: August 24, 2021