Mt. Uncanoonuc
Goffstown, New Hampshire
Partially constructed in the 1960s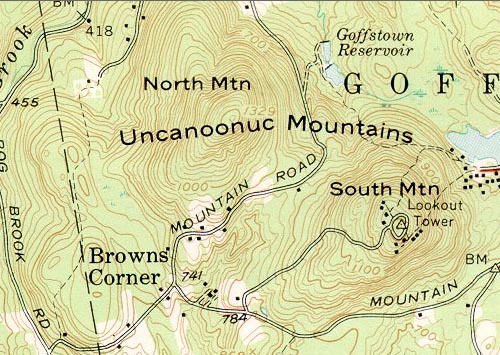 1953 USGS Topographic Map

Overview
Located near Manchester, the Uncanoonuc Mountains have long been popular amongst southern New Hampshire outdoorsmen and women. Starting in the 1930s, the south peak was home to downhill skiing, served by an incline railway. The railway was partially burned in 1941 and did not reopen thereafter, however ski races continued for nearly a decade.

Immediately next to South Uncanoonuc is its slightly taller northern counterpart. In the early 1960s, North Uncanoonuc was slated for a regionally-large ski area development. While construction commenced, the area was never completed. The concept was abandoned before the end of the decade. Nearby McIntyre ski area was developed shortly thereafter.

History
In the spring of 1962, State Parks Director Russell B. Tobey recommended a study of potential locations for ski areas, including the north peak of Mt. Uncanoonuc. Sno-Engineering was hired to conduct a feasibility study, with an eye toward attracting private investment. At the end of 1962, Tobey told a Manchester City Councilor, "I can tell you the engineering study there is not too enthusiastic."

Nevertheless, on December 19, 1962, the New Hampshire Department of Resources and Economic Development Advisory Commission approved the $500,000 plan for a ski area on North Uncanoonuc Mountain. In January of 1963, the North Mount Uncanoonuc Corporation was registered in the State of New Hampshire.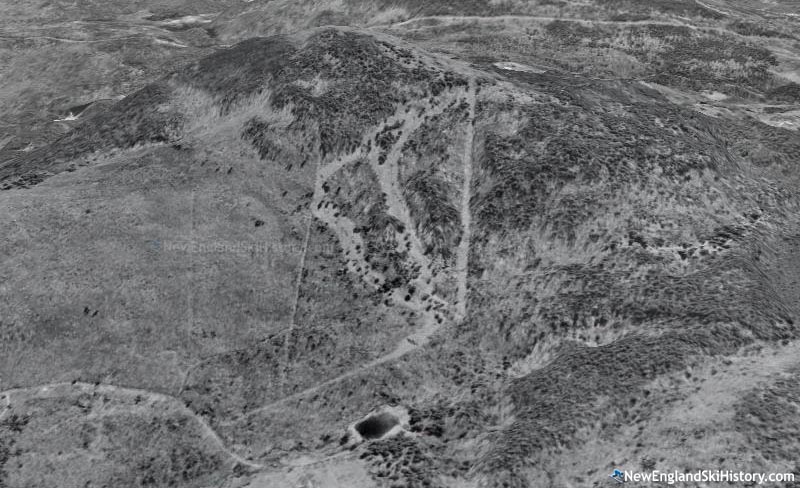 North Uncanoonuc ski trails in 1965


Trails were cleared, a brand new 1963 Mueller double chairlift was delivered, and apparently snowmaking equipment was also purchased. An access road may have also been built.

Though Uncanoonuc Mountain previously had a storied ski area on its south peak, the town of Goffstown apparently prevented this new development from opening for environmental reasons. The North Mount Uncanoonuc Corporation was dissolved on July 3, 1967.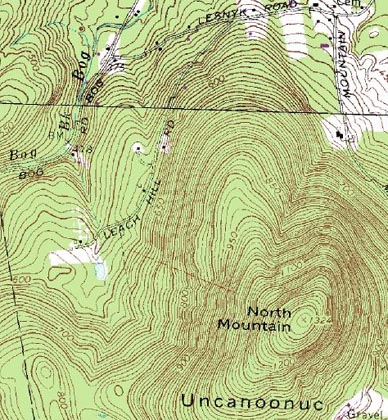 1985 USGS Topographic Map
Today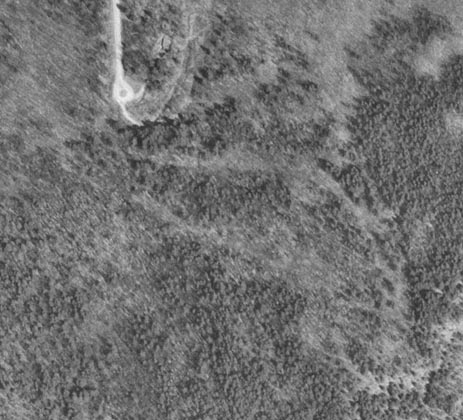 1998 USGS aerial photo showing old ski trail cuts

The ski trails cut for this development are still somewhat visible in recent aerial imagery. It is not known where the double chairlift is today.

Quotes

"
The panel, which advises the state government on recreation matters, did give approval, however, to proposals to develop a $500,000 ski area in the Uncanoonuc mountains near Goffstown, six miles west of Manchester.

The plans call for one or more cable lifts or possibly an aerial life [sic] to the summit of the 1,300-foot high twin mountain peaks.
"
Nashua Telegraph, December 20, 1962
| | | |
| --- | --- | --- |
| " | Mt. Uncanoonuc: Mueller Double Chairlift, 2000' long, 500' vertical, 1000 per hour capacity. | " |
| | 1963 Lift Installation Survey - Ski Area Management | |
Resources
"1963 Lift Installation Survey." Ski Area Management. 1963. http://www.skilifts.org/install_na1963.htm.
"State Funs for Manchester Ski Area Vetoed by Advisors" Nashua Telegraph. 20 Dec. 1962.
Uncanoonuc Mountain - New England Lost Ski Areas Project - information about the lost ski area on the south peak
Last updated: March 25, 2020