Mt. Tom Ski Area
Holyoke, Massachusetts
Status:
Lost/Defunct
First Season:
1960-61
Last Season:
1997-98
Vertical Drop:
680 feet
Standing Lifts:
0
Past Lifts:
4 doubles, surface lifts
Left: 1960s racing at Mt. Tom
Recent NewEnglandSkiIndustry.com News:
1/20/2021: Cal Conniff Passes Away
Located north of Springfield, 1,202 foot tall Mt. Tom has been a recreational getaway for centuries.



Early Recreation on Mt. Tom

Prior to the 1890s, Mt. Tom was described by the Boston Globe as "isolated on account of its inaccesibility" due to an ascent it described as being "as perilous as that of the mountain passes of the Alps." This all changed when the Holyoke Street Railway Company acquired land on the mountain in the late 1880s and early 1890s with the intent of building a trolley line to the summit.

In June 1895, a rail line was opened to Mountain Park at the base of Mt. Tom, drawing an estimated 10,000 to 12,000 visitors on its first day.

In 1897, a Charles P. Parker and Company was hired to build an electric trolley line up the mountain using Italian laborers. The one mile line reportedly completed in June 1897, consisting of two 84-passenger trolleys connected by a cable and operated by electricity. The trip to the summit reportedly took two to three minutes, reportedly making it the "fastest mountain railway in this country."

President William McKinley visited the area in June 1899, taking the trolley to the summit, where he was reportedly quite impressed by the view. Future President Calvin Coolidge later visited as well.

The summit house burned to the ground in October 1900, but was replaced with a new facility in 1901. That facility burned to the ground in May 1929. Forty years after it opened, the Holyoke Street Railway Company announced in June 1937 that it would no longer operate the trolley to the summit. The remains were likely removed in 1938.

Meanwhile, Charles L. Parker, designer of the Thunderbolt on Mt. Greylock, set his eyes on Mt. Tom. In the fall of 1937, he laid out two trails off Whiting Peak, near Smith's Ferry Road. Though the trails and a summit shelter were projected to be ready for use during the winter of 1937-38, it is not known if they were actually completed.

During the middle of the twentieth century, multiple ski trails and rope tows operated on portions of the long Mt. Tom ridge. None of these operations would achieve a fraction of the popularity of the ski area that was about to be developed.


A New Ski Area is Developed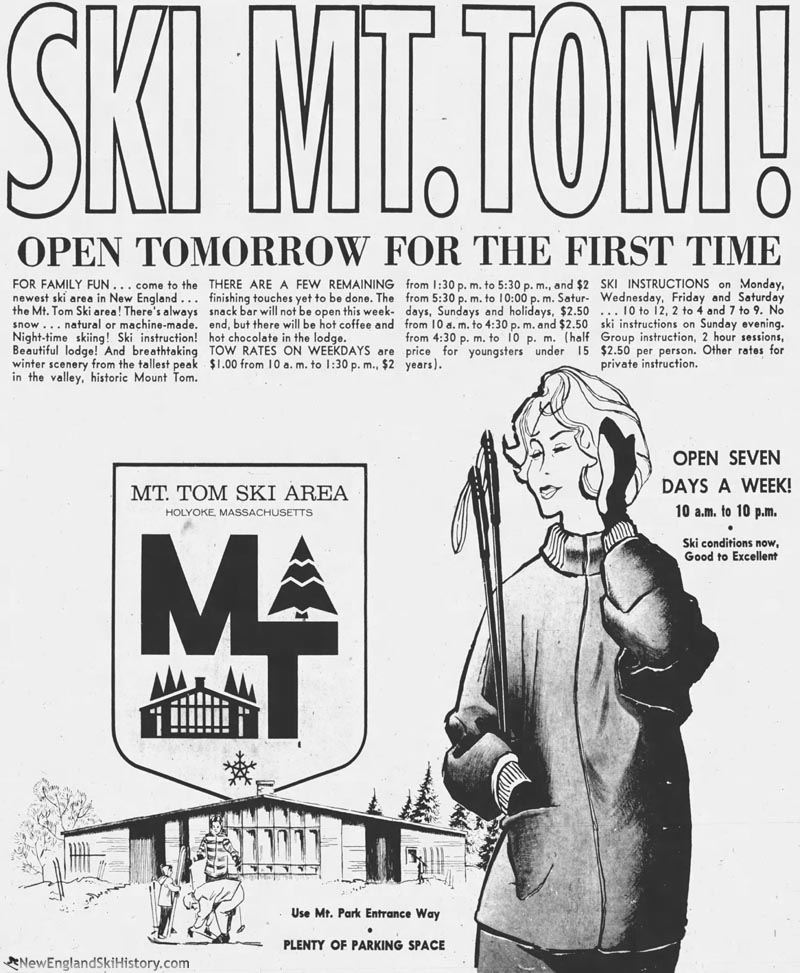 A December 1960 Mt. Tom advertisement

Holyoke native Daniel O'Connell of O'Connell and Sons Construction Co., owner of quarry land on the east face of Mt. Tom, became interested in building a facility to keep local kids busy in the winter. After consulting with Roland Palmedo of Mad River Glen, Walter F. Stugger of Carinthia, and Stan Brown of Berkshire Snow Basin, O'Connell moved forward with developing Mt. Tom. The Holyoke Transcript Telegram noted that Mt. Tom "is the only such location in this part of the Connecticut Valley that is suitable for opening up for skiing."

Word of the development hit the front page at the end of August 1960, as a crew of twelve men began clearing a novice-intermediate ski slope adjacent to the base of the former Incline Railroad. Initially known as Slope No. 1 (later known as the Lower Tom Slope), the terrain would be served by a 1,350 foot long by 285 vertical foot T-Bar, while a 400 foot rope tow served an adjacent Tom Thumb novice slope (the bottom of the future Pump House Slope). Leveraging O'Connell's existing fleet of compressors, a snowmaking system would be installed to ensure the slope would not be reliant on natural snow. A second trail was cut to the top of the ridge, but would not initially have lift service. At the base of the area would be a $14,000, 83 by 34 foot lodge with large glass windows.

Edmund Wakelin, a local real estate developer, president of the WREB radio station, and president of the McAusland & Wakelin department store until its sale a year earlier, took a prominent role in the initial development as a consultant and manager. Robert Savard operated the ski school, while Thomas Hoar directed the ski patrol.

In October, word emerged that night skiing would be offered with the installation of 1,500 watt lights on both sides of the main slope.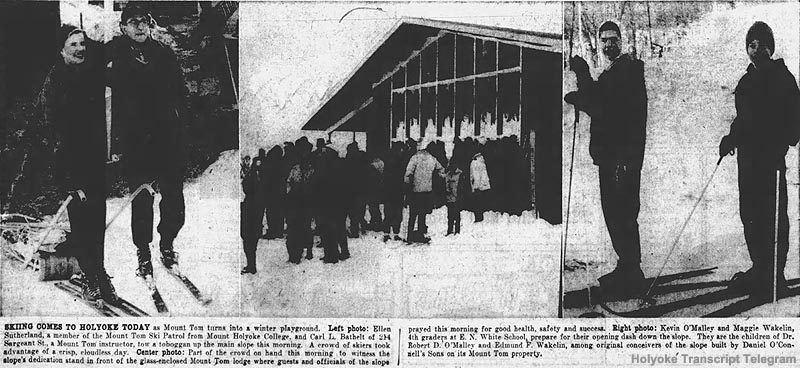 Opening day at Mt. Tom (December 17, 1960)

Tapping into Hidden Lake near the ski area, the snowmaking system was fired up for the first time on December 9, 1960, though subsequent rain wiped out the snow. Snowmaking later resumed, allowing for a December 17 opening. Kevin O'Malley and Maggie Wakelin, children of Dr. Robert O'Malley and Edmund Wakelin, took the honorary first run. Mayor Durban Wells of Northampton, Mayor Edward Lysek of Chicopee, Mayor Samuel Resnic of Holyoke, and area religious leaders presided over the dedication with a crowd of 150 skiers and 100 observers. 650 tickets were sold the next day. The Holyoke Transcript Telegram remarked, "What a grand Christmas gift for Holyoke to have a full-grown ski area, covered with snow and skiers, in operation for the holidays!" Just before Christmas, recent Olympic silver medalist Penny Pitou skied at Mt. Tom, remarking, "It's cute."

The ski area saw large crowds during the Christmas holiday weekend, even providing snowcat service to the upper mountain Big Tom trail. Despite being prefaced by a period of rain, the New Year's Monday holiday was even busier, as a crowd of 4,000 resulted in parking overflowing into Mountain Park.

The enthusiasm boosted local businesses, with multiple sporting good shops seeing significant increases in sales corresponding with Mt. Tom opening. Natural snow boosted base depths to nearly 3 feet by late January. In mid-February, Bill Keating wrote in the Holyoke Transcript-Telegram that, "Skiing has received a tremendous lift with the operation of Mt. Tom Ski Area," adding, "You hear as much talk about skiing now as you do of all other winter sports. It has caught on."

In late February, Daniel O'Connell announced Mt. Tom would be selling stock to "improve and expand the area in order to accommodate a larger number of people, with less congestion and with more enjoyment." Sales of stock were advertised to include a 6% annual return, as well as free skiing privileges. The first share was sold to 15-year-old Carol Jean L'Esperance, a Holyoke student who had just learned to ski at Mt. Tom that winter.

Though March started off with multiple days of rain, the season likely extended into the middle of the month, resulting 95 days of skiing that winter.

With Edmund Wakelin relocating to Maine, 26-year-old local television personality Cal Conniff was named general manager in April. An accomplished ski racer, Conniff was president of the Western Massachusetts Ski Council and a director of the Springfield Ski Club.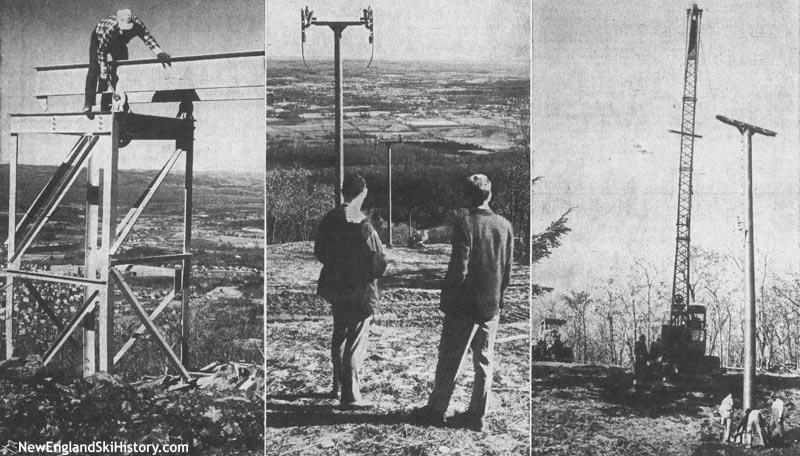 Construction of the double chairlift

In June 1961, the Mt. Tom Ski Area, Inc. Board of Directors held a meeting to discuss the stock offering and subsequent expansion plans. In August, Killington ski school director Jules Eberhard was hired to take on the role at Mt. Tom. Later that off-season, cranes hoisted towers for a new double chairlift to the top of the ridge, a new ski shop was constructed in the base area, and the parking lot was doubled in size. With the installation of the double chair, Mt. Tom joined Catamount and Thunder Mountain as the first Massachusetts ski areas with chairlifts.

The 1961-62 season had a slow start in terms of natural snow, as skiing started via snowmaking on the T-Bar slope on December 17. The chairlift finally started operating on December 29, drawing crowds in excess of 1,200 during the New Year's holiday weekend. Options from the chairlift included the Big Tom Run, the Lift Line Run, and the Cut-Off between the two. Multiple rain storms dampened January skiing, resulting in mid-station unloading from the chairlift starting in the middle of the month and for a portion of February. As a result, Cal Conniff told the Holyoke Transcript Telegram that, "We are seriously considering the addition of snow making equipment to the highest slope in future years."

The season ended after St. Patrick's Day weekend following 81 days of operation with skier visits doubling. The success of the business resulted in a 3% semi-annual dividend to preferred shareholders that spring.

Mt. Tom began offering scenic chairlift rides during the summer of 1962, complete with a shuttle from Mountain Park.

Improvements for the 1962-63 season included the installation of top-to-bottom snowmaking (reportedly one of the largest snowmaking systems in the East at that point), a new trail (likely Tom Cat), a new glade (likely the future Pump House slope), and a new beginner slope. In November, Mt. Tom received permission to pump snowmaking water from the Holyoke reservoir system.



Expansion and Popularity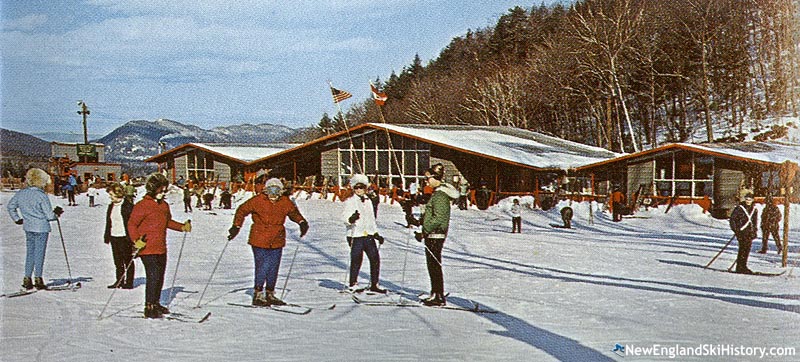 The Mt. Tom base area circa the mid 1960s

An upper mountain T-Bar as installed on the Upper Tom slope for the 1963-64 season to take some stress off the popular chairlift.

Mt. Tom made headlines in 1964 when S. A. Fenton & Son Co. installed 280 feet of plastic matting, allowing for year round skiing.

While other areas were left struggling following the winter of 1964-65, Mt. Tom was operating at full steam. During that off season, noted architect Alexander McIlvaine designed a sizable expansion to the base lodge. In addition, a beginner slope and J-Bar were added. General improvements included enhanced trail lighting and new chairs on the summit double chair. The double chairlift would be completely rebuilt for the following season.

For 1967-68, the Boulevard slope and double chairlift were added. Part of a $250,000 off season investment, the new slope featured night skiing and a powerful snowmaking system.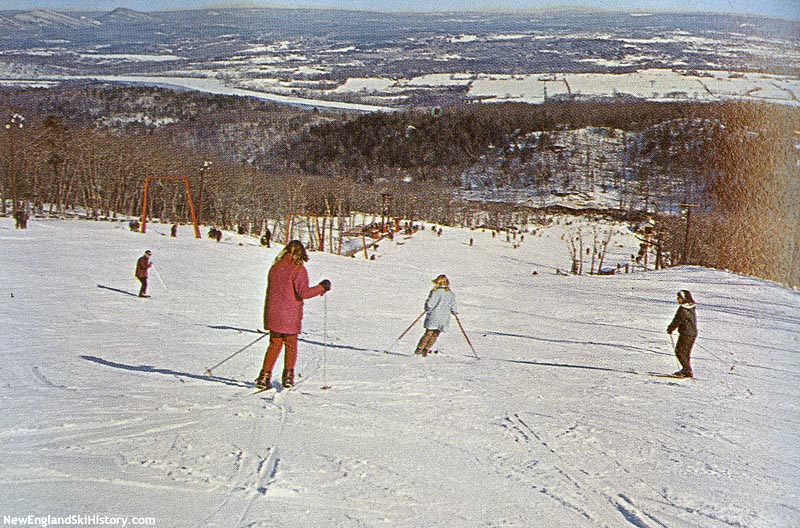 The slopes of Mt. Tom

New "high intensity lighting" was installed for the 1969-70 season, facilitating night skiing off every lift at the ski area.

With two chairlifts, a widely popular ski school, and a large night skiing business, Mt. Tom had become a powerhouse in Southern New England. Notable figures such as John Glenn, Governor Francis Sargent, John F. Kennedy Jr., and Senator Ted Kennedy skied at Mt. Tom during its heyday. A second summit chairlift was added for 1978-79 to help handle massive crowds. At Mt. Tom's peak, it recorded 300,000 skier visits, making it one of the most popular ski areas in all of New England.

Skiing was not the only activity offered at Mt. Tom. In 1977 an alpine slide was added, which logged 200,000 rides during its first season.



The 1980s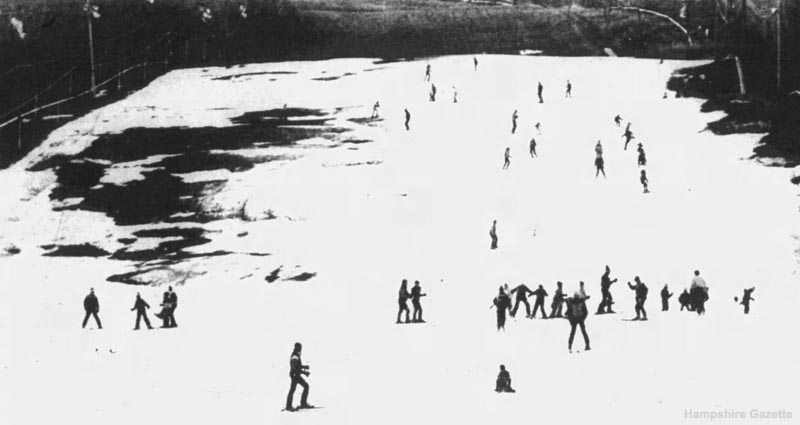 The 1982-83 holiday season at Mt. Tom

The 1979-80 season kicked off just before Christmas, but had a slow start due to warm weather. With temperatures averaging 38 degrees during the Christmas to New Year's week, Mt. Tom struggled to keep two trails open, having to limit payroll to 10 employees working and manager David Moore being able to "count the number of visitors on his fingers," according to the Boston Globe. Even by the last weekend of January, Mt. Tom only managed to open three trails. In early February, the Boston Globe wrote about people golfing and skiing on the same day in Holyoke.

An fall snowstorm resulted in Mt. Tom's earliest opening on record in 1981, drawing almost 800 night skiers on November 18. The storm was so early that Mt. Tom's snowmaking system wasn't yet prepared to augment it. The season dropped off for awhile, but by the second week in January, Mt. Tom was sporting a double digit trail count for the first time in recent memory. However, February saw over 4 inches of rain by the middle of the month, washing out the ski season three months after its record start. Overall, Mt. Tom operated for 75 days.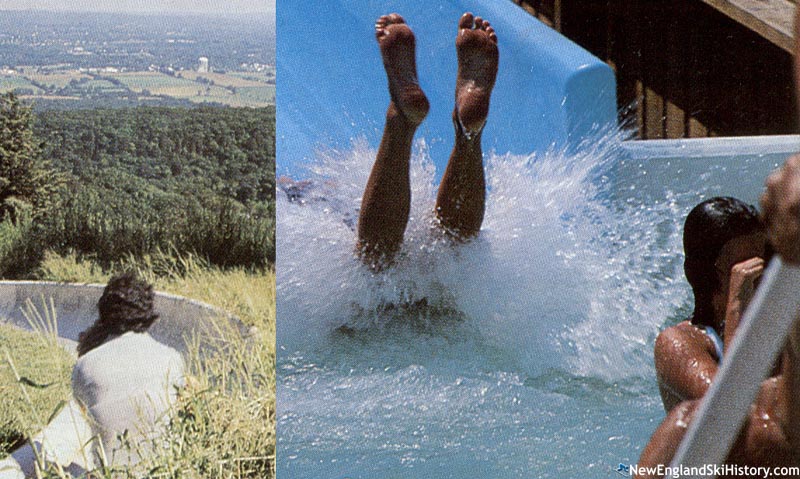 Mt. Tom summer activities in the 1980s

Following three rough winters, Mt. Tom announced "a complete renovation of our snowmaking system" for the 1981-82 season, which included the acquisition of four air compressors from the Uniroyal plant in Chicopee. A new beginners slope and wire rope tow was also added, as novice terrain had been discontinued to make room for a water slide earlier that year. Mt. Tom president James O'Connell declared, "The day of ski areas being solely for skiing is over. Being open just for winter and spring is in the dark ages. You can't make ends meet operating just three months of the year." Fortunately for Mt. Tom, the 1981-82 season saw 96 days of operation and its best financial results since 1978.

Improvements for the 1982-83 season included adding a fifth snowcat to the area's fleet and installing a token-operated Rapid Gate race course timer on Boulevard. The season kicked off in mid-December, but the struggles with weather returned, including temperatures in the 60s over Christmas weekend. A mid-January storm expanded the open trail count from five to eight, drawing a Sunday crowd of 2,000 people. The season likely ended after the first weekend in March.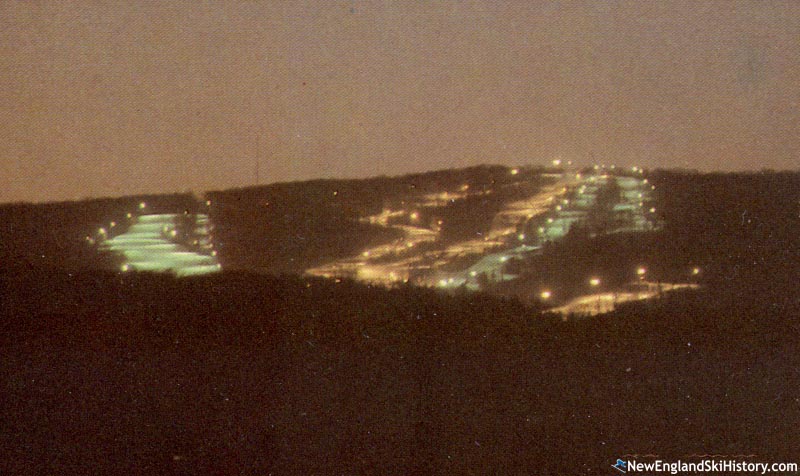 Mt. Tom at night circa the 1980s

In July 1983, Mt. Tom hosted the first New England Grass Ski Championships slalom race, with Catamount hosting the giant slalom. Grass skiing rentals and lessons were offered on weekends that summer and fall at Mt. Tom.

Daniel J. O'Connell Sr. died of cancer at the age of 76 on July 14, 1983, leaving O'Connell and Sons and Mt. Tom under the watch of his son, James O'Connell.

The 1983-84 season was a struggle, as Mt. Tom suffered through an extended January thaw and a wet prelude to Washington's Birthday week. The season likely came to a close in mid March.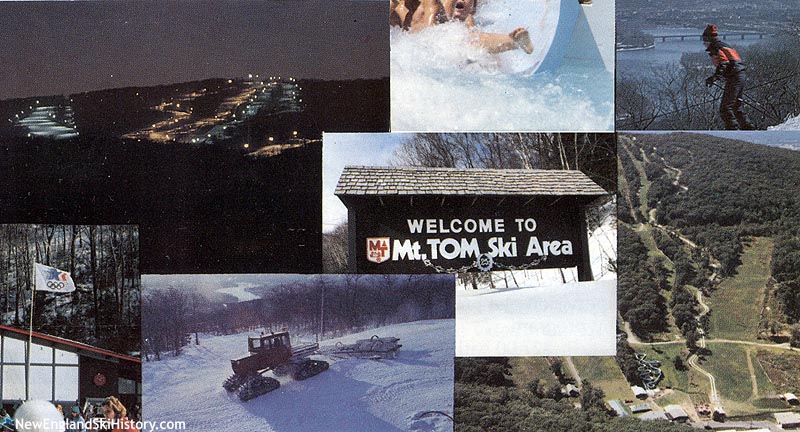 Mt. Tom circa the mid-1980s

Though the 1984-85 season started on December 9, there was no more skiing until the day after Christmas. The holiday skiing too was short-lived, as temperatures soared into the 70s and melted the manmade snow. Manager Dave Moore told the Holyoke Transcript-Telegram, "If Mount Tom depended on what (snow) was on the ground, it would have been out of business 25 years ago." The season likely ended after the first weekend in March.

Nearly $100,000 was invested in snowmaking for the 1985-86 season, including more guns and pipe. By this point, the ski area boasted 100% snowmaking capacity. The season likely commenced on manmade snow in mid-December and likely ran to mid-March. An estimated 125,000 lift tickets were sold, while the ski school provided 18,000 lessons.



Mt. Tom as seen from the UMass Amherst (1986)

Meanwhile, Mt. Tom and nearby Mountain Park were feeling pressure from rising insurance costs. In the spring of 1986, general manager Dave Moore told the Hampshire Gazette that the cost had doubled for the ski area, noting, "The ski and recreation industries are not so fat in profit that we can take that kind of increase for long." Premiums for the alpine slide insurance reportedly increased by 50%.

Mt. Tom regularly hosted Jimmy Fund fundraisers. Former Red Sox pitcher Jim Lonborg headlined an event on the slopes in January 1987, twenty years after the famous Impossible Dream season.

The 1986-87 season likely ran from mid-December until the end of calendar winter, operating 95 days and posting 130,000 skier visits. General manager Dave Moore told the Hampshire Gazette, "We could be skiing well into April," adding, "What made this such a good winter season was that for much of it people had snow in their yards, and that made them think skiing and they came out in record numbers. Now with the snow gone around their homes they aren't thinking of skiing."

Following the season, construction commenced on a 9,000 square foot wave pool. Though no major improvements were planned for the ski area, Moore speculated that new trails could be cut if there was another strong winter. Off-season work included work on the main chairlift and snowcats.

Months after a fatal accident involving the miniture train ride, word emerged in the fall of 1987 that nearby Mountain Park was on the market. The carousel opened one last time in June 1988 as part of a fundraiser to move it to Heritage Park. The ride eventually opened in its new location in 1993. Mountain Park did not reopen, leaving Mt. Tom's summer attractions the only ones around.

As the 1990s arrived, night skiing still represented 40% of Mt. Tom's revenue. General manager Dave Moore reflected to Skiing magazine, "we were the first to offer [night skiing] seriously, not just as a gimmick," adding that "it's a lot like softball leagues in summer or maybe a bowling league, except people are skiing."


The Final Days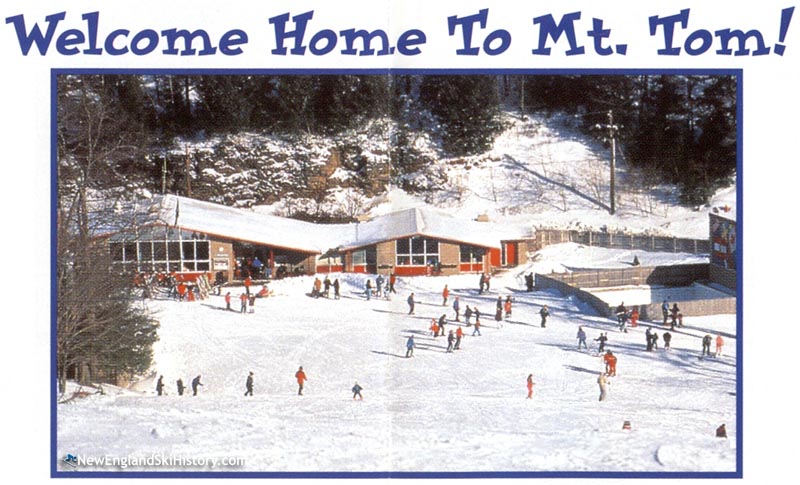 The Mt. Tom base area circa the 1990s

1995 saw the installation of a fourth double chairlift, serving novice terrain. That fall, James Joseph O'Connell passed away, leaving ski operations to his widow Mary Rose O'Connell. Most likely around this time, Joseph O'Donnell acquired a stake in the ownership of the area.

Meanwhile, Holyoke Mayor William A. Hamilton was pushing to have a casino constructed at Mountain Park. Hamilton was able to enter into discussions with potential operators such as the Trump Organization, projecting 10,000 daily visitors, 9,000 new jobs and $20 million in city tax revenue. Mt. Tom saw the casino as a potential boost to the ski area, as Dave Moore commented, "would more people help Mount Tom? I think so."

Though the casino question passed as a local referendum, Hamilton lost reelection and the proposal ultimately did not pan out.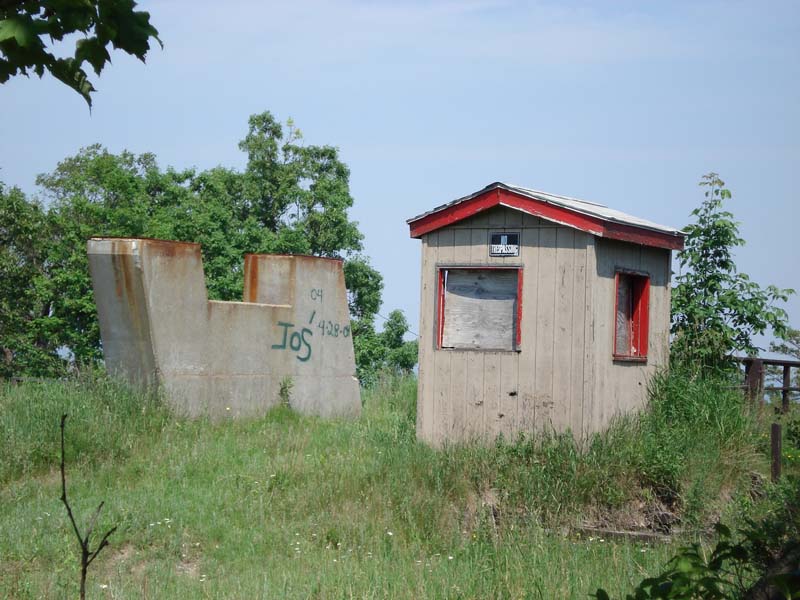 The top of the old Mt. Tom ski area (2006)

Following the 1997-98 ski season, the ownership decided to close Mt. Tom ski area and focus on operating their adjacent quarry. By the end of the decade, the chairlifts, snowmaking equipment, and night skiing lights had been removed and sold. Soon thereafter, the plots of land comprising the ski area were sold to different owners, effectively putting an end to any chances of revival.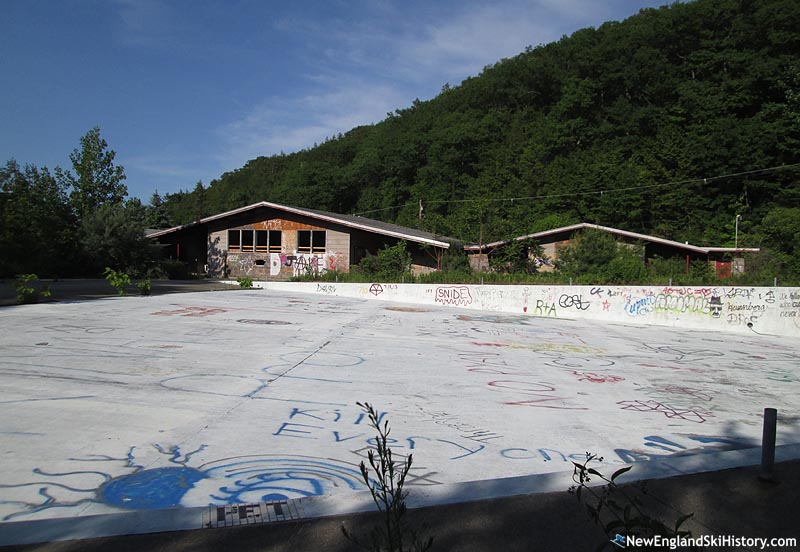 The abandoned Mt. Tom base area (2015)
Image Gallery
Lifts
Click on lift name for information and photos
Maps
Year by Year History
Adult Weekend Full Day Lift Ticket; Adult Full Price Unlimited Season Pass

1990s
Ticket Price
Season Pass Price

Pass Payback

Opening Day

Closing Day

Skier Visits

1997-98
$29.00
$410.00
14.1 days
1996-97
$29.00
1995-96
$29.00
$409.00
14.1 days
December 10
1994-95
$29.00
December 17
March 19
1993-94
April 3
1992-93
$25.00
1990-91
$29.00
1989-90
$27.00
1980s
Ticket Price
Season Pass Price

Pass Payback

Opening Day

Closing Day

Skier Visits

1988-89
$25.00
December 10
1987-88
$23.00
December 19
1986-87
$21.00
March 22
130,000
1985-86
$20.00
$249.00
12.5 days
1984-85
$18.00
$347.00
19.3 days
December 9
March 3
1983-84
$17.00
March 18
1982-83
$16.00
December 12
1981-82
$14.00
December 15
March 21
1980-81
$14.00
November 18
February 18
1979-80
$13.00
$235.00
18.1 days
December 20
1970s
Ticket Price
Season Pass Price

Pass Payback

Opening Day

Closing Day

Skier Visits

1978-79
$11.50
1977-78
$10.00
1976-77
$10.00
$176.00
17.6 days
December 11
1975-76
$9.00
1974-75
$9.00
1973-74
$8.50
$140.00
16.5 days
December 21
1972-73
$8.50
$140.00
16.5 days
1971-72
$8.00
$125.00
15.6 days
March 26
1970-71
$8.00
$125.00
15.6 days
1969-70
$7.00
December 9
1960s
Ticket Price
Season Pass Price

Pass Payback

Opening Day

Closing Day

Skier Visits

1968-69
$6.00
December 14
March 23
1967-68
$6.00
November 23
1966-67
$6.00
April 1
1965-66
December 22
March 20
1964-65
$4.75
December 12
110,000
1963-64
$4.75
December 14
1962-63
$4.75
December 15
91,563
1961-62
December 17
March 18
62,252
1960-61
$2.50
December 17
28,851
Visitor Memories
"Just would like a thank you to a person my Uncle George Russell Sr. Who work many years on the Mountain he called it! He was a rugged woodsmen love making room for the Skiers he enjoyed making new trails and talking how he just love the work! Thanks you George Russell Sr. for the behind the sense labor that made the mountain what it has been! "
Edward Russell, May. 12, 2022
"I should like to say this for the record that they never should have shut down Mount Tom ski area and Summer side I used to ski with the snowbusters program with Shriners hospital for crippled children when I was in my late teens one year my mom and dad and my grandpa I believe all chipped in and got me skis poles and Boots for a Christmas present one year I never got to use them all because of the fact that I never got around to going to Mount Tom again I think somebody ought to buy up all the property pieces they used to make up the ski area and build a new one up there I mean dear God now the closest ski areas in the western Mass area are Berkshire East and blandford."
Michael Gallant, Mar. 22, 2022
"As an exchange student from Austria I had a great winter 1987/1988, I`ll never forget the night skiing there - great memories!"
Peter Deutinger, Jan. 27, 2022
"It was the lifeblood of many generations in these parts of western New England in so many ways."
James W, Apr. 1, 2020
"Getting chased by "Black Hat" Ski patrol for mogul jumping and Bombing the Mountain top to bottom. 1971. A night skiing date by your side on that wonderfully slow chairlift. Waterfall , Pump House, Beat ya to the bottom. Dam shame its gone. Now all the kids have phones . Better? I think Not. "
Dave Ramsey, Dec. 30, 2019
"Grew up skiing at Mt Tom over 50 years ago. It's a very nostalgic Hill to skin up in the winter. It's a blast to ski down the same trail from the days I had a pair of Olin Mark VI skis, or my K2 710 comps. "
Michael Black , Feb. 24, 2019
"This place is where I came of age back in the mid-late 80s. Ski Club trips from CT every Friday after junior high school were real fun. Riding chairlifts with girls...the dark bus ride home! Lol such a great way to spend your adolescence. Miss those days. Will have to hike up someday soon to reminisce..."
Rob Phillips, Dec. 18, 2018
"In 1963 I was the first of the second group of Junior Patrollers. Bud Johnson turned me down when I first applied, but called me back and offered me a deal. If I could make it through the year as a junior he would consider having a Junior program the following year. The following year there were two other Jr. patrollers so I guess I made it. I continued to "work" at Mt. Tom for three more years until I went college in MN where I worked at MT. Frontenac in Red Wing, MN. During winter breaks I would often come to Mt. Tom and ask if I could put on the green jacket. Bud never turned me down. As a junior patroller I would stay at the patrol shack over night, fall asleep listening to the snow guns, wake up, make coffee for the seniors and make the first run on the mountain for the day. I remember the Paradize family, the Walkers and Vet Jamison. Great training ground for patrol. One winter break I worked paid patrol at Waterville and later at Loon. Neither were as educational as working for Bud and Paul. Great area, good friends and I miss them all. Ski on !!!"
Richard Melano, Apr. 9, 2018
"Skied Mt. Tom everyday with my brother from 1976-86,and with many friends who at the time all skied on Olin Mark skies. Some of the best memories growing up are from Mt. Tom, Waterfall, Pumphouse, Tote Road and getting chased by the ski patrol for jumping. I still go skiing and it would not have happen without Mt. Tom. A truly great place and even though it has been closed since 1998, for the people who have skied it especially the ones from Holyoke......Mt Tom will live forever!!! "
Rob Barrett, Mar. 25, 2018
"Fond memories of Mt. Tom! Based on what I have read it proves that to be GREAT one needs not be the biggest. Wonderful video Dave. You made Mt. Tom a place that people loved. Your passion for Mt Tom is remembered by so many skiers. Mt. Tom will never be forgotten! Thank you for everything. "
Bernie Gall, Mar. 24, 2018
"Mt. TOM Ski Area, my first love. Happy belated Valentines Day!"
Ed Wise, Feb. 14, 2018
"I skied there almost from the day they opened until the day they closed. Every season I would look for the lights to signal the beginning of another great season. Mt.Tom played a big part in shaping my life. I met my wife there and many great friends that still get together and ski today!"
Ron Ardizoni, Dec. 9, 2017
"This may be a bit long but my father, Horst had a hand in launching Mt. Tom. At the time my father worked for Worthington Compressor on Appleton St. in Holyoke in the QA department. He got a call from Daniel O'Connell himself complaining about how the new compressors were turning on and off too frequently. When he got there he saw that Worthington had way oversold the compressors needed to run his quarry. Horst went back to the office and raised holy hell that O'Connel had been taken advantage of and this must be corrected immediately. My father personally oversaw the installation of the proper equipment for the quarry. In the meantime, this off the boat German built a bond with the off the boat Irishman. As they walked the property, Horst mentioned he could probably build a ski area given the terrain-but was water available? Up the mountain they went and found a spring fed lake which you could see off of the little chair. The seed was sown. Horst collaborated with Daniel and was offered a place as an initial investor for about $4,000 in the form of a bond. At the time, that's what an average house cost. My old man ponied up the money (along with several others) and the ski area was kicked off. Instead of taking interest payments on the bond he took debentures in the form of ski passes. My brothers and I were on boards almost from the point of walking. We had free passes for over 20 years and can't tell you how fun it all was and how many friends we made. VERY sorry to see the demise of the best ski area in Southern New England. It was a gem in our backyard......"
Christian Randhahn, Nov. 2, 2017
"I ski patrolled there for many years, from 1979 till its close. Still miss it dearly, raised my family skiing there as well. Still ski it every year to this day when conditions allow a skin up the old T-Bars! "Always white, day and night""
John Tassinari, Jan. 18, 2017
"Hi my name is Lou Judd i lived for the skiing at mt.tom sure miss it"
Lou Judd, Jan. 13, 2017
"I remember 5-10 dollar car loads to my park we would load so many of is in a car and go have a blast I also think my grandad did some shrines cars there we also went on a field trip there my first and last time to ride a roller coaster and the fun of the alpine slide that was the best always though I would go over the edge and this was my first time to ski and my only time was not good at that at all so many great memories"
Laura Austin Korza, Jan. 11, 2017
"Such fond memories from skiing with friends to being a part of Mt. Tom Ski Team. Nothing better than heading there after school and on the weekends! It will always be a part of my lifetime memories....."
Linda Gamble, Jan. 11, 2017
"My first time skiing was here in January of 1985 after my first semester of UMass. I had never skied and visited many more times in the next 3 years. It is sad to see it closed. Still skiing and miss the small local mountains! "
S F, Dec. 23, 2016
"I have so many wonderful memories of Mt Tom, first day on skies at 4 years old up until my last days as a ski instructor. My kids learned to ski at this wonderful resort. The best memories were all are friends some 20 - 30 in a group all hanging out and skiing together . The great times Jeff Beaulac and me would fly around the mountain being chased by Niki Fox for jumping LOL!!!!! Sad it had to close but the great memories will last forever "
Rich Moussette, Nov. 22, 2016
"The best years of my childhood life were had on this small mountain. My friends and I would get a seasons pass every year! We would ski from 10AM till 10PM. 'Always white day and night'! I would do anything to be able to ski this mountain again!"
Brad Viola, Aug. 10, 2016
"I lived in South Hadley from 1965-1974. I can still remember my first visit to Mt. Tom with my dad who taught me to ski and I instantly fell in love with it. I use to cut lawns all summer in order to buy a seasons pass. My friends and I use to ski every Fri. night and all day on Sat. and Sun. I have some great memories of skiing at Mt.Tom and sad to see the pictures of the abandoned buildings and all the graffiti."
Paul Dion, Jul. 4, 2016
"I had spent my early years at Kiley & Classical in the 70's learning to ski at Mt. Tom Ski Area which was phenomenal for many a student. Low pricesClose to Springfield Consistently great ski conditionsMany of us were a part of various ski clubs which made it affordable in terms of time and money. It was a great place for friendships, family, and winter fun. Perhaps best of all was the spectacular views from Upper & Lower Tom of the Connecticut River Valley! Spectacular!"
Roman Alis, May. 11, 2016
"I lived in South Hadley in the early to mid 80s. When I walked out of my house and looked right I could see the illuminated slopes of Mt.Tom. That view was great and was enhanced when the skiers holding candles took to the slope. Mt. Tom is also the place I skied my one and only time. I did well on the bunny slope and decided to go to the top where I remembered how much I hated heights. I made it down by skiing, falling down, skiing, falling down, etc"
Richard Heath, Apr. 16, 2016
"It's ski season again and I'm trying to get fit so I hiked some of the trails on Mt. Tom last week. Like so many other people I learned to ski there, worked there, and in some ways grew up there. Even had my first kiss on the summit chairlift. I traversed the mountain from the parking area near Bray Lake and came upon a sign for the old Tote Rd. As I made my way to the summit I have to admit that I was sad to see what has become of what had been such a happy place. Any remnants of the old ski area are now in shambles and covered with graffiti. I couldn't help but thinking that the sooner nature completely reclaims this place the better. Now I guess my memories and maybe some old pictures are the only thing worth revisiting at the old Mt. Tom."
Steven Hebert, Dec. 4, 2015
"All the comments above bring back incredible memories. I learned to ski there in 1972 taking a February vacation club class with instructor Sally Vollenger. From that moment forward, I was hooked and skiing became my passion and shaped the rest of my life. I never missed a night skiing after school until graduating from HCC. I worked as a repair tech and tuner in the ski shop which to me was the coolest job as I was a part of the sport I so loved. Dave Moore took me under his wing and made me the Ticket/Office Manager which gave me a crash course in ski area management. I also ran the summer grass skiing program. I have fond memories of escaping from Ski Patrol after getting big air off the Waterfall and the famous 'Jumping Strictly forbidden sign' on the Pump House. I later went on to work for Warren Miller and American Skiing Company and now live in Sun Valley. None of this would have been possible without Mt. Tom. Some of the names above are familiar to me and I skied with John Barrett and his brother who were some of the best freestylers. I remember the rivalry between two of the best ski racers ever to come out of New England who learned at Mt. Tom… Mickey Mcmahon who posts above and Tim Enright… I still hike the ski area when I return to Holyoke. Sad its gone but Long live the memories of Mt. Tom."
Roger Beaudoin, Nov. 22, 2015
"Mt. Tom was the centerpoint and highlight of my childhood, where my brothers and sisters and friends and I spent many a winter night barreling down the mountain and hanging out drinking hot chocolates in the lodge. Sometimes, I was so cold waiting for my mom -- or someone else's mom -- to pick us up that I literally cried right out there in the parking lot. And, in fact, it is where I broke my leg. I can't say that was a pleasant memory, but it still does not negate the wonderful times we all shared at the top (and bottom) of this mountain. I wish it was still there for today's generation, especially given how much snow Massachusetts has had lately. "
J Wheeler, Sep. 17, 2015
"What a great pace to work and play! I grew up on Mt. Tom! Learned to ski there and spent many day and nights (open to closing) with friends making memories, not to mention making Dave Moore crazy! We went from young kids, to trouble making teens, to more mature young adults on that mountain! Season passed were how we spent the winter! I worked in the kitchen for a few year and had some great times while getting paid (and skied free).So sad that they closed and stand no chance of reopening. Holyoke lost a great recreational place when Mt. Tom closed! Thanks for sharing this memorable information!"
September Gray-Forbes, Sep. 16, 2015
"My brothers and I literally grew up on this mountain. My step-father ski patrolled here for years. I may have been about 5 when he brought me up the J-bar, and sent me down the hill and started my life long love of skiing! I still tell stories about this place, some of my favorite memories of growing up, came from here. I miss it!"
Jess Pronovost (Alvaro), Sep. 15, 2015
"I learned how to ski there in 8th grade. I remember getting my season pass pulled because I got caught jumping too many times. Then I became a ski instructor there for a few years in high school and college. It's too bad it closed. It was so convenient to get to. I'd drive to school with my skis in the car, head up to Mt. Tom for a few hours and be home in time for dinner. "
Inku Yo, Sep. 15, 2015
"My grandmother would buy us a season pass each year at Christmas. Best time of our lives. BTW: I've been told by 'reliable sources' that DOC ran the area as a PR hobby and never ran it as a sustainable business."
John Newton, Sep. 14, 2015
"Hi - it's been a long time since I have been up in central Mass, but I was saddened to drive by recently with my teenage boys, literally telling then about Mt. Tom as I expected to show it to them personally as we approached along I-91. When we missed it, I thought it was just my mistake.How could such a visible, centrally located and accessible ski area (with Lights!) close at all? So close to so many good sized towns and colleges, I just don't get it.For me, it was the beginning of a meaningful life in the winter sports industry. As a Florida boy attending Wesleyan University in Middletown, CT, I had barely seen the snow...and I couldn't believe how lucky New Englanders were to drive so quickly to local ski resorts as a regular routine. So, like many others, I made Mt. Tom a regular activity as I taught myself to ski in the East...eventually learning to snowboard...which led me to grow up, save a famous snowboard company from an early demise (Sims), then start the World Snowboarding Championship in the year 2000 in Whistler.I used to joke to my partner and snowboard pioneer Tom Sims that it all started at a place called Mt. Tom. Unfortunately Tom passed away a few years ago, way too young, and we never were able to come back and ride Mt. Tom together. It's sad to see that nobody else will either...such a special place.Thank you for putting this site together. It's great to see so many accounts of so many memories.Best,John Textor"
John Textor, Aug. 1, 2015
"Great place. I used to work at Abdow's Big Boy on Boston Road in Springfield. A bunch of us would go skiing there on Monday nights. Lots of great memories. A shame to see it close, along with Mountain Park."
Patrick Casey, Jul. 30, 2015
"I and the pleasure of working at Mt. Tom for two seasons after teaching at Mt.Snow. What a great area and the staff is still one of the friendliest and most fun I have had the pleasure to work with. My last memory was dropping off a six foot sub sandwich for the lifties at the base of the mountain before I left the East Coast for Aspen. Thanks to Adi, Brian, Peter, Grace, Tony, and all the instructors and employees who provided so many great memories for generations of skiers and snowboarders."
Jeff Smith, Apr. 29, 2015
"Graduated in 1963 and had first job in Middletown CT. Mt Tom was a swinging place for college and recent grads. Many great memories."
Austin Schilling, Apr. 15, 2015
"For me, Mt Tom was a quick and easy escape from graduate work at Springfield College. Being able to ski/ride within 15 min. was a bonus. After meeting coach Glenn Olson, I joined the ski school, working for ski school director Adi Scheidle ('94-'95). We started the snowboard school that winter with Jeff Smith as director and I learned how to carve a snowboard. Brian Juchno, Seth Blackmer, Matty Brais and Jamie Morrell were all a part of that fledgling snowboard program, teaching hundreds or more how to snowboard. My children never had the chance to experience Mt Tom."
Peter Bradshaw, Apr. 2, 2015
"I worked at Mt Tom Year round for many years and learned to ski there. I loved it there"
John Laselle, Mar. 1, 2015
"What a great place to ski and socialize with friends. My brother and I grew up there from the late 70s until the mid 80s. Ahh...the memories! Hitting 'Strictly' and the Pumphouse. Jumping the 'Fall'. Running down 'Tote Road' at night in the dark! Going 'Daniel Booning' (our version of Exteme Skiing) and ending up on the access road! Of course we actually skied on the trails too...lol. I even remember going grass skiing when they had that for a year or two. My folks still live there and I wish my kids (who both ski race) could ski there now...that would be cool."
John Barrett, Feb. 27, 2015
"as kids we had great memories, Daniel O'Connell had a great vision a place for kids to go ski. It's amazing how many people you run into skiing that said they have skied and have great memories of skiing Mt. Tom . We skied there as a family I miss that hill. Shame on the O'Connell family for letting it close, it would have made more money then mining and give families a great place to ski "
Scott Masi, Feb. 25, 2015
"My Tom was a great place to learn how to ski I'm sure the people of the Springfield area must miss it. "
Geri f, Feb. 23, 2015
"Met my wife at Mt Tom at age 16 and then worked at the mountain for 12 years from that point on. Met a lot of good friends and as kids we got to run the place thanx to the tutelage of Dave Moore. Best experience ever. Wish it would open up so our kids could experience a great place as it was. "
Todd Joseph, Feb. 22, 2015
"Great memories and babysitter for our parents. Like another said drop at first lift and pick up at closing. I would rush home to get me school work done so I could get some runs it. Just was at the Matterhorn in Sunday River. Looked over and saw a Mt. Tom NASTAR gate flag. Still racing today and my son started last year. That mountain built a bunch of great skiers."
Mark Ayotte, Feb. 22, 2015
"Great memories! Skiing and many summer days on the water slides and alpine slide!😀"
Kelly Peterson, Feb. 22, 2015
"Youngest of 4, we all learned how to ski there, and had a season pass every year until it closed. My parents would drop us off at the loading dock for first chair and pick us up at night after last chair. My sister worked there for many years...it was like a second home for all of us. We still hike it and ski or snowboard it. Makes me sad to see it in such a state now...so much history."
Pesky Morin, Feb. 21, 2015
"Some of the best times of my life were spent skiing at Mt Tom. I would get a season ticket night pass from my parents instead of any Christmas presents, and would spend almost every night skiing with my friend Janice. Most nights we would stay till closing(then get up for double sessions at Easthampton High). Saw Spider Sabich skiing at Mt Tom, won runner-up at the Mardi Gras Costume contest & was kissed by the Lt. Governor. Loved skiing the mountain...we would sing on the lifts & check out the cute boys in the lounge (we were teenagers!)..carried a bota bag & were known as the 'Brandy Twins' for a while...party on Upper-T side path....Seeing the light on top of Mt Tom, Then & Now, will always remind me of Skiing and fun times @ Mt.Tom"
Jo-Ann Dunning ( nee Kubicz), Feb. 20, 2015
"learned to ski at mt tom, great memories, you can get mt tom ski area shirts and stickers at the cottage 1615 northampton st holyoke, ma"
tom w, Feb. 5, 2015
"This site brings back both wonderful and sad memories, as Mt. Tom was the beginning of my 40 year skiing career. As a student at nearby UMass, if you were able to carve out a morning or afternoon on your schedule, you could take skiing as one of the mandatory "gym" classes at that time in the early 70's. We had great fun, and then many years later, once married to another UMass alum, we took our children to the Alpine slide and had great times. Just this last summer we took some time and hiked the trails, taking in some nice views, but your really can't 'go back'. Too bad, as we have now settled for the warmth of South Florida versus skiing, we miss the cozy and friendly atmosphere that Mt. Tom provided. Michael and Nancy Shor"
Michael Shor, Jan. 27, 2015
"Too many to mention, many close to the heart. But I'm happy to say they span a time from when i was very young, skiing with my father, to intoducing my children to skiing, initially through the great afer school lesson programs they had. Remember the mid station on the original main chair lift, and my favorite lift, the upper tbar, with its long reach through the woods and lava rock. Those mats did a number on the ptex bottoms of skis. "
Rick Payer, Jan. 24, 2015
"I started skiing at Mt Tom around 1971 when our school in CT offered it as part of their phys ed class. I skied there all through high school whenever I had the chance and could afford it, I loved it so much. When the Alpine Slide opened, I began bringing my son there and we had a blast together! We would race down the hill side by side (crazy!). We both look back at those times with much fondness. Great memories for both skiing and the alpine slide. :)"
A Bailey, Jan. 9, 2015
"Wow, my friend said were going skiing, grab some boots that fit, and some skis that those boots will fit on, and let's go. 30Min later there I was falling off the T-Bar, let to fend for myself, well with my other buddy who was a first timer too, by our exert friend. Parents dropping us off for the Twinight special, getting chased by the Ski Patrol, sometimes getting caught. Realizing even then, there's not many things better than a well-timed run down the mountain. Like so many I started at Mt. Tom and owe it so much. It really is one of the best places I spent some time as a teenager, loved it. Hey does anyone know of any memorabilia available? "
Philip Barton, Jan. 8, 2015
"What a great place that will forever be burned into my childhood memory. I first learned to ski at Mt Tom in 1989 after being 'talked into it' by a friend. Who by the way left me on the bunny slope to fend for myself. Nevertheless I have been skiing ever since and so do my children. I owe that to Mt Tom. I now live in Vt with all the big areas but would do anything to take my kids to Mt Tom and re live the best skiing memories anyone could ask for."
Robert Burgess, Nov. 4, 2014
"learned to ski there on wooden edge skis in 63. in high school learned to race and get big air being chased by ski patrol, smoky and deck were great risk takers and could really rip "
john fontaine, Nov. 2, 2014
"A good friend and I learned how to ski in the winter of '68' which went on for quiet a few years, right through high school racing on the Holyoke High ski team. Had many nights skiing and riding up the chair through the dark areas trying to steal a kiss from a ski night 'date'. Was a good time in my life with good relaxing memories."
Bob Rehm, Aug. 10, 2014
"My father developed a small ski area in Maine in the early '60s and he would take us to other small ski areas, I presume to get ideas for running his. One summer we visited Mt. Tom and tried out the plastic snow. I loved it and always wondered what ever became of it."
Paul Babbidge, Jun. 17, 2014
"SO much fun at Mt Tom.Thursday twilight ticket, Tom's tavern and great skiing. Right in my back yard growing up in Chicopee,Ma.The best that's ever happened to Holyoke,Ma! "
Michael jurkowski, Mar. 26, 2014
"We certainly had some fun times as teenagers, at mt tom. One of my friends made a fake ski pass using a good camera, and a laminator. He got caught eventually, and the crap hit the fan. One of the chair lifts was so low to the ground, you could jump off before you reached the top. I am disappointed that it eventually closed as I would have liked to teach my son to ski there. "
Tim Connelly, Jan. 29, 2014
"Skied rode and worked at Mt Tom everyday in the winter all through my teenage years up until 1998 when it closed. And as I remember got yelled at a lot by Bubba with my friends. Mt Tom was my favorite place to be and is sadly missed!!!"
Chris Topor, Jan. 23, 2014
"Fond memories of Mt. Tom in high school. Attended Wilbraham & Monson Academy and took skiing as a elective class. Great fun. "
Michael Long, Jan. 21, 2014
"I worked at mt tom for 12 years starting on the j - bar and closing the area as night lift supervisor. Mt TOM was a great place to work , we were one big happy family. The thing I miss most of all is all the skiers, it was almost the same people every night. If it was still open I would probably still be there. The last night I turned the lights off I did'nt think it would be forever. Yes, I really do miss the place! Mt. TOM forever !!!"
Bubba Hamelin, Jan. 17, 2014
"Wow do I miss Mt Tom. My brother and I both took lessons at the ski school while in grade school. I remember one of my teachers from Maple St was my instructor. Used to go with White Brook ski school. My friend Bart and I would always try and sneak a final ride up the hill to come down before closing. Cut it real close a couple times. Great memories. Very sad to see it go. I would reopen it in a heartbeat if I had the $$. "
Kevin C, Jan. 3, 2014
"What a great place. I would to go there as a kid with the school on bus trips once a week. I went from the 5th grade through the 12th grade. Great times bombing Upper T and Lower T to the bottom. I started my boys ski life at Tom in the early 90's. I miss seeing the lights from route 91 in Connecticut. Sad to see it gone."
Bill Schnepp, Dec. 30, 2013
"I miss that mountain, what a lot of good people I met there and great memories that were created. I still see skiers up north from the Mt. Tom days and somehow the area still always comes up in conversation. "
Mickey McMahon, Dec. 16, 2013
"Mt. Tom was the second place I ever skied (Cummington Ski Basin was the first). Mt. Tom was about a 15 minute drive so my mother could drop me off on Saturday morning, I'd ski till 12:30PM, get picked up and still be able to deliver my newspapers (Daily Hampshire Gazette). When I got older I discovered night skiing and spent a lot of time at Mt. Tom. Took some lessons, bought skis and boots at the ski shop (Garmont foam-injected boots). Great place to learn how to ski!"
Doug Finck, Nov. 30, 2013
"Mt Tom was one of my favorite places to go in the summer. I loved alpine sliding in the early 90's it was a thrill. I broke my first bone there. So sad that its closed. I miss alpine sliding."
J. Castro, Nov. 28, 2013
"Made the first turns of my life on Mt Tom, what a life time ago ! late 60's. so sad to hear about the closure ! my ski life has not ended since, we moved to crested butte and i became extreme ! live in the cascades now and still ripping turns ! Thanks for the awesome memory's ! "
david blum, Nov. 27, 2013
"The lighted trails on Mt Tom were clearly visible from my childhood home on route 5 in Enfield, Connecticut. That's how I knew the area was open or at least making snow, usually a few days before Christmas. My parents didnt ski so I would hitch a ride with whoever was willing. I couldn't get enough and sometimes skied alone all day and night, splurging for a burger in the fancier reastaurant in the basement of the lodge. Was that called The Cellar? Those were great times that made me skier for life. My favorite trail was Waterfall. Long live Mt Tom."
Jim Viola, Nov. 19, 2013
"What wonderful memories I have of Mt. Tom. We started going there as kids in the late 60's. My dad became an instructor and my sister and myself soon to follow. We were there evey weekend and one night during the week. One of of the most happiest time in my life and will cherish the memories forever! It's sad to drive by on 91 and look up and not see the snowguns blasting or the lights on the main slope....met alot of great people there. "
Robin Jordan, Nov. 8, 2013
"Started skiing Mt. Tom at age ten with the Sacred Heart Ski Club. In 1967 Friday night skiing with the club cost $2.75...What a deal. Taught my kids there, and enjoyed skiing with family and friends. I wish I had the opportunity to teach my grandchildren on the same mountain. Forty six years later still enjoying skiing.....Thanks Mt. Tom........ "
John Malinowski, Nov. 1, 2013
"I skied on Mt Tom in the 80's. Bit of a mellow hill, but the ski lift famously came within an inch of the snow, incredibly challenging to get off the lift. Also I left a good part of my right forearm on the alpine slide and the water slide had to have been the most painful in the nation, great times."
David Gilkes, Sep. 3, 2013
"learned to ski there as a young adult, have many fond memories and it was a great place to learn, was so sorry when it closed."
Brenda Copithorne, Aug. 1, 2013
"So odd this places closed, it was always incredibly busy. It was a great place to learn to ski and super easy to get to. Remember being crushed by the removal of the Alpine Slide in the early '90s. I think I still have some scars on my knee from a particularly bad wipe out.Not sure why but for some reason they only took cash. People with credit cards would always be outraged that they couldn't use them to buy tickets."
Pat L., Jun. 29, 2013
"I have been skiing for 37 years, and I fondly remember my first time on skiis at Mt. Tom. That day changed my life forever.....I became a life long ski bum after that trip...sad to see it closed...."
Dan Dutra, Feb. 16, 2013
"Mt.Tom,Was a Great memory for me. every Sunday Night 5 to 10 of us went up for Night skiing. As soon as we saw the lights from South Hadley, we knew She was open! I have done it all up there,Snow Ski,Grass Ski, even the Alpine Slide. My Dad owned Baran's Shell Station on South Street Holyoke for years.."
Steve Baran, Feb. 15, 2013
"What a sad ending. I have vivid and fond memories of this ski area. The views to the north were quite impressive. A neighborhood friend and I took our first ski trip there from Framingham in 1967 as I remember. It was a real adventure for us. "
Bruce Swift, Jan. 22, 2013
---
External Links
Last updated: November 14, 2023