| | |
| --- | --- |
| | |
Located in the shadow of Sunday River, Mt. Abram features classic New England skiing.


Early Years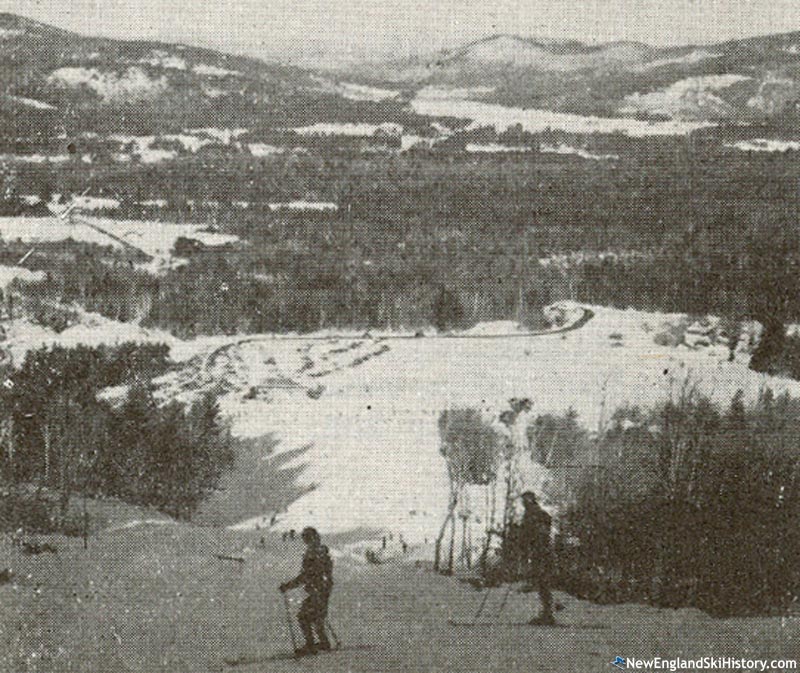 Mt. Abram in the early 1960s

While Sunday River had been developed in the late 1950s, it was nowhere near the powerhouse it would become in the 1980s. As such, there was still room to start another ski area in the greater Bethel market.

Local logging brothers Norton, Stuart, and Donald Cross acquired land on Mt. Abram as a wood lot in August 1948. An additional 65 acre tract was acquired in March 1958. Thoughts of developing a ski area on the mountain reportedly began to emerge around this time.

The Cross brothers reportedly began developing a ski area on the northeastern slope of Mt. Abram in the spring of 1960 and formed Mt. Abram Ski Slopes, Inc. in July. Two slopes were completed for the debut season, served by a 1,000 foot T-Bar in the vicinity of the present day lower Boris Badenov slope. The present-day Maine T-Bar lift line was also cleared for future expansion, as were upper mountain trails.

Mt. Abram opened on December 11, 1960 and was formally dedicated that Christmas Eve. In addition to skiing, skating and tobogganing were also offered. The season likely continued to the start of April.


Expanding to the Top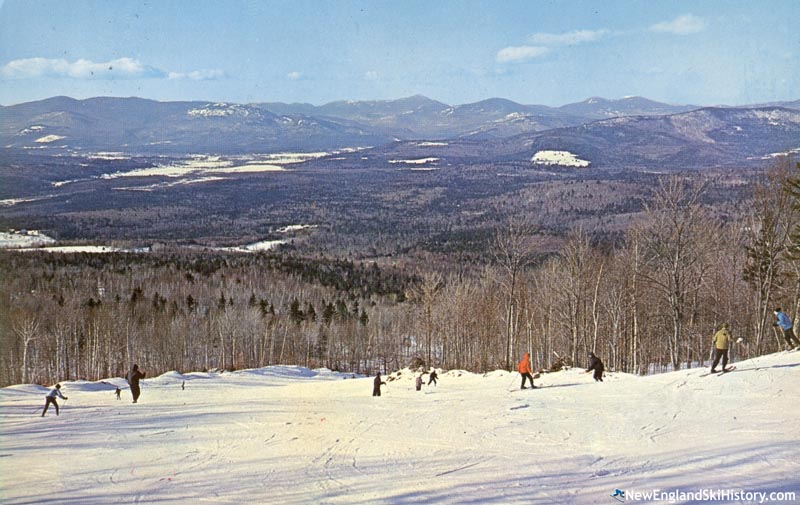 Mt. Abram circa the 1960s

In July 1961, Mt. Abram Ski Slopes obtained a loan from Hugh W. Hastings of Fryeburg, Maine. With funding in places, Mt. Abram installed today's Maine T-Bar, expanding the ski area's vertical drop to 900 feet. At this point, Mt. Abram was comparable to Sunday River's previous-season facility size. The 1961-62 season likely ran from mid-December to late March, while the 1962-63 season was likely late December to late March. Smoother trails and a lighted skating rink were the advertised improvements for the latter season.

The Bullwinkle trail was cut for the 1963-64 season, providing more intermediate terrain.

As the 1965 off-season approached, the Cross brothers were debating whether to install snowmaking or add terrain. Two years after Sunday River added its Mixing Bowl area, Mt. Abram responded by opening its own separate beginner area for the 1965-66 season. Serviced by a Hall T-Bar, the new complex featured a handful of gradual novice trails. Hugh Hastings once again provided financing.

Significant trail improvements took place for the 1966-67 season, as 25 cases of dynamite and 3,000 bales of hay were used to smooth terrain and improve conditions. In late March of that season, Mt. Abram and Sunday River made their lift tickets interchangeable.

An addition to the base lodge was completed for the 1967-68 season, reportedly expanding capacity by 150 to 200 people.



Chairlift Service

Mt. Abram installed a new 4,121 foot long double chairlift for the first full season of the 1970s. The installation of the Way Back Machine meant that Mt. Abram had beaten Sunday River to the punch for being the first chairlift-served ski facility in the region. Not only did it increase Mt. Abram's uphill capacity to 3,200 per hour, but it also increased its vertical drop from 900 to 1,030 feet, depending upon the publication. Meanwhile, the area's original T-Bar was relocated to a slope between the other two T-Bars.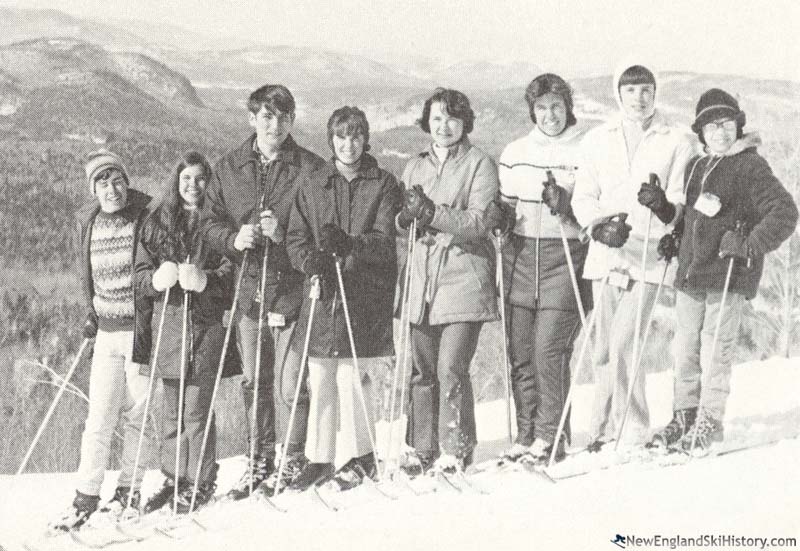 Mt. Abram circa 1970

After experiencing some difficult seasons during the 1970s, the Cross brothers looked to get out of the ski business. The ski area was put up for sale starting in 1975.

Looking to diversify Mt. Abram's offerings, the "American Zephyr" monorail was added for 1978. The first of its type in the East, the 5,300' ride was served by the summit double chairlift. The brothers' mom Gladys "Gram" Cross took the inaugural ride.

A second, smaller monorail was added for the summer of 1979, apparently served by one of the T-Bars. The two rides operated from June until September. The monorail business was abandoned in the early 1980s.



Snowmaking Finally Arrives

Following another tough winter, in which a helicopter was hired to haul snow onto the mountain, snowmaking was finally added for the 1985-86 season. The town of Greenwood helped to obtain financing for the project, in exchange for clay dug from the 2.5 million gallon pond (which was used to cap a dump). Five miles of pipe was installed, giving Mt. Abram top to bottom snowmaking.

The West Side area was added for the 1988-89 season, served by Mt. Abram's second double chairlift. The new complex provided additional novice and intermediate terrain.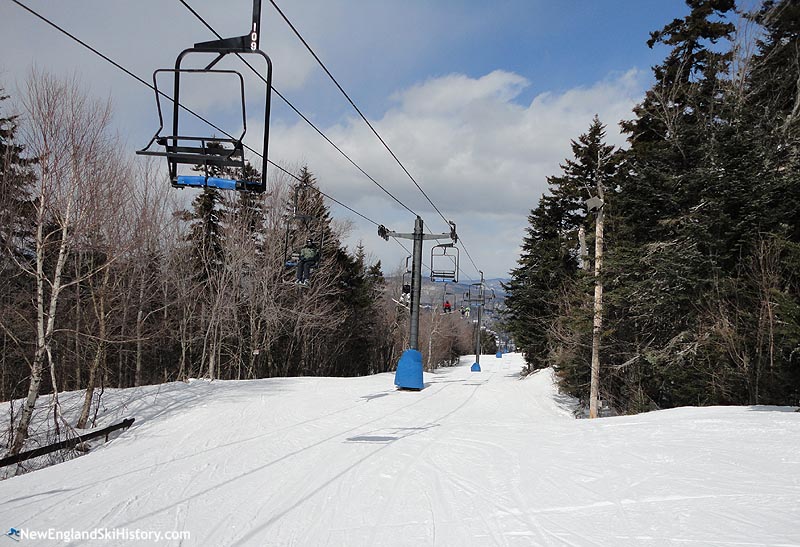 The Way Back Machine (2013)

A Trio of Foreclosures

Following three tough winters, the Oxford Bank and Trust foreclosed on Mt. Abram at the end of the 1992-93 season. That off season, Mt. Abram was sold at auction to Rick Hoddinott (principal owner; founder of Downeast Whitewater), Jeff Van Decker, Tom Kennison, Tim Good, and Pat Dutton. Three years later, the group built a new lodge at the base of the West Side area, as well as expanding offerings to include snow tubing.

Following a tough 1997-98 season, Norway Savings Bank foreclosed on Mt. Abram. Randy Duncan, owner of Steamboat Navigation, R.D. Outfitters, and Schooner Investment Co., purchased the ski area and adjacent property for $577,500 at a August 7, 1998 auction.

Camden National Bank foreclosed on the Duncans in 2000, resulting once again in an auction. On November 25, 2000, when Josh and Susan Burns purchased the area for $325,000. The Duncans subsequently sued the bank for its handling of their loans. On September 24, 2004, a jury awarded the Duncans $1.5 million in damages.


New Ownership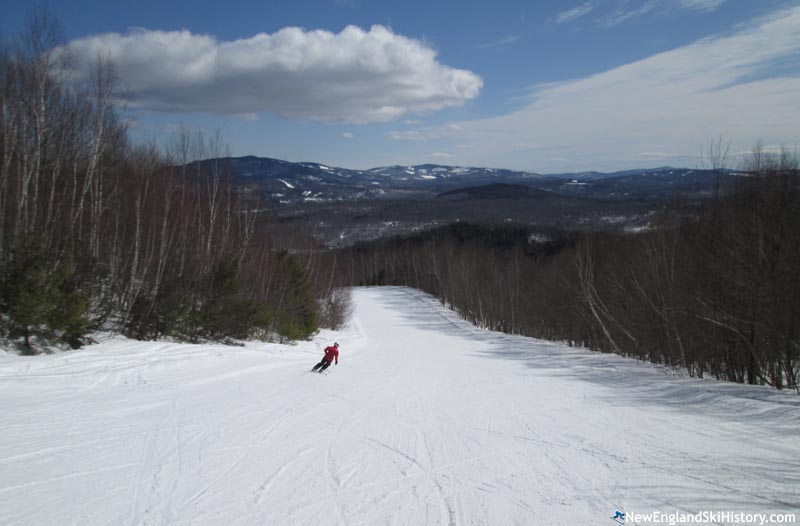 The Roundabout trail (2014)

After eight years of ownership, the Burns sold Mt. Abram to Matt Hancock and Rob Lally in the spring of 2008.

The main lodge suffered heavy fire damage on July 6, 2011, after lightning struck it. A temporary building was constructed in time for the 2011-2012 season. Energy efficiency was also addressed that year, as new snow guns were purchased and wood pellet boilers installed.

In the fall of 2013, Mt. Abram announced Mountain Rider's Alliance was hired to run the ski area. Plans were being made to potentially convert Mt. Abram to a co-op ownership model. The arrangement likely ended in 2017.

In the fall of 2014, Mt. Abram unveiled a 245 kilowatt solar farm, installed adjacent to the main parking lot.

In the fall of 2019, Mt. Abram previewed a new downhill mountain biking park. The operation formally opened in June 2020.



NewEnglandSkiConditions.com Reports

Month
Average Percent of Terrain Open
December
30% (2 reports)
January
58% (8 reports)
February
92% (3 reports)
March
78% (8 reports)
April
95% (2 reports)

-- start conditions table -->

Recent Conditions Reports

Mar. 26, 2023 by rocket21
Wet Powder, Wet Packed Powder
Mar. 10, 2023 by tuckers
Packed Powder, Wet Packed Powder
Feb. 19, 2023 by brianna
Loose Granular, Variable Conditions
Feb. 19, 2023 by rocket21
Loose Granular, Variable Conditions
Jan. 29, 2023 by brianna
Packed Powder, Packed Powder

Mt. Abram on NewEnglandSkiConditions.com
NewEnglandSkiIndustry.com News
Expansion History
Image Gallery
Lifts
Click on lift name for information and photos
Maps
Year by Year History
Adult Weekend Full Day Lift Ticket; Adult Full Price Unlimited Season Pass

2020s
Ticket Price
Season Pass Price

Pass Payback

Opening Day

Closing Day

Skier Visits

2023-24
$599.00
2022-23
$35.00
$589.00
16.8 days
December 18
March 26
2021-22
$55.00
$569.00
10.3 days
December 17
March 27
2020-21
$49.00
$599.00
12.2 days
January 2
March 28
2019-20
$49.00
$609.00
12.4 days
December 21
March 15
2010s
Ticket Price
Season Pass Price

Pass Payback

Opening Day

Closing Day

Skier Visits

2018-19
$49.00
$629.00
12.8 days
December 15
March 31
2017-18
$59.00
$609.00
10.3 days
December 16
April 8
2016-17
$59.00
$619.00
10.5 days
December 10
April 8
2015-16
$55.00
$540.00
9.8 days
December 5
March 19
2014-15
$49.00
$540.00
11.0 days
December 13
April 11
2013-14
$49.00
$730.00
14.9 days
December 14
April 5
2012-13
$49.00
$730.00
14.9 days
December 21
April 6
2011-12
$49.00
$699.00
14.3 days
December 22
March 18
2010-11
$49.00
$719.00
14.7 days
2009-10
$49.00
2000s
Ticket Price
Season Pass Price

Pass Payback

Opening Day

Closing Day

Skier Visits

2008-09
$49.00
$649.00
13.2 days
2007-08
$43.00
$695.00
16.2 days
December 15
42,000
2006-07
$42.00
$595.00
14.2 days
29,000
2005-06
$42.00
$595.00
14.2 days
38,000
2004-05
$41.00
$575.00
14.0 days
April 10
36,000
2003-04
$37.00
$575.00
15.5 days
March 28
2002-03
$35.00
$575.00
16.4 days
2001-02
$35.00
2000-01
$33.00
$400.00
12.1 days
40,000
1999-00
$32.00
March 26
30,000
1990s
Ticket Price
Season Pass Price

Pass Payback

Opening Day

Closing Day

Skier Visits

1997-98
December 12
1996-97
$29.00
April 6
1994-95
December 17
March 26
1993-94
December 11
April 3
1992-93
$25.00
December 12
1991-92
$26.00
1990-91
$26.00
1989-90
$24.00
December 2
1980s
Ticket Price
Season Pass Price

Pass Payback

Opening Day

Closing Day

Skier Visits

1988-89
$22.00
1987-88
$20.00
1986-87
$18.00
1985-86
$18.00
1984-85
$17.00
December 12
1983-84
$15.00
1982-83
$13.00
1980-81
$11.00
1979-80
$9.00
1970s
Ticket Price
Season Pass Price

Pass Payback

Opening Day

Closing Day

Skier Visits

1978-79
$8.00
1977-78
$7.00
1976-77
$7.00
December 24
1975-76
$7.00
1974-75
$7.00
1973-74
$7.00
1972-73
$7.00
1971-72
$7.00
1970-71
$7.00
December 23
1969-70
$5.00
1960s
Ticket Price
Season Pass Price

Pass Payback

Opening Day

Closing Day

Skier Visits

1968-69
$4.50
1967-68
$4.50
1965-66
December 4
1964-65
$4.00
December 11
1963-64
$4.00
1962-63
$4.00
1961-62
December 15
April 1
1960-61
$2.50
$40.00
16.0 days
December 11
Visitor Memories
"This is a question for old timers. Does anyone remember a pepper stealing chipmunk in the snack bar? I'm beginning to think I am going crazy. Thank you. Please say My Abram in reply."
Lowell Jeffers, Feb. 4, 2022
"I grew up on that mountain and my dad lived in the Mt. Abram Village. I started skiing At the age of 5 and eventually taught skiing there myself with my dad. There are so many great memories on that mountain!! I will always love that place. I hope it still stays open for many many years to come! "
Angela Jordan, Mar. 22, 2017
"We were raised on the mountain. My sons had lockers in the lodge and got off the bus in the parking lot each day after school, skied for a couple hrs, then walked home. What great memories. "
Catherine Merrill, Mar. 21, 2017
"So many fond memories at Mt. Abram. Back in 1992/93 my father, Rick Hoddinott, bought Mt Abram at a auction. Over the years he made some wonderful changes, his main goal was for Mt Abram to be the most family oriented ski resort around. I remember the building of the West Side Lodge & several log cabins for renting ...the amazing tubing park being put in (where I had my 10th Birthday!)...the Women's Pro Ski Tour.., Hoddinott was also was the first to put in night skiing at the Mountain. Unfortunately after the Ice Storm of 98' irreversible damages had been done to the majority of ski lifts & equipment and the Mt was foreclosed on soon after. Mt Abram has always had a special place in my heart & always will thanks to all the wonderful memories that were made there over the years. ❤️ ~Avery Hoddinott"
Avery Hoddinott, Nov. 5, 2016
"I try to make a winter trip back to Maine each year. Being in PA now, I've skied the Poconos and NY mountains. But hitting the slopes at Mt. Abram is like coming home again and is my favorite, hands down."
Cathleen Sawicki-Stephen, Jan. 24, 2014
"My families legacy. I grew up skiing there."
Lainey Cross, Sep. 5, 2013
"so many wonderful memories there. Ski Patrol classes with Blaine Mills, Gary Fuller and many more. Ski instructor,Gerry Smith helped me when competing for Gould Academy. Started skiing there from opening day. remember the dances in high school. "
Charlene Swain Maginnis, Sep. 5, 2013
"So many memories! And fresh donuts by Grampa Young every morning."
Susan Gregson, Sep. 5, 2013
"I was on the ski patrol, then the ski school, and later was the race-program director for 15 years. One couldn't ask for a better place to ski, nor better skiers with whom to share experiences."
Al Wescott, Sep. 5, 2013
"WAY TOO MANY MEMORIES TO LIST!!! SOME OF THE BEST YEARS OF MY LIFE!"
Katrina Lowe, Sep. 5, 2013
---
External Links
Mt. Abram Ski Area - official site
Last updated: March 1, 2022