Brodie Mountain Ski Area
New Ashford, Massachusetts
Status:
Lost/Defunct
First Season:
1940-41
Last Season:
2001-02
Vertical Drop:
1250 feet
Standing Lifts:
0
Past Lifts:
4 doubles, surface lifts
Left: Brodie Mountain during its heyday
Recent NewEnglandSkiIndustry.com News:
11/21/2023: Brodie Mountain Sold
9/8/2022: Brodie Founder Jim Kelly Passes Away
Located in the shadow of Mt. Greylock, 2,608 foot Brodie Mountain was once a well-known New England ski destination. The geological name of the mountain may be Gaelic for "a little ridge."


Early Years

Brodie Mountain's skiing history dates back to the 1934-35 season, when the 1.1 mile, 930 vertical foot Brodie Mountain Trail debuted. Described as novice except in fast snow conditions, the trail was 8 to 12 feet wide. The first competition on the trail was held on New Year's Day of 1935, when Joseph Aspinwall won the Eastern Amateur Ski Association open novice race.

By the end of the decade, Brodie was home to a ski jump and night skiing.

Lift service on Brodie Mountain likely started when a 1,100 foot rope tow was installed by Gregory "Mad Russian" Makaroff for the 1940-41 season. A beginner rope tow was likely added for the 1941-42 season. The area continued to operate as the United States entered World War II, with some ticket proceeds being donated to the effort.

Meanwhile, according to Lost Ski Areas of the Berkshires, a small area called Brodie Mountain Sports Center opened adjacent to Makaroff's during the 1940-41 season, leading a lawsuit being filed over the similar name and loss of customers. Makaroff eventually prevailed and the rival ski area shut down following its second season.

Following the war, an up-and-coming ski entrepreneur named Walter Schoenknecht leased Brodie from Makaroff for the 1946-47 season before heading south to open Mohawk Mountain in 1947. The area may have operated for one final season thereafter. Dealing with health issues, Makaroff moved to Montana, refusing to sell his Brodie property for any less than $35,000. Makaroff died at the age of 58 at veterans' hospital in Oregon, leaving his estate in limbo. Reports of a will in a missing briefcase gave way to negotiations with the USSR to obtain power of attorney from Makaroff's siblings.

The land eventually ended up in the hands of John Kelly, owner Kelly Hardwood. In 1963, the Federal government declared Brodie to be one of three ideal locations for a commercial ski development in Massachusetts.


A Second Round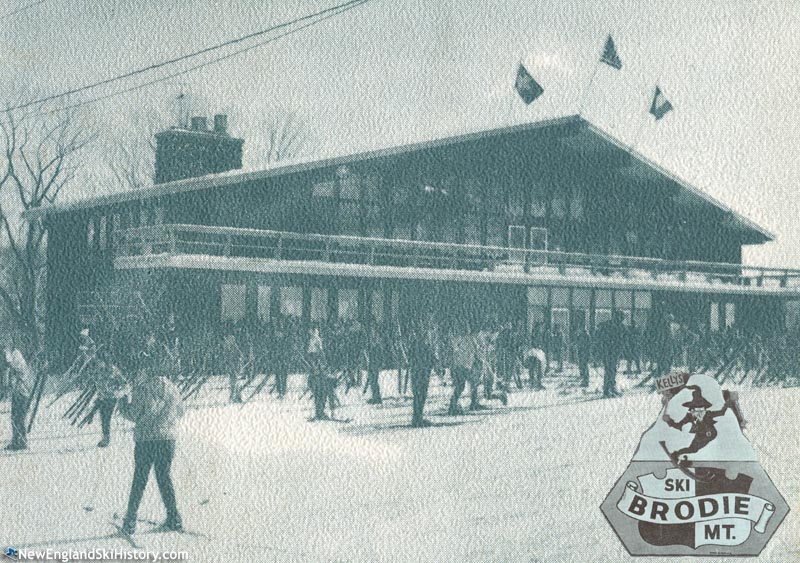 The base lodge circa 1965

John Kelly's son Jim scouted out locations for ski trails in early 1964, seeking the counsel of regional ski experts such as John Hitchcock and Sel Hannah. Trail clearing commenced on April 28, 1964, followed by the installation of two Stadeli lifts and 360 lights for night skiing.

After being closed for over a decade, Brodie reopened in 1964-65 with five trails and an 850 foot vertical drop. The three-story base lodge included a nursey and lounge on the first floor, a second floor cafeteria, a third floor bar. In conjunction with night skiing (with lights consuming nearly half a megawatt of power), the large Blarney Room pub quickly became a happening place. A December 12 open house attracted 5,000 visitors, some dancing until midnight.

The natural snowfall wasn't abundant, however, as December saw only limited surface lift operations. As the mild winter dragged on, Kelly had to get creative. That February, he used his logging trucks to haul snow from nearby Berkshire Hills Country Club to cover the slopes in time for President's Week.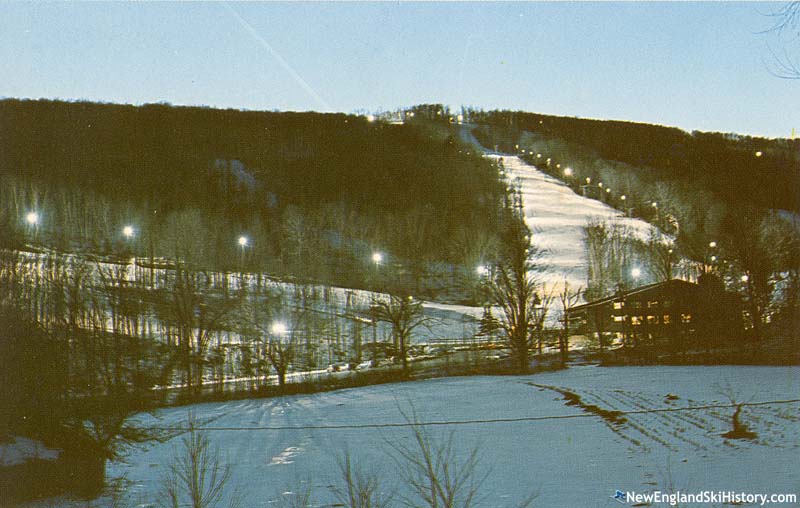 Night skiing at Brodie

For the second season, a new trail called Ryan's Express was cut. More importantly, a massive snowmaking system was installed, covering 90 percent of the terrain. The improvements paid off, as Brodie reported a 20% increase in business that season. Thanks to natural and manmade snow, the season extended into April of 1966.

Two new trails debuted for the 1966-67 season, named JFK and Mickey's Chute. The intermediate JFK quickly became one of the most popular trails on the mountain. With 7 miles of trails open at night, Brodie now billed itself as the largest night skiing facility in the world.


Expanding to the Summit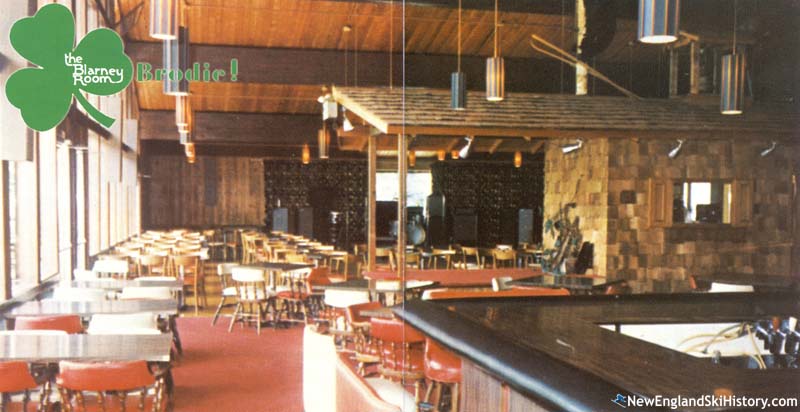 The Blarney Room circa the early 1970s

The ski area expanded to the summit in 1967, giving it the largest vertical drop in Southern New England. Along with the new T-Bar, 4 new trails opened. Thanks to snowmaking and decent weather, Brodie would operate for 145 consecutive days and nights.

Chairlift service extended to the summit for the 1968-69 season with the installation of Dot's Lift. Named after Jim Kelly's wife, the new 5,600 foot Borvig double was advertised as the longest and highest chairlift in the state. In addition to the chairlift, the famous Tipperary beginner trail was added.


Into the 70s

Brodie made headlines at the start of the 1969-70 season when Johnny Cash filmed scenes for a made for television movie "Trail of Tears" at the ski area. Brodie was chosen for its ability to simulate a blizzard with its snowmaking system. In addition, the snowmaking system resulted in Brodie's first October opening, making it an early season force to be reckoned with for years to come. Meanwhile, a new cafeteria was added at the base of Dot's Lift and bubbles were installed on select chairs. Later that season, Ted Kennedy made a splash by visiting Brodie in conjunction with the start of his Senate re-election campaign. The Berkshire Eagle noted that he was 75 minutes to the scheduled lunch event and departed early to hit the slopes.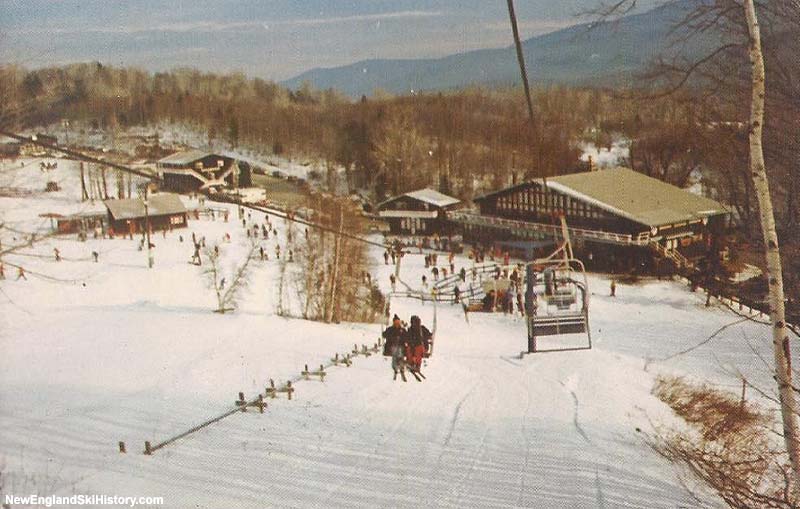 Matt's Chair circa the 1970s

John Kelly passed away in May 1970 at the age of 64.

George West was named ski school director in June 1970, replacing William McConnell.

A new double chairlift was installed on Harp's Hump for the 1970-71 season, replacing the original novice T-Bar. The lift was named Matt's Chair after Kelly's oldest son, with Kelly announcing plans to have a lift named after each of his children by the time the ski area was fully build out. The new lift better positioned Brodie for early season skiing, particularly as it was competing with Killington's then-early-season novice Snowshed snowmaking.

With 1970-71 resulting in a 30% increase in business, Kelly began to plan for the future. Among the items he was looking at were a 100-room hotel and convention center, expand snowmaking, night skiing from the summit, and another double chairlift.

Lights were installed on the JFK trail for the 1971-72 season, while additional bubbles were installed on Dot's Lift. Tom Varanka was named ski school director.

Despite a rough 1971-72 season, investment continued, as Brodie purchased a large gas-powered Hedco fan gun, enlarged the Leprechaun Lounge, and expanded night skiing to the summit. Paddy's Promenade and JFK were also widened. With its improved snowmaking, Brodie opened one day before Killington, starting the season on October 19, 1972. Hedco proclaimed that Brodie was the first in the country to open.

Former ski school director George West passed away at the age of 27 in a plane crash in March 1973.

During the summer of 1973, Brodie diversified its offerings by constructing camping facilities. The camping area included hook ups for trailers and an outdoor heated pool in the shame of an Irish harp.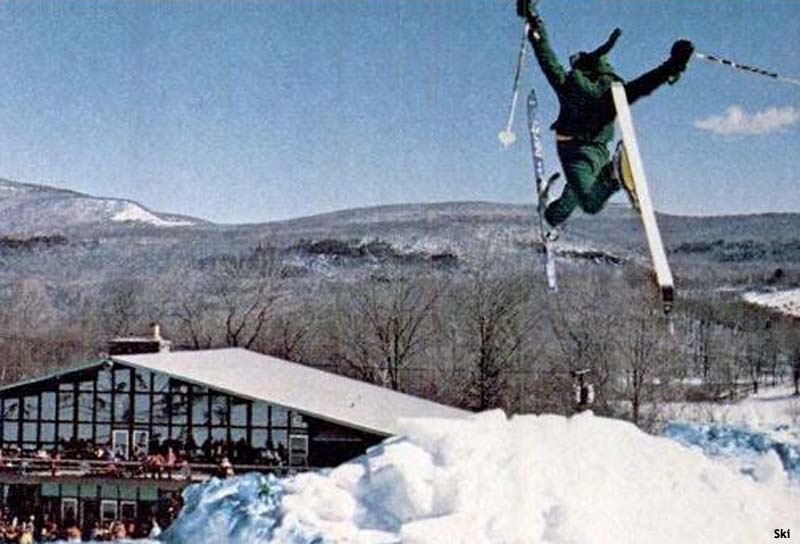 Brodie circa the mid 1970s

Brodie was not immune from the energy crisis, as operations were scaled back for the 1973-74 season and planned night skiing expansion was postponed. Among the announced conservation measures included a staggered start time for lifts, not opening all night skiing terrain except on peak nights, lowering thermostats in the lodges, and not heating the recently-constructed pool. In addition, Kelly took over the lease of a Getty gas station he owned near the New Ashford Inn, so that he could "do everything that I can to see that skiers who come to Brodie will get enough gas to get back home."

Dave Scott took over as ski school director for the 1974-75 season, as Tom Varanka departed for Greylock Glen. On the eve of another election campaign, Ted Kennedy took his family skiing at Brodie in February 1975. He was cited by the Berkshire Eagle as "cutting through the lift lines," though the North Adams Transcript noted that "for one run," Kennedy "went to the rear of the line and took his place just like everyone else."

Brodie also made headlines in February 1975 when Olympian Suzy Chaffee visited the area, performing a "ballet" on skis.


Sign Wars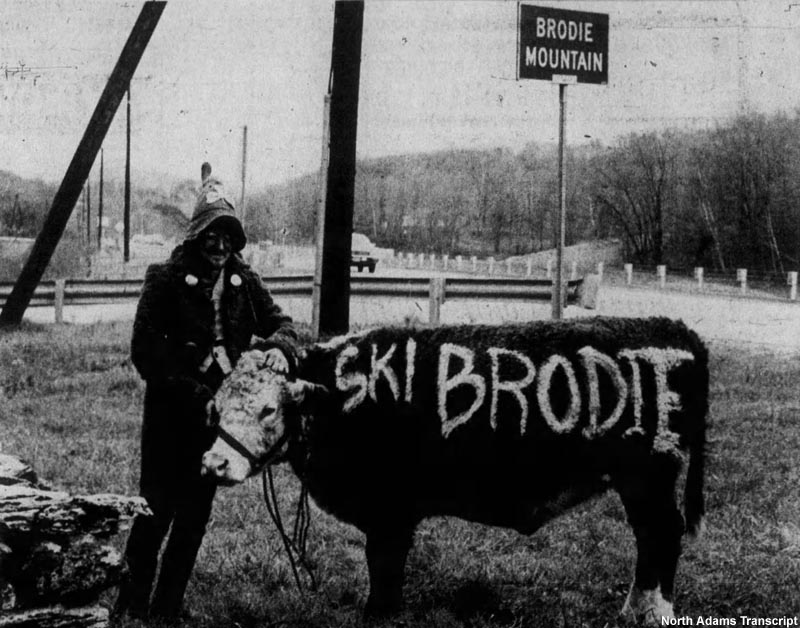 The cow sign (1975)

Though Brodie had been popular amongst skiing governors Endicott Peabody and Francis Sargent during its first decade of operation, it soon found itself locked into battle with the new Michael Dukakis administration. In early 1975, the Outdoor Advertising Board ordered the removal of Brodie's entrance sign. Brodie found signs to be particularly effective in attracting skiers who would otherwise be continuing north on US 7 to Vermont. Owner Jim Kelly responded to one sign removal in the mid 1970s by instead painting Brodie on the side of a cow and having it graze in a roadside pasture, remarking, "This is no bull. It's probably the only method left to us after the removal of our entrance signs."

A cross-country ski area was developed for the 1975-76 season, with John Hitchcock serving as director. The operation leveraged Kelly's Donnybrook Farm for lessons. The ski season was a struggle at Brodie, as February rains tamped down business. Public relations director Dennis Jenks reflected that "we would have been better off if we'd closed in early February."

The sign saga ratcheted up in late 1975, when Jiminy Peak owner Brian Fairbank dropped his support of Kelly with the Outdoor Advertising Board, commenting that "Brodie has an advantage. It's located right on Rte. 7. How can I support in good conscience a further advantage?" One year later, Brodie and Jiminy Peak signs were vandalized, with a person associated Brodie later busted for one of the acts. The North Adams Transcript referred to the rivalry as being like the "legendary Kentucky feud between the Hatfields and the McCoys."

1976-77 season improvements included a new novice rope tow slope, another snowmaking compressor, and regrading the Shamrock trail. The season marked a second consecutive October opening, with Brodie missing New England's first-to-open honors by just one day. With a western snow drought at the start of the winter, Brodie and Jiminy Peak leveraged their snowmaking by placing advertisements in Colorado, reading "Go East Young Man...Ski powder in the Berkshires." Later that winter, Brodie set up some snowguns to build a hill nicknamed Metropolitan Mountain in downtown Pittsfield for a winter carnival. This led to NBC hiring Brodie weeks later to make snow in Stockbridge for the filming of a TV movie called Snowbound.

By early 1977, Kelly Enterprises was grossing $10 million per year with its eight sawmills and 20,000 acres of land in Massachusetts, New York, and Vermont, along with the ski area, the Carriage House Motel, a leased Getty gas station, and a diner.

Following a successful 1976-77 season, a half million dollar investment was made including relocating the rental shop to the Dublin Motel, opening a new pub in the base of the main lodge where the shop had been, installing new snowmaking compressors, cutting two new trails, and installing a new Stadeli double chairlift (the last to be installed at Brodie). Jim Kelly was particularly proud of the chairlift, which was the area's first with a computer and modern safety system. Roland Blood was named ski school director that winter. The season also saw a pact formed between Brodie and Jiminy Peak that would result in only one ski area operating on bad weather days, with reciprocal ticket privileges. With a mild February and March, the season was one of Brodie's shortest to date, however skier visits nevertheless increased.

Jim Kelly acquired Ida & John's Restaurant in Lenox in March 1978, investing $150,000 in renovations and reopening it as Kelly's Inn at the start of the summer with the tagline "we're old hands at good food, good drinks and good friends 'cause we're the same successful outfit that runs the Brodie Mountain ski area." In July, Kelly acquired the Berkshire Indoor Tennis Club (constructed in 1971) for $200,000, renaming it the Brodie Tennis Club. Kelly sold the inn a few months later, which subsequently became known as Three Gables Inn.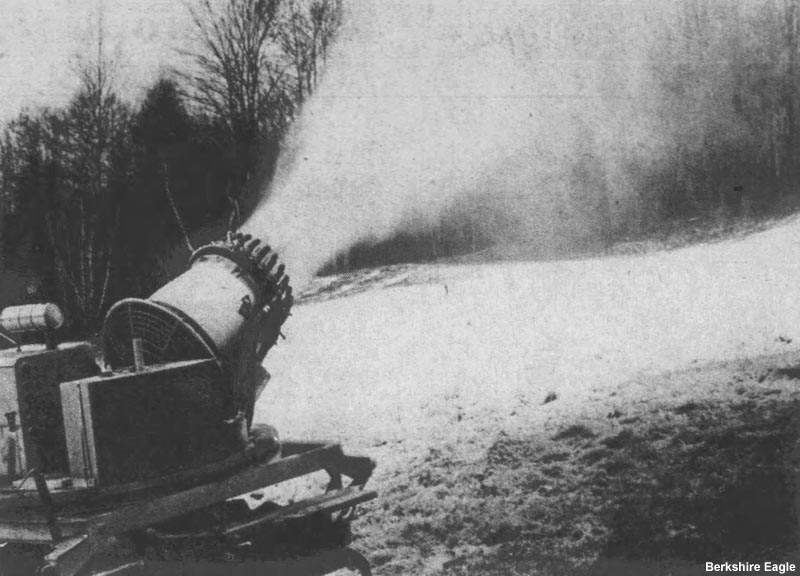 November 1978 snowmaking

Improvements were made to the snowmaking system for the 1978-79 season, including covering all of the Tipperary trail. With the expansion, Brodie now claimed 70% snowmaking coverage.

Despite subpar weather during 1978-79 season, Kelly moved forward with investments when he announced plans for a $3 million, four-story, 150-unit hotel in March. Plans were subsequently downsized to three stories and 52 units due to sewage limits. The goal of the facility was to bring in midweek traffic and to minimize concerns with gasoline shortages. Kelly also announced a six-court expansion to the tennis club, which would be called the Brodie Mountain Tennis and Racquetball Club. In addition, Kelly also mentioned that he was giving more thought to a North Face expansion.

In August 1979, Ted Kennedy made a splash when he and his family camped at Brodie. A gaggle of reporters followed him, as he denied that he was planning to take the plunge in the Presidential primary in 1980.

The long-running sign issue finally came to an end in October 1979, when a bill introduced by local State Senator John Fitzpatrick was passed which allowed Brodie to have the sign in exchange for paying rent to the state.

A new cross-country ski center was announced for the 1979-80 season, located across US 7 from the downhill ski area. Dave West took over as alpine ski school director, while Kelly's son Matthew became marketing director following his graduation from Boston University. Though the season started in October, 1979-80 was a rough winter with the first six inch snowfall not arriving until mid-February. The snowfall was just in time, as Brodie's snowmaking pond had run dry and was being filled by tanker trucks with water from Kelly's Donnybrook Farm. Brodie closed at the start of spring, posting a financial loss for the season with Kelly noting, "We made twice as much snow for half as many people."

Following the horrible 1979-80 season, the Kellys began to look into power generation. With the ski area running up an electric bill of $120,000 for three to four million kWh, a mountaintop wind farm was considered to offset expenses. Matthew Kelly noted, "We'd like to spearhead a movement to wind energy."

Peter Tucker took over as ski school director for the 1980-81 season, which began on Harp's Hump in mid-November. The previously announced cross-country ski center finally debuted for the 1980-81 season, featuring eight kilometers of maintained trails.



North Face Expansion Proposed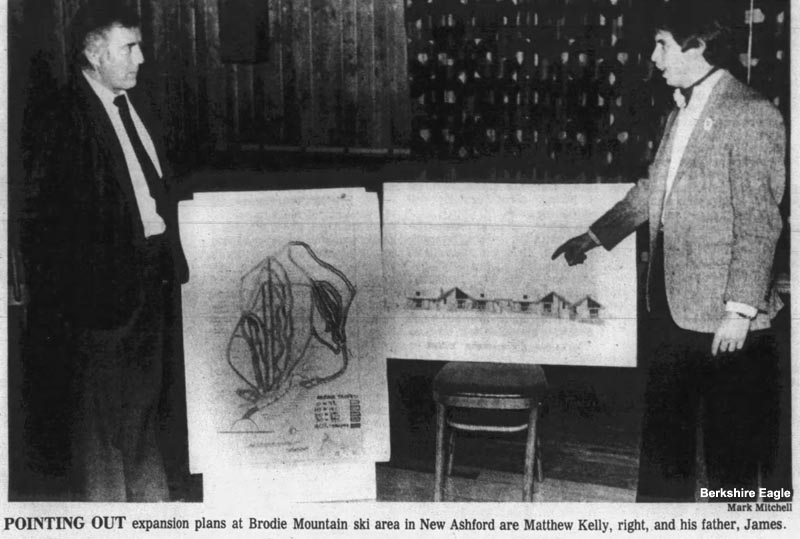 Jim and Matthew Kelly presenting the North Face proposal (December 1980)

In December 1980, Jim and Matthew Kelly presented a major three year plan that included the North Face expansion, condominiums, motel rooms, and a quad chairlift to replace Gramp's Chair. Kelly also discussed plans to build a $3.8 million wood-burning cogeneration plant in Pittsfield to make Brodie energy independent.

The 1981-82 season kicked off in mid-November and featured plentiful snowfall, resulting in "the best season we've experienced since we started in 1964," according to Jim Kelly.

The Brodie Mountain Tennis and Racquetball Club was nearly converted into a warehouse in 1982, as the facility "just doesn't make sense up here. It might make sense if it was closer to a metropolitan area," according to Kelly. In the end, the warehouse proposal failed and the tennis operation was leased to another operator.

With a downturn in construction affecting the lumber industry, Jim Kelly took over Kelly Hardwood from his brother Donald in 1982. By integrating the lumber business, Kelly's company included the ski area, the lumber entities, the tennis club, Kelly's Diner, a Pizza Hut, and J.W.'s Lakeview Restaurant. Kelly hoped to achieve economic efficiency by putting the companies under one umbrella. Kelly's oldest son Matthew was promoted to general manager of Brodie.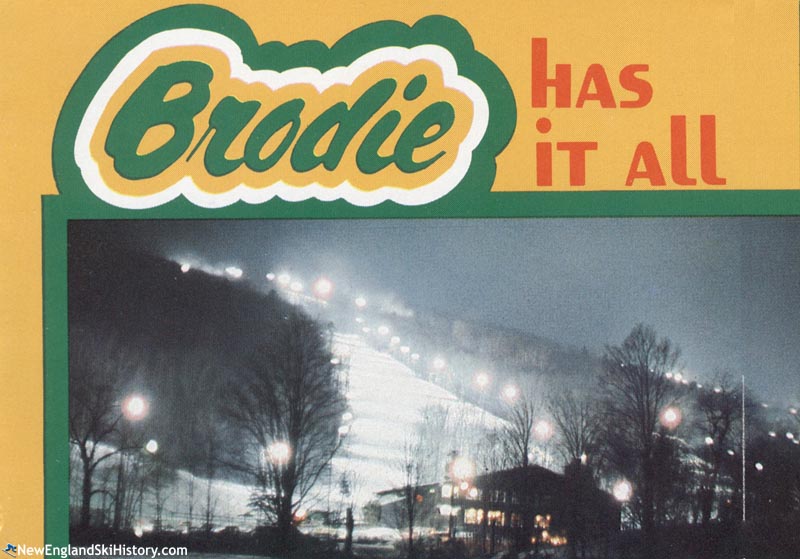 Night skiing at Brodie

A new ski shop building was likely constructed for the 1982-83 season, with the existing facility converted into motel rooms. Despite opening the mountain on October 22 in 1982, warm weather limited Brodie's operations to 30 days prior to January.

In June 1983, Jim Kelly announced the construction of a $3.8 million, 3.7 megawatt wood-burning cogeneration plant. Attending the announcement, Massachusetts Lieutenant Governor John Kerry told reporters, "It represents the very best of what we have in Massachusetts and the direction we ought to be going." Months after opening, the state shut down the plant, claiming it didn't meet clean air standards.

Meanwhile, Brodie developed its own air-water gun called the "master blaster." The 1983-84 season was up and down, with strong business in January, a wet February vacation week, and a record St. Patrick's Day turnout of 4,000 people (events included an uphill car race, a green beer race, and the traditional slush jump).



Small Town Politics

With nearby Jiminy Peak rapidly growing, Brodie sought to keep up by moving forward with the North Face expansion in 1985. Though Kelly had planned to cut trails that summer, the town planning board dragged the process on for months before finally rejecting the proposal. Brodie subsequently sued the planning board, alleging the father and son-in-law members casting the opposing votes had a conflict of interest due to the father being a former employee who left the ski area "under circumstances which were not amicable." Being a small town, the planning board member in question, John Haig, was also the police chief and a member of the selectmen, licensing commission, finance committee, and conservation commission. Meanwhile, Kelly was reported to pay 47% of the town's total taxes while owning 31% of the town's total acreage.

Despite not being able to start construction, Kelly continued to focus on the expansion during the winter of 1985-86 by acquiring 150 acres near the north face of the mountain, which were reportedly eyed for housing or a golf course.

Meanwhile, the 45-year-old lumber business was struggling. In July 1986, Kelly Hardwood closed and plans were announced to liquidate the lumber business and still-idle cogeneration plant. The Pittsfield location was redeveloped as retail, including a Walmart.

Brodie filed another lawsuit in December of 1986, when the selectmen had curbs installed that narrowed the broad access to the ski area to a single 30 foot entrance. Brodie prevailed and the town was forced to remove the curb early that winter.

In March of 1987, New Ashford voters approved a Proposition 2 1/2 override, which reportedly doubled the tax rate levied on Brodie as a non-residential property. The Kellys responded by threatening to secede from the town. For the second year in a row, multiple members of the family ran for various town offices, but were defeated.

In December of 1987, the father of a New Ashford selectman informed Brodie that he would no longer rent his field to the ski area for overflow parking, ending a multi-generational deal that had been in place since the start of the ski area. As a result, Brodie had to scramble to procure a fleet of shuttle buses to transport skiers from a satellite lot hastily constructed down the road. Meanwhile, the 1987-88 season was a struggle due to numerous rain events.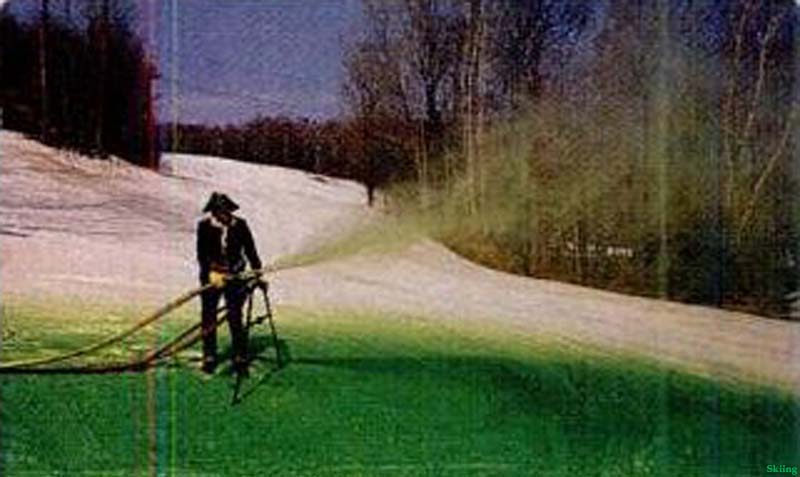 Green snow at Brodie for St. Patrick's Day

Following the 1987-88 season, Kelly announced he was looking into constructing a hotel, golf course, and banquet hall down the street in Lanesboro, due to the issues with New Ashford. The North Face ski trail expansion remained on the table. Following yet another planning board rejection in 1988, Kelly began discussing selling off some of his land holdings in the town. In December, Selectman Haig threatened to revoke Brodie's liquor license because of a pub renovation years earlier.

The winter of 1988-89 was rough due to rain and a lack of natural snow in Western Massachusetts. Though Brodie was planning to make significant snowmaking system upgrades after the season, nearly $1 million was spent on snowmaking between November and March, putting the capital investment on hold. Meanwhile, the Kelly family lost in their fourth attempt in running for various New Ashford elected positions. Matthew Kelly joked to the North Adams Transcript that he had "run for just about every office in town, including gypsy moth officer, and failed."

Stuck in a political quagmire throughout the 1980s, Brodie's growth curve had stalled. Meanwhile, nearby Jiminy Peak had installed a triple chairlift, expanded snowmaking, and had a multi-year real estate development underway.




The Brodie base lodge in the 1990s

For the 1990-91 season, Brodie improved snowmaking on the Tipperary trail. For the third season in a row, Brodie and the Berkshires were hit with subpar weather. Matthew Kelly told the Berkshire Eagle that it was the "bleakest winter we can remember."

Business improved for the 1991-92 season, however it was still plagued with a lack of natural snow. Meanwhile, ever-expanding Jiminy Peak was seeing record numbers.

The 1992-93 season was strong, kicking off on November 9.

1993-94 improvements included widening the Catwalk trail, refurbishing restrooms, and increasing snowmaking firepower. Business that season was decent, though not as strong as 1992-93.

In the fall of 1994, the Kellys sold their former Kelly Hardwood property in Pittsfield for retail development. The 63.5 acre property ended up fetching $4.85 million.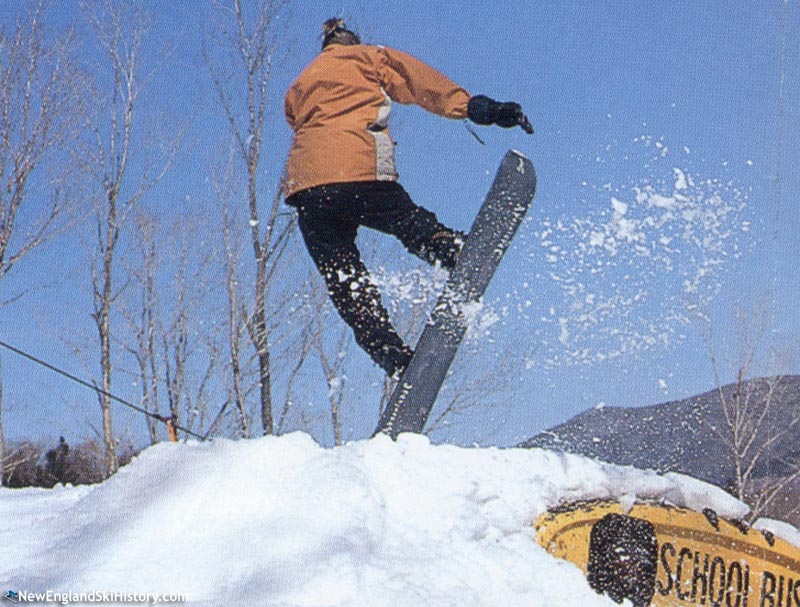 The school bus jump in the terrain park

A snowboard park was added for the 1994-95 season. A centerpiece of the park was a jump built on a school bus.

In July 1995, Ted Kennedy once again made a splash by camping at Brodie, termed by his spokesman as "a revival of a family tradition."

Improvements for the 1995-96 season included increased snowmaking and two new grooming machines.

Around that time, the Berkshire Eagle talked with the Kellys about the long-planned North Face expansion. Matthew Kelly surmised that it would "cost us $5 million with all the snowmaking we'd need." Jim Kelly added, "And would we get it back? It would be for expert skiers, and I wonder whether there's money in that market. Seems to me they arrive, ski and leave. They don't need the ski school, they don't go into the lodge, they don't eat. So we wonder whether it's worth it. We've been wondering for several years now."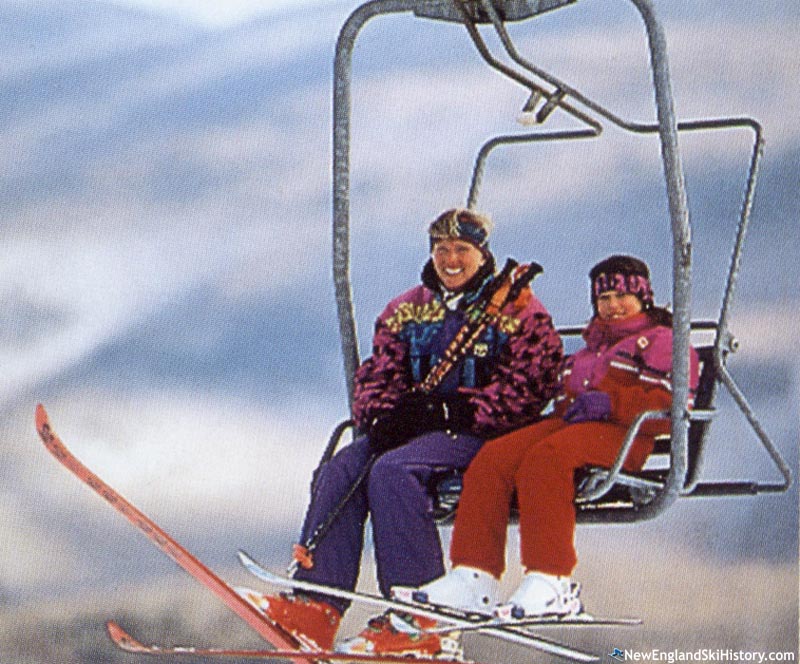 Riding one of Brodie's Stadeli chairlifts circa the 1990s

Brodie's trail count jumped from 28 to a state-high 40 for the 1996-97 season, with some publications boasting about twelve new trails. Though the increase was partially attributable to modern trail counting techniques, three new marked glades were added (Galway Glade, Finnegan's Wake, and Wexford Glade). Meanwhile, $250,000 was invested in the cross country ski trail network and base lodge. The alpine ski area did make an attempt at opening with limited terrain on October 4, but the drop in temperature was only momentary. Instead, the season likely started in mid-November, but did not see any storms of significance until March. The North Face expansion was still a consideration, but Kelly told the Berkshire Eagle that Brodie could afford to go slow because it was debt free. A golf course was also a possibility.

The 1997-98 season got underway on November 15, the last pre-Thanksgiving opening Brodie would ever experience. The season likely ended in late March. Following the season, word emerged of a proposal to lease mountaintop property for development of a 10-turbine, 7.5 megawatt wind farm. Local opposition quickly surfaced.

A snowboard halfpipe was added to Harp's Hump for the 1998-99 season, hosting the Bay State Games that winter. Due to warm late fall weather, ski season didn't start until December 13. By January 1, natural snowfall had yet to total 1 inch. Thanks to snowmaking, the season likely extended to the end of March.



The Kellys Sell Brodie

The Brodie ski school circa the turn of the century

The fall of 1999 seemed to be business as usual at Brodie, with the usual help wanted ads hitting the local newspapers. However, on November 2, word of a potential merger with Jiminy Peak splashed across the front pages of the newspapers. Continuing a decade of informal discussions, Jim Kelly and Brian Fairbank chatted about a possible merger or sale while playing golf. Fairbank told the North Adams Transcript that two things a merger or purchase would provide would be "the ability to market the two resorts under one umbrella" and "the ability to consolidate purchasing power." Kelly emphasized that "I would only stress that we expect Brodie to be run as it always has this winter. After that, I don't know."

On November 11, 1999, Jim Kelly, Matthew Kelly, Brian Fairbank, and Tyler Fairbank hosted at press conference at Brodie, announcing that Fairbank and Joseph O'Donnell had acquired the alpine ski area and tennis and racquet club. The nordic center property was not included in the purchase, as Kelly had visions for his "dream golf course."

Reflecting on the sale, Kelly said, "I'm 64 years old, I've been here for 35 years and that's enough for me." Kelly wished Fairbank success with Brodie, adding "I hope he takes it to the moon."

James Van Dyke, a longtime Jiminy Peak employee who had managed Berkshire Snow Basin, was named director of resort operations. Matthew and Douglas Kelly continued on the Brodie management team. As for Brodie's future, Fairbank said "I've got some things in the back of my bonnet, but they haven't gelled yet." Van Dyke added that "Brodie will not be the second-class citizen to Jiminy."

Snowmaking started the night of the announcement, with Brodie opening a few weeks later. A new perk was added for season passholders, providing access to Jiminy Peak when Brodie was not in operation. In addition, each mountain's passholders could ski at the other mountain during normal operations for $10. Additional joint pass offerings were rolled out later that fall.

A new 4.5 million gallon upper mountain snowmaking pond was constructed for the 1999-00 season, complemented with four more fan guns.



Closure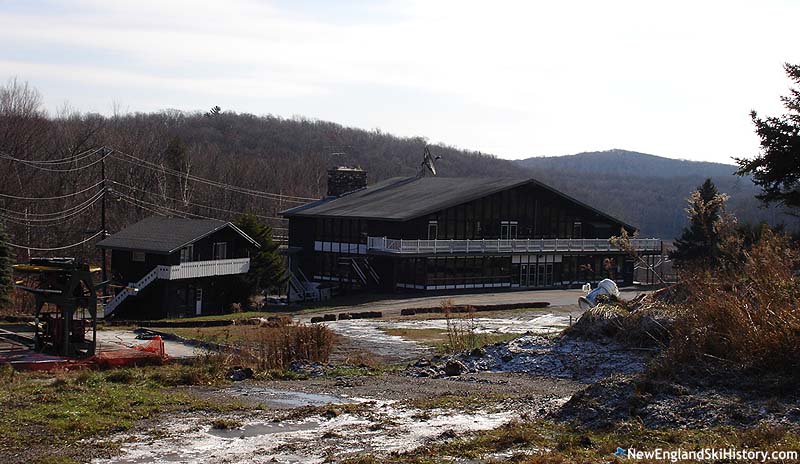 The idle base area during the demolition of Gramp's Lift (2005)

Jiminy Peak operated it for three seasons, initially with plans to install a high speed detachable chairlift. After investing in snowmaking improvements, the new ownership realized Brodie would require more investment than they could justify with the remaining skier-base. As a result, they shut down skiing operations after the 2001-2002 season, while keeping the tubing facility open.

In 2004, Fairbank and O'Donnell sold Brodie to Silverleaf Resorts for $2.6 million. As part of the deal, Silverleaf could not operate a commercial ski or snowboard area at Brodie.

Jim Kelly opened his "dream golf course," Donnybrook Country Club, in 2008. Meanwhile, years of discussions culminated in the commissioning of the mountain-top Berkshire Wind Power Project in 2011.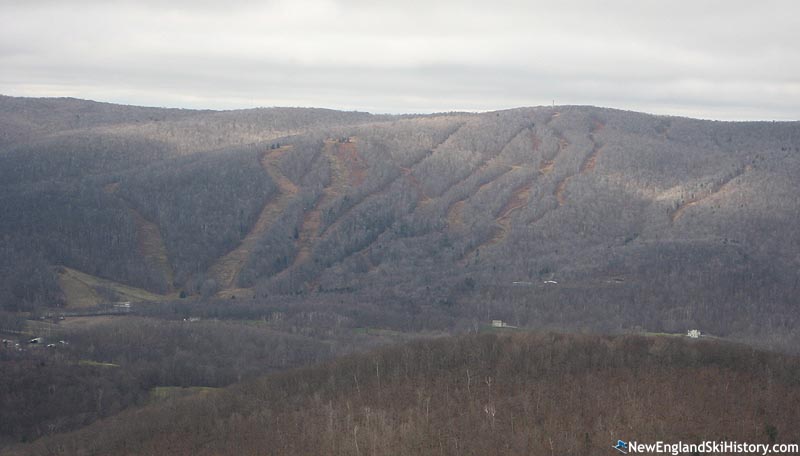 Post closure Brodie Mountain as seen from south of Mt. Greylock (2006)

Silverleaf planned to build 326 timeshares at Brodie for a cost of $50 million under the name of Snowy Owl. While the snow tubing operation continued through the 2006-2007 season and initial demolition of old lifts and buildings took place, the larger project was not to be. In the spring of 2012, reports came out that the mountain was once again for sale.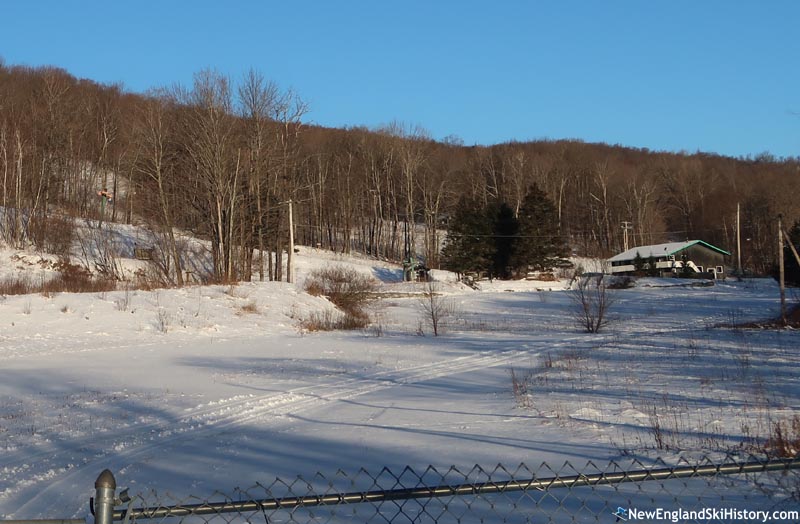 The idle base area (January 2019)

While modern equipment, such as the Magic Carpet and newer fan guns (some sold to Titus Mountain, New York), has been removed, much of the core infrastructure remains in place. The property is reportedly posted no trespassing.

Former Brodie Mountain owner Jim Kelly passed away on September 4, 2022 at the age of 87. Donnybrook Country Club was placed on the market.



Expansion History





Image Gallery





Lifts
Click on lift name for information and photos




Maps


Year by Year History
Adult Weekend Full Day Lift Ticket; Adult Full Price Unlimited Season Pass

2000s
Ticket Price
Season Pass Price

Pass Payback

Opening Day

Closing Day

Skier Visits

2001-02
$29.00
December 9
March 17
2000-01
$40.00
November 24
April 8
75,000
1999-00
$40.00
December 3
65,000
1990s
Ticket Price
Season Pass Price

Pass Payback

Opening Day

Closing Day

Skier Visits

1998-99
$39.00
December 13
1997-98
$39.00
November 15
1996-97
$38.00
April 6
1995-96
$38.00
November 18
April 7
1994-95
$37.00
March 19
1993-94
$35.00
$470.00
13.4 days
November 10
1992-93
$30.00
November 9
1991-92
$30.00
November 29
1990-91
$30.00
November 21
1989-90
$30.00
November 4
1980s
Ticket Price
Season Pass Price

Pass Payback

Opening Day

Closing Day

Skier Visits

1988-89
$30.00
November 23
175,000
1987-88
$28.00
1986-87
$25.00
November 11
1985-86
$24.00
October 30
1984-85
$22.00
November 3
1983-84
$20.00
October 31
April 7
225,000
1982-83
$19.00
October 24
1981-82
$17.00
November 11
160,000
1980-81
$15.00
$275.00
18.3 days
November 11
March 29
1979-80
$14.00
October 19
March 23
90,000
1970s
Ticket Price
Season Pass Price

Pass Payback

Opening Day

Closing Day

Skier Visits

1978-79
$13.00
November 21
March 24
120,000
1977-78
$12.00
November 13
April 2
1976-77
$11.00
$160.00
14.5 days
October 28
March 27
1975-76
$11.00
October 30
March 21
1974-75
$10.50
November 17
April 13
1973-74
$10.00
November 6
April 14
1972-73
$10.00
October 19
March 18
1971-72
$9.50
$160.00
16.8 days
November 10
April 9
1970-71
$9.00
November 18
April 18
1969-70
$8.50
October 25
April 11
1960s
Ticket Price
Season Pass Price

Pass Payback

Opening Day

Closing Day

Skier Visits

1968-69
$8.00
November 11
April 12
1967-68
$7.00
November 9
March 31
1966-67
$7.00
December 3
April 2
1965-66
$6.00
December 18
1964-65
$6.00
Visitor Memories
"Brodie holds great memories, from skiing there in the sixties, seventies and eighties. I went to a private school in Williamstown and when an expansion of the classrooms had ne been completed we had our classes at the lodge at Brodie. Math class in the Blarney Room.... Wish it was still here..."
Michael Goldberg, Oct. 23, 2023
"I worked at Brodie in 1989 1990 I had a great time, I am back in Australia the Kelly family was really good to me, Jim was good to me after I washed and cleaned his car one day, Doug and Matt I am still in the ski industry living in Jindabyne NSW Australia. My condolences to Jim I remember working at the sawmill. I had the time of my life working there. Regards Mal"
Malcolm Bruce, May. 20, 2023
"I have so many memories it hard to choose just one. I spent every winter and every summer at that mountain. Swiming in the pool during the summer and hiking the mountain with my little brother. To skiing with my little brother every holiday every school break and any time we could go night skiing we did. I had a blast up there and that is where i spent almost my entire childhood. So many memeories up there wish it wasnt such a ghost town. "
Elisa Giardina, Mar. 1, 2023
"A fantastic Mtn . many enjoyable times skiing that humble yet fun Mtn . Spent two new years eves skiing there as well . Ohhh the memories ."
J Pepper, Jan. 22, 2023
"I learned to ski at Brodie in the late 80s. Mom would take me and my sister there on Friday nights, and eventually my brother. We would take lessons and see friends we met the previous year, and ski until 11. Shamrock, and Paddys, and JFK. Now when I take my kids skiing to Jiminy, at least once a season I stop in front of the gate at Brodie, and remember how awesome it was. Green snow on St. Paddys day, and the giant jump at the bottom with carved out passages for us to play in as kids. I miss Brodie like I miss an old friend."
Patrick Ruddy, Sep. 26, 2022
"Grew up there. Worked summers, winters, ski school, rental shop, coached freestyle. Great memories and friends. There will never be another. Remember Doug Weeks ."
Kurt Sickler, Apr. 18, 2022
"I remember getting pulled up to the top of Gramps chair by snowcat because it was so crowded. We also had a great Freestyle team with several skiers going to the Nationals. Lots of good memories."
Rick Foulkrod, Apr. 17, 2022
"No mention made of the Brodie Mt Kite School! My friend Douglas F. Weeks Jr . and I started at Brodie, to teach Hang Gliding. Jim Kelly was quite a character and he loved the idea of pilots flying from his mountain in gliders. We had several articles in the Berkshire Eagle about our school. I was pictured flying My red white and blue Hang glider down the trails there! Great Times were had by all!"
Robert Stewart , Feb. 9, 2022
"Brodie Mountain Tennis and Racquetball Club !!! I taught racquetball ball lessons during my brief assignment at GE's Power Transformer factory in Pittsfield. I gave lessons in exchange of court time. Wonderful people and plenty of fond memories!! Winter of 1980…. in locker room after a tough game, listening Mick Jagger croon "Emotional Rescue" over the club's PA system. Made excellent friends— converting to racquetball from their tennis heritage! LOL !!! Great memories of Brodie Mt Racquet Club. Thank you!!!"
Skip House, Dec. 15, 2021
"I seen videos about Brodie it breaks my heart but I see YouTube videos of a building just look like oak and spruces condos which is the same building they should do something with Brodie mountain instead of it sitting there and bring it back very beautiful mountain."
Alyssa Hallock, Nov. 20, 2021
"WOW! What a trip down memory lane. Skiing at Brodie Mountain and enjoying the fun in the Blarney Room. Thanks for all the fun times."
William Allen, Aug. 27, 2021
"Learned to Ski at Brodie in 1978 I was 16. The crazy thing is that I married a man named Brody in 1993. I love the connection. I currently live on a ski slope in Tahoe California. "
Tracy Giles, Jun. 15, 2021
"Had a wonderful night skiing adventure with the love of my life. Great ski conditions, green snow and a drink in the lounge. Splendid and memorable time. Would love a piece of memorabilia if you know where to purchase. I miss him every day..."
Kathryn Gotcsik, Jan. 29, 2021
"Ah, good ole Brodie! Wonderful New Ashford!! I grew up in New Ashford, and Brodie was a center piece. The lodge was so earthy with wood everywhere. I am deeply saddened at its passing. Memories skiing there are grand, yet the loss is unbearable. Surely someone with lots of money could bring it back. How could a town of 100 have a ski mountain? In a word, Jim Kelly, the business man extraordinare !! "
Wendy Frye, Dec. 8, 2019
"We will always miss Kelly's Irish Alps. More fun than I could possibly describe. Thursday ski club, Saturday evening with the guys. Meeting girls on the slopes and in The Blarney Room around the fire place. It just couldn't get better. Thanks for the memories."
Alan George, Jan. 20, 2019
"My dad help lay out the trails. I miss the old girl, Jimmy was a joke. "
Lawrence Jacques, Dec. 23, 2018
"many fond memories of camping at Brodie Mountain, from hangin in the rec center to hiking ski trails and playing in the pool as well as the tree house playground. Sad that this land is just sitting idol."
christine schleicher, Jul. 31, 2018
"Enjoyed skiing at Brodie Had our wedding reception in the Blarney room and wedding pictures in front of the the giant fire place in the main lodge The best memories !! Really miss it"
Stan Walczyk, Mar. 4, 2018
"Awww I loved Brodie. Back in the eighties a group of about 50 of us would drive up from Jersey to spend the week at Brodie. All of us kids would ski from morning to night, while our parents partied in the Blarney Room. What great memories! We would take lessons just because they were included in our package. The best ski instructor was Fran! We would go every year, so we made friends with everyone who worked there. At night when the mountain closed, the ski patrol would let us sled. Every year got better. I shore do miss it, but at least I have wonderful memories. "
Colleen Bey, Feb. 21, 2018
"Brodie was just a fun place to ski, and relax. Nothing fancy. Our kids learned to ski there, and while they were learning, we had fun skiing. It would be incredible to see it "come alive" once again. That said, such great memories. As I ski at Jiminy, I enjoy looking over and seeing those slopes! :) "
Steve Jones, Jan. 27, 2018
"I miss Brodie very much - it was such a great local ski area. My parents took us when we were kids in the 80's. I can remember coming in from the slopes to grab something to eat and watching all the adults enjoying themselves in The Blarney Room. I've tried other mountains and while they're ok, none have that special feeling that Brodie has. I'd love to see it come back, but in this day and age, I doubt it is economically feasible. However, I'll continue to remember those great times. "
Craig Neal, Jan. 1, 2018
"Skied there with my dad. Learned to ski there. Such a shame to see it this way. Drove past it this weekend on my way home from MT Snow There was some snow on the slopes . It made me want to grab my skis and walk up the mountain just to ski it one last time !!! Seems like at least some of the slopes are being maintained ( growth cut back ). I believe the mountain and adjoining property is for sale . Someone. please ......SAVE BRODIE !!!!"
A.J , Mar. 22, 2017
"learned how to ski at Brodie mountain! Some of my best childhood memories on that mountain ! "
Chris Persico, Mar. 19, 2017
"Many a days were spent with the Taconic Braves XC ski team and coach Andy Kelly skiing UP the right side of the mountain on our XC skis. Great times had by all on the mountain and in the lodge. It was one to remember all around!"
Debra Wechter, Mar. 18, 2017
"My parents had a trailer on the slope for 12 years. Every weekend we came up and skied and every vacation. Was some of the best times of my childhood & teenage life. Times where good back then simple easy going. We will never see that again."
James Hannigan , Mar. 17, 2017
"mY MOM AND I WOULD go to Brodie after school on Friday nights when I was very young I will always remember those good memories"
ERIC , Mar. 8, 2017
"Had season tickets my last few H.S. years 1973, 74, 75. Got in 30+ days per season. Parked at "The Canteen". Ran gates with the Williams guys at top of Shamrock. My Dad was the guy in the blue or white jump suits with no poles!!! He had a pass until 1983 or so. Great times!!!"
Steve Sheridan, Feb. 7, 2017
"First time skiing there on our honeymoon. Absolutely loved the fire place. Had a great time."
Eleanor Darby, Dec. 8, 2016
"Learned to ski at Brodie; those thursday night lessons felt special with my sister and Dad, and no homework that night! Later on a pack of us would ski together every weekend, and we stayed out no matter what the weather. We raided the cafateria for trashbags to put over our gear if needed, and borrowed lunch trays to ride while we waited for the lifts to re-open between day and night skiing. The whole thing felt like family, I guess that it was. Thanks to all that were a part of a great time."
mark Klemperer, Nov. 27, 2016
"The memories live on. I wish my kids and their cousins could have had the Brodie experience.....nothing better. Thanks Dad (Joe Gleason) for making it possible."
Judy Gleason Collins, Nov. 17, 2016
"I was wondering about Brodie Mountain and googled it...found this web site! What a nice surprise! Taught skiing there from1974 to 1976 and had some of my best ski days there..usually over 100 days per season. Moved west in 1977 and have continued to ski every season in the Rockies. But it all got started at Brodie...great memories! Now I ski at Maverick Mountain in southwest Montana....A little Mom and Pop ski area that kinda reminds me of Brodie."
Joe Casey, Jun. 12, 2016
"We skied as a tribe at Brodie every weekend regardless of conditions or weather. Blazed our own trails and skied with some of the best skiers I have ever seen. Remember the columns of ski boots on the stairs heading up to the Blarney Room. Wouldn't trade my time with that group of friends for anything "
Roxanne Nelson (Clough), Jun. 3, 2016
"My Dad sold lift tickets every Sunday from 3 to 11pm so our family could have passes. Best time of my life. Learned how to snow plow on the tow rope to parallel skiing down shamrock! My one regret....never having enough courage to do the slush jump!!!!!! Best memories ever!"
Kelly Heffernan, May. 16, 2016
"Learned to ski there at night with my friend from work. Loved the atmosphere of the mountain. Was at the St Patty's slush jump in 1995, so much fun. I filmed it and put the video up on YouTube if anyone is interested. Just google Brodie Slush Jump and it should come up."
Sue Swanteson, Apr. 13, 2016
"I've missed brodie for years since J.P. took over and shut it down. Learned to ski there in the early 1990s. Great atmosphere, good folks. "
Gilles Heno-Coe, Apr. 10, 2016
"We loved skiing here with the kids. We put our daughter, 4 years old, in the nursery for a really reasonable price and we skiied all day, coming to the nursery to eat lunch with her. We would take her out for skiing, and put her back when she was tired. The lifts were slow, but I loved this place. Lovely family memories!"
Joanne Yurso, Apr. 2, 2016
"We loved skiing at Brodie, it lives on in my heart!Lots of great memories!"
Dr.Robert Johnson, Mar. 17, 2016
"I could remember when I was working for K2 all of the pro races & on-site demos we had at brodie. Great place to hang out especially St Patrick's day."
John Rooney, Mar. 17, 2016
"First tracs under Andy's lift. Fifteen inches of dry powder. Best mogul run of my life. Winter of 1979Bigger, smaller, Brodie is the most fun terrain around."
Jim Zawistowski, Mar. 17, 2016
"Grew up going to Brodie. Loved it there. Used to be pretty crowded in the 60's, I remember being turned away due to crowds and ending up at Jiminy. My son's HS Ski Club went to Brodie on Monday nights in the 90's,we used to go over and ski with him. Loved that place! Many memories- final time there was not for skiing, it was for an Anniversary Party - renewal of Wedding Vows held in the Blarney Room, probably was back in 12-years ago. - great time."
EIleen Finn-LeMatty, Mar. 17, 2016
"Remember the green snow on St.Patricks day"
Tom Parente, Feb. 28, 2015
"Skied at Brodie many times in the late 80s and early 90s while a student at WNEC in Springfield. In my heart, it's still my all time favorite place to ski."
Craig Hunter, Feb. 21, 2015
"My uncle taught us to ski at Brodie Mt in the mid eighties. When we started earning our own money, we would take advantage of the $10 Sunday and Monday night lift tickets. Once we were old enough, we enjoyed the time we had in the Blarney Room. I remember winning a contest, in the Blarney room, for having the least amount of cash on me! Those were the days."
Phil Sanford, Feb. 12, 2015
"Loved Brodie. Grew up skiing there in the mid 80's---- mid 90's. Used to be a large group of us from Eastern Long Island. Us kids then would do the 'twilight' skiing as our parents would drink lots of beer. Ohhhhh the memories!! We even used to sleep in our motor home some trips up there. If it were open again we would be still visiting every year with our expanding families. Progress blows some times. Wonderful Brodie, R.I.P There will never be another like you"
Tom Warner, Feb. 11, 2015
"Had awesome night ski times at Brodie, with my big bro Dave, and my Scotia NY ski buds Phil, Ken, Bill, and Pete, in the 70's."
Paul Hubbell, Dec. 6, 2014
"Ahhhhhhh the Blarney Room!!!! Got wasted and sang Van Morrisson's 'Browned Eyed Girl' with the band one night..........great memories ...oh yeah, and the skiing wasn't half bad either!! Where else could you get green swizzle sticks shaped like skiis for your drink and green snow?? Truly miss the good old days:~( !!"
Gary Allen, Oct. 9, 2014
"My parents put me on skies at 2...Brodie was a great place to be a kid and ski. The night skiing was fabulous ! So much fun. Unforgettable !"
Jennifer Johnson, Sep. 16, 2014
"3.23.14Skied at Titus Mtn Malone ny and part of my childhood was there. All of the Blue Brodie snow canons where there. Miss that old Mtn in Mass. "
larry jacques, Mar. 24, 2014
"I have great memories of skiing Brodie with friends and family from the 70's through the 90's. Today, I'm a guide for Steamboat Powdercats and have many conversations with guests from the east that have similar memories. One being skiing green snow on St. Patricks day..... Yeeeha!"
Kyle Pietras, Mar. 18, 2014
"Grew up there and still have all of my ski passes from there starting with 1973! Grandmother worked in the office, dad was a ski instructor and my first job was a ski instructor at age 13. I would buy it if I could! :)"
Kellie D'Elia-Laskin, Mar. 18, 2014
"Was the coolest place on earth! Skied almost every day and night !"
Alice Murray, Mar. 17, 2014
"Thinking of all the great St Patrick's Day festivities at Brodie. They will never be duplicated! Spent many, many great winters there! And had my wedding reception there. Not many people can say that........you had to KNOW people (Joe Gleason)"
Michaela Gleason Clancy, Mar. 14, 2014
"Brodie was THE place to ski on St Patricks Day, I still have a pair of Brodie green ski swizzle sticks :-)"
Dawn Gabel, Mar. 6, 2014
"Worked at Brodie as a ski instructor with my sister, grew up on the slopes, have had to settle teaching my son at the old rival Jiminy Peak! While it makes me sad there is no longer skiing there, I am so happy to have so many great memories of that place!"
Candace Mozzi (LaLonde), Feb. 23, 2014
"As part of the Brodie Mt. campers who wintered up in the trailer part on Brodie, we have many, many fond memories. My kids learned to ski there and it was wonderful to be able to just open the camper door and let them head off on the mountain. All the campers looked out for each other and the chairlift guys knew and helped all the kids. From all the parties the campers had, the famous jump at Tower 7, and taking Tip from the top as our route home to our camper, the times we spent at Brodie Mtn. were some of the best!"
Claire Haines, Feb. 21, 2014
"While in high school in the late 70's and early 80's, I skied here numerous times. Loved this ski area!! Just a beautiful, friendly place. Mickeys Chute was my favorite trail as it was somewhat challenging but unsurpassed for its beauty! The night skiing was magical. I cannot believe it is gone. Very sad news to hear. "
gerard cunningham, Jan. 29, 2014
"Like Carole! I met my sole mate there and we were married in 78, just recently lost him to a stroke, and I would love to come back and relive some of the good times in the blarney room! we too have the skies from the drinks! it was a great place back then , I miss it, The good Ol days. We tried to go there when it was snow owl, met by some guy and a shot gun, if you can believe it. we only wanted to drive around, but got into the lower parking lot and turned around. Oh wellDo they still have any condos there any one know??"
Sherry steuerwald-shook, Jan. 11, 2014
"As a musician/singer. i played many years at Brodie during ski season and enjoyed all the fun and great people I met there' and all the fab Kelly family were a souce of inspiration' perhaps its time to rebuild Brodie...? "
oliver kane, Oct. 6, 2013
"Worked at Brodie in the early 90s .Had the best time ever. Brodie was the places to be on St. PATRICK'S DAY."
John Nichols, Mar. 22, 2013
"I got engaged at Brodie Mountain St. Patrick's weekend 1975. Married in 1976. Everyone there bought us congratulatory drinks. I rmember the Green Beer Slalom and Green Plastic Crossed Skis with the Logo of Brodie on it placed in the Irish Coffees. (Still have ne ski). Also the patch with the lepreuchan."
Carole Schaefer, Mar. 13, 2013
"Grew up at Brodie in the mid-70s to mid-80s. Skied on the jr. racing team. Evenings with family in the Blarney Room. A gorgeous mountain that you could ski daily and it was always an adventure. Sad it's gone. Hope more photos and sites and home movies go up. Lost Ski Areas Project site also good. Would be nice to either add to that site or have another to share on. Thanks to this site for this forum!"
O Gottlieb, Mar. 2, 2013
"Brodie was my favorite mtn to ski growing up. I wanted to take my kids there to learn how to ski and was so sad to find out it was closed forever. :( I will miss Brodie."
Linda Dunn, Feb. 10, 2013
"Skied brodie many times on saturday nights 330 to 1100 pm ticket , then to the blarney rm for some great times ! mid 1980's"
john chiarizio, Jan. 29, 2013
---
External Links
Last updated: March 14, 2023