Storrs Hill Ski Area
Lebanon, New Hampshire
Status:
Open
First Season:
1930s
Vertical Drop:
300 feet
Standing Lifts:
Surface lift
Past Lifts:
Surface lift
Left: The main slope (2013)
Recent NewEnglandSkiIndustry.com News:
Located off of Spring Street on the northern slope of Storrs Hill in Lebanon, Storrs Hill ski area is one of the oldest lift served operations in New England.



Early Years

Storrs Hill Ski Area dates back to the 1920s, when Norwegian immigrant Erling Heisted helped to develop a ski jumping into a major local sport. Circa 1930, Heisted helped construct 13 ski jumps throughout town, teaching children both how to jump and how to maintain their neighborhood's facility.

At some point in the latter half of the 1930s, a 1,000 foot long rope tow was installed adjacent to the Storrs Hill jump, serving 200 vertical feet both day and night. In addition, the hike-up Storrs Hill Trail spanned 500 vertical feet. A second 1,000 foot rope tow was planned just prior to World War II, however it is not known if it was ever constructed.



Snow Crest Opens

Ernest Dion, champion ski jumper and operator of a ski school at Storrs, opened Snow Crest ski area a few miles south of Lebanon in 1956-57. Initially served by a T-Bar, Snow Crest provided locals modern skiing facilities.



Storrs Hill Revitalized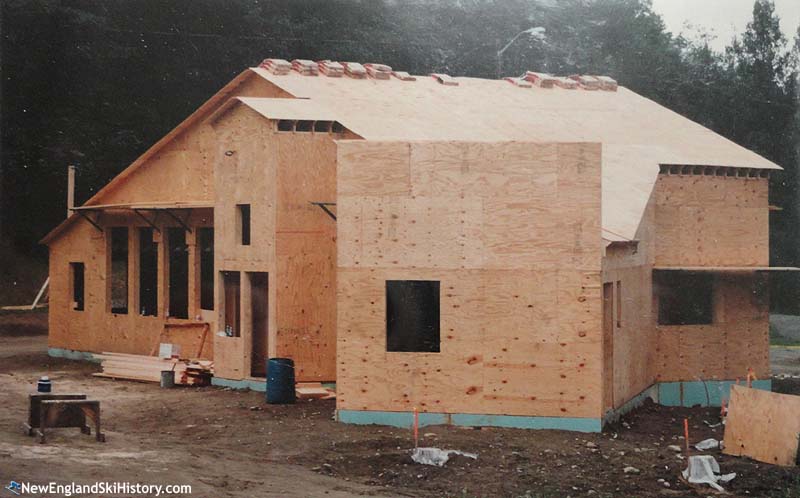 Construction of the base lodge (1996)

Upon selling Snow Crest about a decade later, Dion refocused his efforts on Storrs Hill. A year after Snow Crest became known as Whaleback, Dion helped to get a new Heron Poma platter lift installed at Storrs Hill. The new lift, extending uphill through woods from the top of the tow, provided a vertical drop of 300 feet.

The 1980s were a trying time for Storrs, as escalating labor costs and winters of poor snowfall took their toll. In 1986, the City of Lebanon decided to get out of the ski business. The Lebanon Outing Club stepped up and took over operational control of Storrs Hill ski area.

Around this time, makeshift snowmaking operations were attempted in order to provide lessons for local schools during snowless winters. Circa 1988, the Lebanon Outing Club sought bids for a formal snowmaking system. After the lowest bid came in at $175,000, the club decided to build its own through the support and donations of members and local businesses. The club was able to install their system for only $43,000.

In 1992, the club rebuilt its main jump and judges' stand. On November 6, 1994, the jumping judge's stand was burned to the ground. Firefighters tapped into the snowmaking system and kept the fire from spreading to the jump.

The base lodge was replaced with a brand new building in 1996, providing seating room, a snack bar, and restrooms.

For the 2011-12 season, the City of Lebanon helped purchase new night skiing lights for the main slope.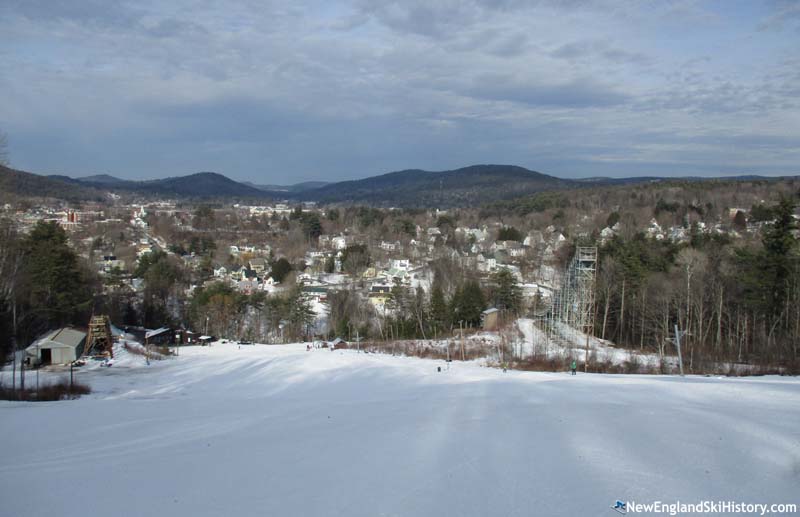 The main slope (2018)

Storrs Hill alumni made international headlines in 2014, when Nick Alexander (ski jumping) and Mikaela Shiffrin (gold medal in slalom), competed in the Winter Olympics.

The Lebanon Outing Club procured steel tracks for the 25 and 50 meter jumps in 2017, enabling more training when the in-runs can't be covered in snow. Meanwhile, Mikaela Shiffrin won another Olympic gold in 2018 and earned back to back World Cup overall titles in 2017 and 2018.

Storrs Hill remains in operation to this day due to the support of locals. Most of the area's labor is provided by volunteers, while much of its funding comes from the City of Lebanon and its school programs, the Carter Witherell Foundation, and club dues.

NewEnglandSkiConditions.com Reports

Lifts
Click on lift name for information and photos
Maps

Year by Year History
Adult Weekend Full Day Lift Ticket; Adult Full Price Unlimited Season Pass

2010s
Ticket Price
Season Pass Price

Pass Payback

Opening Day

Closing Day

Skier Visits

2018-19
$15.00
$140.00
9.3 days
December 30
March 30
2017-18
$15.00
$125.00
8.3 days
December 29
March 25
2016-17
$10.00
$125.00
12.5 days
December 26
February 28
2015-16
$10.00
$100.00
10.0 days
January 16
February 21
2014-15
$10.00
$100.00
10.0 days
December 27
2013-14
$10.00
$100.00
10.0 days
January 3
March 29
2012-13
$10.00
$100.00
10.0 days
December 30
2011-12
$10.00
$100.00
10.0 days
January 6
2010-11
$10.00
$100.00
10.0 days
December 27
March 20
2000s
Ticket Price
Season Pass Price

Pass Payback

Opening Day

Closing Day

Skier Visits

2006-07
$10.00
2002-03
March 22
Visitor Memories
"I remember getting free ski lessons at Storrs Hill in the mid 50's. It had a rope tow then, I fell down and the rope started going across my ski boot and the friction started to burn, Ernie Dion was running the rope tow and saw what happened and came to my rescue. I jumped with the leb. ski team on both jumps '61-64' and practiced at both Snowcrest and Storrs Hill. I remember the 'flying Dions' Doug, Roger and Bernie. I think about those days often..."
bruce decato, Jul. 3, 2016
"How well I remember skiing at Storrs Hill in 1942 and 1943. The tow did not operate, probably due to WWII. We would show up in the AM after a snowfall to pack the trail. We were not so pleased with those who came in the PM and had not help the earlier packing.I remember seeing skiers with long thongs and seal skins under their skis to help them climb the hill.I was a fifth grader at the Bank St. School that winter.Also, I recall the thrill of watching the jumping. Once two jumpers jumped side by side.The only jumping I did was at a small jump in the woods way up prospect St. Does anyone remember that?"
Bill Clark, Aug. 27, 2015
---
External Links
Storrs Hill Ski Area - official site
Storrs Hill - SmallSkiAreas.com
Last updated: June 2, 2018