| | |
| --- | --- |
| | |
Located northeast of Bangor in Lee, Maine, Mt. Jefferson has been serving local skiers for nearly half a century.


Mt. Jefferson Ski & Recreation Association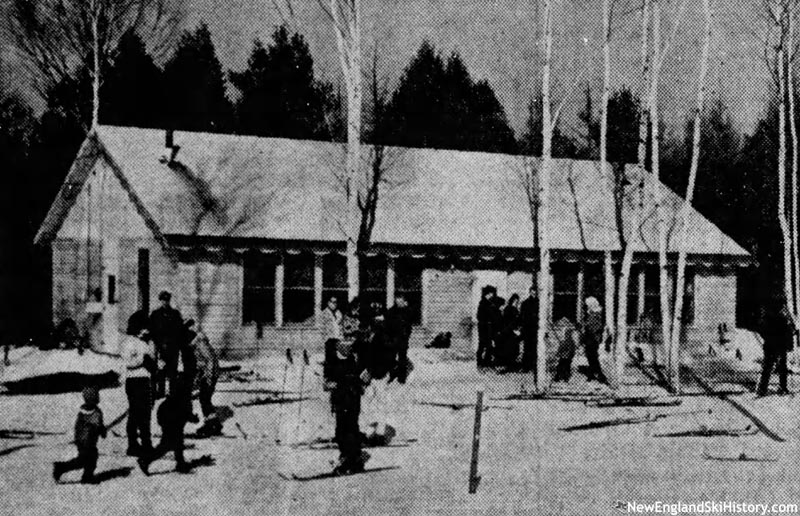 The base lodge (1965)

Mt. Jefferson's lift served skiing history likely dates back to May of 1964, when Mt. Jefferson Ski & Recreation Association was registered as a Maine corporation. Six locals, ranging from age 35 to 65, reportedly contributed $5,000 each toward developing the ski area: Floyd Cobb (operator of Pierce Pond sporting camp), Byron Delano (a local potato farmer), Al Pickering, Claude Scribner, Roland Scribner, and Bernard Staples

By the time the 1964-65 season arrived, the new ski area consisted of three trails, a T-Bar, a rope tow, and a 50 by 30 foot base lodge. Co-founder Floyd Cobb told the Bangor Daily News that, "this isn't Sugarloaf or Squaw Mt. or Rangeley. It was never intended to be. We hope it will provide adequate skiing for the intermediate skier, family groups. Our mountain is within a 75 minute ride of Bangor, an hour from the University of Maine Old Town and with Lincoln and Millinocket close by, it should appeal to many of our friends. And, naturally, it out to be a handy site for high school competition."

In addition to day skiing seven days a week, night skiing was offered four nights a week for the 1965-66 season. The Bangor Daily News referred to Mt. Jefferson as "somewhat of a model for a small area."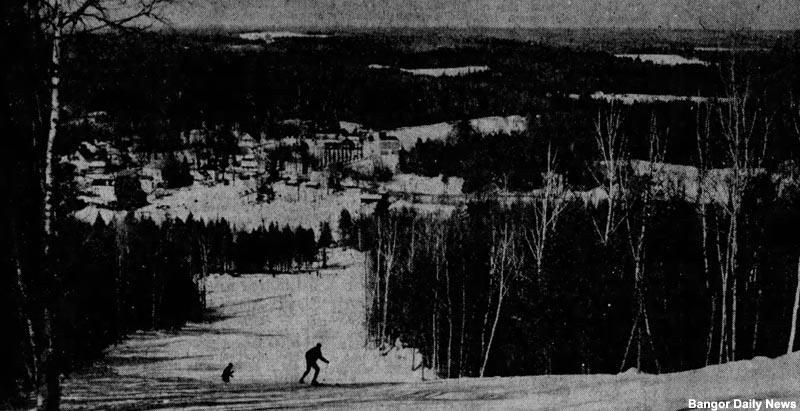 Birch Run (1965)

Two new trails were added for the 1966-67 season, while a new access road was complemented with expanded parking. The season started with a strong New Year's holiday period, with the Bangor Daily News reporting that "lift lines were taxed to capacity." Operations were scaled back to six days per week.

The base lodge may have been expanded for the winter of 1967-68. The season also enjoyed a strong New Year's holiday period, but faded when conditions took a turn for the worst in February when a regional race had to be relocated to Mars Hill.

A powdermaker was acquired for the 1968-69 season to improve conditions. An early snowstorm likely resulted in a few days of skiing in November. Co-owner Byron Delano estimated annual skier visits to be 25,000, noting that "We in no way ever hope to give Sugarloaf a run for the dollar", adding, "I have yet to meet a person who said that he didn't enjoy the day at Mt. Jefferson."

The 1969-70 season kicked off after Christmas, however a lack of snow quickly halted it, resulting in only six days of operation by mid-February. Byron Delano told the Portland Press Herald that "There's been nothing like this before. In the past two years we haven't lost over two weekends. This year we've only been open one."

Mt. Jefferson remained on a six days per week schedule in 1972-73, but only advertised one night per week for night skiing. The state Class C ski championships continued to be held at the area.

1973-74 was likely another challenge due to lack of snow.



The Delano Family Buys Mt. Jefferson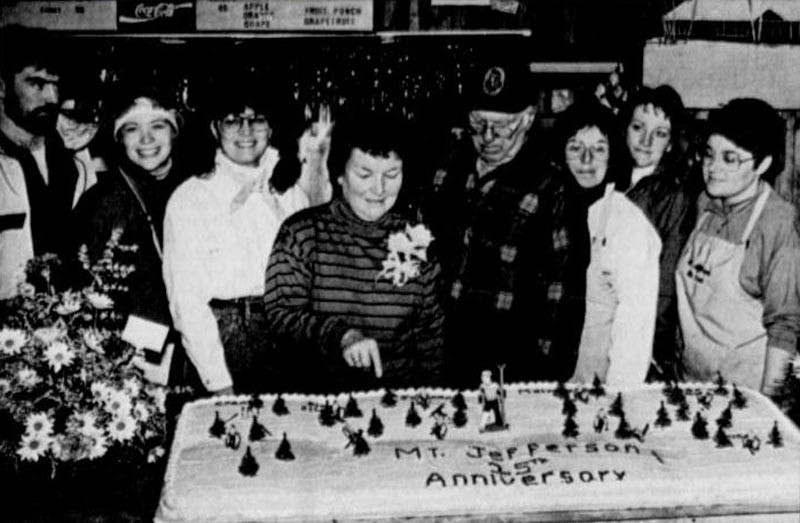 Mt. Jefferson's 25th anniversary in February 1990

The ski area was likely transferred to Mt. Jefferson Ski Area, LLC between 1978 and 1980, with Byron and Susan Delano becoming the sole owners. In February 1990, they marked the area's 25th anniversary.

Following the 1990-91 season, the Delanos acquired 40 more acres to the west of the ski area. Two trails were cut on the new land, plus one more on the east side of the ski area. Night skiing continued to be offered on Birch Run and Cedar Lane on Wednesday nights.

A second T-Bar was likely added for the 1994-95 season, while long term hopes of installing snowmaking were mentioned.

Co-founder Byron Delano passed away on December 11, 1996 at the age of 74. Byron Delano Jr. continued family ownership as the president of the ski area.

A handle tow was installed in 2007.

Co-founder Floyd Cobb passed away on September 14, 2014 at the age of 94.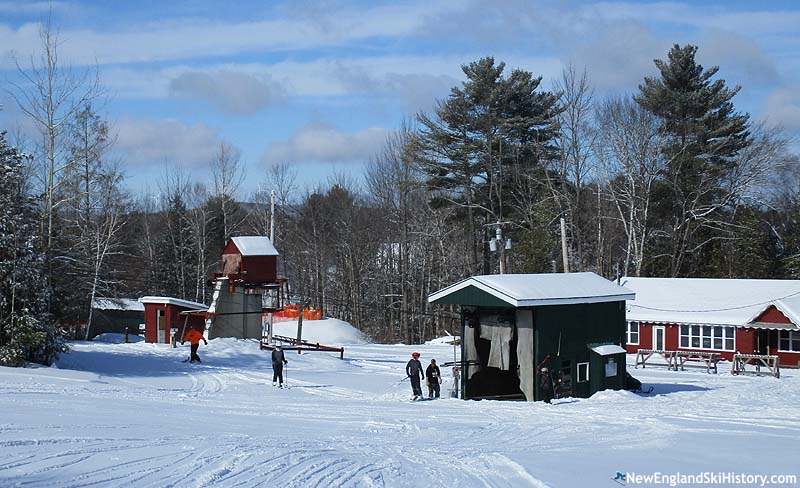 Mt. Jefferson in 2018

The Delano family sold the ski area to Ken Zimmerman in early 2016. Zimmerman's plans included adding snow tubing and expanding the area to four season operations. The Bunny Slope was soon converted to a tubing area.

Co-founder Bernard Staples passed away on January 29, 2017 at the age of 95. Former owner Susan Delano passed away on March 12, 2017 at the age of 89. An obituary noted that no one had been able to perfect the recipe for the famous donuts she served at the base lodge.

The 2019-20 season was cancelled due to "unforeseen circumstances and lack of snow." Despite COVID-19 restrictions, the area managed to reopen for the 2020-21 season.

Co-founder Roland Scribner passed away on March 10, 2022 at the age of 92.

While snowmaking as occasionally been mentioned as a future possibility, the ski area still relies upon natural snow.



NewEnglandSkiConditions.com Reports





NewEnglandSkiIndustry.com News





Lifts
Click on lift name for information and photos




Maps


Year by Year History
Adult Weekend Full Day Lift Ticket; Adult Full Price Unlimited Season Pass

2020s
Ticket Price
Season Pass Price

Pass Payback

Opening Day

Closing Day

Skier Visits

2023-24
$449.00
2022-23
$40.00
$399.00
10.0 days
December 28
March 19
2021-22
$30.00
$300.00
10.0 days
February 12
March 13
2020-21
February 13
March 14
2010s
Ticket Price
Season Pass Price

Pass Payback

Opening Day

Closing Day

Skier Visits

2018-19
$25.00
January 19
March 23
2017-18
$20.00
$185.00
9.3 days
February 10
March 31
2016-17
$20.00
$185.00
9.3 days
February 11
March 19
2015-16
$20.00
$185.00
9.3 days
February 15
February 15
2014-15
$20.00
$185.00
9.3 days
2013-14
$20.00
$185.00
9.3 days
2012-13
$20.00
$185.00
9.3 days
2011-12
$20.00
$185.00
9.3 days
2009-10
$17.00
$170.00
10.0 days
2000s
Ticket Price
Season Pass Price

Pass Payback

Opening Day

Closing Day

Skier Visits

2007-08
March 30
2005-06
$15.00
$160.00
10.7 days
2004-05
$15.00
$160.00
10.7 days
2003-04
$15.00
$160.00
10.7 days
2002-03
$15.00
$160.00
10.7 days
January 11
2001-02
January 12
March 10
1990s
Ticket Price
Season Pass Price

Pass Payback

Opening Day

Closing Day

Skier Visits

1997-98
December 6
1996-97
February 2
1995-96
$15.00
December 22
1994-95
$15.00
March 19
1992-93
$14.00
February 17
1991-92
December 26
1970s
Ticket Price
Season Pass Price

Pass Payback

Opening Day

Closing Day

Skier Visits

1969-70
$3.00
December 26
1960s
Ticket Price
Season Pass Price

Pass Payback

Opening Day

Closing Day

Skier Visits

1968-69
November 23
Visitor Memories
---
External Links
Ski Mt. Jefferson - official site
Mt. Jefferson - SmallSkiAreas.com
Last updated: September 27, 2022