| | |
| --- | --- |
| | |
Located on the west face of 1,748 foot Mars Hill, Big Rock is the northernmost chairlift served ski area in New England.


Mars Hill Skiway

Lift served skiing on Mars Hill likely dates back to early 1961, when Mars Hill Skiway opened as a 615 vertical foot Pomalift served ski area. The area received publicity from the New York Times during its first full season, 1961-62, when it was noted the hilltop was the first place in the country to receive sunrays from the rising sun for much of the year.

A new beginner slope was constructed for the 1966-67 season.


The Pierce Family Purchases Mars Hill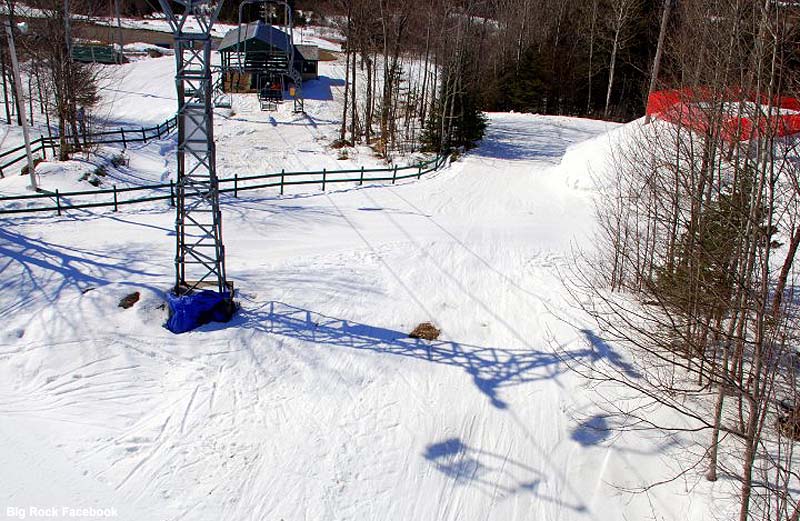 The North Star Double in 2010

Wendell and Marie Pierce's Ski Way of Aroostook, Inc. was registered as a Maine corporation in October of 1967, taking over the ski area that year. Soon thereafter, Mars Hill Skiway likely became known as Big Rock.

The upper mountain of the ski area may have become lift served with the installation of a Poma lift in 1978. Around this time, the Pierce family acquired Burnt Meadow Mountain in western Maine, operating it for a few seasons before it closed.

After decades of surface lift service, Big Rock installed a Mueller double chairlift from Evergreen Valley, ME as its summit lift for the 1993-94 season, making it the northernmost chairlift served ski area in New England. The new chairlift provided service to nearly 1,000 continuous vertical feet.


Maine Winter Sports Center Purchases Big Rock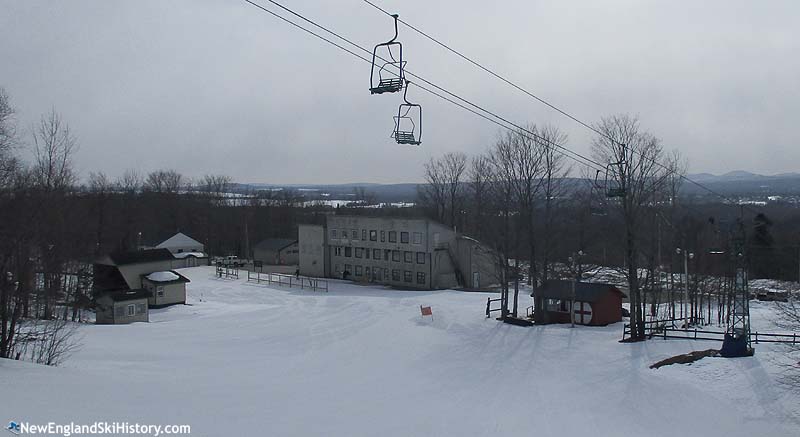 The base area (2017)

After over a quarter of a century of ownership, the Pierces looked to sell Big Rock. In the fall of 2000, Maine Winter Sports Center purchased the 290 acre Big Rock Ski Area, thanks in large part to a $1.5 million grant from the Libra Foundation. Immediate improvements included more parking, a better access road, and a new 1.5 mile trail.

Both snowmaking capabilities and night skiing terrain were expanded for the 2002-03 season.

An additional $1.2 million from the Libra Foundation was invested in Big Rock for the 2004-2005 season, headlined by the installation of a new beginner Doppelmayr triple chairlift and a Magic Carpet surface lift.

A $40,000 tubing park was opened for the 2006-07 season. The 5 acre slope was served by a handle tow. Meanwhile, the $55 million Mars Hill Wind Project constructed on the summit ridge of Mars Hill, beginning operation in 2007.


Big Rock After Maine Winter Sports Center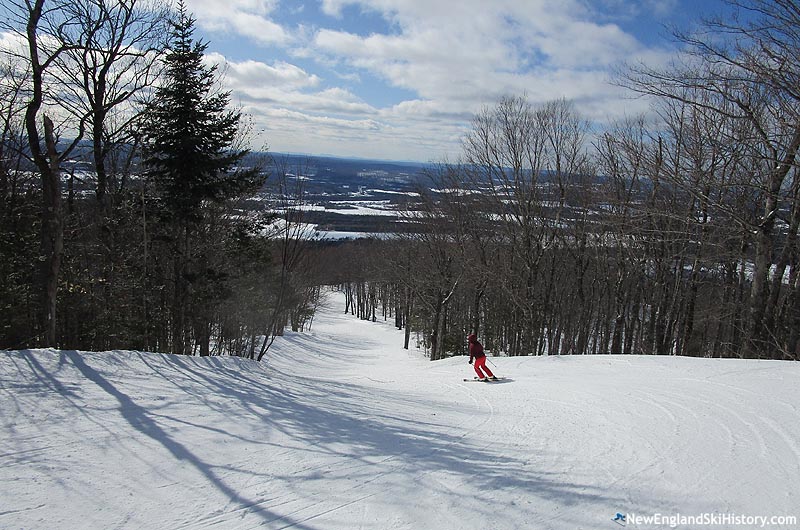 A North Ridge trail (March 2020)

In June of 2013, Maine Winter Sports Center announced its intentions to close Big Rock and Black Mountain and thus exit the alpine ski business. Black Mountain was subsequently transferred to a local non-profit, thereby avoiding closure. Meanwhile, fundraising efforts began during the summer of 2013 with the hopes of generating enough money to keep Big Rock open. That fall, Maine Winter Sports Center transferred the ski area to a local non-profit organization, which was able to keep the mountain open.

Big Rock has remained in operation since the sale, providing one of the most consistent ski seasons in New England.



NewEnglandSkiConditions.com Reports





NewEnglandSkiIndustry.com News





Image Gallery





Lifts
Click on lift name for information and photos




Maps


Year by Year History
Adult Weekend Full Day Lift Ticket; Adult Full Price Unlimited Season Pass

2020s
Ticket Price
Season Pass Price

Pass Payback

Opening Day

Closing Day

Skier Visits

2023-24
$60.00
2022-23
$55.00
$495.00
9.0 days
December 27
April 8
2021-22
$45.00
$435.00
9.7 days
December 26
April 3
2020-21
$40.00
$420.00
10.5 days
January 1
March 21
2019-20
$40.00
$420.00
10.5 days
December 7
March 15
2010s
Ticket Price
Season Pass Price

Pass Payback

Opening Day

Closing Day

Skier Visits

2018-19
$40.00
$395.00
9.9 days
December 1
April 14
2017-18
$38.00
$385.00
10.1 days
December 16
April 22
2016-17
$38.00
$385.00
10.1 days
December 10
April 9
2015-16
$38.00
$385.00
10.1 days
December 28
April 10
2014-15
$38.00
$385.00
10.1 days
December 13
April 12
2013-14
$35.00
$350.00
10.0 days
December 14
April 13
2012-13
$15.00
$150.00
10.0 days
December 15
April 6
2011-12
$30.00
$300.00
10.0 days
December 23
March 24
2010-11
$30.00
$275.00
9.2 days
December 11
April 3
2009-10
$30.00
$275.00
9.2 days
March 27
2000s
Ticket Price
Season Pass Price

Pass Payback

Opening Day

Closing Day

Skier Visits

2008-09
$30.00
$275.00
9.2 days
December 6
2007-08
$28.00
$250.00
8.9 days
April 13
2006-07
$25.00
$325.00
13.0 days
December 16
April 1
2005-06
$25.00
$325.00
13.0 days
December 10
2004-05
$20.00
$325.00
16.3 days
December 11
2003-04
$20.00
$325.00
16.3 days
16,000
2002-03
April 13
22,000
2001-02
December 26
April 7
15,000
2000-01
11,000
1980s
Ticket Price
Season Pass Price

Pass Payback

Opening Day

Closing Day

Skier Visits

1985-86
$10.00
Visitor Memories
"I learned to ski here in the mid 70's with my buddies Chris Thompson and Marc Putnam of Houlton. I have many fond memories of skiing at Mars Hill and credit it with beginning a life long passion!"
Dean Brown, Apr. 20, 2021
"The area is still very much alive and operating."
Eric Hendrickson, Mar. 13, 2014
---
External Links
Big Rock Ski Area - official site
Last updated: August 12, 2020