Dorset Hollow Ski Area
Dorset, Vermont
Proposed in the 1960s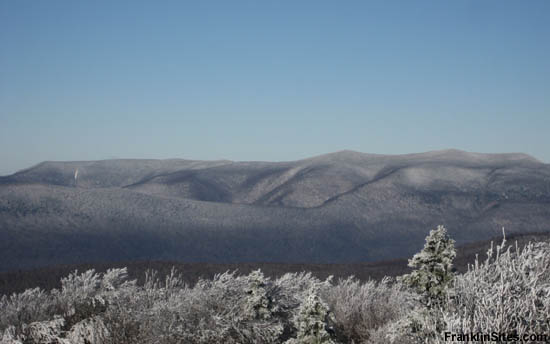 Dorset Mountain as seen from the east from Bromley Mountain

Overview
Located north of Manchester, Dorset Mountain is a 3,770 foot tall mountain located between Route 30 and US 7.

Lift served skiing existed in the area briefly during the 1930s, when Fred Pabst developed a J-Bar served ski area on Mt. Aeolus. The area was quietly shut down and the lift relocated to his Bromley ski area.

Rumblings of a major ski development in Dorset Hollow date back to at least the mid 1960s, when a land grab commenced. Swezey Lumber Company held 2,000 acres, while in November 1964, Frederick W. Tetzlaff (vice president of chemical manufacturer Rohm and Hass Company) acquired the Kuhrt and Helen Wieneke's Camp Wieneke for $200,000. During winter 1964-65, Sel Hannah was hired to conduct a feasibility study. Hannah's conclusion was that Dorset "lends itself to the development of a number of interconnected ski areas which would blend into an area of major proportions." Hannah determined that the climate was "strikingly similar to conditions at Stratton Mt., one of the outstanding successes in eastern ski development."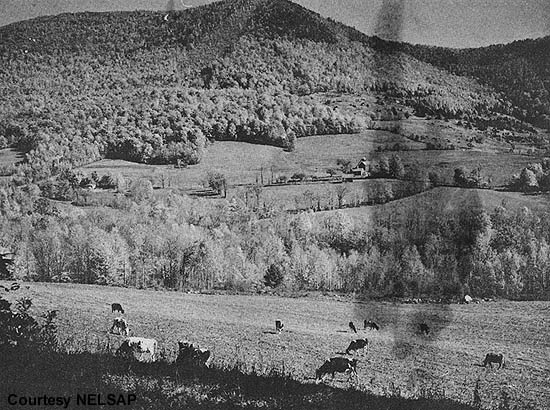 A 1965 photo of Netop Mountain, the proposed first phase of the Dorset Hollow Ski Area


Dorset Associates, Inc. was established in Delaware in July 1965. Led by President George B. Breen (a real estate developer and an original promoter of nearby Stratton a few years earlier), Vice President & General Manager Christopher Swezey Jr. (owner of a lumber company), secretary Thomas Martin (a real estate developer), and treasurer Frederick Tetzlaff. With the exception of Tetzlaff, all were Manchester area residents.

Related companies included real estate developers Potentials Inc. and Swezey Lumber Company. E.H. Lord-Wood Associates created the resort Master Plan.

Plans to build a massive ski resort in Dorset were officially announced by Dorset Associates, Inc. on October 8, 1965 at Camp Wieneke. Lt. Governor John J. Daley was amongst the officials who attended.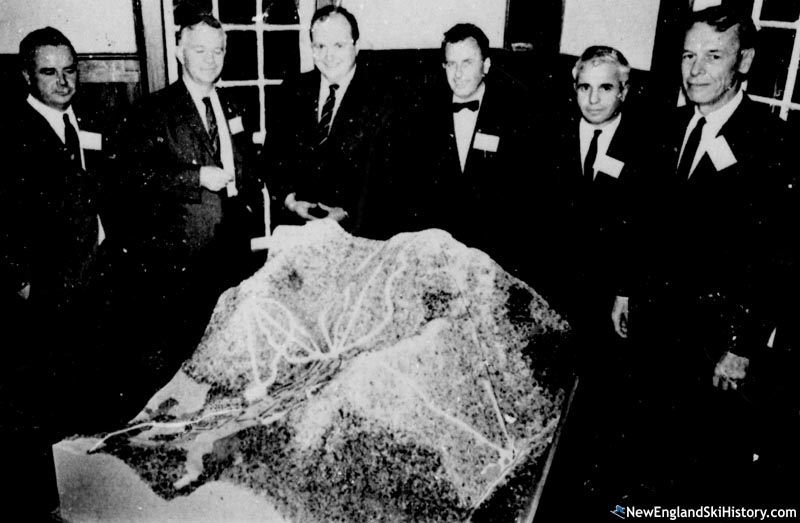 The October 8, 1965 Press Conference: (Left to right) President George Breen, designer Everett Lord-Wood, Commissioner Al Moulton, Secretary Thomas Martin, Vice President Christopher Swezey, Treasurer Fredrick Tetzlaff.


The resort was billed as being the largest ski area east of the Rockies, while still protecting the natural beauty of the region. The master plan was developed by E.H. Lord-Wood Associates with an eye on avoiding overdevelopment and congestion seen at other resorts. Twelve "activity areas" would be developed, interconnected by lifts. The overall project called for one aerial tramway, nine double chairlifts, two T-Bars, four base lodges, 16 miles of ski trails, and 70 acres of open slopes, covering six mountain peaks. In addition to the ski facilities, a golf course (to be located at the former Camp Wynakee), tennis courts, pools, horse stables, a village, 100 chalets, and up to 250 hotel rooms.

The proposed first phase of the project included two double chairlifts and one T-Bar on Netop Mountain for the 1966-67 season, with a base area near the former Camp Wynakee complex.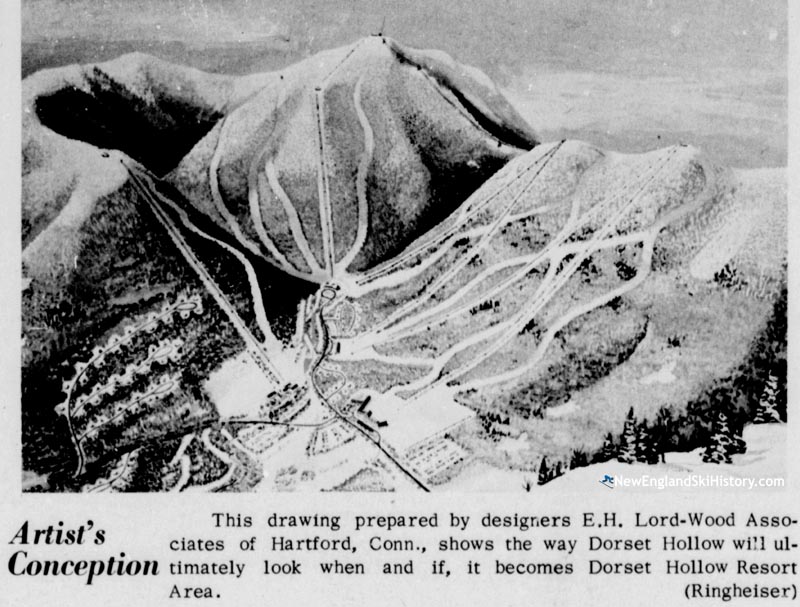 An October 1965 rendering of Dorset Hollow Ski Area


Within days of the announcement, local opposition emerged, writing editorials titled "Black Friday" and "Skiing Rage Threatens State's Natural Beauty." Cars starting sporting "Save Dorset Hollow" bumper stickers, while others were adorned with "Ski Dorset Hollow."

Amid the local opposition, issues began to develop within the development group. When reached for comment by the Bennington Banner at the end of October, the officers had no comment.

The State of Vermont came out in opposition of part of the project in early 1966, stating that the developers had not approached the state for permission to use part of Emerald Lake State Park. As a result, the tramway was off the table.

Treasurer Frederick Tetzlaff filed suit against his fellow officers in the spring of 1966, claiming they were not contributing time or money toward the project. Not only had stock not been purchased as expected, but the company had not purchased his property as planned.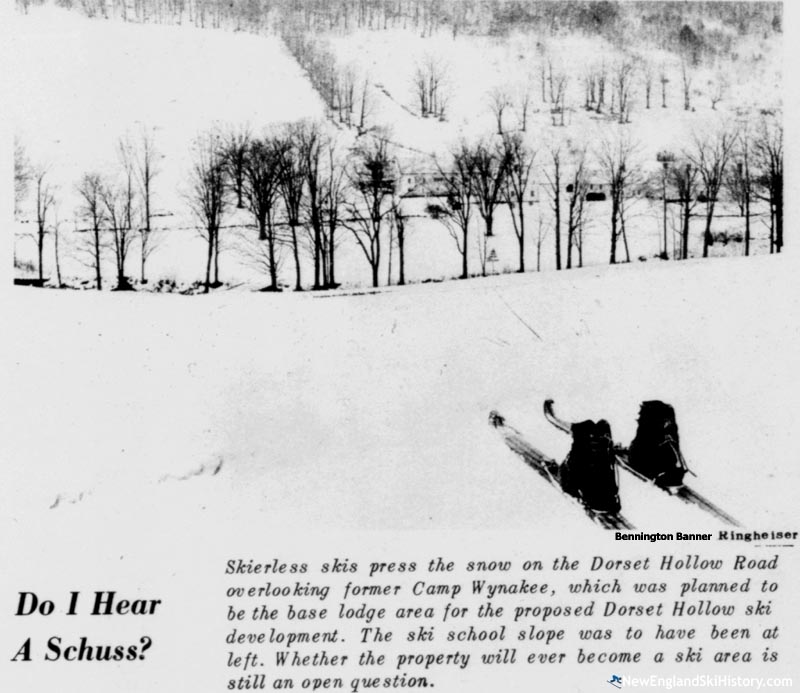 An undeveloped Dorset Hollow circa 1967


The project officially came to an end at midnight on Friday, July 28, 1967, when Dorset Associates' option on Tetzlaff's property expired.

In the fall of 1967, a group led by George M. Wallace formed the Dorset Hollow Corporation, which purchased the Camp Wynakee property from Tetzlaff. The focus of the land at this point became general residential development.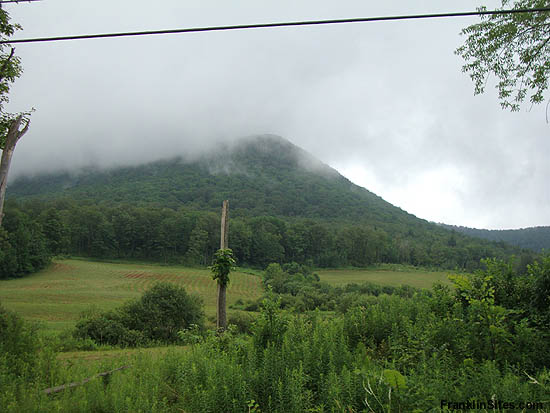 Netop Mountain (2010)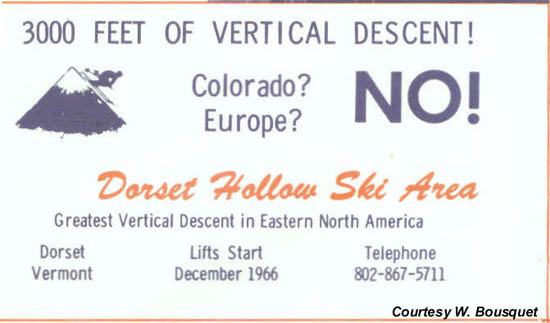 1965 Dorset Hollow Advertisement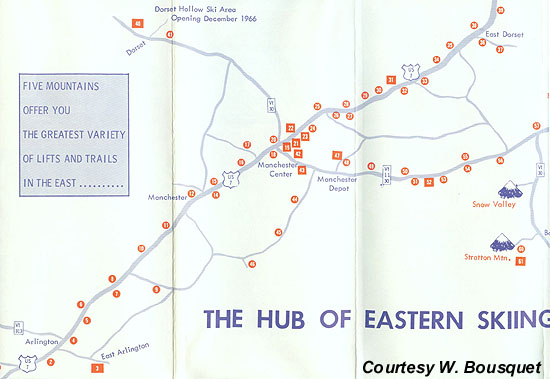 1965 Manchester Chamber of Commerce Location Map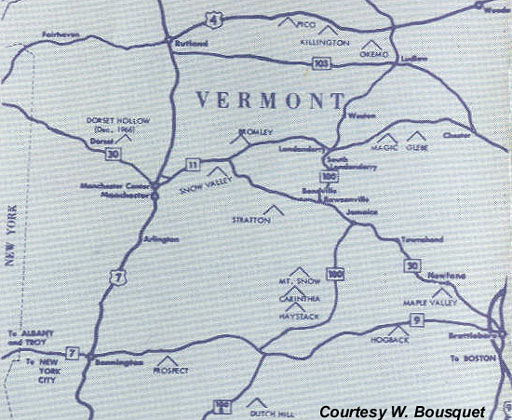 1965 Manchester Chamber of Commerce Location Map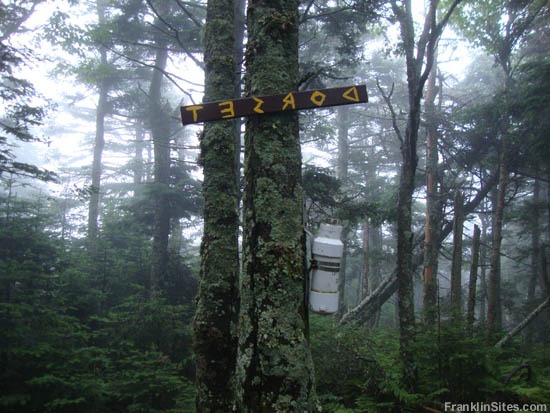 Dorset Peak Summit (2010)



Today
There are no known remains of the Dorset Hollow Ski Area proposal.

Quotes

"
Major components planned for these activity areas to date are:
Area A - Village, golf course and club, swimming pool, tennis courts, double chairlift, T-bar ski school;
Area B - Resort hotel, base lodge, swimming pool, tennis courts, two double chairlifts, T-bar;
Area C - Base lodge, two double chairlifts;
Area D - Base lodge, three double chairlifts;
Areas E, F - Wilderness area: chalet sites, pond, picnic and camping areas;
Area G - Base area at Emerald Lake State Park, one double chairlift and aerial tramway, base lodge;
Areas H, I - Warming shelters at top of each lift with restaurant at Area J.
"
Bennington Banner, October 8, 1965
| | | |
| --- | --- | --- |
| " | There's a nasty little story developing about the proposed Dorset Mountain ski area (near Manchester). Rich old blood live in this area, and Potentials, Inc., a money hungry land development-real estate outfit is promoting it with help of outsiders... | " |
| | Internal ski publication memo, December 2, 1965 | |
"
Anyway, rich old blood and even some young blood are complaining about the "rape" of Dorset mountain and its tranquil beauty destroyed by ski trails scarring the landscape and "those skiers" invading their privacy.

Area is scheduled for development next year.
"
Internal ski publication memo, December 2, 1965
| | | |
| --- | --- | --- |
| " | I am sure Roland Palmedo would say something about it (he has place on Dorset mountain, looked over potential of area 20 years ago). | " |
| | Internal ski publication memo, December 2, 1965 | |
Resources
Otis, Nancy H. "Multimillion Dollar Resort Area Going Up in Dorset Hollow" Bennington Banner. 8 Oct. 1965.
Last updated: March 23, 2020