Quoggy Jo
Presque Isle, Maine
Status:
Open
First Season:
1957-58
Vertical Drop:
215 feet
Standing Lifts:
Surface lift
Past Lifts:
Surface lift
Left: The Quoggy Jo T-Bar
Recent NewEnglandSkiIndustry.com News:
1/30/2021: Opening Day Finally Arrives at Many Natu...
Located northeast of Presque Isle off Route 167, Quoggy Jo (sometimes spelled Quoggy Joe) is a small surface lift ski area.


Quoggy Joe Mountain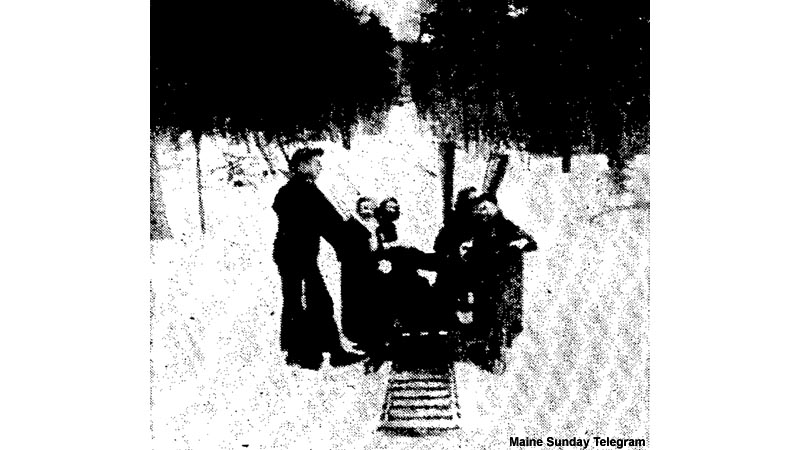 The cable sled tow (circa 1947)

The roots of Quoggy Jo ski area likely date back to 1932, when the Quoggy Joe ski club started skiing in what would become Aroostook State Park. With the creation of Aroostook State Park in 1938, skiing activities were possibly formalized, though summer usage was the main draw to the property. A cable sled tow was in place by 1940, described as being 1,000 feet long and carrying "20 seated skiers" at a time. The lift reportedly served easier terrain, while experts continued on foot to the top of a 617 vertical foot trail. The park also featured a 600 foot long toboggan chute. In 1949, a rope tow was reportedly installed in the park.

In 1959, Sel Hannah recommended a small ski development on Quoggy Joe Mountain, likely near or at the site of the cable sled tow. Citing its proximity to military bases and Presque Isle, Hannah recommended a modest $146,000 development, noting "Most of its patrons will ski week ends and holidays only." It is not known if this area was ever developed or redeveloped.

Meanwhile, the Quoggy Joe Ski Club was registered as a Maine non-profit organization on December 27, 1957. That winter, the ski club relocated from the park to the present day Quoggy Jo ski area off Fort Road in Presque Isle, possibly installing a rope tow.

Circa 1986, the local community and Kiwanis club helped construct a lodge at the ski area.


Maine Winter Sports Center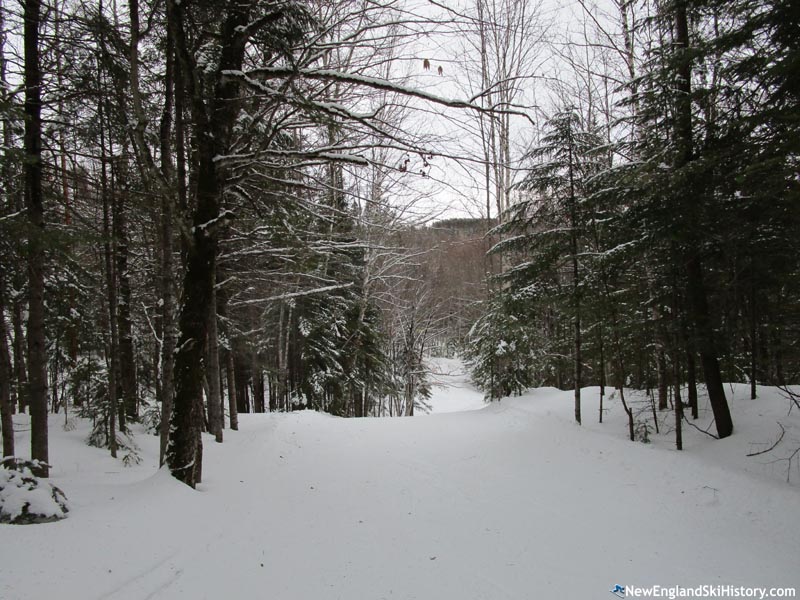 One of Quoggy Jo's trails

On January 24, 2000, the Maine Winter Sports Center, backed by grants from the Libra Foundation, commenced a 99 year lease with the Quoggy Joe Ski Club to operate the ski area, as well as to use land for development of a nordic biathlon facility. Maine Winter Sports Center CEO Andy Shepard considered the organization to be hands-off, telling Skiing magazine that "We want communities to feel a sense of ownership. We provide them with marketing, fundraising, and business expertise, but they manage it in a way that meets their needs."

In 2000, a used Hall T-Bar was installed at Quoggy Jo ski area, replacing the rope tow. The following summer, construction began on the nordic facilities.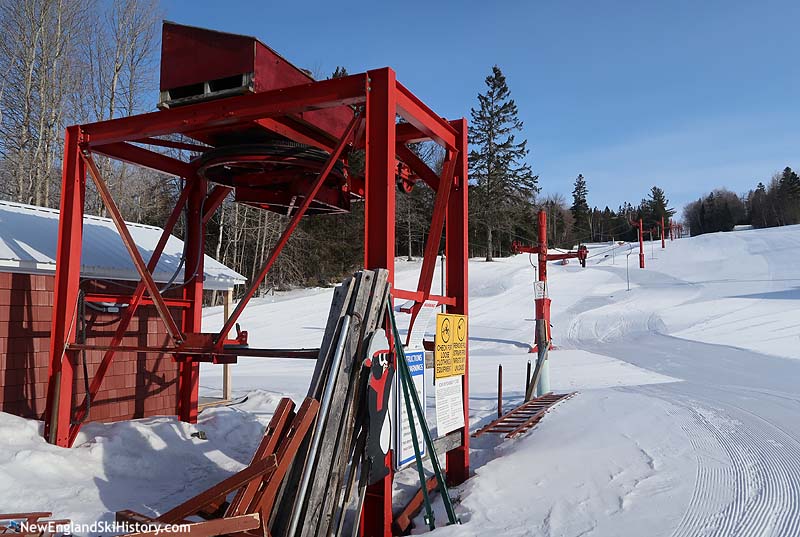 Quoggy Jo in 2017

The Nordic Heritage Center was formally dedicated on November 24, 2002, giving Northern Maine a world class nordic biathlon facility. In 2006, the facility hosted the Biathlon World Junior Championships.

In June of 2013, Maine Winter Sports Center announced its intention to exit the alpine ski business. Circa 2014, its 99 year lease with Quoggy Joe Ski Club was terminated, reverting control of the alpine ski area back to the club. The Nordic Heritage Center was transferred to Pineland Farms, held by the October Corporation, owned by the Libra Foundation.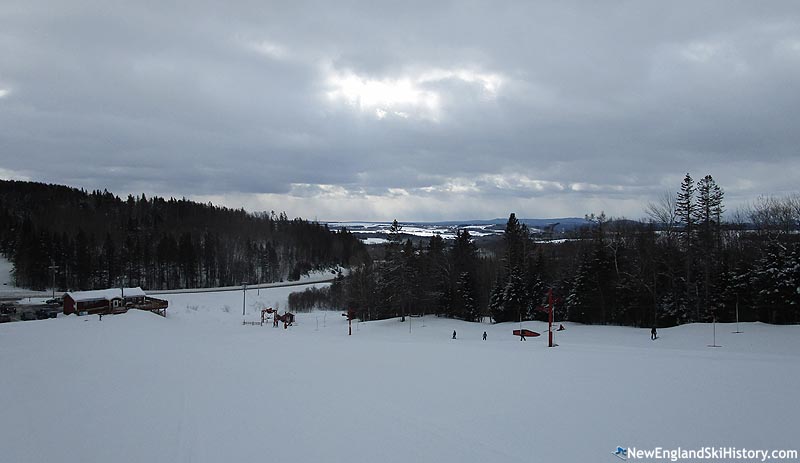 The main slope (March 2020)

For the 2015-16 season, the Presque Isle Rotary Club helped to raise tens of thousands of dollars for lift maintenance and safety equipment.

Quoggy Jo continues to operate when natural snow conditions allow, featuring a handful of beginner and intermediate trails.

Lifts
Click on lift name for information and photos
Year by Year History
Adult Weekend Full Day Lift Ticket; Adult Full Price Unlimited Season Pass

2020s
Ticket Price
Season Pass Price

Pass Payback

Opening Day

Closing Day

Skier Visits

2021-22
January 9
2020-21
January 31
March 21
2019-20
$10.00
$125.00
12.5 days
January 4
March 15
2010s
Ticket Price
Season Pass Price

Pass Payback

Opening Day

Closing Day

Skier Visits

2018-19
December 26
March 30
2017-18
December 26
March 31
2016-17
$8.00
$125.00
15.6 days
December 26
April 1
2015-16
$8.00
$125.00
15.6 days
December 30
March 6
2014-15
$8.00
$125.00
15.6 days
December 20
April 4
2013-14
$8.00
$125.00
15.6 days
December 21
1970s
Ticket Price
Season Pass Price

Pass Payback

Opening Day

Closing Day

Skier Visits

1969-70
$3.00
Visitor Memories
"I recall skiing at Quoggy Joe ski area in the late 1950's. I was 7 years old. It was the start of a long skiing life as I'm turning 66. I recall the rope cutting deep into the snow and trying to pull it up as a kid was tough. My friends and me always tried to b sure an adult was in front of us before we rode!"
Nathan Currier, Dec. 30, 2017
---
External Links
Quoggy Jo Ski Center - official site
Quoggy Jo - SmallSkiAreas.com
Last updated: January 2, 2021