Abenaki Ski Area
Wolfeboro, New Hampshire
Status:
Open
First Season:
1940-41
Vertical Drop:
200 feet
Standing Lifts:
Surface lifts
Past Lifts:
Left: The Main Hill (2008)
Recent NewEnglandSkiIndustry.com News:
10/8/2015: New Base Lodge Being Constructed at Aben...
Located in Wolfeboro, Abenaki is a small municipal ski area.

With hike-up ski roots in the 1930s, Abenaki's lift served history likely started in 1940, making it one of the oldest ski areas in the country. With the exception of a few idle periods, such as during World War II, Abenaki has been in operation for the better part of a century. At times, skiing was offered for free.

Night skiing was added after World War II, likely for the 1946-47 season.

A ski jump was installed circa 1970 and in use for the next two decades.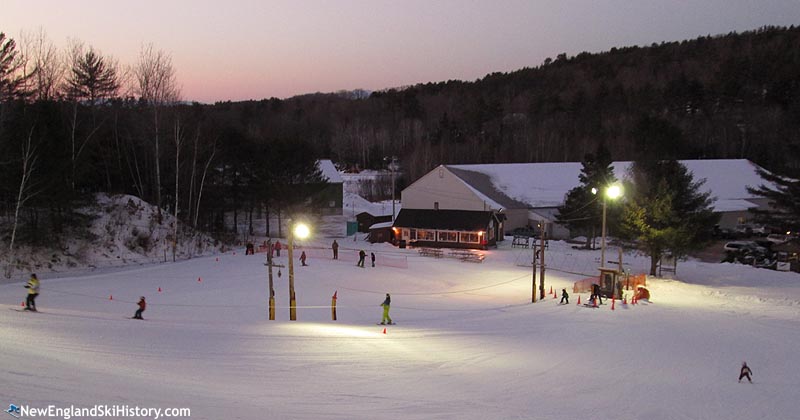 The Main Hill (2014)

While the ski area was popular in winters of abundant snowfall, interest and funding were lacking in others. To help modernize the ski area, the Friends of Abenaki was started in 2005. Subsequently, their efforts have resulted in the purchase of a modern snowcat and the installation of a snowmaking system. A makeshift snowmaking system was cobbled together in 2007, followed by a permanent HKD installation in 2011.

A new base lodge was constructed for the 2015-16 season, giving skiers more seating room and modern bathrooms.



NewEnglandSkiIndustry.com News





Maps


Year by Year History
Adult Weekend Full Day Lift Ticket; Adult Full Price Unlimited Season Pass

2020s
Ticket Price
Season Pass Price

Pass Payback

Opening Day

Closing Day

Skier Visits

2022-23
$20.00
$150.00
7.5 days
December 27
2021-22
$20.00
$150.00
7.5 days
December 26
March 26
2020-21
January 15
2019-20
$25.00
$160.00
6.4 days
December 28
March 10
2010s
Ticket Price
Season Pass Price

Pass Payback

Opening Day

Closing Day

Skier Visits

2018-19
$20.00
$160.00
8.0 days
2017-18
December 26
March 31
2016-17
$17.00
$153.00
9.0 days
December 26
2015-16
$17.00
$153.00
9.0 days
January 2
March 13
3,771
2014-15
$17.00
$153.00
9.0 days
7,436
2013-14
$17.00
$153.00
9.0 days
December 26
7,017
2012-13
$10.00
$70.00
7.0 days
March 30
5,501
2011-12
$10.00
$70.00
7.0 days
December 29
4,719
2010-11
4,100
2009-10
$70.00
3,320
2000s
Ticket Price
Season Pass Price

Pass Payback

Opening Day

Closing Day

Skier Visits

2008-09
2,730
2007-08
1,995
2006-07
1,402
2005-06
0
2004-05
943
2003-04
0
Visitor Memories
---
External Links
Town of Wolfeboro - Abenaki Ski Area - official site
Abenaki Ski Area - SmallSkiAreas.com
Last updated: October 23, 2016