| | |
| --- | --- |
| | |
Once a major ski area, Mt. Whittier is perhaps best known today for its old gondola cables crossing Route 16 in West Ossipee, as well as the old lift tower standing near the West Ossipee McDonalds drive thru.


Pre-Skiing Years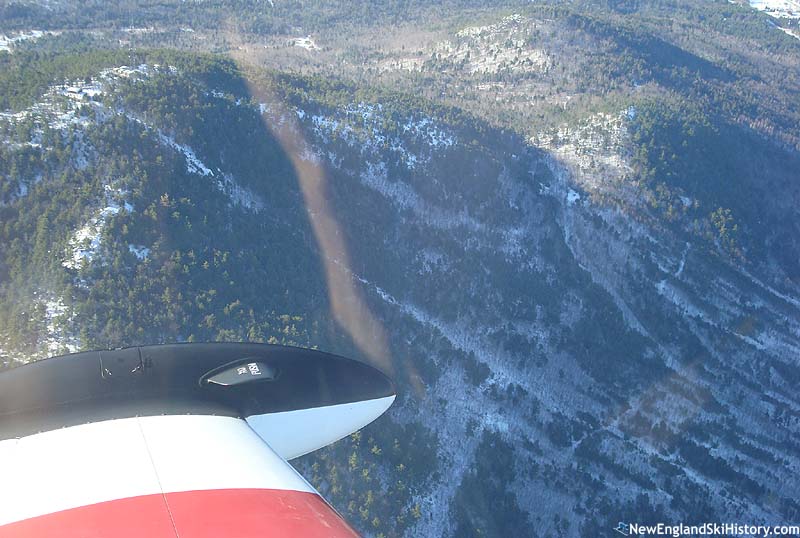 Mt. Whittier ski area from high above (2008)

The origins of the name of Mt. Whittier date back to the 1800s, when poets John Greenleaf Whittier and Lucy Larcom frequented the The Bearcamp River House in West Ossipee. While the inn burned in 1880, their influence on the area was preserved by the naming of local peaks. A peak near the inn was named after Whittier, complete with a mountain top ceremony. However, due to some confusion, the USGS called this 1,700 foot peak "Nickerson Mountain" and labeled a 2,205 foot mountain to the west "Mt. Whittier."

As the twentieth century unfolded, the greater Tamworth area became an increasingly popular winter sports destination. At some point in the 1930s, the Civilian Conservation Corps built a ski trail on the 2,205 foot Mt. Whittier. Around this time, Nickerson Mountain was considered as a possible location for the state aerial tramway project. The tram ended up opening at Cannon Mountain in 1938.


Lift Served Skiing in West Ossipee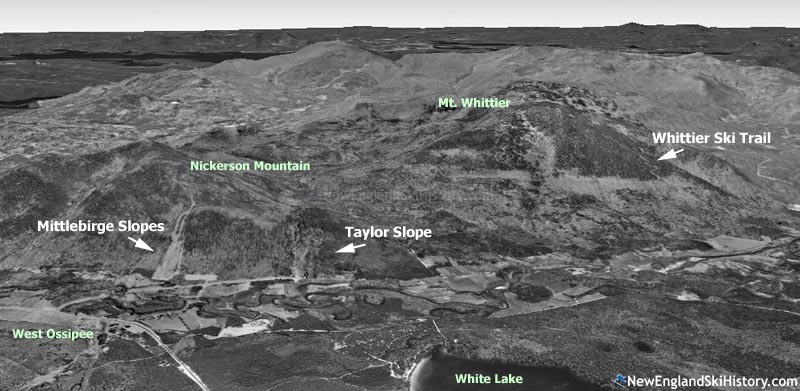 1956 aerial of Mt. Whittier-area ski facilities

Following World War II, multiple rope tows were installed on Nickerson Mountain. Adding to the confusion, the operations were known as various names, such as Mt. Whittier Slope, Taylor Slope, and Mittlebirge Slope. Henry Taylor's area, which likely operated in 1946-47 and 1947-48, was likely located just west of the Mittlebirge Slope. Both areas may have been referred to as Mt. Whittier at various times. A fall 1947 Nashua Telegraph listing referred to the Whittier Slope and Tow as having a 1,000 foot intermediate slope and 800 foot novice slope one mile west on Route 25, the Whittier Ski Slope as having a 2,000 foot intermediate slope, 800 foot novice slope, two trails, and two new rope tows, and the Mittelbirge Ski Slope being developed with a new 800 foot rope tow.

In 1952, the two year old Platter Lift at nearby Red Hill was to be relocated to the Mittlebirge Slopes. The project may have been delayed, as Mittlebirge remained a rope tow area that winter and subsequently went through an ownership change. It is possible that the area may have closed briefly prior to the 1954-55 season.

A 2,000 foot platter lift began operating in February 1956, serving a rather steep slope. In addition, a beginner slope and tow were reportedly added, as well as a new access road to an expanded 450 car parking lot. Charles Hartson, a Portsmouth resident and former president of the Piscataqua Ski Club, reportedly served as president ski area, while Lawrence "Bun" Nickerson, former instructor for Arthur Doucette at Black Mountain, was ski school director.

Though plans were announced for "another 2,500' cable lift to serve the upper snowfields" for the 1956-57 season, they did not immediately come to fruition.



First Expansion Attempt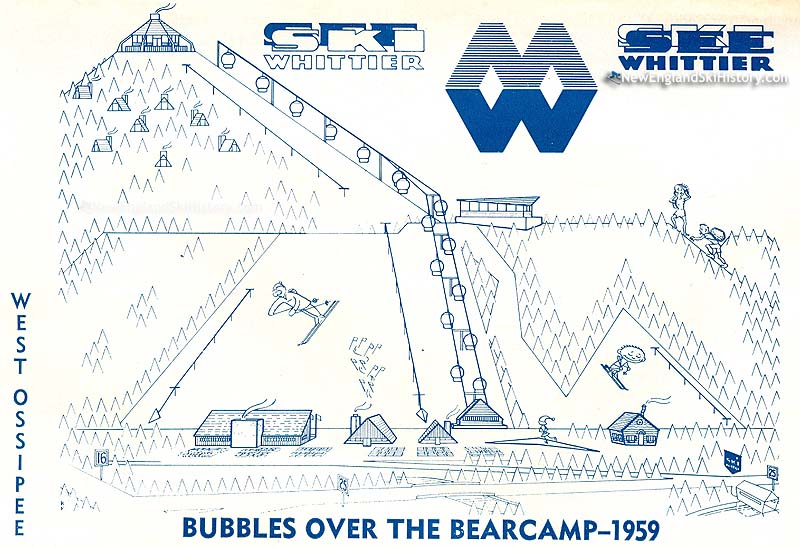 The first gondola proposal

A three year expansion project was announced starting in 1957, at which point the area likely became known as Mt. Whittier. An upper mountain rope tow was added for that season, as well as a new lodge.

The second year of the project brought a T-Bar to the area, using parts from the recently dismantled Thorn Mountain chairlift. The Platter Lift may have been relocated to the Hobbs novice slope at this time and possibly converted to a T-Bar later.

The third year of the project called for a Disneyland-like bubble lift for the 1959-60 season. For unknown reasons, the project would not come to fruition for a few seasons.

1961-62 season was reported as a record season for the ski area.

Momentum picked up again in 1962 when new management took over and launched a $400,000 expansion program, with financing issued by the Meredith Village Savings Bank, backed through the State of New Hampshire Recreation Plan. Amongst the upgrades that year included the installation of the Bearcamp T-Bar, serving milder terrain. Two new trails were also added, as well as a base lodge expansion. Night skiing was featured for the first time. Harry Baxter, who would later manage Sugarloaf, took over the ski school. Frank Whipple served as company president, while Gordon Wentworth was vice president. The officers continued to seek financing from a variety of sources, such as the Industrial Park Authority, and meeting with Governor John King in 1963 for Area Development Administration funds.


The Age of the Gondola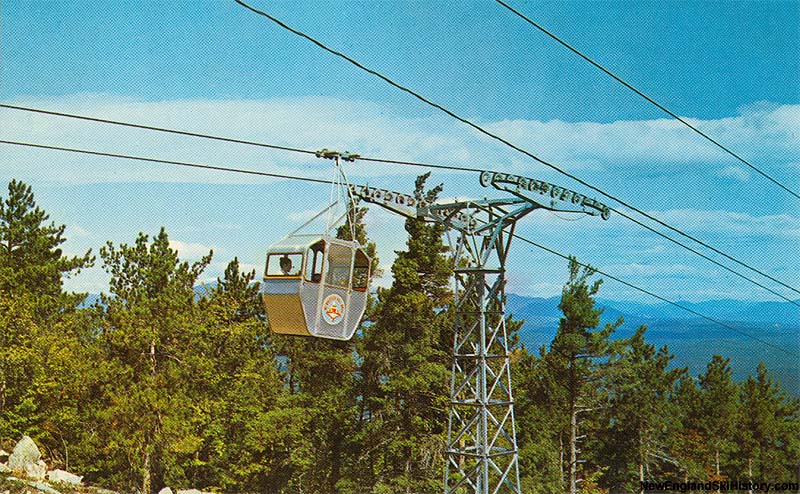 The gondola (1960s)

The largest portion of the expansion program came the following year, when the first four person gondola in New Hampshire was installed at Mt. Whittier. Construction was led by Werner Wagner of the Mueller Lift Company. Not only did the 6,300 foot long lift open the upper mountain, but it also gave Whittier an off season attraction. While ski operations based around a mountain station south of the main lodge, the base station was located east of the ski area, on the other side of Route 16. As a result, sightseers could park off Route 16, then board the gondola and ride over the highway and river to the summit.

While the lift put Whittier on the map, the ski area had some challenges to attempt to overcome. Though the extremely steep terrain was attractive for experts, it tended to scare away novices and intermediates. In addition, without any snowmaking equipment, snow coverage on the steep trails was often an issue. Finally, two interstate highways were being built on the other side of the state, which would soon result in a dramatic shift in skier traffic.

An additional $150,000 Federal Area Redevelopment Agency loan was approved in January 1964 to "help complete the Mt. Whittier ski resort."

Special snow trains were run to North Conway again circa 1965, making a stop in West Ossipee for Mt. Whittier skiers. The annual event continued at least into the late 1960s.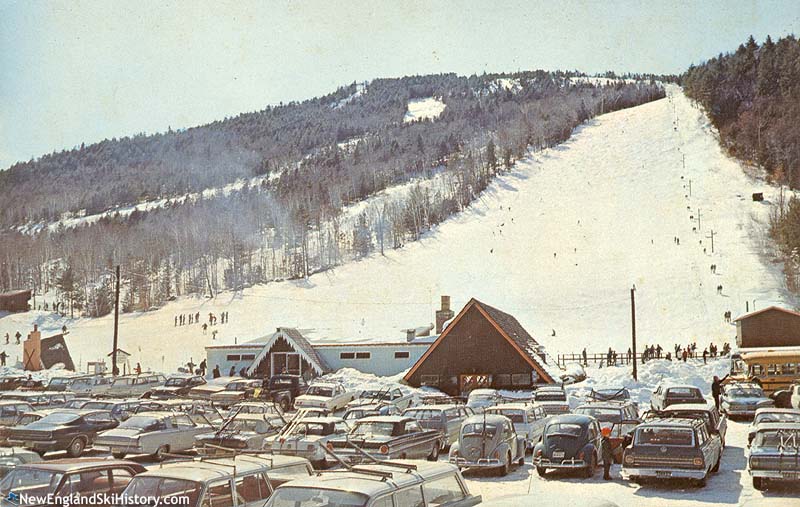 The base area circa the 1960s

A T-Bar was constructed adjacent to the gondola for the 1965-66 season, possibly using parts from the Hobbs Slope T-Bar. The lift reportedly went into service in January. Revenue increased by 42 percent, making it Whittier's strongest season to date. Further gains were seen with the 1966-67 season.

Though the seasons were not always long at Whittier, there were nevertheless some epic snow storms. The area was forced to close for a day in February 1969 on account of too much snow.

The based lodge was expanded with a 20 by 30 foot addition for the 1969-70 season.

Lacking snowmaking, poor winters pushed the ski area into rough financial shape in the early 1970s. The parent company came under new management in 1973, as Joe Eldridge took over as chairman of the board. $500,000 in improvements were announced for the 1973-74 season, including new grooming equipment and the installation of snowmaking on one-third of the mountain. Improvements for the following year were to include more snowmaking, more trails, new chairlifts, and construction of condominiums.

The grand plans were not to be, as Meredith Village Savings Bank commenced foreclosure proceedings in November 1973. The Small Business Administration attempted to auction the shuttered ski area later that winter, but did not receive any bids. Instead, Whittier ended up in the possession of the Federal Economic Development Administration.

In December 1974, ski instructors Bob King, Don McDavitt, and Alan Skelley formed Whittier Lifts, Inc. and purchased the ski area, naming Ed Mallett as their general manager. While the area was able to operate for the balance of the decade, it still lacked snowmaking when Mario Chiaravelotti, owner of Mario's Restaurant in North Conway, loaned the company $200,000 in 1978. Chiaravelotti, his brother Anthony, Paul Buckley, Samuel Bennett, Jennie Bennett, Linwood Clements, and Isabelle Clements owned all of the company's stock by 1979.

Other activities began to sprout up at the area. At some point during the 1970s, the Whittier Hang Gliding School was advertised, while an annual Fiddle and Banjo Contest commenced in 1978. In the summer of 1979, a paved slope debuted for use with Brook Thomas's new invention, Techni-Skis.


Closure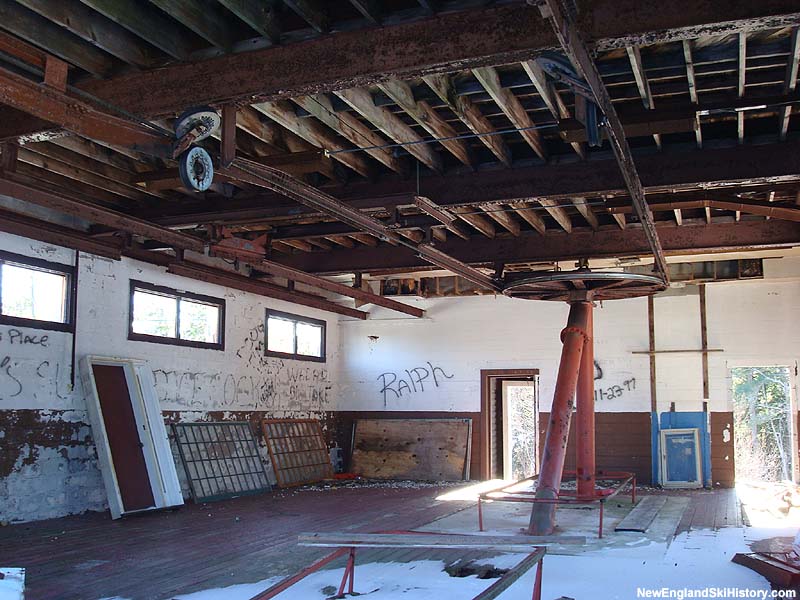 The gondola top terminal (2008)

Following the rough 1979-80 season, Whittier obtained state permission to dam a brook, possibly for the installation of snowmaking. However, investments focused on summer attractions such as summer roller skiing and water slides. The summer business did not work, nor did subsequent bad winters and growing debt. As a result, the area likely closed in 1985.

In the fall 1986, Whittier Lifts, Inc. voted to sell off its assets. Parcels of land were sold off individually, while the ski area's lifts were sold to attorney David Sands. The corporate entity was dissolved in 1993.



Mt. Madness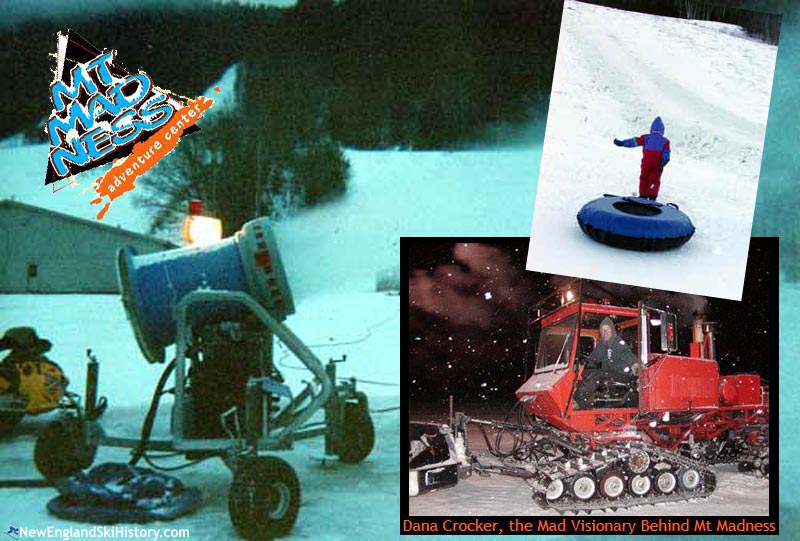 Mt. Madness

After sitting idle for nearly two decades, Mt. Whittier had a partial rebirth in 2002, when Mt. Madness was established at the base of the mountain. Snow tubing was advertised starting in February 2003. Other items included the Camp Crazy summer camp, the Nut House Bed & Breakfast, and various dirt bike events. A tubing park was advertised for the winter of 2003-04, however it likely did not open due to lack of snow. A fan gun was used at some point.

Backcountry ski terrain was eventually offered, however the winter of 2005-06 was likely the last at Mt. Madness. A message seeking investors was posted during the summer of 2006, while possible new facilities in Maine and Costa Rica were advertised years later.

Subsequently, snowmobile races were held around the base area, while the former gondola line was still periodically cleared for a utility line right of way.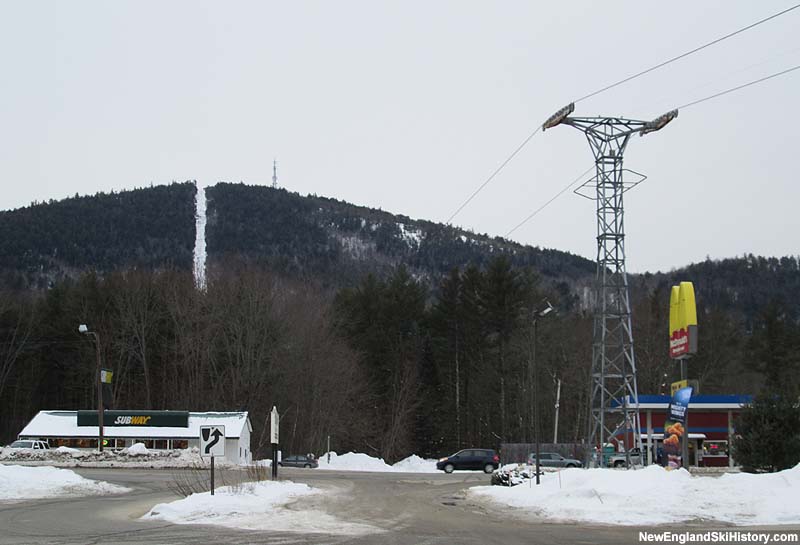 The famous McDonalds lift tower (2014)

Former ski school director Bun Nickerson passed away on June 29, 2011, three years to the day and hour of the death of his wife.

On November 1, 2017, Mario Chiaravelotti sold the ski property to a firm owned by John Kenney, who subsequently began requesting proposals for resurrecting operations of some sort at Mt. Whittier.



CCC Trails





Expansion History





Image Gallery





Lifts
Click on lift name for information and photos




Maps


Year by Year History
Adult Weekend Full Day Lift Ticket; Adult Full Price Unlimited Season Pass

1980s
Ticket Price
Season Pass Price

Pass Payback

Opening Day

Closing Day

Skier Visits

1980-81
$11.00
1970s
Ticket Price
Season Pass Price

Pass Payback

Opening Day

Closing Day

Skier Visits

1978-79
$9.00
1977-78
$9.00
1976-77
$9.00
1975-76
$8.00
1974-75
$7.00
1972-73
$7.00
1971-72
$7.00
$100.00
14.3 days
1970-71
$7.00
1969-70
$7.00
$100.00
14.3 days
March 29
1960s
Ticket Price
Season Pass Price

Pass Payback

Opening Day

Closing Day

Skier Visits

1968-69
$6.00
December 21
1967-68
$6.00
1966-67
December 16
1965-66
$70.00
1964-65
$5.50
1963-64
$5.50
1962-63
$4.50
1961-62
December 22
April 1
1959-60
$5.00
1950s
Ticket Price
Season Pass Price

Pass Payback

Opening Day

Closing Day

Skier Visits

1958-59
$4.50
Visitor Memories
"I remember it all so well. Skied & enjoyed the summer activities....the summer monorail slide was almost as scary as skiing in the winter. I was born in 1944 and vaguely remember a rope tow about a mile west of Whittier on Rte. 25. I'm still good friends with patrollers George & Marcia Forest (now well into their 90s). Also remember patrollers Gordon & Judy Brown (RIP). Plus Bun Nickerson & Willie. Finally...the Blitzschnell Ski Club and a High School friend of mine (Tom Trainor) who eventually became ski school director at Cannon (& who still lives in Franconia). He actually got married at Vail resort! "
Phil Moore, Mar. 4, 2023
"I have many fond memories of riding the Gondola's when I was a kid in the mid to late 1960's. I remember there were only 2 Silver Gondola's and everyone wanted those. We used to stay at a cottage every summer at Lake Ossipee through the mid 1970's. Then, I remember, the Gondola's being painted, Red, White and Blue! What I wouldn't give for some nostalgia back and to ride in one of these again and go to the top and pick blueberries and to be a kid in the summer of the 1960's just one more time! "
Robert Johnson, Aug. 17, 2022
"With Sue and Wally Marino we took over the Whittier Inn in Dec. of 1962. Gov. King opened the tramway , and we hosted the reception. The engineer who oversaw the building of the gondola stayed at the Inn. I remember the Harmony lodge and the people who ran it. I never learned to ski the mountain nor did I ever ride the gondola. Did climb it and picked Blueberries on it with the Rev. Brian Kelley and Sarah. Lovely times."
IBernadette Moneypenny, Jul. 23, 2022
"In the 70's my best friend's family had a house right across from the gondola skier's loading station...you could even see the gondolas passing by the upstairs bedroom window! I learned the basics at the also now-defunct Boston Hills, but it was at Whittier where I really learned to ski. I remember my chattering red, white and blue K2 skis and chattering teeth as I criss-crossed the steep, icy and sometimes rocky slopes. My hosts, the Browns, being all expert skiers, helped me become a better skier. What fun we had...the routine mostly was the Whittier Slope T-Bar(don't ski out of the track!), then across the "Saddle", down Sundown (which could have some formidable moguls) and then a tuck and across the fun chute that connected back to the base lodge for some hot and watery cocoa. I finally tackled the Whittier Slope in later years...a real nail biter. Although forbidden, a few times we "skied the trees" until I nearly had my arm dislocated by a tree branch. The mountain was pure magic at night, with the snow glistening under the bright winter moon...also forbidden, we would hike up from the gondola station up Sundown slope, sometimes hiding in the trees when we'd see the headlights of a Sno-Cat. One time we all went up there with a toboggan, what a wild ride down that was! It all ended in a pile of down parkas and one snow covered Bernese mountain dog...lol. His Dad and Mom were Ski Patrol, so sometimes we got to do the last "sweep" of the mountain from the very top. So peaceful I remember with no people around, gliding down Snowbound in the day's last light...like being on top of the world. There is a special place in my heart for those golden days past..."
David Gebow, Jan. 2, 2022
"Mt. Whittier introduced me to skiing. I'll never forget pulling in that first with my mother - looking up and seeing a lone skier swooping down the impossibly steep slope above the lodge. I thought "I need to be able to do that!!!". A first lesson on the rope tow field followed and I just wanted more. I returned to that mountain 5 years later and reveled in its difficulty. It was scrappy, hard and poorly groomed - I loved it. I owe this mountain the credit for the birth of a love affair with the sport that has left me with 40+ years of amazing memories and at least one funky knee. Good with the bad and all that - but way more good. I stopped by there today - March 2021, and reflected that all things have a time - and Whittier's time has ebbed for now - but that straight liftline clearing still calls - and one day, perhaps a snowy one, I'll climb, ski and experience a little bit of rebirth before my time ebbs... "
Charles Johnson, Mar. 13, 2021
"My parents, Dave and Lee Goodale, owned Harmony Lodge in the 60s and early 70s. As a teenager, I especially enjoyed when college ski teams from Massachusetts would come to stay for the weekend. 😊"
Ruth Criger, Dec. 29, 2020
"We drove by Whittier when I was a kid, but never had a chance to ski there. I know there were some attempts to reopen, or at least reconnect to its roots as a ski area, but not sure what stalled the plans. Anyone know if there is currently any ongoing fundraising or the current owner has any interest in attempting to invest in its future... if any. :-) Cheers! "
Dan VERMEERSCH, Dec. 23, 2020
"I worked there on the lifts from 1975 to 1978 on weekends when I was in high school and summer holidays and Christmas holidays when I was at university. And skied there at every opportunity during that time. I have very fond and vivid memories of working in the gondolas both summer and winter. I can still see the view from the top and remember the faces of those I worked with. "
Roff Smith, Dec. 9, 2020
"My family skied there from 64-68 I loved it. I was 11 when we started skiing there. The face slope, right next to t bar, was extremely steep,,but by 13,my cousin and I would ski that toughest part of mountain, and watched the faces of people on t bar,,thinking we might hit them. It might be the scariest drop anywhere in N.H. miss it a lot"
Tim Boardman, Jul. 7, 2020
"The Connor family started at Whittier in the 60s .we were a family of eight it was the best winters ever.my dad would take us every weekend rain or shine didn't matter you skied.we skied with all my dads friends family the Emerson's,the Ryan's,rozmecks,esembers that was the best hill especially the main slope we use to joke when it got icy it would shine from the sun and people on 16 would keep on going to cranmore or attitash because it was to icy .what a great place to grow up miss you Whittier."
Peter Connor, Apr. 21, 2020
"Great memories as a child when we used to stay on Lake Ossippe in the late 1960 and 1970's. We always made a day trip to go there with family members and friends to take the gondola ride and then climb around the mountain and pick blueberries. Now, whenever I drive by the area I relive those great times we had back then."
Steve GIrard, Aug. 27, 2019
"what was the monorail like ride that went up and down the mountain on rail. I remember riding on it as a child. I feel like it was called the Zephyr?"
Jen Dumas, May. 1, 2019
"I loved this mountain. So many great memories. We were a family of 6 kids. My baby sister would be in the lodge in a crib while each family member would come in and watch her for an hour so we all still got a full ski day in. My older brother and I would cram our pre-made lunch in our pockets, eat on the Gondola ride up as to not have to ever stop for lunch. One year someone collided with my father, broke leg in 3 places. one year my mother broke her leg on the slope. 2 Years later she fell in front of ski school/ski patrol hut and broke her other leg... that was it, parents out. We would crouch down on the big T bar and up weight at the steep part, the T bar would pick us up about 3 feet in the air. It would scare the bajesus out of me. We did that till once, while about 4 feet off the ground the T bar abruptly turned 180 degrees and we made quite a mess for the skiers behind us. Once I fell at the top of the larger T bar slopes and both skies came off. in an attempt to get them back on i had to undo the safety strap. Unfortunately the skies got away from me, one went into the woods, the other straight down the slope finally making it through the lift line at about 150 mph. It was a long hike down with many tears, anticipating the explanation I was going to have to give my father. He had recently bought me the package at Marshals. We used to steel the lunch trays at the end of the day and walk up the slopes for post ski sledding. People were being taken out like bowling pins constantly. Ahhhh, those were the days before "Liability" became an american past time. God Bless you Mount Whittier, you are the happiest of my childhood memories bar none."
Glenn Comeau, Jan. 1, 2019
"Taught skiing there for 5 years starting in 1964 for Harry Baxter Ski School and then Willy Kalinuk's ski school. I still have a handmade sign that says " Remove ski poles from wrists". Stayed at the Harmony Lodge bunk bed (Now Northway Bank) for $7 a week incl dinner with the family. "
Dave Dunham, Apr. 15, 2017
"Skied here while at UNH in the late 60s and early 70s. My roommate was from Tamworth. Season pass was $25 for county resident students and $40 for other students. I recall great skiing on the top half of mountain but lower tended to get more rain with icy, hardpack conditions at times. Great times though. "
Bob Jarrett, Mar. 9, 2017
"I remember Mt Whither when I was growing up.My Grandparents took me there. What a great time. I loved the monrail alpine slide. The water slides, and go carts. What a great time and a great memory. Thank you so much for the great memory "
Marty Thibodeau, Jun. 25, 2016
"I learned to ski at Mt. Whittier as a boy in the Kenneth A Brett Elementary School Thursday Ski Program. The Outing Club picked up your skis at the school and took them to the slope. Great childhood memories! I remember riding the T-Bar up to the run called 'The Saddle' that connected the two main slopes. It seemed like the top of the world up there. I recently found in an old drawer an orange and white Whittier Ski Program patch. I wish that place had more success than it did...."
Tim Anthony, Jun. 4, 2016
"Learned to ski at Mt Whittier in about 1958. I went to the top and I remember being scared out of my mind. I remember a series of 2 rope tows. I was warned to stay near the lower slope and practice my snow plow, but I was always all guts and no brains as a kid. My whole family skied there until it closed. Mike Jacobsen, Willis Varney, Tim Varney, Michele Jacobsen. Miss it."
Jeanne Varney Grover, May. 5, 2016
"skied here every winter in the early sixties. the pitch from the top of the big T-bar was the best mogul run around!!Took that slope straight from the top to the bottom once as well!"
Tim Goodson, Dec. 15, 2015
"Being from a small western MA town, we rarely got up there, but I can remember when I was REALLY young (lol) taking the lift .... now I have a cabin, about seven miles from that ol' ski area, and every time I drive past it, the good memories come flooding back ~~~ .every time."
Norma Miarecki, Dec. 15, 2015
"Being a young boy at Camp Marist for all my childhood, Mt Whittier was a much anticipated day trip for us. As an adult I swooshed those slopes many a winter while staying at the Flanders Inn across the street (and a great family owned an operated it).Ah, memories!:)"
Bob Miressi, Aug. 12, 2013
---
External Links
Mt. Whittier Ski Area - New England Lost Ski Areas Project
Mt. Whittier Ski Area - Wikipedia
Last updated: April 21, 2020