Lyndon Outing Club
Lyndonville, Vermont
Status:
Open
First Season:
1947-48
Vertical Drop:
433 feet
Standing Lifts:
Surface lifts
Past Lifts:
Surface lifts
Left: Lyndon Outing Club ski area (2011)
Recent NewEnglandSkiIndustry.com News:
1/30/2021: Opening Day Finally Arrives at Many Natu...
Located east of downtown Lyndonville on the northwest slope of 1,523 foot Shonya Hill, Lyndon Outing Club's ski area has been home to lift served skiing for decades.


Early Years of Lyndon Outing Club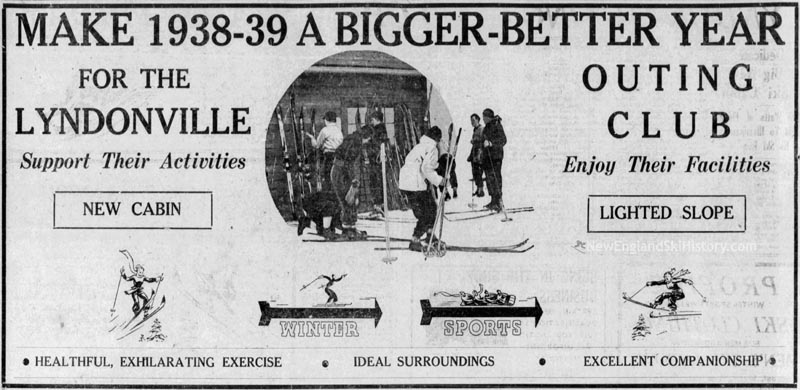 A 1938 Lyndon Outing Club advertisement

The Lyndon Outing Club dates back to at least 1926, when the first Winter Carnival was held in Lyndonville. St. Johnsbury Academy and Lyndon Institute competed in a variety of winter sports at the February event, including nordic skiing, snowshoeing, and skating. A group calling itself the Lyndon Outing Club presented a cup to the winner of the annual event through the remainder of the 1920s.

As the 1930s unfolded, ski trails were developed on Burke Mountain, attracting the attention of the club, which grew to 106 members by the winter of 1936-37.

In late 1936 or early 1937, the Lyndon Outing Club became more formally organized, with early office holders including Milton Kerr as president, Kermit Grant as vice president, and Donald Beattie as chairman. Though events were planned for that winter, few, if any, took place due to "adverse weather conditions."

In the fall of 1937, local residents and businesses joined forces to fund the installation of powerful lights on a slope on the farm of Oscar Baril near the Fletcher School. Skiing and tobogganing were offered here, while a ski jump was constructed at the Lyndon Golf Course. The Darling Inn served as a headquarters for visitors to the club's facilities and events.

The new Lyndon Outing Club facilities debuted on January 2, 1938, with national ski jumping champion Clarence Olesen headlining, and winning, a ski jump event. The lighted slope was also open for free skiing and slalom races, helping to attract some 500 people to the facilities. Though the "1st Annual Winter Carnival" was planned for February 6, a lack of snow forced the postponement of the event multiple times until mid-March.

Despite a string of subpar winters, the Lyndon Outing Club pushed forward with improvements for the 1938-39 season. Warren Erskine designed and led the construction of a cabin at the base of the lighted ski slope. The 24 by 20 foot cabin was painted brown with red and green windows and a big green door and featured a large fireplace, a stove, and first aid equipment. A jump may have been constructed adjacent to the slope for the 1938-39 season as well. Early snowfall facilitated skiing on the slope in late November.

Following the 1938-39 season, the Lyndon Outing Club shuffled its board, with Donald Beattie becoming president, Robert Lewis chairman, and Milton Kerr chairing a committee to look into constructing a rope tow.

The 1939-40 season saw the installation of a 10 horsepower, 375 foot long electric rope tow, as well as additional lighting on the slope. The lift, as well as the night lighting, were made possible by local lineman Horace Pinard. The new lift likely debuted on December 23, 1939.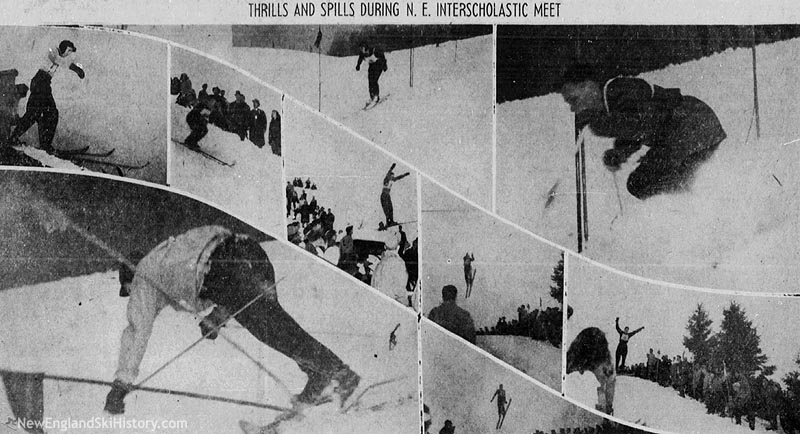 A 1947 Lyndon Outing Club meet

Though many members left to serve in World War II, Lyndon Outing Club generally remained in operation, often with the help of students at the Lyndon Institute. Some races may have been held at Shonya Hill by this time. Toward the end of the war, a new ski jump was constructed, likely off Pinehurst Street. As the veterans returned home, Lyndon's momentum continued as many prominent races were held.



Lyndon Outing Club Moves to Shonya Hill

With Donald Beattie back as president, the Lyndon Outing Club voted to search for a new location in 1947 with help from future Mt. Sunapee designer Fred Hansen. By the end of the summer, the club had settled on using the Shonyo family's land near town on Shonya Hill and had begun the process of moving the cabin to the new site. The short rope tow was sold to the nearby Brighton Outing Club in Island Pond, as a new 800 foot lift was purchased for the Shonya Hill site. The new rope tow debuted in mid-December and by late January was serving up to 500 skiers.

Following the 1947-48 season, improvements continued as the club voted to construct an 800 foot rope tow above the existing lift, providing access to the top of the hill. New trails were also cut. With the relatively large facility, Lyndon Outing Club was chosen to host the New England Interscholastic Championship, as well as the New England Sled Dog Championship. Unfortunately, it was another poor winter, with ski season not arriving until late January, and February being plagued by poor base depth.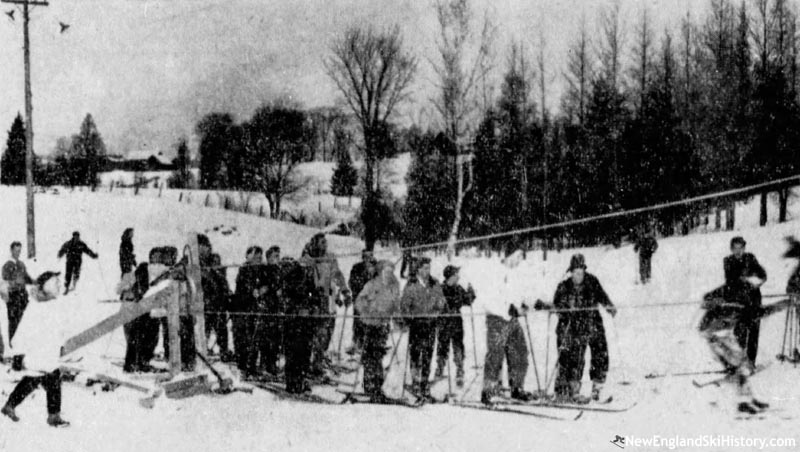 The rope tow (1948)

Momentum continued for the 1949-50 season, as the swamp at the base of the ski area was drained, slopes smoothed, and a "phonograph and loud speaking system" were installed on the base lodge. In addition, the Lyndon Outing Club developed a skating rink on Center Street. The club formally became a state non-profit corporation named Lyndon Outing Club, Inc. Meanwhile, Donald Beattie and Charlie Gale organized the club's first ski school. Natural snow was once again an issue, forcing the cancellation of some events, as well as the relocation of other races to nearby improvised slopes (such as Liggett's Hill off Lyndon Center Road). The ability to host races with minimal snow resulted in other regional events being relocated to Lyndonville.

1950-51 also suffered from a lack of snow, postponing most activities until late January. In February, the fifteenth annual Winter Carnival slalom race appeared to be doomed until Charlie Gale found a snow-covered slope at the Sayer farm in Sutton. According to the Caledonian Record, Lyndon Outing Club forefathers Donald Beattie, Milton Kerr, and Kermit Grant said the 1950-51 winter was the worst they could remember.

The upper rope tow was struck by lightning in June 1951, resulting in a total loss of the lift. A new rope tow was installed in its place for the 1951-52 season, while upper mountain terrain was improved by a bulldozer. Free skiing was offered every Saturday morning to generate more interest in the sport. The season likely started just before Christmas and may have wrapped after the Winter Carnival in early February, the weather being described by the Caledonian Record as "more suitable for writing spring sonnets than for skiing."

Meanwhile, skiers were setting their sights on larger mountains. Having been involved with Burke Mountain for years, members of the Lyndon Outing Club looked to improve the nearby mountain. In 1953, the Vermont legislature appropriated $10,000 to improve existing trails on the mountain, as well as to cut a new one. Members of the Lyndon Outing Club formed Ski Burke Mountain, Inc. to focus on the new endeavor.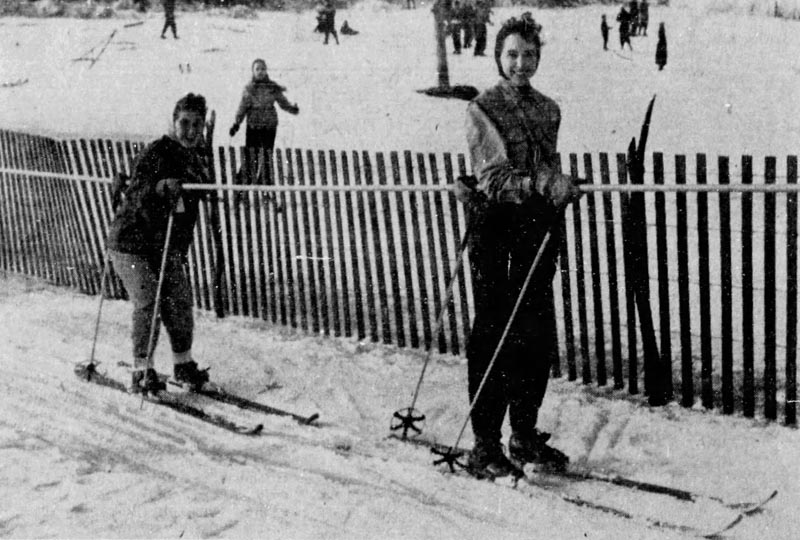 The rope tow (1952)

For the 1953-54 season, the Lyndon Outing Club base lodge was rotated, relocated 150 feet closer to the slopes, and tripled in size. The remodel included large windows on the slope side, as well as a second floor judges' stand. Provisions were made for the future installation of running water. More than twenty-five club members donated their time to build the expansion. By this point, the Lyndon Outing Club had 400 members and claimed to have hosted more ski meets than any other club in the country over the past decade.

Though the 1953-54 season also had a very late start due to lack of snow, the eighteenth annual Winter Carnival saw record attendance of 2,000 people over the course of the three-day event.

In order to gauge public interest in uphill travel at Burke Mountain, Ski Burke Mountain, Inc. rented a Tucker snow cat in early 1955. After providing rides at Burke, the snow cat was used at Lyndon Outing Club for the annual Winter Carnival.

The winter of 1955-56 saw the debut of Burke Mountain with lift service, as well as a strong year for Lyndon Outing Club. Though Burke would now be the primary location for larger events, prominent state and regional races continued to be held at Lyndon Outing Club. In addition, an annual Boy Scout event called the Ski-O-Ree had grown since 1952 to attract hundreds each year.


The T-Bar Era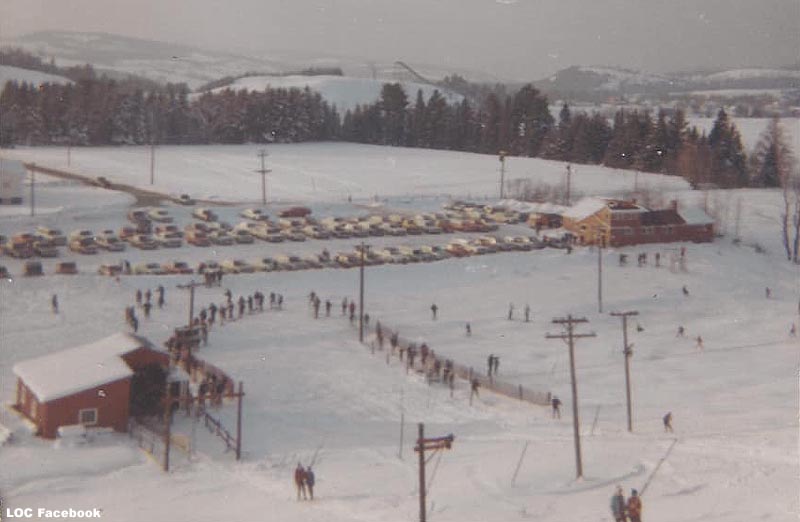 The T-Bar with the ski jump visible in the background (1967)

For what was billed as its 25th anniversary, members of the Lyndon Outing Club constructed a 1,600 foot T-Bar for the 1961-62 season. Donald Beattie, employee at Vermont Tap & Die, was likely integral in the construction of the makeshift lift. A new jump may have been constructed on site as well. The new lift was dedicated during a week-long carnival in February 1962, which also included races, a ball, a torchlight parade, and fireworks.

Circa July 1969, the Federal Bureau of Outdoor Recreation approved a $5,916 grant for the town of Lyndon to acquire the 60-acres of land on which the Lyndon Outing Club was located.

Using another Bureau of Outdoor Recreation grant, students and club members made a variety of improvements during the summer of 1972, including bulldozing three more acres of open slope for racing, expanding upper slope night skiing, planting trees near the parking lot, and installing a sign that stated, "Town of Lyndon, Shonyo Park, Operated by Lyndon Outing Club." The area continued to host prominent regional alpine, nordic, and ski jumping competitions, as well as free learn-to-ski nights. Ski jumping competitions continued to be held through at least 1978, after which point the jumps were reportedly removed due to skyrocketing insurance costs.

The early 1980s were a struggle at Lyndon Outing Club, as the lack of natural snow limited the amount of skiing. In addition, circa 1982, the T-Bar was struck by lightning. The Lyndon Outing Club approached the town for an $18,000 loan, as it could not afford the high interest rates of the era. Voters approved the bond in July 1982, which allowed the club to acquire the Toll House T-Bar from Stowe. Unfortunately, the lift likely did not operate during the 1982-83 season, as a lack of snow limited the area to one half day of operations the entire winter.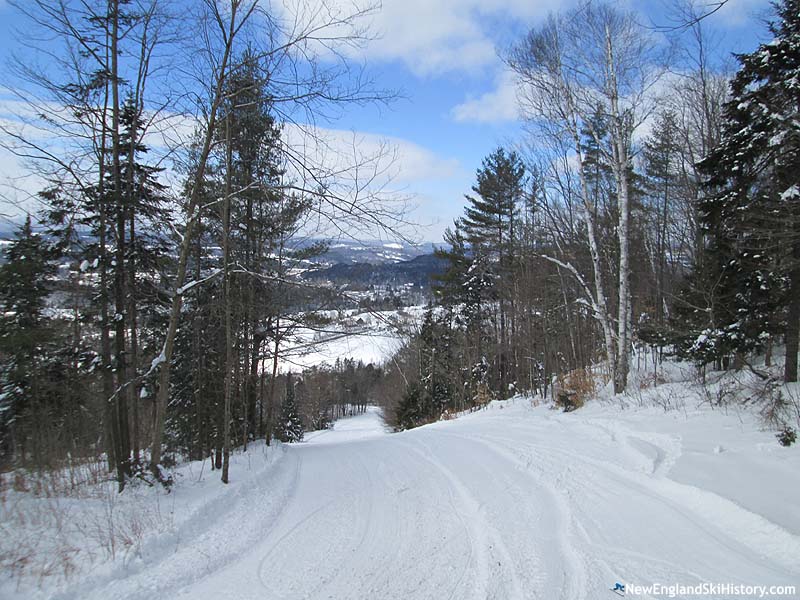 The Apple Orchard Trail (2014)

For the 2007-08 season, Lyndon had its earliest opening in recent memory thanks to abundant snowfall, firing up the lifts on December 9th.

Lyndon Outing Club co-founder and longtime volunteer Donald Beattie passed away on October 4, 2008 at the age of 93.

Lyndon Outing Club faced some struggles in 2011, when issues with the T-Bar forced the ski area to shut down mid-winter. Volunteers rallied and had the ski area operational again for the 2011-12 season. Meanwhile, a skateboard park was constructed in 2011 for summer use.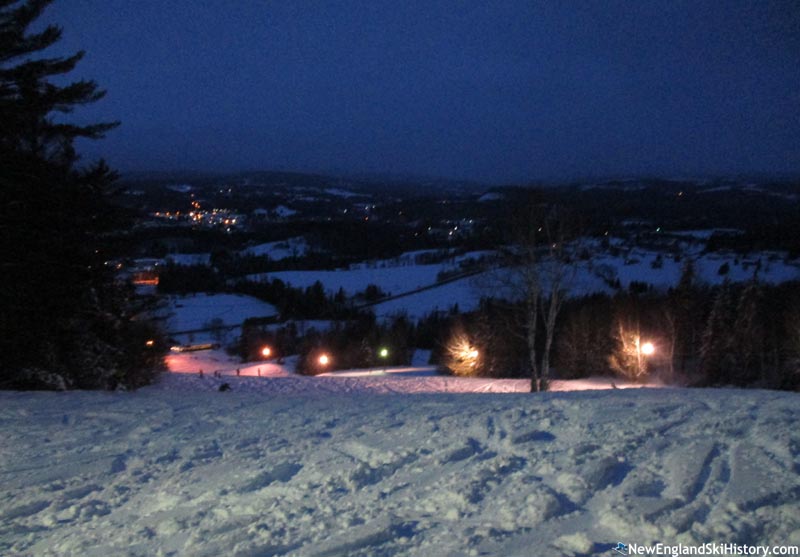 Night skiing (2018)

The Lyndon Outing Club ski area continues to operate to this day, featuring the T-Bar and night skiing. The slopes currently rely on natural snow. Other activities, such as nordic skiing, snowmobile hill climbs, and skateboarding also take place on the property. In the spring of 2021, the club announced it had received a $26,000 grant from the Northern Forest Center to construct mountain bike trails.



Lifts
Click on lift name for information and photos




Maps


Year by Year History
Adult Weekend Full Day Lift Ticket; Adult Full Price Unlimited Season Pass

2020s
Ticket Price
Season Pass Price

Pass Payback

Opening Day

Closing Day

Skier Visits

2022-23
$15.00
January 27
March 15
2021-22
$15.00
February 4
March 13
2020-21
$15.00
January 31
March 10
2019-20
$15.00
January 22
March 1
2010s
Ticket Price
Season Pass Price

Pass Payback

Opening Day

Closing Day

Skier Visits

2018-19
$15.00
January 9
March 24
2017-18
$15.00
January 10
2016-17
$15.00
December 30
March 19
2014-15
$15.00
January 30
2013-14
$15.00
February 7
2012-13
$15.00
January 9
2000s
Ticket Price
Season Pass Price

Pass Payback

Opening Day

Closing Day

Skier Visits

2007-08
$15.00
December 9
1990s
Ticket Price
Season Pass Price

Pass Payback

Opening Day

Closing Day

Skier Visits

1993-94
$10.00
1980s
Ticket Price
Season Pass Price

Pass Payback

Opening Day

Closing Day

Skier Visits

1983-84
$5.00
1970s
Ticket Price
Season Pass Price

Pass Payback

Opening Day

Closing Day

Skier Visits

1976-77
$3.50
1975-76
$3.00
1971-72
$3.00
1960s
Ticket Price
Season Pass Price

Pass Payback

Opening Day

Closing Day

Skier Visits

1963-64
$3.50
1950s
Ticket Price
Season Pass Price

Pass Payback

Opening Day

Closing Day

Skier Visits

1956-57
$1.00
$11.00
11.0 days
December 29
1955-56
$1.00
$11.00
11.0 days
1954-55
$1.00
1953-54
$1.00
January 16
1952-53
$1.00
$9.00
9.0 days
1951-52
$1.00
$9.00
9.0 days
1949-50
$10.00
1940s
Ticket Price
Season Pass Price

Pass Payback

Opening Day

Closing Day

Skier Visits

1948-49
January 22
1947-48
December 14
Visitor Memories
" I remember back in the fall of 1961 Stu Comstock, Doug Miller and myself used to spend most of our weekends helping to put together the first T-bar at Lyndon O. C. It was made from scratch. We were boarding students at L I. Would like to know long that ran."
Jerry Wright, Jan. 15, 2018
"It was great to see so many people at the hill this weekend now that we finally have some snow. Come check us out. Our website is at: www.skilyndon.com and you can also find us on facebook."
Susan Teske, Feb. 17, 2014
---
External Links
Lyndon Outing Club - official site
Lyndon Outing Club - SmallSkiAreas.com
Lyndon Outing Club - New England Lost Ski Areas Project
Last updated: June 17, 2021