Lyndon Outing Club
Lyndonville, Vermont
Status:
Open
First Season:
1940s
Vertical Drop:
433 feet
Standing Lifts:
Surface lifts
Past Lifts:
Left: Lyndon Outing Club ski area (2011)
Recent NewEnglandSkiIndustry.com News:
1/30/2021: Opening Day Finally Arrives at Many Natural Areas
Located east of downtown Lyndonville on the northwest slope of 1,523 foot Shonya Hill, Lyndon Outing Club's ski area has home to lift served skiing for decades.


Lyndon Outing Club

The origins of the Lyndon Outing Club ski area likely date back to early 1937, when the Lyndon Outing Club held its first meeting. A small rope tow served slope was opened soon thereafter.


Relocation to Shonya Hill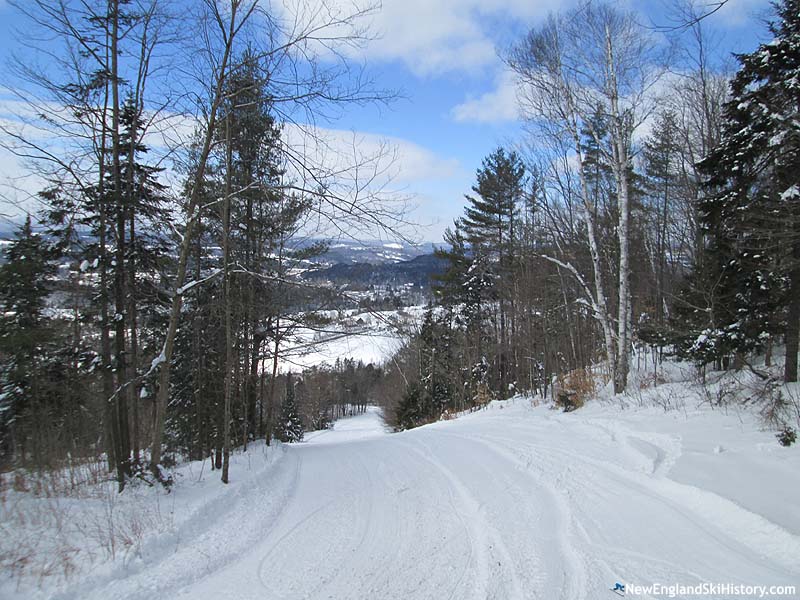 The Apple Orchard Trail (2014)

Circa 1947, the ski operations were relocated to a larger site on Shonya Hill. In 1949, Lyndon Outing Club, Inc. was formally registered in the State of Vermont.

Circa 1972, the town of Lyndonville was able to procure federal funds to purchase the ski area property.

In the early 1980s, the Lyndon Outing Club was able to facilitate the purchase of the Toll House T-Bar from Stowe, eventually installing it as its main lift.

For the 2007-08 season, Lyndon had a record early opening thanks to abundant snowfall, firing up the lifts on December 9th.

The ski area faced some struggles in 2011, when issues with the T-Bar forced the ski area to shut down mid-winter. Volunteers rallied and had the ski area operational again for the 2011-12 season.

The Lyndon Outing Club ski area continues to operate to this day, featuring the T-Bar and night skiing. The slopes currently rely on natural snow. Other activities, such as nordic skiing, snowmobile hillclimbs, and skateboarding also take place on the property.

Lifts
Click on lift name for information and photos
Maps

Year by Year History
Adult Weekend Full Day Lift Ticket; Adult Full Price Unlimited Season Pass

2020s
Ticket Price
Season Pass Price

Pass Payback

Opening Day

Closing Day

Skier Visits

2020-21
$15.00
January 31
March 10
2019-20
$15.00
January 22
March 1
2010s
Ticket Price
Season Pass Price

Pass Payback

Opening Day

Closing Day

Skier Visits

2018-19
$15.00
January 9
March 24
2017-18
$15.00
January 10
2016-17
$15.00
December 30
March 19
2014-15
$15.00
January 30
2013-14
$15.00
February 7
2012-13
$15.00
January 9
2000s
Ticket Price
Season Pass Price

Pass Payback

Opening Day

Closing Day

Skier Visits

2007-08
$15.00
1980s
Ticket Price
Season Pass Price

Pass Payback

Opening Day

Closing Day

Skier Visits

1983-84
$5.00
Visitor Memories
" I remember back in the fall of 1961 Stu Comstock, Doug Miller and myself used to spend most of our weekends helping to put together the first T-bar at Lyndon O. C. It was made from scratch. We were boarding students at L I. Would like to know long that ran."
Jerry Wright, Jan. 15, 2018
"It was great to see so many people at the hill this weekend now that we finally have some snow. Come check us out. Our website is at: www.skilyndon.com and you can also find us on facebook."
Susan Teske, Feb. 17, 2014
---
External Links
Lyndon Outing Club - official site
Lyndon Outing Club - SmallSkiAreas.com
Lyndon Outing Club - New England Lost Ski Areas Project
Last updated: November 25, 2016