Stowe Mountain Resort
Stowe, Vermont
Status:
Open
First Season:
1936-37
Vertical Drop:
2160 feet
Standing Lifts:
2 gondolas, 3 high speed quads, 1 quad, 2 triples, 2 doubles, surface lifts
Past Lifts:
1 gondola, 1 high speed quad, 5 doubles, 1 single, surface lifts
Left: The Stowe base area (likely early 1940s)
Recent NewEnglandSkiIndustry.com News:
12/19/2018: Stowe Sets New England Record with $147 Lift Ticket
11/27/2017: Vermont Lift Ticket Prices Up 8%
9/23/2017: Vail Proposes Additional Parking Expansion at Stowe
6/9/2017: Vail Completes Stowe Transaction, Plans Parking Expansion
Located on the eastern shoulder of the tallest mountain Vermont, Stowe Mountain Resort has long been known as a premiere New England ski destination.


CCC Days

Organized skiing on the eastern face of Mt. Mansfield dates back to 1933, when the Bruce Trail was cut. The trail was the site of the first Mt. Mansfield ski race in February of 1934. Construction of the Barnes Trail started soon thereafter, later becoming better known as the Nose Dive Trail.

Lift serviced skiing at present day Stowe started when the Mt. Mansfield Ski Club and Sepp Ruschp opened a rope tow on the Toll House slope on February 7, 1937. Skiing at Mt. Mansfield was billed as "the best skiing in the East" that season, according to The Boston Globe. Facilities were improved and a rope tow was installed at the State Shelter for the following season.

More trails were cut throughout the late 1930s, including Lord and Rim Rock. Meanwhile, on May 31, 1939, a group including Perry Merrill, Sepp Ruschp, and Charlie Lord scouted a potential charlift installation, with the goal of establishing Stowe as a world class winter destination.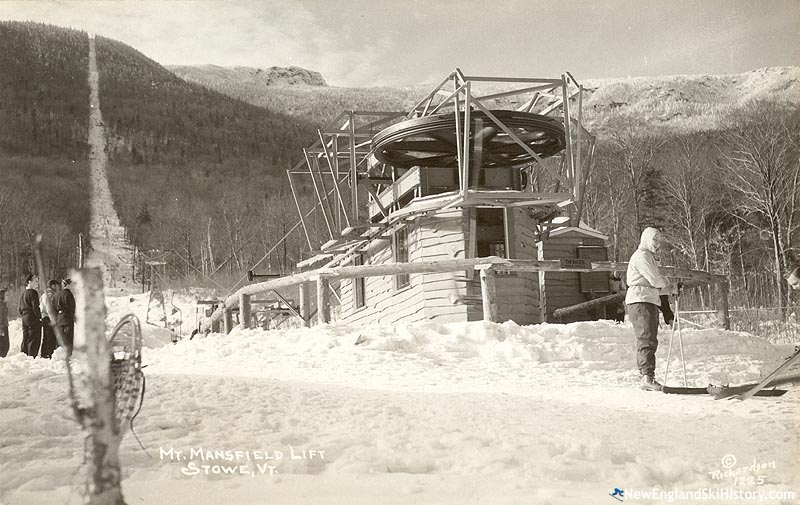 The single chairlift circa the 1940s

A Chairlift Is Built

On November 17, 1940, Ruschp, Lowell Thomas, and Roland Palmedo's Mt. Mansfield Lift, Inc. made national headlines when it opened what was billed as the longest and highest chairlift in the world, at 6,330 feet in length and 2,030 feet in vertical. Though it broke down on its first day operation (with dozens of reporters on board), the single chairlift would remain a fixture at the mountain for nearly half a century.

While many ski areas closed during World War II, Stowe remained a winter destination, with skiers relying upon trains and busses for travel. According to Charlie Lord, the chairlift could not be operated more than 6 hours per day or 6 days per week, due to fuel rationing. New trails were still added, including the Skimeister Trail circa the winter of 1941-42.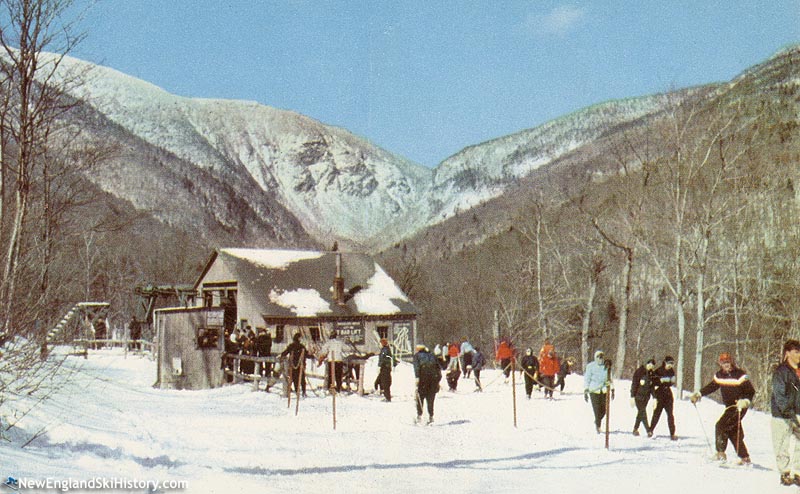 The Mt. Mansfield T-Bar circa the 1950s

Meanwhile, American International Group (AIG) founder Cornelius Van der Starr visited Stowe and quickly fell in love with the area while establishing a close business relationship with Ruschp. Starr's long history of financing and owning the ski area started circa 1946, when the Mt. Mansfield T-Bar opened, thanks in large part to his funds. Around that time, five separate companies owned the various aspects of the ski area. Starr acquired thousands of acres of land and gradually purchased majority shares in the companies, rolling them into Mt. Mansfield Co. by the time 1950 drew to a close.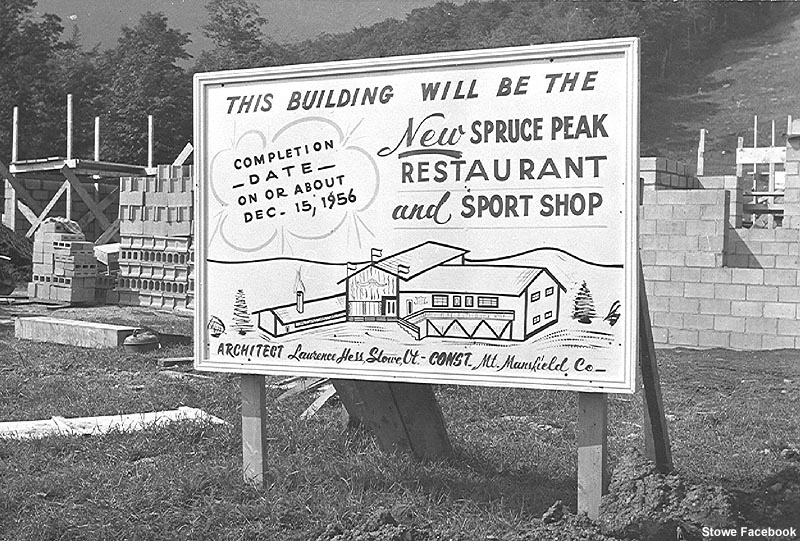 Development of Spruce Peak (1956)

Spruce Peak debuted for the 1949-50 season, initially served by rope tows. While a chairlift was originally planned for the following season, only a T-Bar would be constructed. The Spruce Peak double chairlift was eventually installed for the 1954-55 season.

A second chairlift was added to the top of the ski area for the 1960-61 season, easing demand on the aging single chairlift. Three years later, a chairlift was added on the lower half of Spruce to augment the T-Bar and existing chairlift.

Snowmaking arrived at Stowe for the 1967-68 season, initially covering 30 acres on the West and East slopes of Spruce Peak.



A Gondola Is Built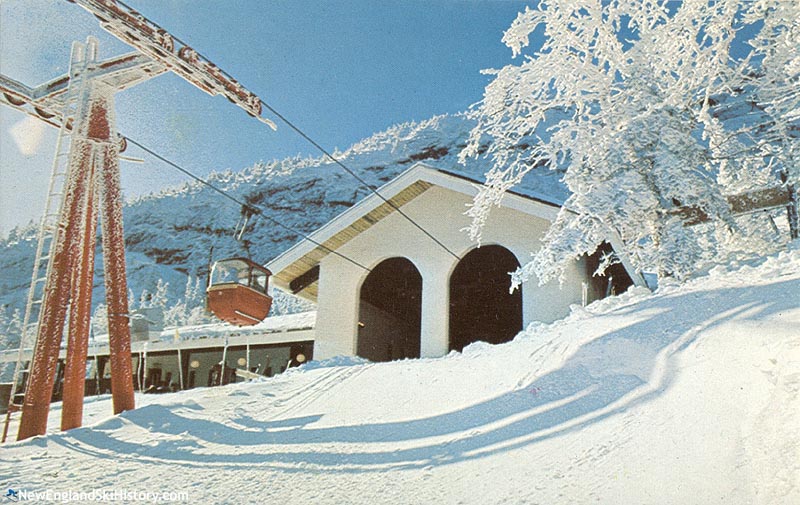 The gondola circa the late 1960s

Stowe's largest expansion to date took place starting in the late 1960s, as new terrain was developed between the existing chairlift pods. A gondola was selected for the uphill transportation, reportedly because it could get skiers up the mountain 50% faster than a chairlift, while also being designed to minimize wind exposure. The gondola on the new Chin area started operating in either November or December of 1968, adding "a completely new dimension to skiing at Stowe," according to Sepp Ruschp. Also included in the $2 million development were base and summit lodges as well as five trails.

Growth in the 1970s was stifled by the horrible 1973-74 season, which reportedly required Sepp Ruschp to borrow $1.5 million to keep the ski area going.

Stowe boosted its off season business in 1979, when it added alpine slides on Spruce Peak. After decades of use, the slides were removed in 2014. Meanwhile, a multi-million dollar investment was made for the 1979-80 season, expanding snowmaking to 70 acres on Mt. Mansfield, while also installing a new Riblet double chairlift to increase uphill capacity.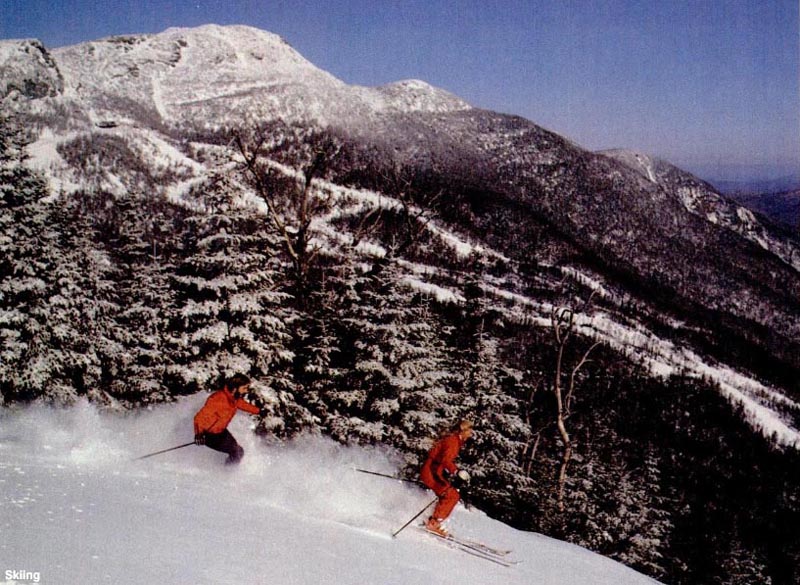 Stowe in the 1980s

Terrain expansion was again eyed for the early to mid 1980s, this time focusing on the Saddle area between the main mountain and gondola complexes. For unknown reasons, this was not constructed, and instead a major lift modernization effort took place during the 1980s and early 1990s. The original single chairlift was amongst the last to go, as the Forerunner Quad, the first high speed detachable quad in New England, took its place. The famous Stowe gondola was replaced with a new Poma gondola for the 1991-92 season.



2000s Modernization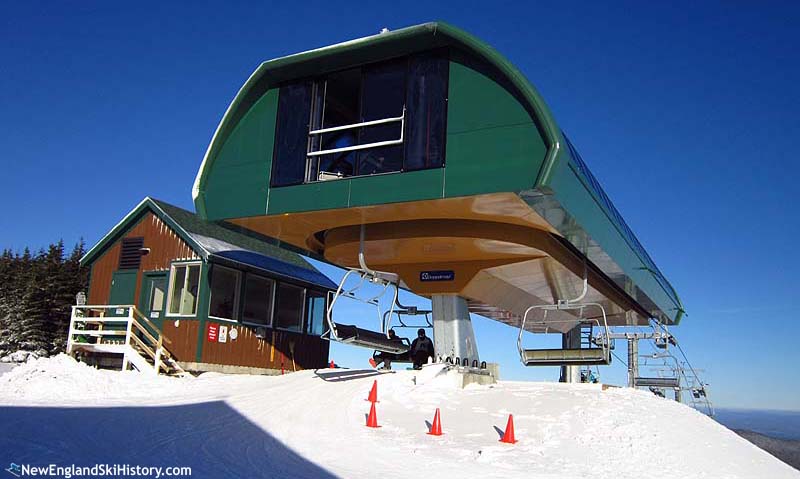 The Fourrunner Quad (2011)

In the midst of a major redevelopment of Spruce Peak in the 2000s, Stowe was eventually affected by the financial problems owner AIG. As a result, AIG spun off Stowe to a new subsidiary company called Chartis at the end of 2009. Major changes during this time included new high speed quad chairlifts in 2004 and 2005, as well as a long awaited gondola connecting the Spruce Peak base area to the main mountain.

For the 2011-12 season, the original Forerunner Quad was replaced with a new high speed quad, named the Fourrunner. Meanwhile, Chartis was rebranded back to AIG in late 2012.

Following the 2013-14 season, the Alpine and Easy Street doubles were removed and replaced with a new fixed grip quad.

On June 2017, Vail Resorts acquired Stowe for $41 million, ending the roughly 70 year AIG-related ownership of the ski area. Initial capital investments focused on expanding parking at the ski area.

NewEnglandSkiConditions.com Reports

NewEnglandSkiIndustry.com News

Recent Articles
Stowe Sets New England Record with $147 Lift Ticket - Dec. 19, 2018
Vermont Lift Ticket Prices Up 8% - Nov. 27, 2017
Vail Proposes Additional Parking Expansion at Stowe - Sep. 23, 2017
Vail Completes Stowe Transaction, Plans Parking Expansion - Jun. 9, 2017
Vail Resorts Announces Purchase of Stowe - Feb. 21, 2017
Vail-Stowe Rumors Continue to Fly - Jan. 30, 2017
Vermont Lift Ticket Prices Up 3% - Jan. 10, 2017
Ski Season Kicks Off Across Northern New England - Nov. 22, 2016
Stowe Sets New England Record with $124 Lift Ticket - Oct. 1, 2016
Burton Snowboards Founder's Family Blamed for Stowe Stone House Fire - Feb. 19, 2016
Stowe Mountain Resort NewEnglandSkiIndustry.com News Page

CCC Trails

Expansion History

Image Gallery
Lifts
Click on lift name for information and photos
Maps

Year by Year History
Adult Weekend Full Day Lift Ticket; Adult Full Price Unlimited Season Pass

2010s
Ticket Price
Season Pass Price

Pass Payback

Opening Day

Closing Day

Skier Visits

2018-19
$147.34
$949.00
6.4 days
November 16
April 21
2017-18
$131.00
$899.00
6.9 days
November 17
April 15
2016-17
$124.00
$2313.00
18.7 days
November 23
April 23
2015-16
$115.00
$2224.00
19.3 days
November 25
April 24
2014-15
$108.00
$2138.00
19.8 days
November 15
April 19
2013-14
$98.00
$2138.00
21.8 days
November 16
April 20
2012-13
$92.00
$2056.00
22.3 days
November 17
April 21
2011-12
$92.00
$1996.00
21.7 days
November 23
April 1
2010-11
$89.00
$1879.00
21.1 days
November 24
April 17
330,000
2009-10
$89.00
$1815.00
20.4 days
December 6
April 11
2000s
Ticket Price
Season Pass Price

Pass Payback

Opening Day

Closing Day

Skier Visits

2008-09
$89.00
$1766.00
19.8 days
April 19
2007-08
$84.00
$1635.00
19.5 days
April 20
2006-07
$76.00
$1570.00
20.7 days
April 29
2005-06
$76.00
$1507.00
19.8 days
April 22
2004-05
$65.00
$1435.00
22.1 days
April 22
2003-04
$62.00
$1415.00
22.8 days
2002-03
$60.00
$1380.00
23.0 days
2001-02
$58.00
$1350.00
23.3 days
2000-01
$56.00
$1290.00
23.0 days
1999-00
$1290.00
1990s
Ticket Price
Season Pass Price

Pass Payback

Opening Day

Closing Day

Skier Visits

1998-99
April 18
1997-98
$50.00
$1230.00
24.6 days
November 15
1995-96
$48.00
November 17
1994-95
$43.00
1992-93
$39.00
1991-92
$39.00
November 28
1990-91
$38.00
1989-90
$36.00
1980s
Ticket Price
Season Pass Price

Pass Payback

Opening Day

Closing Day

Skier Visits

1988-89
$35.00
November 24
May 4
1987-88
$33.00
1984-85
$26.00
1983-84
$24.00
1982-83
$23.00
1981-82
$21.00
1980-81
$19.00
1979-80
$16.00
1970s
Ticket Price
Season Pass Price

Pass Payback

Opening Day

Closing Day

Skier Visits

1978-79
$15.00
November 24
1977-78
December 3
1976-77
$14.00
1975-76
$12.00
1974-75
$12.00
1971-72
$10.00
November 27
1970-71
$10.00
1969-70
$10.00
1960s
Ticket Price
Season Pass Price

Pass Payback

Opening Day

Closing Day

Skier Visits

1967-68
November 23
1965-66
November 20
1963-64
$6.50
1962-63
$6.50
1961-62
December 15
April 15
1959-60
$6.50
1950s
Ticket Price
Season Pass Price

Pass Payback

Opening Day

Closing Day

Skier Visits

1957-58
140,000
1949-50
November 26
1930s
Ticket Price
Season Pass Price

Pass Payback

Opening Day

Closing Day

Skier Visits

1936-37
$1.00
$5.00
5.0 days
February 7
Visitor Memories
"As a 4th grade student from NJ, my parents took my brother and I to Stowe in 1964. Your photos in the older lifts portion were a trip down memory lane. I remember the toll house t-bar , riding the single chair and skiing the toll road trail as a 9yr old. Thank-you NewEnglandSkiHistory.com . "
Mark Schaefer, Jan. 7, 2019
"My father, Clem Curtis, was recruited by Sepp Ruschp in the 1930's as one of the first certified ski instructors. He was also an exhibition ski jumper, and he taught skiing to the troops as a 10th Mountain Division member. He later helped lay out lift lines and cut ski trails for The Mountain Company, and managed the Summit House on Mt. Mansfield from 1948-1956. He was given a lifetime pass when he left the Mountain Company to start a construction company. He built and operated the original Stowe Motel, and also built a vacation home in Stowe for Tom Watson, from IBM. "
Mary Curtis Skelton, Mar. 9, 2017
"Left Boston in 1990 to become a ski bum at Stowe. Worked at the muffin ski shop where I rented skis and delivered the fresh tune skis to every inn on the access road. This was when AIG was leaning on all the small inns and right before some modifications to the resort I rember some inns still having the sixties and seventies feel and feeling the mountain was not keeping up... boy was I wrong it really is a true New England resort, especially since I live in California and have not seen the resort in several years after skiing the sierras for many years I understand why the east produces great skiers a lot of them from Stowe I will never forget the steeple or the folks I met there....... "
Paul Lahaye, Feb. 15, 2015
"We used to go up a lot Once was when shuttle did not make it 29 years agoMy ski mister said they used to get coupon books to ride single I rember the wool blankets on cold days to ride up withLastly we went Stowe for Easter spring skiing them head up to Jay for winter skiing on Sunday"
Stanley shepard, Jan. 29, 2015
"Climbed the mountain from the west several times while a student at Middlebury. My wife, Milly, and I spent our honeymoon at Stowe in 1957. Then you bought coupons for rides on the chairlift. Still have a book of them. I think that it cost .90 per ride or ten rides for 8.00."
Matt Baker, Oct. 18, 2014
"I remember the day tickets starting at $16 in the late 70's. The tickets themselves were shaped liked the Gondola. In the early 70's, Stowe was using coupon books."
Peter Benoliel, Mar. 26, 2014
"My Father's 1st trip to Stowe (Mt. Mansfield) was in 1939 an he stayed at Barnes Camp Inn that was owned by Chelsea Lyons. My 1st trip there was in March 1944, just after my 12th birthday. We returned almost every spring (from Buffalo, N.Y.) until we bought land and moved to Waitsfield, Vt. (Mad River Glen) to build and operate the first ski lodge in Waitsfield in 1949. (Ski Center Lodge) My memories of Stowe and many of the local people there then will be in my mind forever."
Anders, jr Hengsteler, Oct. 7, 2013
---
External Links
Stowe Mountain Resort - official site
Mt. Mansfield - FranklinSites.com Hiking Guide
Last updated: January 7, 2019