| | |
| --- | --- |
| | |
Located in the middle of a large real estate development eastern Vermont, Quechee Ski Area features generally novice and intermediate terrain, with upper mountain trails emptying into open slopes.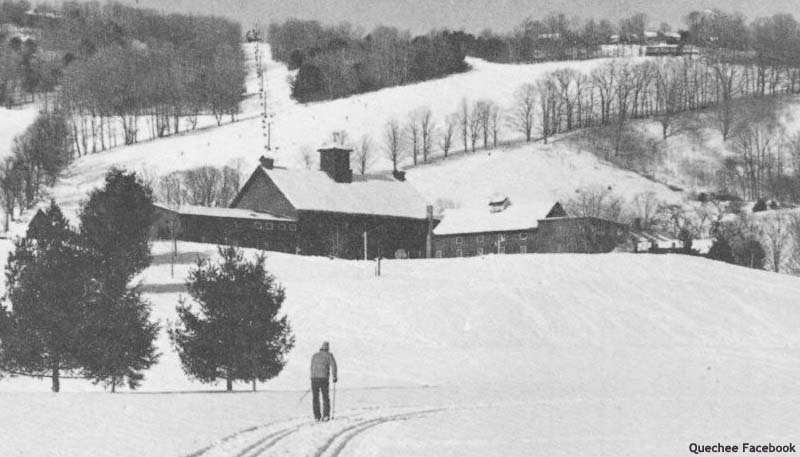 Quechee Ski Area during the double chairlift era

The Quechee Lakes Landowners' Association was established in the winter of 1970. A centerpiece of winter recreation in the development, the Quechee ski area opened with a double chairlift for the 1970-71 season. A T-Bar was added half a decade later, serving novice lower mountain terrain.

Quechee made regional headlines in 1992 when it hosted the state's alpine and nordic Special Olympics.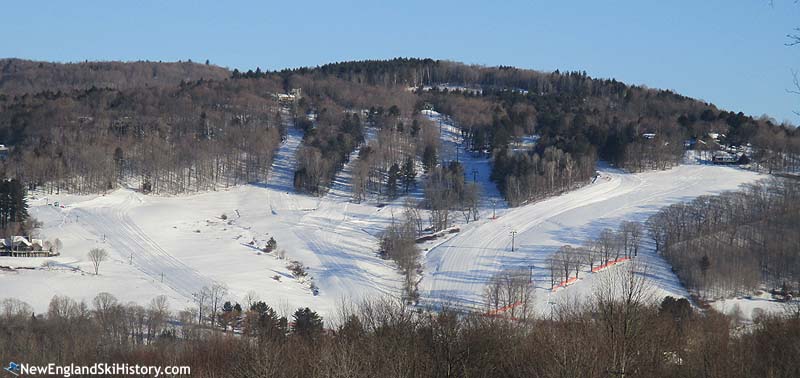 Quechee Ski Area (2017)

After over 3 decades of service, the original double chairlift was replaced with a new Doppelmayr CTEC fixed grip quad chairlift in 2005. The double chairlift was later installed at Kendall Mountain in Colorado.

The Quechee Ski Area continues to operate today with snowmaking, the quad chairlift, T-Bar, and a handle tow.

NewEnglandSkiConditions.com Reports

Month
Average Percent of Terrain Open
January
90% (4 reports)
February
100% (1 report)
March
90% (1 report)

-- start conditions table -->

Recent Conditions Reports

Jan. 22, 2023 by brianna
Packed Powder, Packed Powder
Jan. 22, 2023 by rocket21
Packed Powder, Powder
Feb. 20, 2021 by nhalex
Packed Powder, Loose Granular
Jan. 21, 2018 by rocket21
Spring Snow, Spring Snow
Jan. 21, 2018 by brianna
Spring Snow, Wet Packed Powder

Quechee Ski Area on NewEnglandSkiConditions.com

Lifts
Click on lift name for information and photos
Maps

Year by Year History
Adult Weekend Full Day Lift Ticket; Adult Full Price Unlimited Season Pass

2020s
Ticket Price
Season Pass Price

Pass Payback

Opening Day

Closing Day

Skier Visits

2022-23
$57.00
$583.00
10.2 days
December 26
2021-22
$52.00
$530.00
10.2 days
December 26
March 13
2020-21
$49.00
$477.00
9.7 days
December 23
March 21
2019-20
$49.00
$450.00
9.2 days
December 21
March 8
2010s
Ticket Price
Season Pass Price

Pass Payback

Opening Day

Closing Day

Skier Visits

2018-19
$49.00
$445.20
9.1 days
December 23
March 24
2017-18
$45.00
$420.00
9.3 days
December 22
March 25
2016-17
$45.00
$400.00
8.9 days
March 19
2015-16
$42.00
$375.00
8.9 days
January 8
March 6
2014-15
$42.00
December 19
2013-14
$40.00
2012-13
$40.00
2011-12
$40.00
2000s
Ticket Price
Season Pass Price

Pass Payback

Opening Day

Closing Day

Skier Visits

2006-07
$38.00
2004-05
$35.00
March 27
2000-01
April 1
1999-00
$22.00
1990s
Ticket Price
Season Pass Price

Pass Payback

Opening Day

Closing Day

Skier Visits

1998-99
$22.00
1994-95
December 17
1993-94
April 3
1992-93
April 4
Visitor Memories
---
External Links
Quechee Club - official site
Last updated: September 4, 2017