| | |
| --- | --- |
| | |
Located on the west side of historic ski town Plymouth, New Hampshire, 2,350 foot Tenney Mountain has been home to alpine skiing for over half a century.


Early Development

Skiing on Tenney Mountain likely dates back to the 1930s, when Plymouth was considered one of the premier ski towns in New England. Nonstop train service from Boston to Plymouth debuted in 1932, courtesy the Boston and Maine Railroad. At the time, the Appalachian Mountain Club held contests at an area known as Tenney Hill, located south of Tenney Mountain.

Starting in the mid-1930s, the Edelweiss Trail was developed on Tenney Mountain using logging roads, with the Plymouth Ski Club announcing the construction of a cabin on the trail in 1935. Lift served ski areas popped up around Plymouth, including Frontenac, Mt. Pero, Wendy's, Fred Pabst's Huckins Hill, and a rope tow area on Mt. Cardigan started by Sam Hall and his father (both surveyors from Rhode Island). The New York Times noted that Plymouth had "plenty of hotels and tourist homes, but you still might land in a barn if you arrived without advance reservations during a snow-train week-end."

After serving with the 10th Mountain Division in Europe in World War II, Sam Hall returned to the White Mountains and set his sights on Tenney Mountain. On weekends, Hall and his wife Berenice would skin around Tenney on their skis, enjoying the trail and surveying potential new ones.

Starting around 1953, Sam Hall and John French purchased over 400 acres of land on Tenney Mountain for logging. Hundreds more acres were purchased that decade for a total tract of over 1,000 acres. In 1958, Hall and French formed the Tenney Mountain Corporation with their sights set on skiing.

Significant work took place in 1959 as the ownership announced a late December opening. Multiple trails were cut along with a novice slope. In addition, a 200 car parking lot was bulldozed and a T-Bar lift was slated for installation in December. Unfortunately for Tenney, a major flood hit on October 24, forcing Hall and French to focus their attention on other properties that were damaged.


Early Operations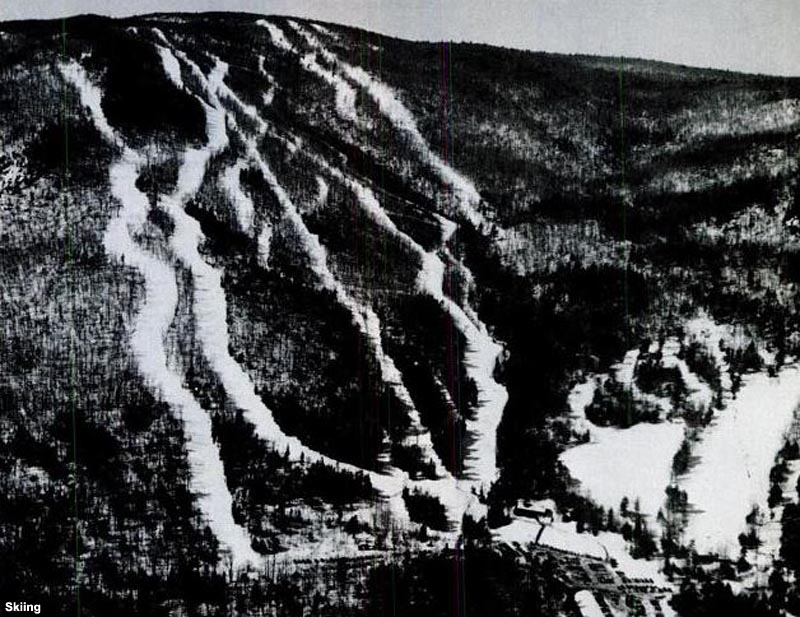 Tenney Mountain circa 1980

Tenney Mountain ended up opening on December 26, 1960, likely served by a rope tow and a 1,200 foot long Tebru T-Bar. A rare brand, Tebru was derived from the name of WSO Stadeli lift manufacturer employee Theodor Brunner. There are no other known Tebru lift installations in New England.

Improvements for the second season included an enlarged parking lot, increased uphill capacity on the T-Bar, and a new novice trail. Night skiing lights were installed in either 1961 or 1962.

The 1962-63 season saw a 10% increase in business, thanks to a season that extended into April. In the spring of 1963, Hall and French transferred 1,200 acres to their Tenney Mountain Corporation for ski development. Hall quit his job as manager of the Draper Manufacturing Beebe River Mill to focus on the enterprise.

In 1964, Tenney Mountain was greatly expanded when a Stadeli upper mountain chairlift was installed. Spanning 1,285 vertical feet, the new upper mountain complex made Tenney one of the largest ski areas in the region. The chair also provided lift service to Edelweiss Trail for the first time.

Major changes soon hit the White Mountains in 1966, as I-93 was reaching the region and Loon and Waterville Valley opened for business. Despite the increased competition and a rainy December, Tenney reported a profit for the 1966-67 season. Sam Hall bought out John French's share in the mountain circa 1968. Also around that time, the Tenney Mountain Highway opened, providing easier access from I-93. In addition, real estate development commenced around the base area. The 1968-69 season was Tenney's strongest to date.

A new 800 foot ski school pony lift was added for the 1969-70 season, as well as a new racing trail. Real estate was also reportedly developed.

Despite poor weather during the 1969-70 season, Tenney moved forward with more investments in 1970. The original T-bar was likely removed and placed in storage (later reinstalled below the Hornet chairlift), while a new Heron-Poma double chairlift was installed in its place. In a foreshadowing of events in the 1980s, the chairlift installation dragged into 1971.

In addition to the lift project, the 1970 off season also saw the development of nordic ski trails at Tenney by United States Olympic team coach Don Henderson. A three mile loop was developed atop the ski area, with nordic skiers paying $1.50 to ride the chairlift up and down. Sam Hall remarked to Skiing magazine, "There isn't much money in cross-country skiing, but there are some nice people."

Starting in 1974-75, Hall experimented with offering free ski school lessons to anyone buying a lift ticket. The concept gained Tenney national headlines in 1975-76, but eventually evolved into a free-tips-from-a-roving-instructor program. Meanwhile, Hall became a prominent Revolutionary War reenactor due to his likeness to John Stark.


No Snowmaking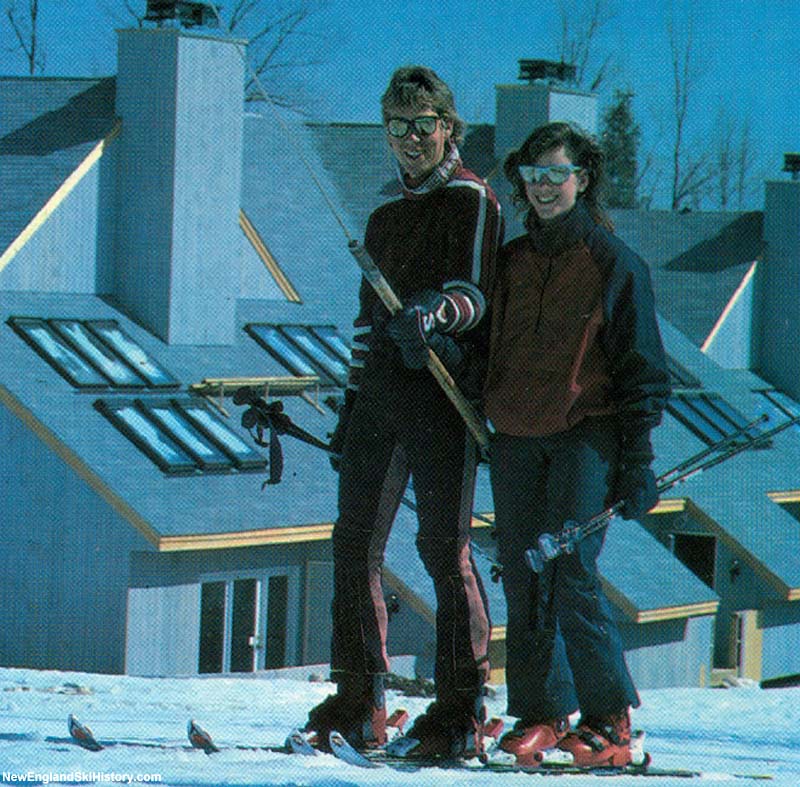 Riding the novice T-Bar in the mid 1980s

Despite some rough winters, Hall refused to install snowmaking at Tenney. When asked by the Boston Globe during the rough winter of 1979-80, Hall proclaimed Tenney would be the "biggest holdout against machine-made snow in North America," and that snowmaking consumes "2500 gallons of diesel fuel a day. That much fuel could heat two houses for a winter. And you're going to spend that way to make snow which doesn't motivate skiers anyway?" Being a hold out didn't work. Hall was forced to sell to Terry Murphy that year, choosing to focus on his new Sam Hall Poles/Piling business.

Murphy had a similar view on snowmaking, theorizing in the Nashua Telegraph that it was too expensive and that a larger number of skiers would trade top notch conditions for cheaper lift tickets. Around this time, Tenney, accessed by a bumpy access road, occasionally posted a sign that read, "when the skiing's great, the roads are lousy. Welcome to Tenney."

1980-81 was once again a tough season for Tenney, however 1982-83 was even worse - the lack of snow kept Tenney closed. Sam Hall reclaimed ownership around that time and subsequently sold the area to the Tenney Village Company, led by Paul Nergaard, during the 1983-1984 season. The new ownership group, composed of mostly Vermont residents, looked to develop real estate around the ski area. One of their first investments in the ski area was to install a snowmaking system.


Expansion and Bankruptcy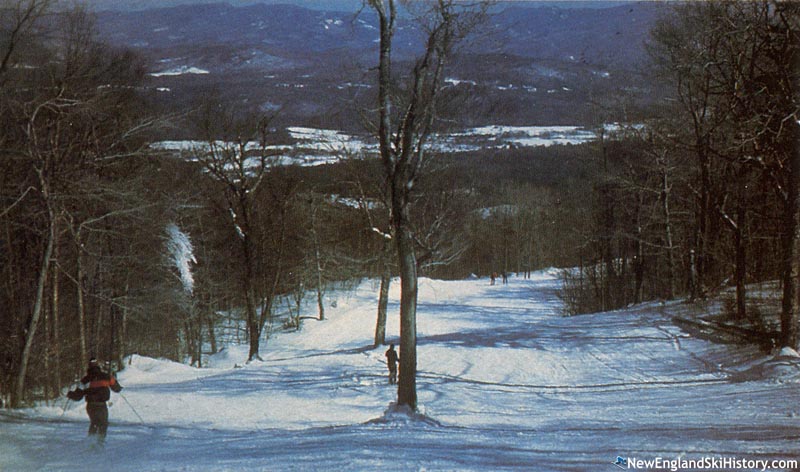 Shooting Star circa the mid 1980s

A major expansion took place in starting in 1986, but was not without significant bumps in the road. The Hornet double chairlift was to be rebuilt and the Heron-Poma double chairlift area to be replaced with the triple chairlift served Eclipse Area, all in conjunction with a real estate development. The rebuild of the Hornet double chairlift was hit with delays, while the replacement of the Heron-Poma double chairlift hit a major roadblock. As a result, Tenney operated with only two surface lifts until late January of 1987, when the now-electric-powered Hornet double chairlift finally reopened. Due to its struggles, Tenney halted night skiing for the 1986-87 season.

While the Heron Poma chairlift was originally supposed to be partially reused, it was sold, and Poma commenced construction on the new lift with some used towers from Stratton. Tenney paid $210,000 of the $705,000 contract prior to work stopping. Tenney and Poma then sued each other during the summer of 1987, whilst Poma ended up selling the rest of the new lift to Magic Mountain. Borvig later came in and finished the Eclipse Triple Chairlift for the 1987-88 season. The lower mountain T-Bar was also converted to a platter lift.

For the 1988-89 season, the base lodge was expanded while the Tenney Village development was touted. Though skier visits were up, Tenney Mountain was quickly falling victim to the real estate crisis. With 48 completed condos sitting empty, the Tenney Village Company filed for Chapter 11 bankruptcy protection in June of 1989. While it was able to open the ski area in December of 1989, Maine Savings Bank of Portland foreclosed on Tenney mid-season, resulting in an early closing.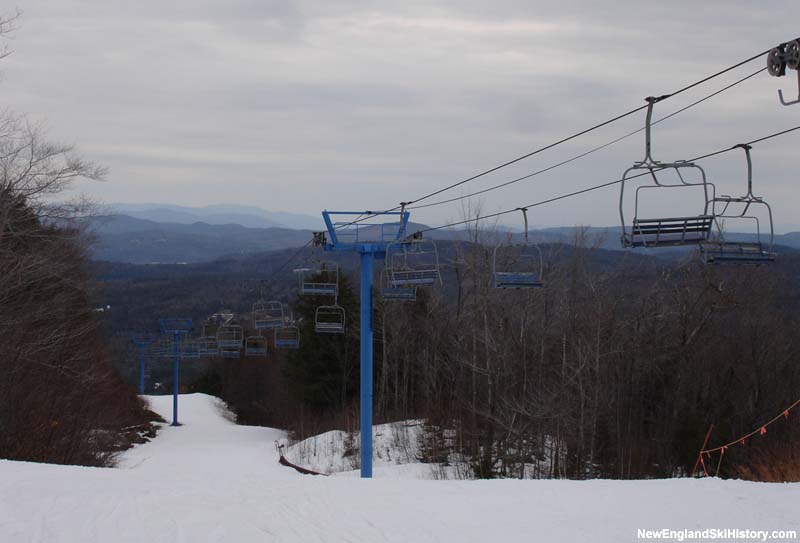 The Eclipse Triple (2006)

Tenney Mountain Skiing of NH, Inc., led by Bill Krikorian, purchased Tenney and reopened it in January of 1991. Krikorian had previously attempted to reopen Mt. Watatic and Prospect Hill in Massachusetts. The new ownership looked to diversify the business by offering scenic chairlift rides, downhill mountain biking (including the White Mountain Championships), and live entertainment during the summer. Headlines were made in 1992 when the ownership attempted to host strip shows at the base lodge.

Tenney was renamed Lookout for the 1992-93 season, however the new branding was not enough to keep it afloat. In a last ditch effort, free skiing was offered every Wednesday, helping to bring in the strongest numbers thus far in the decade. Nevertheless, unpaid bills mounted, resulting in grooming equipment getting repossessed during the ski season. The struggles ultimately resulted in Lookout filing Chapter 7 bankruptcy in May. Whether under the name of Lookout or Tenney, the ski area would not operate for multiple seasons.

By 1994, part of the shuttered development was purchased by the Wilkinson Corp. of Yakima, Washington. Russell Wilkinson reportedly purchased the ski area tract in the summer of 1996 with the hope of developing it as a low cost resort. The lodge was renovated, a snowboard park constructed, and lift tickets set nearly 50% below large resorts in the area. The cost of the improvements was reportedly three times the purchase price.

Wilkinson reopened the area on December 6, 1996, while also looking to purchase a second New Hampshire ski area. A second area was not purchased, but further improvements were made at Tenney, including cutting three glades in 1997.

An upper mountain chairlift was reportedly planned for the 1998-99 season, which would have increased Tenney's advertised vertical drop to 1,800 feet. Citing damage from an ice storm, the lift was cancelled. Improvements for the season included an expanded base lodge with a new fireplace, as well as more snow guns.

Snowtubing may have been added for the 1999-00 season, coupled with an expanded Foggy Goggle Pub.

Circa 2000, Tenney was placed on the market. Though a local cooperative movement attempted to save the ski area, fundraising was unsuccessful. The area was reportedly sold in November 2001, but did not open for the 2001-02 season.


Year Round Skiing?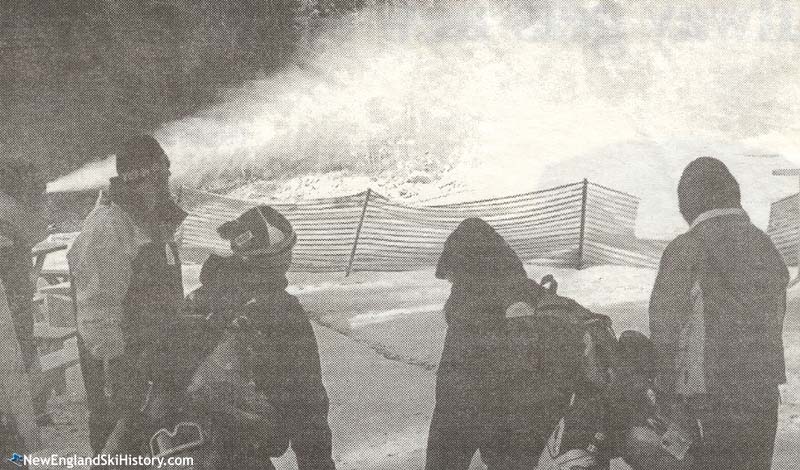 SnowMagic (fall 2003)

In October of 2002, Tenney was purchased by SnowMagic, a company seeking to showcase its snowmaking technology. The company's origins dated back to the late 1980s, when Japanese skier Yoshio Hirokane developed an idea to make snow in warmer temperatures, called Infinite Crystal Snowmaking. Hirokane later joined forces with Albert Bronander to found the New Jersey-based SnowMagic company. A significant investment was planned at Tenney, rumored to be a choice of either replacing the 1964 Stadeli double chairlift with a high speed detachable quad or installing the high-tech snowmaking system.

In advance of the 2002-2003 ski season, the investment in a SnowMagic system was announced. The system, rumored to cost $1,000,000, would allow the ski area to stay open year round. There was some speculation that the runaway success of this new system would allow for the purchase of a high speed quad shortly thereafter. Famous skier Dan Egan served as General Manager when the area reopened in December 2002.

After dealing with equipment shipping delays reportedly caused by a longshoreman's strike, Tenney was able to open during the summer and fall of 2003 thanks to the system. Numbers were disappointing and costs were high, especially considering it was only covering a small slope. Summer snowmaking operations were cancelled in 2004 and the snowmaking system was sent to Alabama. While summertime snowmaking was expected to return to Tenney in 2005, it was all but forgotten, as the company determined the systems yielded better revenue in warmer climates.

Tenney founder Sam Hall passed away on December 27, 2003.

While big plans were announced in 2005-06 for a hotel, base area, golf course, water park, and retirement community, they did not come to fruition. The area was reportedly sold prior to the 2006 season. Though further investments were reportedly made in the ski area, Tenney did not open for the 2006-2007 season.

Reopening for the 2007-08 season, Tenney once again struggled as the Hornet Double chairlift was not inspected or operational until later in the winter. White Mountain Adventures set up shop at Tenney starting in the summer of 2008, installing zip lines and a ropes course.


Closed Again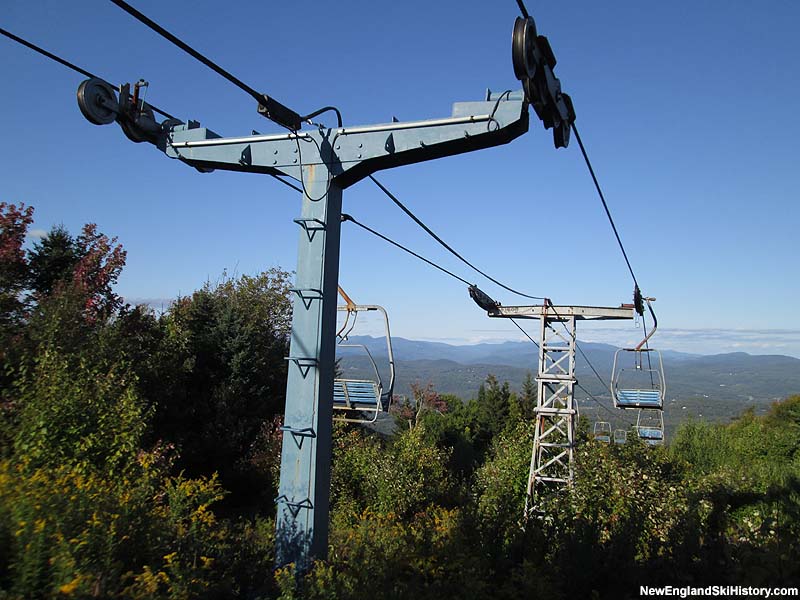 The idle Hornet Double (2014)

After operating through the 2009-10 season, Tenney Mountain was put on the auction block. On December 15, 2010, the area was sold at auction to Iroquois Capital.

The construction of wind turbines for the Groton Wind Farm along the summit ridge commenced in the spring of 2012. 398 feet tall at top pass, the turbines now cast fast moving shadows while emitting a distinct industrial sound.

While the lifts still remained, some of the snowmaking equipment was sold. According to local sources in June 2013, Whipple Construction was interested in purchasing the ski area, however nothing further has emerged. The 869 acre property was originally listed for sale at $2.45 million in spring 2011. The price was cut to $1.999 million in spring 2013 and then to $1.5 million in spring 2014.


Reopening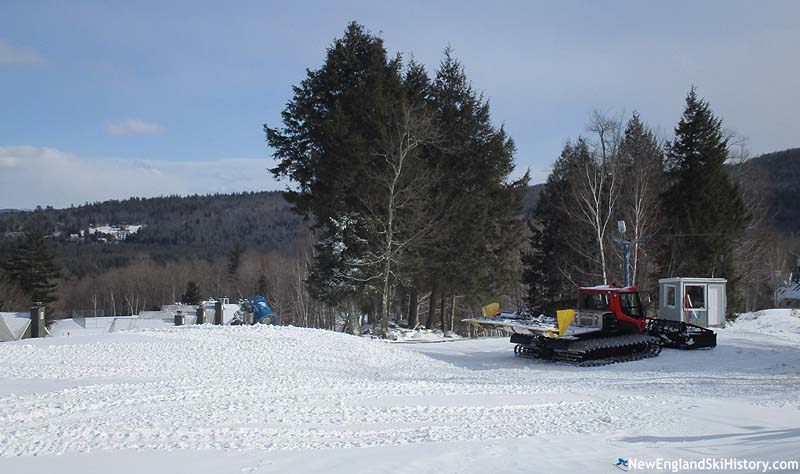 The tubing park (February 2016)

On November 21, 2014, Tenney Mountain Development Group, LLC purchased the ski area for $1.25 million. Work on the chairlifts and lodge commenced that fall and throughout 2015. While the group was able to get the Eclipse inspected and some snow made, it was unable to open the ski area during the rough 2015-16 winter. Work continued in subsequent years, but numerous issues delayed the reopening.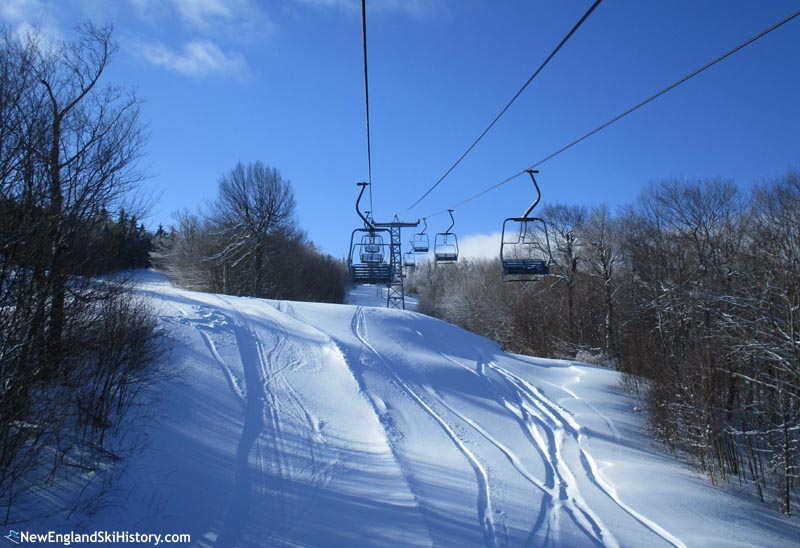 The Hornet Double (January 2019)

After three years of work, Tenney Mountain opened its Platter Pull lift for tubing on February 17, 2018. The lift also served beginner skiers over that holiday weekend. Following a big late winter snowstorm, the Hornet double chairlift started carrying paying customers to the top of the ski area on March 8 for the first time in eight years.

2018-19 marked the first full winter of operations at Tenney in nearly a decade. The season spanned from early December to early April on natural snow with both chairlifts operating and much of the area's terrain reclaimed.



NewEnglandSkiConditions.com Reports

Month
Average Percent of Terrain Open
January
86% (5 reports)
February
80% (4 reports)
March
73% (5 reports)
April
95% (1 report)

-- start conditions table -->

Recent Conditions Reports

Feb. 26, 2023 by brianna
Powder, Packed Powder
Feb. 26, 2023 by rocket21
Powder, Packed Powder
Feb. 23, 2020 by nhalex
Packed Powder, Variable Conditions
Feb. 8, 2020 by beccam
Packed Powder, Packed Powder
Jan. 25, 2020 by beccam
Packed Powder, Packed Powder

Tenney Mountain on NewEnglandSkiConditions.com
NewEnglandSkiIndustry.com News
Recent Articles
Management Change at Tenney Mountain - Sep. 15, 2023
Tenney Mountain Receives Planning Board Approval for Lodge Project - Apr. 9, 2023
Resurrected Granite Gorge and Tenney Mountain Ramp Up Operations - Feb. 18, 2023
Tenney Mountain Prepares for Friday Opening - Feb. 8, 2023
Reopening Work Continues at Granite Gorge and Tenney Mountain - Dec. 11, 2022
Tenney Mountain Reopening Work Continues - Nov. 21, 2022
Reopening Work Continues at Granite Gorge and Tenney Mountain - Oct. 17, 2022
Reopening Work in Progress at Granite Gorge and Tenney Mountain - Sep. 13, 2022
Tenney Mountain Hints at Reopening - May. 5, 2022
Tenney Mountain Ski Area Sold - Apr. 29, 2022
Tenney Mountain NewEnglandSkiIndustry.com News Page
Expansion History
Image Gallery
Lifts
Click on lift name for information and photos
Maps
Year by Year History
Adult Weekend Full Day Lift Ticket; Adult Full Price Unlimited Season Pass

2020s
Ticket Price
Season Pass Price

Pass Payback

Opening Day

Closing Day

Skier Visits

2023-24
$65.00
$450.00
6.9 days
2022-23
$89.00
February 10
April 2
2019-20
$59.00
$389.00
6.6 days
January 7
March 8
2010s
Ticket Price
Season Pass Price

Pass Payback

Opening Day

Closing Day

Skier Visits

2018-19
$75.00
$389.00
5.2 days
December 1
April 6
2017-18
$45.00
February 17
March 31
2009-10
$50.00
$349.00
7.0 days
December 17
March 7
2000s
Ticket Price
Season Pass Price

Pass Payback

Opening Day

Closing Day

Skier Visits

2008-09
$49.00
$200.00
4.1 days
2007-08
$45.00
$299.00
6.6 days
December 15
2006-07
$375.00
2005-06
$39.00
$349.00
8.9 days
December 21
March 26
24,010
2004-05
$39.00
$329.00
8.4 days
December 10
April 3
47,157
2003-04
$39.00
$299.00
7.7 days
December 12
2002-03
$37.00
$299.00
8.1 days
December 12
March 30
2000-01
$36.00
$490.00
13.6 days
December 15
April 8
43,500
1999-00
$34.00
December 22
March 26
1990s
Ticket Price
Season Pass Price

Pass Payback

Opening Day

Closing Day

Skier Visits

1998-99
$32.00
December 24
1997-98
$29.00
$490.00
16.9 days
December 5
1996-97
$29.00
December 6
April 6
32,000
1992-93
$29.75
1991-92
$28.00
December 7
1990-91
$25.00
January 18
March 24
1989-90
$28.00
1980s
Ticket Price
Season Pass Price

Pass Payback

Opening Day

Closing Day

Skier Visits

1988-89
$26.00
December 9
1987-88
$23.00
35,583
1986-87
$17.00
1985-86
$17.00
1984-85
$16.00
$245.00
15.3 days
1983-84
$14.00
1982-83
$14.00
1981-82
$14.00
1979-80
$12.00
1970s
Ticket Price
Season Pass Price

Pass Payback

Opening Day

Closing Day

Skier Visits

1978-79
$10.00
1977-78
$10.00
1976-77
$9.00
1975-76
$8.00
$115.00
14.4 days
1974-75
$8.00
1973-74
$8.00
1972-73
$8.00
1971-72
$8.00
1970-71
$7.00
1969-70
$7.00
1960s
Ticket Price
Season Pass Price

Pass Payback

Opening Day

Closing Day

Skier Visits

1968-69
$7.00
1967-68
$6.00
1964-65
$5.50
1960-61
December 26
Visitor Memories
"very nice place"
noah Levesque, Oct. 28, 2021
"Glad to here Tenney is being resurrected again. Spent many winters skiing here with my family from the late 60s. Countless memories mostly with the Wernig boys."
Tim Brooks, Nov. 22, 2016
"My dad has told me that Tenney might open next season"
Prescott Peckham, Jul. 21, 2016
"Tenney Mt. was the first place I ever skied, back in 96/97 when I was 7 years old. Great memories of this place and learning to ski almost 20 years ago now. Wow does time fly. I really hope this place can re-open I'd love to go back and ski there again."
Luke Botting, Feb. 27, 2015
"The highlight of every run was waiting at the bottom of North trail to make the 'jump' on the tower!"
Joe Wernig, Feb. 23, 2015
"Tenny was the sunday ride home ski area. We would leave an over crowded Loon on Sunday early, and ski at Tenny till the afternoon and had a blast!"
timothy lafayette, Feb. 2, 2015
"Absolutely, excited about this sale. I have been in contact with purchaser He has some great plans for this mountain!"
Joshua Porter, Jan. 5, 2015
"Have been following the sale of the mountain myself, confirmed that it was sold via nneren and public records. Hope they do something awesome with it!"
Dustin Fleury, Dec. 2, 2014
"Tenney Mountain was just purchase by a group out of Windham NH. This is the group that spoke before the Plymouth Selectmen back in April 2014. There is once again hope!"
Carl Bonvini, Dec. 1, 2014
"Remember skiing there in the late 70's and 80's. It was a nice, compact, intermediate ski area similar to Mt. Sunapee but on a smaller scale. I remember the slow chair to the summit and because of the northerly direction that the trails faced, from Dec -early Feb that sun disappeared behind the mountain relatively early in the afternoon, making that chair lift ride to the top really, really cold most days. When the snow was good, Tenny provided a good day of skiing without the big crowds."
Vin Hutt, Oct. 11, 2014
"Tenney's trails were its selling point -- great variety, great steeps, great glades -- crummy lifts tho -- places like Tenney, also Big Squaw Mtn. in Maine, deserve to be skied on -- but taking on ownership in rural areas like this, w/all the insurance & electric bills & unpredictability, is a recipe to go broke -- no possible way to turn a profit"
Stephen Garfield, Sep. 29, 2014
"Worked there for the winter of 2002-2003 when Snomagic was introduced, while attending PState. Basically the lifts sucks, the snow was only good when it poured snow and the facilities were also poor. Too bad too, cus the mountain itself wasn't half bad, just needed a quicker way to the top."
John Jankowski, Sep. 16, 2014
"A half dozen of my buddies and I had $79.00 season passes in the early 70's. Back then the trail names were pretty basic - North, South, Liftline. The Racing trail was a favorite steep on the mountain. Lots of good memories, I'll miss Tenney."
Bruce Conant, Feb. 11, 2014
"Best run, Tote rosd and seeing brother Bill fly over the edge cutting off from the zoomer....."
Jim Wernig, Dec. 10, 2013
"Many stellar memories of Tenney -- all the glades that were bult in recent years like Hemlock, NorthWoods etc., were great -- Edelweiss was one of my favorites -- a fun area -- places like Tenney, Ascutney etc.,it's too bad there's not enough room for them in the NE ski scene "
Stephen Garfield, Nov. 13, 2013
---
External Links
Tenney Mountain Ski Area - official site
Tenney Mountain Ski Area - official Facebook page
Last updated: November 11, 2019