| | |
| --- | --- |
| | |
Located on the north face of Potter Mountain near the Massachusetts-New York border, Jiminy Peak is one of the most popular ski areas in Southern New England.


Building a Ski Area on Potter Mountain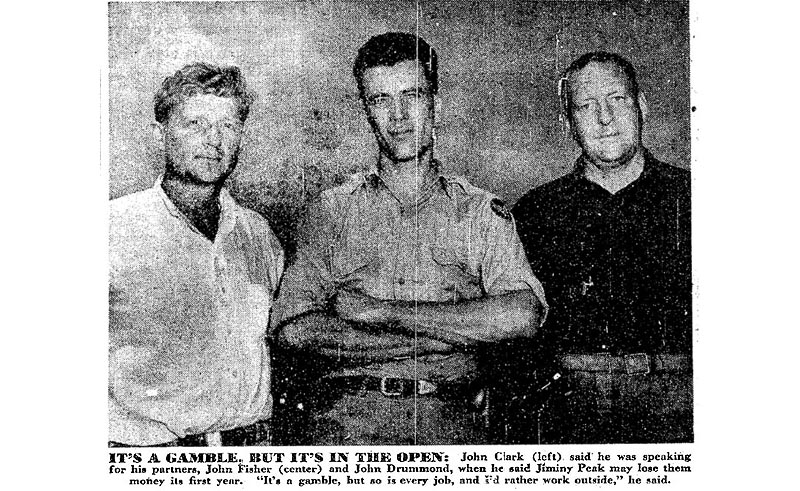 Founders John Clark, John Fisher, and John Drummond in 1947

Berkshire Museum science curator, World War II veteran, ski photographer, and Mt. Greylock Ski Club charter member Bartlett Hendricks reportedly spent much of the 1930s and early 1940s searching for a tract of land that would be ideal for a ski area. Circa 1942 or 1943, Hendricks acquired the Corey farm property, which was considered a snow bowl. Four years later, Hendricks agreed to lease the property to John Clark, John Drummond, and John Fisher, a trio of World War II veterans who lived in Connecticut. On July 29, 1947, the trio formed Jiminy Peak, Inc.

In July 1947, the trio announced plans to open the ski area for the 1947-48 season with a T-Bar and three rope tows. Fisher, owner of Catamount, resided with Drummond in an Army surplus tent at Jiminy Peak that summer as they wielded chainsaws and bulldozers. Trails cut included the novice Jiminy Cricket (below the planned T-Bar), the due north facing Slope 360, and Slingshot (inspired by a maple tree in the middle of the slope), the names chosen during a post-workday horseshoe game.

Unfortunately for the group, the shipment of steel for the T-Bar did not arrive in time for the winter, postponing the debut of the ski area. The steel finally arrived in June 1948. By October, the T-Bar was up and preliminary testing complete. Meanwhile, rope tows were acquired from Farnams ski area in Cheshire, which had decided to cease operating.



Jiminy Peak Opens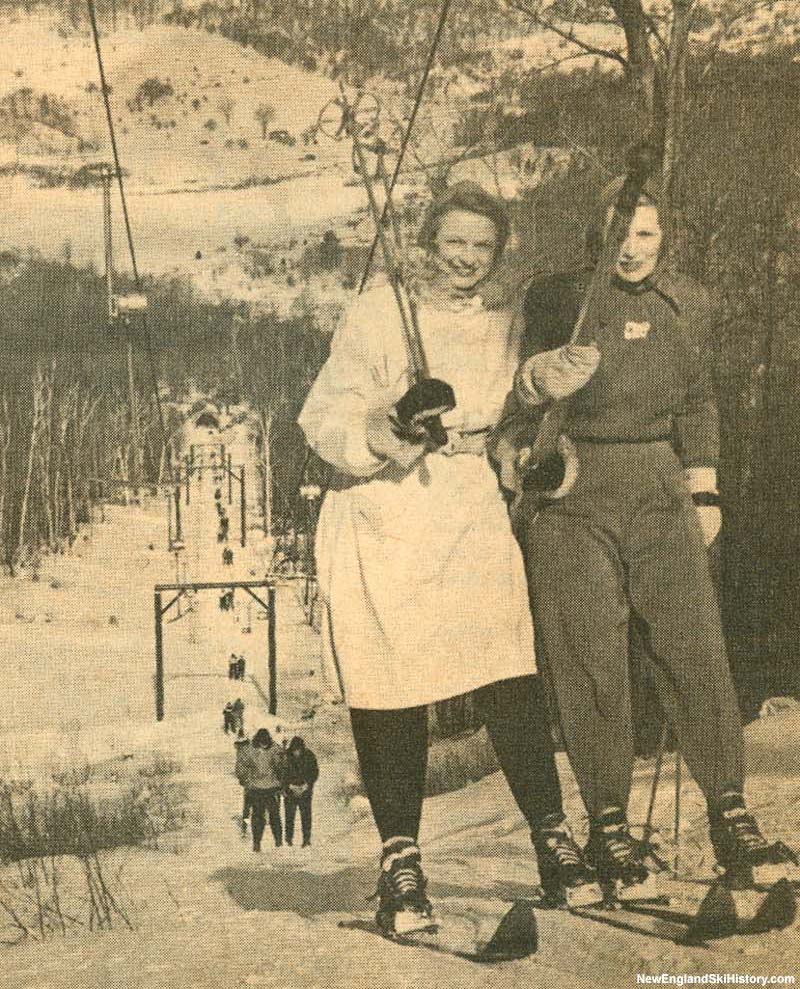 The upper T-Bar

Jiminy Peak unofficially opened on Christmas Day of 1948, as one of the rope tows operated on minimal snow cover. Though the T-Bar did open that winter, operations were limited by inadequate snowpack and mechanical problems. The $80,000, 750 vertical foot ski area's T-Bar was the first of its type in all of Southern New England. A pair of rope tows served the lower mountain and Jimmy Cricket slope. From the top of the tows, one could then cross over to a small lodge and the T-Bar. From the T-Bar, one could ski Merry-Go-Round, Whirlaway, 360 Slope, and Slingshot. A lack of snowfall resulted in the area closing before spring skiing season.

The 1949-50 season started on rope tows during the first weekend in December, which the Berkshire Eagle noted as the earliest lift served skiing in the region's history. Though the season extended into late March, snow cover was still an issue. As a result, the owners reported planting 4,000 evergreen trees that spring.

1950-51 was another struggle, with limited skiing in December and many missed weekends thereafter. After weeks of reporting inadequate snow cover, Jiminy Peak reported the best conditions of the season as spring started, only to have it washed out by heavy rains a day later.

Further trail improvements were made for the 1951-52 season, which spanned from mid December to the end of March, resulting in 64 days of operation and record attendance.

Improvements for the 1952-53 season included another rope tow, as well as further trail widening and smoothing. Mother Nature did not cooperate, resulting in three straight January openings and seasons that were averaging only about 30 operating days. After this string of rough seasons, Jiminy Peak underwent significant changes in the spring of 1955, as John Clark sold his stake in the company and John Drummond stepped down as manager. In his place, former Mt. Greylock Ski Club President George "Doc" Maynard took over as managing director. A Pittsfield resident, Maynard had been involved in the development of the Thunderbolt Trail on Mt. Greylock and was involved in ski racing organizations.

1955-56 had a more seasonable start and extended into mid-April, giving Jiminy Peak its most successful season yet. Despite the financial boon, no major investments were made during the off season, while operations were cut back to Friday-Sunday for the following season. Meanwhile, Bousquet installed a new T-Bar, complemented with snowmaking, while Catamount followed suit one year later. As a result, when the 1957-58 season started with a snow drought, Bousquet had skiing in mid-December while Jiminy Peak did not open until January 10.

After further struggles in relying upon natural snow, John Fisher announced in the spring of 1959 that he was taking over as manager and major investments would be made. $80,000 was invested in a new lower mountain T-Bar, a snowmaking system, and an 85 foot long greenhouse base structure named the Glasshaus Lodge. The snowmaking system paid immediate dividends as Jiminy Peak was able to open prior to Christmas for the next five seasons, setting a new record for the area.

Though Jiminy Peak had momentarily caught up with the pack with the installation of snowmaking, it quickly fell behind again as chairlifts began popping up throughout Western Massachusetts, including at Fisher's Catamount ski area in 1961. Preparations for a chairlift at Jiminy Peak began in 1963, when a trail was cut from the top of the mountain. Catamount Ski School Director Toni Matt also managed the Jiminy Peak ski school for the 1963-64 season.


Fred Crane Takes Over and Installs a Chairlift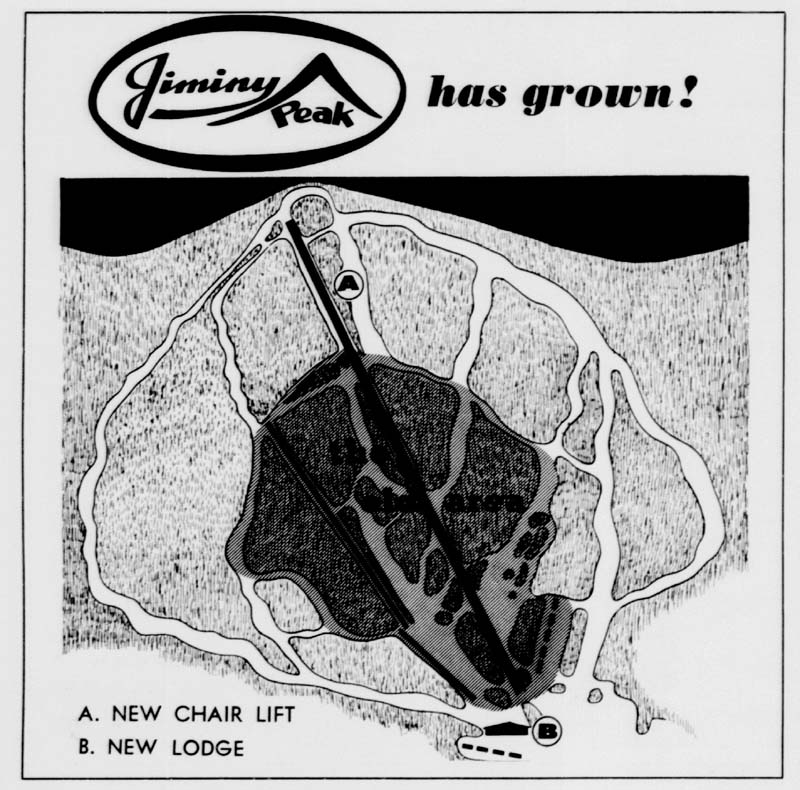 1964 Jiminy Peak expansion advertisement

Following the 1963-64 season, Frederick G. Crane Jr. was elected president of Jiminy Peak, Inc., as John Fisher sold his Jiminy Peak shares and focused full time on Catamount. A fifth generation member of local paper manufacturer Crane & Company, Crane served was a Naval veteran of World War II. One of his first actions as president was to announce a major expansion project, to be completed that off season. A new Mueller double chairlift was installed to the top of Jiminy Peak, increasing the advertised vertical drop from 750 to 1,100 feet. New trails developed by Bartlett Hendricks included the expert Ace of Spades and intermediate Left Bank. A new base lodge was constructed, while daily operations resumed. "Doc" Maynard's son George was named business manager, while Roland Blood served as ski school director. Meanwhile, a new rival named Brodie Mountain was opened just up the road by Jim Kelly.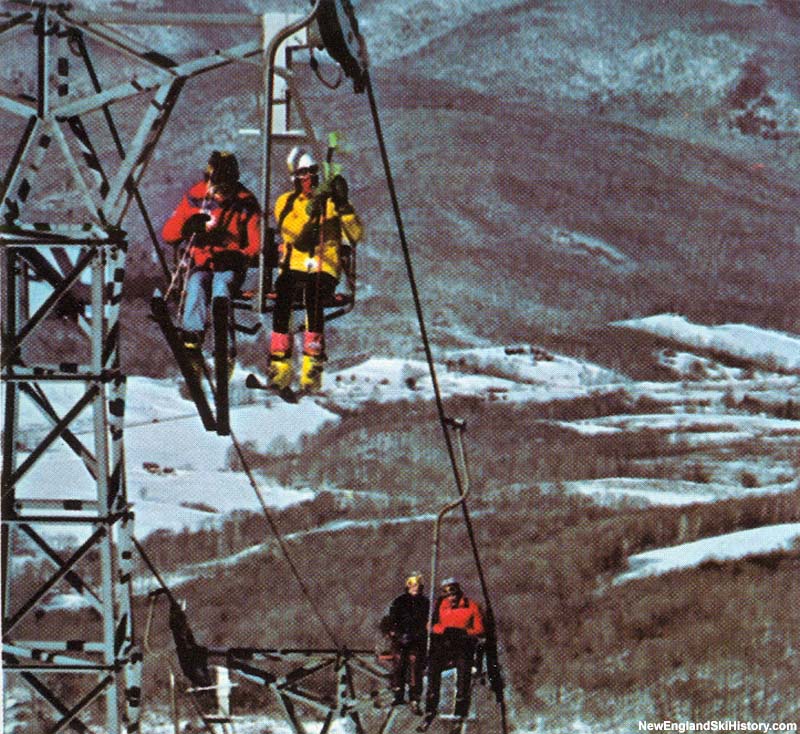 The summit double chairlift

Snowmaking was expanded to the top of the upper T-Bar at Jiminy Peak for the 1968-69 season, thus providing 750 vertical feet of coverage. In addition, the popular Whirlaway trail was rebuilt and widened, bypassing a section referred to as the "terrible traverse." Despite the improvements, Jiminy Peak was still primitive, as stated in Skiing magazine, "Manager Maynard and Fred Crane Jr., president of the corporation, oversee the operation as their fathers once did back in the '50's." The base lodge still had a gravel floor.


Brian Fairbank Takes Over and Installs a Chairlift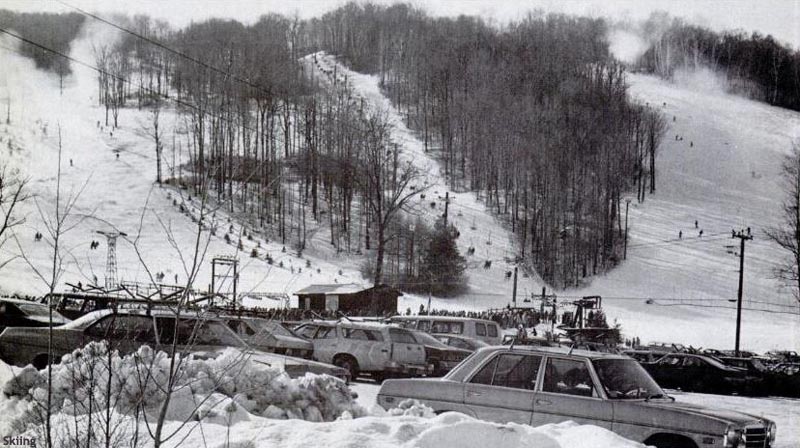 The Jiminy Peak base area in the 1970s

Reportedly at the behest of Crane & Company wanting Fred Crane to focus on one business, New York's Kissing Bridge, Inc. took over management of the area in 1969, installing 23 year old Brian Fairbank as Manager on July 7. Meanwhile, former Dutch Hill managers Webb and Madelon Ottman had recently joined the staff. A $350,000 loan was taken out to install the Grand Slam double chairlift and night skiing.

Though the opening of the 1969-70 season was later than hoped due to delays in upgrading electric service, Jiminy Peak operated 109 days, resulting in what Fairbank reported as the best season in its history.

Jiminy Peak noticed its first ever November opening in 1970 and finished the season strong, putting a full court press on real estate development. Snowmaking was further leveraged in 1972, when the area recorded its first ever October opening. Mild weather followed, with the season all but done at the end of February. In March, Brian Fairbank told the Berkshire Eagle, "we hope our creditors will be patient."

Unfortunately, 1973-74 was an even worse winter. Deeply in debt, Jiminy Peak reorganized, leveraging a Small Business Administration guarantee for a Berkshire Bank & Trust loan. Fairbank was named president, Hendricks exchanged land for shares, and Fred Crane became chairman of the board. Fairbank's uncle Perry was then named ski school director. Plans were made to develop real estate and off season offerings.

Former manager George "Doc" Maynard passed away in the fall of 1975 at the age of 75. An expert trail was added for the 1975-76 season, named after Jericho Valley (the original name of the town of Hancock). The Jericho trail is now legendary for its challenging steeps. Later in 1976, plans were made to install a summer attraction.

Tragedy struck on the morning of January 30, 1977, when the area's Riblet chairlift rolled backward for 71 seconds, resulting in 12 injuries. A subsequent investigation determined two screws had loosened, resulting in three brakes malfunctioning. Fairbank later reflected, "I thought seriously about quitting the ski business, but it was my whole life. But I knew I had to do something so that I could sleep at night." Repairs were made and procedures changed, placing the lift back in service one week later.

On May 28, 1977, the fifth alpine slide in the United States debuted at Jiminy Peak. Not only did the 2,890 foot long slide provide an off season attraction, but it also allowed Jiminy Peak to keep more employees on year round. The slide generated positive cashflow in its first year of operation with an estimated 130,000 rides.

A $600,000 expansion took place in 1978, as the aging T-Bars were replaced. The new lifts were Riblet double chairlifts, one of which was constructed to the summit. A new lodge was also introduced.


A Four Season Resort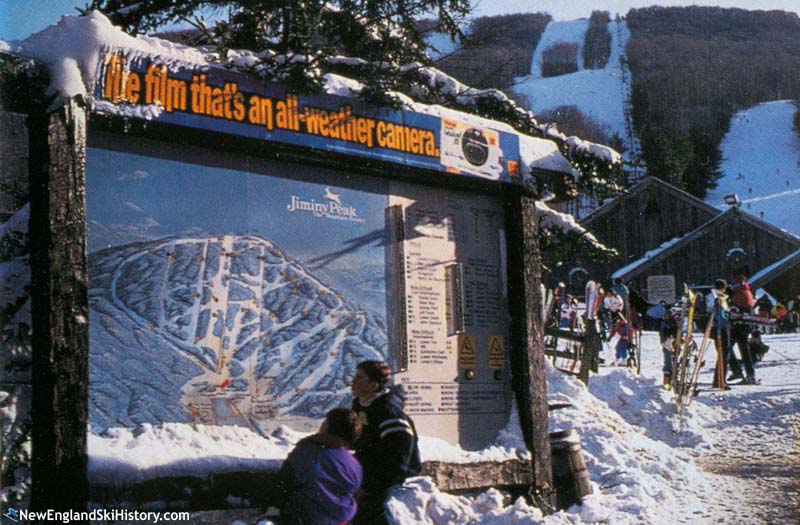 The Jiminy Peak base area in the 1990s

Feeling the pain of the poor winters of the early 1980s, Jiminy Peak looked to improve its snow retention and conditioning. $100,000 was invested in grooming equipment for the 1981-82 season, while a new snow retention system was also tested. Invented by Jiminy Peak Director and Williamstown Steinerfilm, Inc. President Gordon Walters, "Sno Coat" was a series of 40 foot wide by 1,000 foot long plastic strips laid on snow much like a baseball field tarp. While the invention was credited with saving snow during an early season rain event, it was quietly abandoned.

Night skiing was likely expanded to the summit for the 1981-82 season. Two years later, the Mueller summit chairlift was replaced with a new Riblet triple chairlift. 1984 also resulted in the creation of a 10 year master plan, aimed at making Jiminy Peak a year round destination resort. Joseph O'Donnell of Boston Concessions Group was brought into the ownership group around this time.

The Jiminy Cricket slope was expanded by 50 percent for 1987-88 when a new Borvig J-Bar replaced the novice rope tow. Meanwhile, the Left Bank trail was lit for night skiing, resulting in Jiminy Peak calling it "the longest lighted trail in the East." The West Way trail was significantly widened for the following season.

While the 10 year plan was focused on real estate development and alternative activities, a major enhancement to the ski area was made near the completion of the campaign. The summit quad from recently closed Crotched Mountain was purchased by Jiminy Peak in 1992 and installed as the Q1 Quad. The first four person chairlift in Massachusetts, the new lift dramatically improved the uphill capacity.

Former Jiminy Peak president Fred Crane passed away at the age of 69 in November 1992, as a result of injuries sustained in a logging accident.

The recently installed Jiminy Cricket J-Bar was replaced for the 1996-97 season with a realigned, longer triple chairlift, providing better access to the slopes for recent real estate developments.


Widow White's, Brodie, and Berkshire Express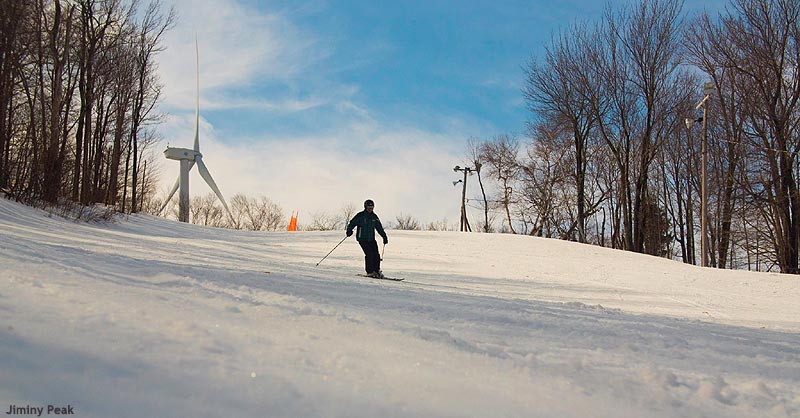 Jiminy Peak in 2015

With the ski area continuing to draw large crowds, additional terrain was opened for the 1998-99 season. The upper mountain area, named Widow White's Peak, was served by a new fixed grip quad chairlift. One year later, Bartlett Hendricks' former home was hauled to the summit of the ski area and named Hendricks Lodge.

A significant amount of additional terrain was briefly introduced to Jiminy Peak starting in 1999, when the ownership purchased nearby Brodie Mountain. Following the sale, Jiminy Peak co-marketed Brodie and considered modernizing it.

Meanwhile, the lower mountain at Jiminy Peak was still served by lower capacity lifts. This was addressed for the 2000-2001 season, when the Exhibition double chairlift was replaced with the Berkshire Express, Southern New England's first high speed detachable six person chairlift. The other half of the former double-double chairlift was upgraded to a triple.

While $5 million had been earmarked for improvements at Brodie, the area was deemed not viable following the 2001-2002 season. Instead, Brodie was closed and the money was invested in the Village Center at Jiminy Peak. The investment in the base area was unveiled for the 2003-04 season when the Burbank Children's Center and Paul Major Welcome Center were constructed. The final part of the resort's master plan, the buildings included condominiums on the upper floors.

Bartlett Hendricks passed away on September 19, 2002 at the age of 92.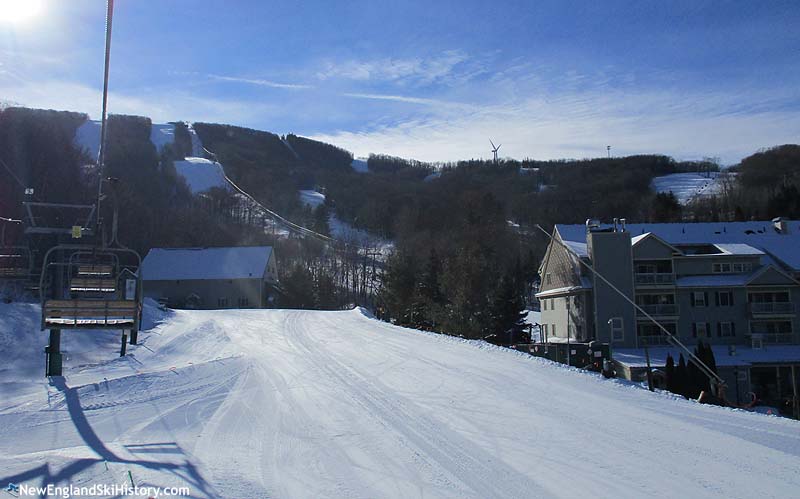 Jiminy Peak in 2019

The three season business was further improved in 2006 when the second mountain coaster in the United States was installed at Jiminy Peak. Its success led to similar installations across New England in subsequent years.

In 2007, a 1.5 megawatt wind turbine was installed near the ski area, offsetting energy costs.

On January 27, 2009, co-owners Brian Fairbank and Joseph O'Donnell sold Jiminy Peak to CNL Lifestyle Properties for $27 million, while obtaining a 40 year operational lease of the ski area. In subsequent years, Brian Fairbank and his son Tyler took over operational control of Bromley and Cranmore, using Jiminy Peak as the model for base area development at the New Hampshire resort.

Jiminy Peak founder Jack Fisher passed away on June 14, 2011 at the age of 97.

After three years of development, 2.3 megawatt solar farm was constructed near the ski area in 2015. Energy consumption was then reduced on the mountain in 2016 and 2017, when night skiing light bulbs were replaced with new LED fixtures.




NewEnglandSkiConditions.com Reports

Month
Average Percent of Terrain Open
November
5% (1 report)
December
35% (1 report)
January
85% (1 report)
February
85% (1 report)
March
95% (1 report)

-- start conditions table -->

Recent Conditions Reports

Dec. 3, 2021 by indyskier29
Packed Powder, Loose Granular
Nov. 21, 2020 by nhalex
Loose Granular, Spring Snow
Mar. 24, 2019 by skiliftdude
Spring Snow, Variable Conditions
Jan. 17, 2019 by rocket21
Loose Granular, Loose Granular
Feb. 15, 2016 by abski2301
Packed Powder, Wind Blown Snow

Jiminy Peak Mountain Resort on NewEnglandSkiConditions.com
NewEnglandSkiIndustry.com News
Expansion History
Image Gallery
Lifts
Click on lift name for information and photos
Maps
Year by Year History
Adult Weekend Full Day Lift Ticket; Adult Full Price Unlimited Season Pass

2020s
Ticket Price
Season Pass Price

Pass Payback

Opening Day

Closing Day

Skier Visits

2023-24
$114.00
$1329.00
11.7 days
November 24
2022-23
$109.00
$1254.00
11.5 days
November 25
April 2
2021-22
$99.00
$1156.00
11.7 days
November 26
March 27
2020-21
$99.00
$1119.00
11.3 days
November 21
March 27
2019-20
$84.00
$1080.00
12.9 days
November 16
March 15
2010s
Ticket Price
Season Pass Price

Pass Payback

Opening Day

Closing Day

Skier Visits

2018-19
$81.00
$1050.00
13.0 days
November 17
April 7
2017-18
$76.00
$1013.00
13.3 days
November 12
April 8
2016-17
$74.00
$1013.00
13.7 days
November 25
April 9
2015-16
$71.00
$965.00
13.6 days
November 27
March 20
2014-15
$69.00
$935.00
13.6 days
November 16
April 12
2013-14
$67.00
$910.00
13.6 days
November 16
April 6
2012-13
$61.00
$875.00
14.3 days
November 10
April 7
2011-12
$61.00
$875.00
14.3 days
December 10
March 18
2010-11
$59.00
$875.00
14.8 days
November 27
April 10
270,845
2009-10
$58.00
December 12
April 3
2000s
Ticket Price
Season Pass Price

Pass Payback

Opening Day

Closing Day

Skier Visits

2008-09
$56.00
$849.00
15.2 days
November 22
April 5
270,951
2007-08
$59.00
$799.00
13.5 days
November 17
April 6
255,387
2006-07
$57.00
$799.00
14.0 days
November 24
2005-06
$55.00
$759.00
13.8 days
November 25
April 2
222,000
2004-05
$52.00
$759.00
14.6 days
November 13
April 17
2003-04
$52.00
$699.00
13.4 days
November 15
April 11
2002-03
$49.00
$699.00
14.3 days
November 9
April 13
2001-02
$48.00
December 9
April 1
2000-01
$46.00
November 24
250,000
1999-00
$44.00
March 26
200,000
1990s
Ticket Price
Season Pass Price

Pass Payback

Opening Day

Closing Day

Skier Visits

1998-99
$42.00
December 12
1997-98
$39.00
November 15
1996-97
$38.00
November 3
1995-96
$38.00
1994-95
$37.00
November 12
April 9
1993-94
$37.00
$549.75
14.9 days
1992-93
$35.00
November 8
May 2
241,520
1991-92
$34.00
November 9
April 13
189,129
1990-91
$33.00
1989-90
$30.00
November 5
March 18
1980s
Ticket Price
Season Pass Price

Pass Payback

Opening Day

Closing Day

Skier Visits

1988-89
$30.00
170,867
1987-88
$28.00
189,415
1986-87
$26.00
November 15
190,000
1985-86
$25.00
1984-85
$21.00
November 3
1983-84
$20.00
November 13
April 8
145,000
1982-83
$19.00
October 24
March 27
1981-82
$17.00
October 25
168,000
1980-81
$15.00
November 15
1979-80
$14.00
November 17
March 23
1970s
Ticket Price
Season Pass Price

Pass Payback

Opening Day

Closing Day

Skier Visits

1978-79
$13.00
November 7
1977-78
$12.00
November 27
1976-77
$11.00
$160.00
14.5 days
November 11
March 27
1975-76
$10.00
November 27
1974-75
$9.00
November 23
April 13
1973-74
$9.00
November 7
March 24
50,000
1972-73
$9.00
October 20
1971-72
$9.00
$150.00
16.7 days
November 26
April 9
1970-71
$8.00
November 26
April 11
1969-70
$8.00
December 19
April 12
1960s
Ticket Price
Season Pass Price

Pass Payback

Opening Day

Closing Day

Skier Visits

1968-69
$7.00
November 11
April 6
1967-68
$7.00
December 2
March 17
1966-67
$7.00
December 3
April 2
1965-66
$6.00
December 18
March 20
1964-65
$6.00
$75.00
12.5 days
December 30
April 4
1963-64
$4.00
December 14
March 22
1962-63
$4.00
December 15
1961-62
$4.00
December 22
1960-61
$4.00
December 17
March 26
1959-60
$4.00
December 20
March 28
1950s
Ticket Price
Season Pass Price

Pass Payback

Opening Day

Closing Day

Skier Visits

1958-59
December 20
1957-58
January 10
April 6
1955-56
December 17
April 15
1954-55
January 22
March 27
1953-54
January 8
1952-53
$3.00
January 4
1951-52
$3.00
December 16
March 30
1950-51
$3.00
1949-50
$3.00
December 3
March 26
1940s
Ticket Price
Season Pass Price

Pass Payback

Opening Day

Closing Day

Skier Visits

1948-49
$3.00
December 25
March 20
Visitor Memories
"I worked at Jiminy from about 1975 to 1979 in the repair shop and ski school very find memories of my time there my boss was a fellow named Paul Maloney ,ski school, Don Rosenberg Ski Shop I also remember the Riblet chair accident very Trumatic day"
Michael Dunn, Jan. 7, 2022
"I remember when I was first married in 1964 and lived in Conn., we would save $3.00 for a night lift ticket so my husband Allan could ski when we traveled home on the weekend. We ended up moving back to Stephentown & living 4 miles from Jimney. Both my two daughters worked their first jobs there and I worked a second one. Good memories."
maureen maxon, Feb. 23, 2021
"I will never forget Dec. 26 1969 Got on the chair my ski was down to low and snapped it right in half I did learn from that. Hope we have a great season. Thank You Bruce Tetrault "
Bruce tetrault, Oct. 3, 2020
"Anyone remember Mr. 360? He was in a shack at the top of one of the trails and would ride down the mountain at the end of the day standing on a shovel."
Paul Larsen, Feb. 24, 2016
"On a trip from Delaware to New England a couple of years ago I stopped off on my way home and had a great day. I do not need a big mountain to have a great day. This resort is a great family resort. I will do this Mountain againJon OsbornOSBORN2SKI"
Jon Osborn, Aug. 19, 2014
"I would like to have the original history of the land sold. My Grandfather John Adams was the one who sold the land to the future owner of Jiminy Peak. If you look up original records you will find this true. My uncle continues to own land close to Jiminy Peak. We continue to be loggers in that area."
Shelly Ravenscraft, Apr. 14, 2013
---
External Links
Jiminy Peak Mountain Resort official site
Last updated: November 21, 2019