| | |
| --- | --- |
| | |
Located in western Connecticut, Woodbury was a popular small sporting facility for over half a century.



Tapawingo Ski Area

Woodbury ski area dates back to the 1963-64 season when Kermit Adams and Thomas Brownell opened Tapawingo ski area, the name derived from the Mohawk word for Place of Joy. Following his time in the Marine Corps, Adams had returned to Woodbury to work in the sand and gravel industry. Observing a lack of skiing in the area, he and Brownell reportedly searched for a site for two years before settling on a location of off Washington Road in Woodbury. Tapawingo Ski Area, Inc. was formed in August 1963, opening the ski area in December with a T-Bar, a rope tow, snowmaking, and night skiing. A second rope tow may have been added during the mid 1960s.

With a slogan of, "A Bit of Up North, Down South," Tapawingo did not aspire to be a big ski area. Founder Kermit Adams later reflected, "the economy was so good in those days that it made sense to create a small family area for skiing, especially since we had several prep schools that supported it."



Rod Taylor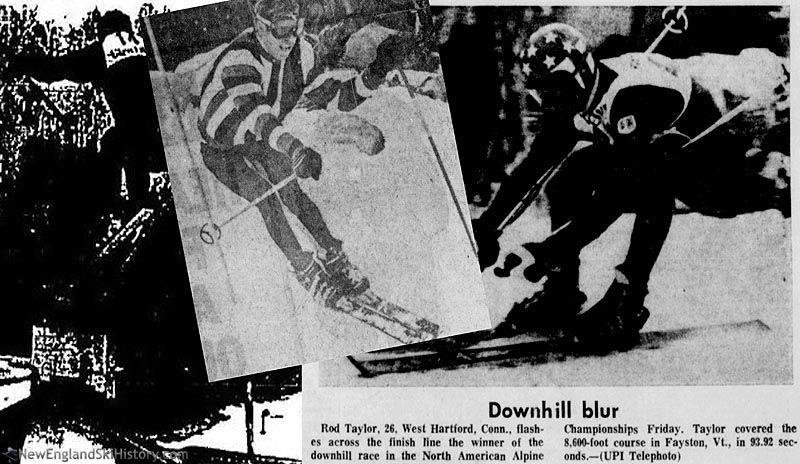 US Ski Team member Rod Taylor

Meanwhile, a Hartford native was making a name for himself in the ski racing world. Roderick G. Taylor attended Western State College in Colorado on a ski scholarship and quickly started winning prominent races. By the late 1960s, he was a member of the United States Ski Team, winning the national downhill championship in 1968 and 1970. Taylor enlisted in the Army in 1968, where he also became an accomplished tennis player while training for skiing. Following the winter of 1971-72, Taylor went pro.

Tapawingo branched out beyond skiing in July 1970, when it hosted a rock and rock concert that attracted some 3,000 attendees. Nevertheless, Tapawingo found itself in financial trouble in the early 1970s. While presenting ski films at Nonnewaug High School in Woodbury in 1972, Rod Taylor was asked by locals if he could help save the ski area.



Tapawingo Becomes Woodbury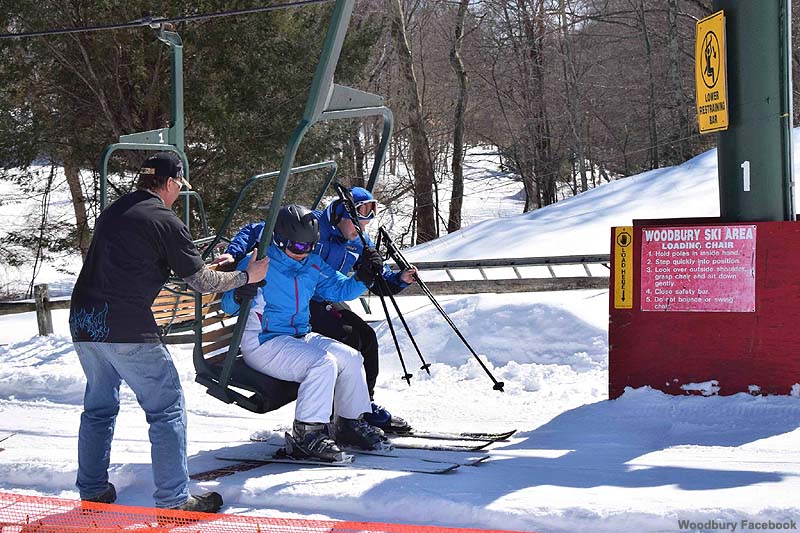 The double chairlift

Rod Taylor, John Stout, and attorney Perley Grimes acquired Tapawingo and renamed it the Woodbury Ski and Racquet Club for the 1972-73 season. With the new name, the group planned to create a year-round operation. Since Taylor was continuing to ski race, Chris Ashe was named general manager.

By the mid-1970s, Woodbury featured two bubble tennis courts and four summer courts, as well as regular summer concerts. Cross country skiing was also offered. By this time, Scott Berwick had taken over as general manager.

Following the best season of Taylor's ownership to date, a new Hall double chairlift was ordered for the 1976-77 season. The opening of the lift may have been delayed until 1977 due to weather. Other improvements for the season included three new trails and improved snowmaking capabilities.

Tragedy hit in May of 1980, when the lodge burned down. Taylor continued to invest, adding a new rope tow and leasing property for cross country skiing for the 1980-81 season. A new lodge was constructed soon thereafter.

Woodbury was recognized by Ripley's Believe It or Not in 1982, when Taylor and four others skied down the hill together on a single pair of skis.

Snowmaking was added to cross country ski terrain for the 1986-87 season. Meanwhile, Taylor made headlines during the mid and late 1980s as he competed and medaled in Masters ski races throughout the world.

Woodbury was one of the earliest adopters of snowboarding, allowing the sport on its slopes from its infancy. In addition, Woodbury constructed one of the earliest New England half pipes in the late 1980s.

In the summer of 1998, Woodbury had a grand opening for what was billed as the largest skateboard park in the Northeast.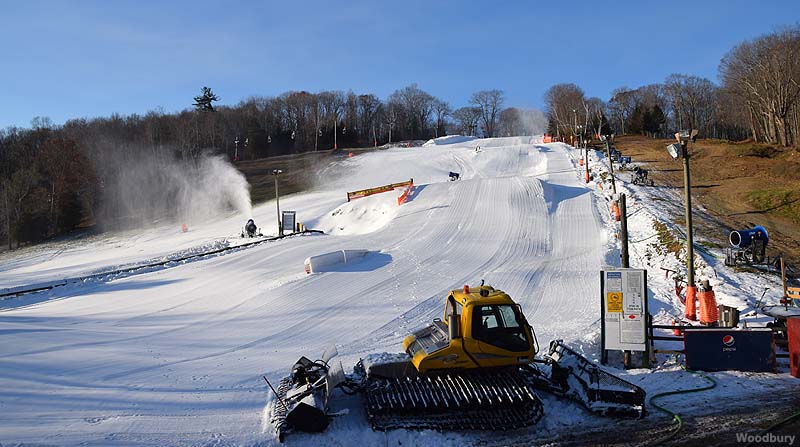 The slope in November 2014

Using money from his father's inheritance, Taylor boosted snowmaking capabilities, allowing Woodbury to cover its slopes when the surrounding areas were bare. Taylor told Ski magazine, "Everything I've owned, I've put into this area. I've never even taken a salary. To a business person, it's a money loser." He went on to add, "The best days are the days when you've just made snow and it's sunny. People come up to you and say the skiing's great. You look up the hill and then you think, it's you that did it. You provided that great skiing for them. That's probably why I'm still in the business."

Woodbury made regional headlines in the 2000s on multiple occasions for being the first ski area in New England to open for the season.

Two magic carpet lifts were installed for the 2005-06 season, modernizing the beginner ski experience.


Rod Taylor Passes Away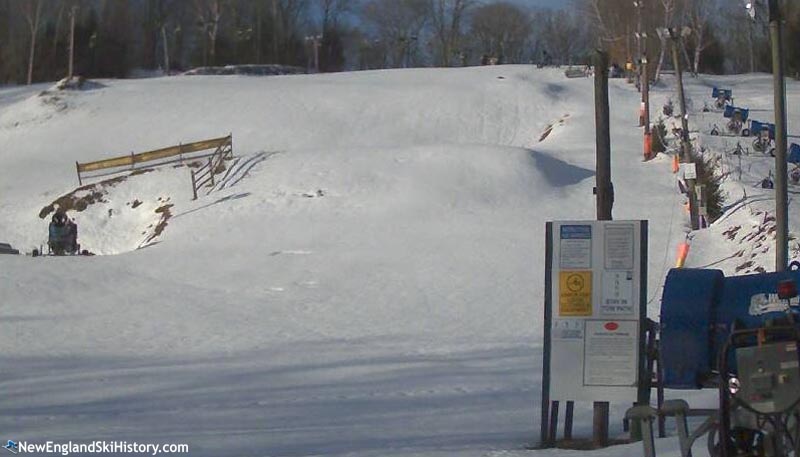 An idle Woodbury ski area in February 2017

Owner Rod Taylor passed away unexpectedly on July 5, 2014, two days before his 71st birthday. While all summer recreational activities at Woodbury were temporarily suspended, the area was able to reopen for the 2014-15 season with longtime employee Scott Damato promoted to general manager. Improvements continued, including snowmaking enhancements, homologation of a racing slope, and acquisition of modern snow cats.

Co-founder Kermit Adams passed away on January 9, 2016 at the age of 80.


Closure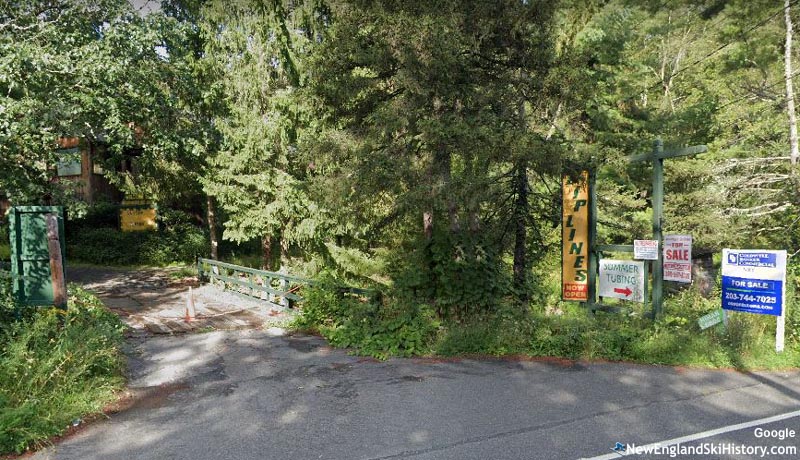 The Woodbury entrance in 2019

Dealing with a drought and an uncertain future, Woodbury did not open for the 2016-17 season. Though there was hope the area would rebound in 2017, the 2017-18 season was cancelled that fall, as the ski area was placed on the market.

Woodbury's last day of skiing was March 12, 2016. As of the spring of 2020, the 38 acre area is listed for sale at $890,000.





NewEnglandSkiIndustry.com News


Recent Articles
Woodbury Listed For Sale Again - Jul. 28, 2022
Ski Areas on the Bubble - Nov. 15, 2021
STUDY: Probability of Lost New England Ski Areas Reopening - Nov. 7, 2018
Woodbury Ski Area Updates Status to Permanently Closed - Dec. 12, 2017
Connecticut and Rhode Island Lift Ticket Prices Up 2% - Oct. 8, 2017
EXCLUSIVE: Woodbury Ski Area For Sale, Preparing to Reopen - Sep. 12, 2017
STUDY: Probability of Lost New England Ski Areas Reopening - Apr. 24, 2017
Woodbury Ski Season Cancelled Due to Drought - Mar. 9, 2017
Opening Day Yet to Arrive at Multiple Ski Areas - Jan. 18, 2017
Continued Drought Affecting Some Connecticut Ski Areas - Dec. 28, 2016
Woodbury NewEnglandSkiIndustry.com News Page




Image Gallery





Lifts
Click on lift name for information and photos




Maps


Year by Year History
Adult Weekend Full Day Lift Ticket; Adult Full Price Unlimited Season Pass

2010s
Ticket Price
Season Pass Price

Pass Payback

Opening Day

Closing Day

Skier Visits

2015-16
$39.00
$399.00
10.2 days
November 24
March 12
2014-15
$39.00
$425.00
10.9 days
November 15
2013-14
$42.00
$425.00
10.1 days
October 26
2012-13
$42.00
October 13
2011-12
$39.00
$550.00
14.1 days
October 29
2010-11
$39.00
November 12
2009-10
$39.00
$550.00
14.1 days
December 5
2000s
Ticket Price
Season Pass Price

Pass Payback

Opening Day

Closing Day

Skier Visits

2008-09
$35.00
$525.00
15.0 days
2007-08
$32.00
$549.00
17.2 days
November 8
2006-07
$31.00
$549.00
17.7 days
November 3
2005-06
$29.00
$549.00
18.9 days
2004-05
$28.00
$549.00
19.6 days
2003-04
$27.00
$599.00
22.2 days
November 9
2002-03
$25.00
$499.00
20.0 days
October 24
2001-02
$25.00
$450.00
18.0 days
April 9
2000-01
$24.00
$399.00
16.6 days
1990s
Ticket Price
Season Pass Price

Pass Payback

Opening Day

Closing Day

Skier Visits

1995-96
$20.00
1994-95
March 26
1992-93
$20.00
April 4
1991-92
$20.00
November 27
1980s
Ticket Price
Season Pass Price

Pass Payback

Opening Day

Closing Day

Skier Visits

1988-89
$17.00
1986-87
$15.00
1980-81
$9.50
1970s
Ticket Price
Season Pass Price

Pass Payback

Opening Day

Closing Day

Skier Visits

1972-73
$6.00
1971-72
$6.00
$110.00
18.3 days
1970-71
$4.50
$50.00
11.1 days
1960s
Ticket Price
Season Pass Price

Pass Payback

Opening Day

Closing Day

Skier Visits

1968-69
$4.50
$50.00
11.1 days
1967-68
$4.50
1966-67
$4.00
$50.00
12.5 days
1964-65
$4.00
1963-64
December 14
Visitor Memories
"I grew up about 30 minutes away in Monroe CT and as soon as I got a license to drive I was going to Woodbury almost every weekend. I loved the Big Birtha jump at the crest in the hill. You could hit it at any speed and have a nice slopes landing. I remember having a birthday party there with friend when I was in my early 20's we all had such a blast tubing. There were always injuries but that comes with the tubing, snowboarding, skiing. I'm now 42 and live in Oxford, I have 2 boys and was very upset to hear that this place was no longer open. I have such great memories there and was hoping to share some of those with my kids. Maybe someone will step up and buy this place and bring it back to life."
Robert Pearson, Jul. 27, 2020
"I worked there my last 2 years of high school and first 2 winter breaks of college. It was a very fun place to ski and work if you were my age. Rod ran the place like a crazy captain of a ship in a huge storm. Never a dull moment. What I remember most were the lack of rules, huge jumps he made with his snowcat, and a lot of partying by young employees and kids alike."
Lars McGee, May. 10, 2020
"I worked for Rod from 1983-86 as a salesman, ski instructor and National Ski Patrol. I skied with him in Vermont and Jackson Hole. He was always a pleasure to be with on and off the mountains. "
Robert Tartaglia, May. 9, 2019
"I learned how to ski on the Tapawingo Mountain somewhere around 64-65. My father was one of the tow rope operators. My mother and I rode up on a T-bar, got to the top, she pushed me down the hill and skied away! Halfway down I fell, lost one of my ski's, and she's down at the bottom of the hill yelling "get up, get up!" LOL. Needless to say, I never did acquire much of a taste for downhill skiing. Now, all those Reggae and other concerts that happened in the 70's-80?? There was same darn good times. Rod got in some amazing artists and I never saw one bad show there! Always a fabulous party indeed. :) Heard recently there is someone working on getting the old ski area back in some kind of operation..... "
Margie Scott, Apr. 2, 2019
" I learned to ski at Woodberry ski and racquet in 1970 Rod Taylor was my childhood hero , Lots of race programs and lessons. I remember he would spend a day or two setting up a giant jump on the top of the knoll. Then he would get up his courage after about an hour or so and hit the jump ,usually doing a backflip, of course he would crash horribly ,lay there for about an hour moaning and groaning , he would eventually get up and ski away. Us kids just standing there in amazement . I ended up becoming a ski instructor working in Vermont and Jackson hole Wyoming for years .good memories of Rod Taylor. A life well lived. "
Robert Reid, Jun. 16, 2016
"Learned to ski from age 6 (1964)here.Sunshine Set was name of ski school run by Mr Rigby and Mrs Benson.Skied there thru 1985.Wonderful memories,night skiing 4 nights a week,Rod taylor tried to make a go of it.Did a good job adding snow cat,better martin thycol snow making ,concerts ,saw Earl Scruggs& Vassar Clemons,Brewer and Shipley,Arlo Guthrie ,Phish..then turned to reggae,Yellowman,Steel Pulse,Black Uhuru ect....Rod sold me his Dynamic VR 17's undrilled from 1968,amazing ski's still saved them for posterity"
Sandy Davidson, Feb. 13, 2016
"Skied there on weekend trips 1964 to 1968....with other families from Long Island. H a picture climbing upt to the T Bar.Went to Westover School in Middlebury CT 1967 to 1969.After College ...went to Aspen COfor one winter. Stayed for 42 years..Started and operated SnowPuppies Ski School at Aspen Highlands for 3to 6 year olds from 1965 to 2000, when spenSki Company took over and took over all previously owned independent businesses.Still teach children to ski at Snowmass Ski Area. ...aspenCO.Nice to know that Tapawingo. (Woodbury Ski Area) is still operating.L"
Kristin Lawrence, Jan. 1, 2016
---
External Links
Woodbury Ski Area - official site
Last updated: June 3, 2020