| | |
| --- | --- |
| | |
Located on the same ridge as Mount Snow, Haystack is a mid-sized ski area that has struggled to find a place in the competitive Southern Vermont ski market. After attempts at an upscale independent ski area and a satellite ski area, Haystack is now being developed as a private club.


Initial Buildout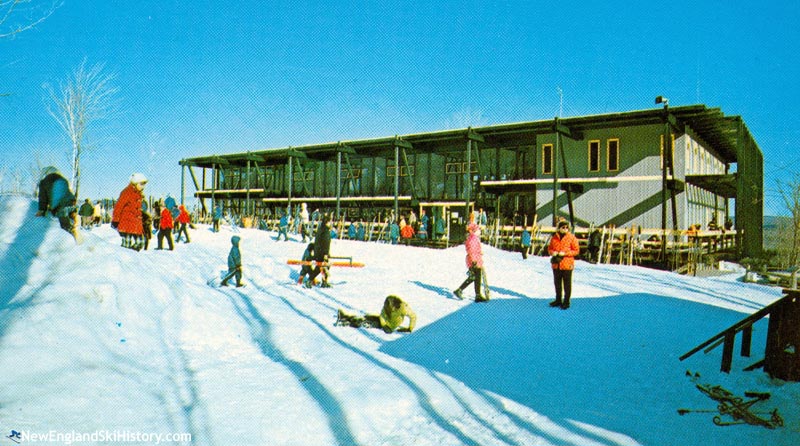 Haystack's lower base lodge in the 1960s

Word of a potential new ski area on 3,445 foot Haystack Mountain spread in early 1964, when the Haystack Corporation applied for a use permit with the United States Forest Service. Two permits were issued on July 27, 1964, including a 30 year agreement on a 10 acre plot and an annual agreement on 307 acres.

Using a slogan of "Ski Haystack Before Everyone Else Does," the Everett Lord-Wood designed area likely debuted on Christmas of 1964, with Senator George D. Aiken and Lieutenant Governor John F. Daley present. The initial rollout included a three story lodge atop the beginner area, three T-Bars, and a double chairlift on the lower part of the main mountain, serving some 75 acres of terrain. A shuttle bus service carried folks throughout the fragmented base area.


Expansion to the Ridge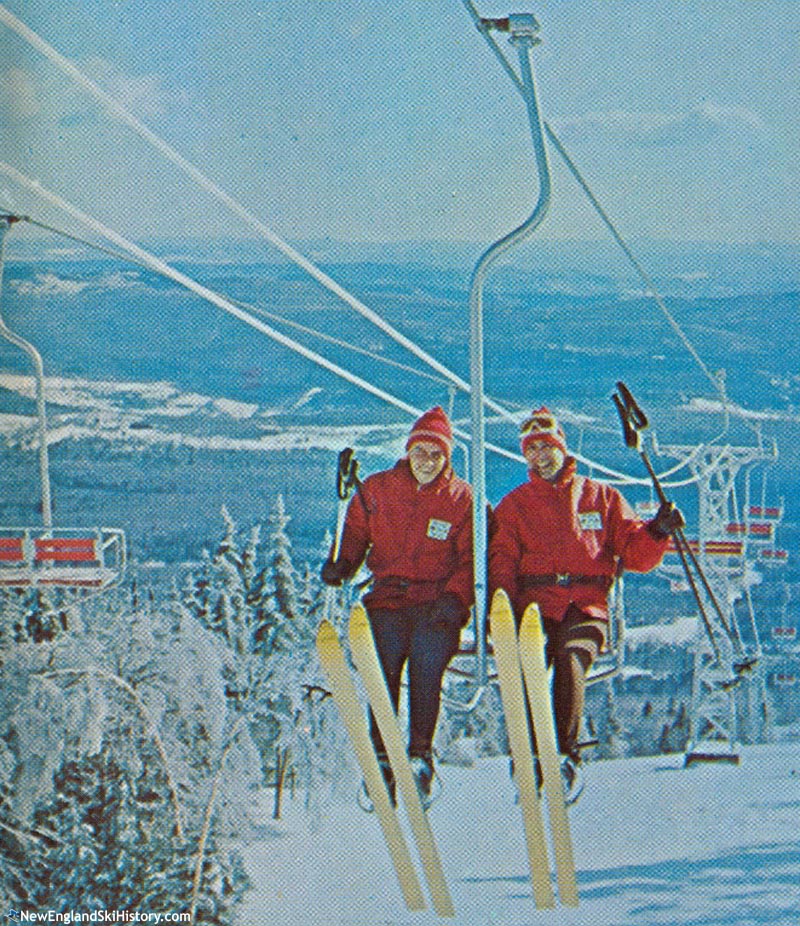 The Oh No double chairlift

Coinciding with the construction of a new access road, Haystack expanded upward for the 1965-66 season with the installation of the Oh No double chairlift and the addition of 50 acres of terrain. While plans for a gondola and three story summit lodge were announced, they were not meant to be.

The issue of having two somewhat detached ski complexes was addressed for the 1966-67 season, when the Transfer double chairlift was constructed from the lower base lodge to the upper mountain base area. The unique lift included a road crossing with safety netting.

Attention then turned to developing real estate and amenities. An early snowstorm resulted in a November opening in 1968, followed a few weeks later by the opening of a hip, new night club called "Sgt. Peppers."

While Haystack was selling a hip image, behind the scenes it was financially struggling with fixing a hole. As a result, there was a change of management in 1969.

Aggressive plans were made for three new chairlifts, new trails, and a 6,000 foot long gondola. Parking was to be more than doubled, while 2,200 home lots, 200 condos, a golf course, and a convention center were planned.

After numerous delays, off site the 18 hole golf course and a sewage treatment plant were constructed circa 1971. Snowmaking was planned for 1973, while lifts were projected to follow in subsequent years.

Financial Woes

The optimistic plans gave way to further financial problems, magnified by the lack of snowmaking. Associated Mortgage Investors likely foreclosed on the ski area circa 1974.

Snowmaking was first attempted at Haystack in early 1977, when hoses and other equipment were borrowed from the local fire department to help get the ski area open on at least some sort of frozen surface. At actual snowmaking system was installed at Haystack in either late 1977 or 1978.

Haystack made regional headlines on March 12, 1977, when one of its shorter double chairlifts deroped that morning. While there were fortunately no fatalities, 11 skiers were hospitalized, some with serious injuries.


Closure

Starting around 1979, the owners of Round Top likely leased Haystack for two winters. In the midst of poor natural snowfall winters, Haystack closed following the 1980-81 season. The foreclosed ski area sat idle for three winters.


"The Stack Is Back"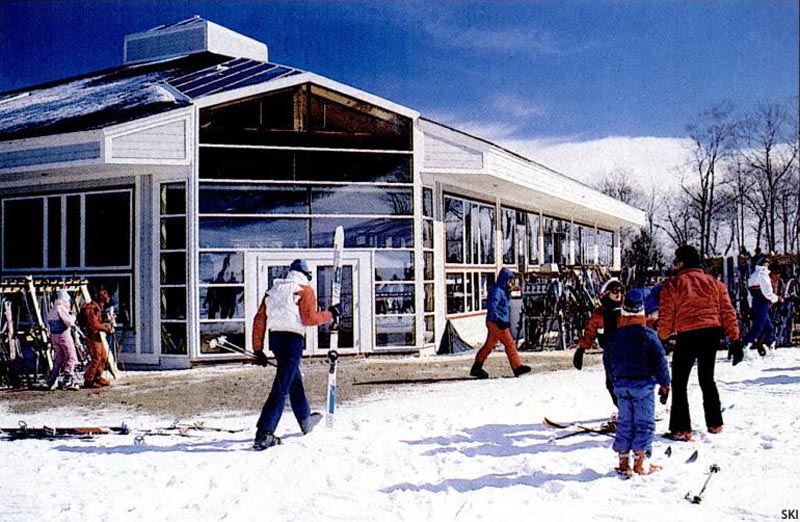 The then-new upper base lodge circa the late 1980s or early 1990s

In January of 1984, former Stratton General Manager Don Tarinelli, Vermont State Representative Mike Kimack, and Bill Wylie formed a group to reopen Haystack. The group took control of the idle ski area in July and had it operational in time for the 1984-85 season.

Big changes took place in 1985 when $2.5 million was invested in the ski area. The original Hayfever chairlift on the lower main mountain was removed, giving way to two new Poma triple chairlifts, the longer of which reached the top of the ski area.

The former Hayfever chairlift was then moved to the beginner mountain for the 1986-87 season, giving novices something other than T-Bar lift service.

Over a decade after it was first proposed, the The Witches area finally opened for the 1987-88 season, served by a new triple chairlift. The $2 million upper base lodge was likely constructed for the following season.


Bankruptcy and Acquisition

While it appeared to be on the upswing from an infrastructure improvement standpoint, Haystack ended up in bankruptcy by 1991. At that point, Mount Snow's parent company S-K-I Ltd. leased Haystack for three seasons and then subsequently purchased it in July of 1994 for $4.5 million. In addition to providing a nearby area for weekend and holiday overflow, the acquisition also allowed Mount Snow to pump water from Haystack's snowmaking water supply.

Along with most of S-K-I Ltd.'s other areas, Haystack was rolled into the American Skiing Company in 1996. It operated less and less frequently during its time as Mt. Snow's sister mountain, eventually becoming a weekend and holidays area.


Sale and Restrictions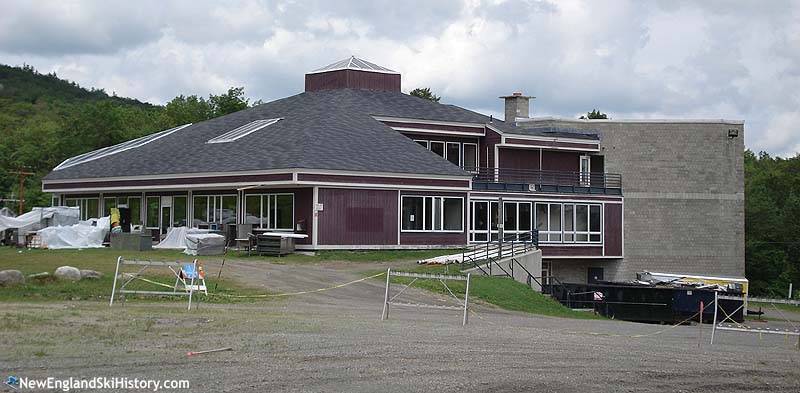 The idle upper base lodge in 2006

In 2005, American Skiing Company sold Haystack to Tyringham Ridge, Inc. for $5 million. As part of the agreement, Haystack is prohibited from opening to the non-local general public. Up to 250 local residents per day are allowed to ski at Haystack, in addition to private club members.

Following the sale, plans were put in place to develop an upscale, private ski area. Real estate sales and capitalization issues plagued the company as the project estimate soared to $450 million. The project at the idle ski area was put on hold in 2007.


Haystack Privately Reopens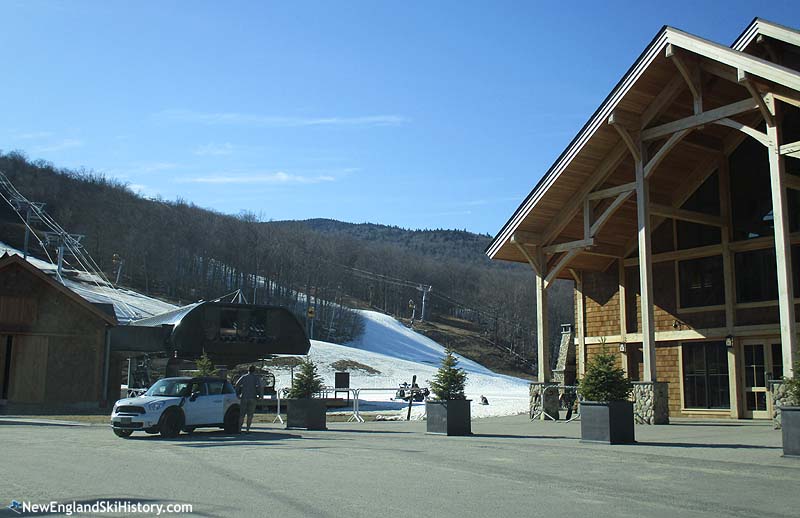 The new six pack and lodge in 2016

After being closed for 4 seasons, Haystack briefly reopened in December of 2009 with the shorter Hayfever triple chairlift. Mt. Snow then successfully sued over the use of snowmaking water per the 2005 sales agreement, therefore pushing the ski area back into closure after two days of operation.

The upper base lodge was demolished in 2010, to ease current tax liabilities, as well as to open up the area for redevelopment.

Haystack was sold in October of 2011 to Jim Barnes of the Hermitage Inn. The area reopened on a limited basis for the 2011-2012 season with snowmaking and one triple chairlift. Development of a connection to the inn started in 2012, resulting in the opening of a new quad chairlift on January 19, 2013.

Delivery of a second quad chairlift took place in fall 2013. Named Stag's Leap, the new lift connects the lower mountain to the main mountain.

A massive new 80,000 square foot main lodge opened for the 2014-15 season, providing a centerpiece for the private resort. One year later, a heated, high speed detachable six person chairlift was installed from the new lodge to the top of the ski area.

NewEnglandSkiIndustry.com News

Recent Articles
Hayfever Triple at Haystack to Be Removed - Jul. 27, 2020
Haystack Sold at Auction - Mar. 20, 2020
Hermitage Club Liquidation Moving Forward - Aug. 29, 2019
Hermitage Club Facing Liquidation - Jul. 29, 2019
Hermitage Club Files for Bankruptcy - May. 31, 2019
Haystack Could Head to Auction Block This Summer - May. 15, 2019
Multiple Ski Areas Remain Closed as the New Year Approaches - Dec. 27, 2018
Judge Denies Hermitage Request for Lift Inspections - Oct. 30, 2018
Hermitage Club Claims to Have Restructuring Deal Pending - Jul. 28, 2018
Upcoming Ski Season in Jeopardy at Hermitage Club - Jul. 14, 2018
Haystack Mountain NewEnglandSkiIndustry.com News Page

Expansion History

Image Gallery
Lifts
Click on lift name for information and photos
Maps

Year by Year History
Adult Weekend Full Day Lift Ticket; Adult Full Price Unlimited Season Pass

2010s
Ticket Price
Season Pass Price

Pass Payback

Opening Day

Closing Day

Skier Visits

2017-18
November 25
March 25
2016-17
November 26
April 16
2015-16
December 30
March 27
2000s
Ticket Price
Season Pass Price

Pass Payback

Opening Day

Closing Day

Skier Visits

2004-05
$48.00
$369.00
7.7 days
December 25
2003-04
$45.00
$369.00
8.2 days
2002-03
$43.00
December 21
2001-02
$38.00
December 22
2000-01
$35.00
1999-00
December 24
March 19
1990s
Ticket Price
Season Pass Price

Pass Payback

Opening Day

Closing Day

Skier Visits

1998-99
$39.00
$635.00
16.3 days
December 24
1997-98
$37.00
$599.00
16.2 days
December 20
1996-97
$37.00
December 21
March 30
1995-96
$35.00
December 15
March 17
1994-95
December 21
1993-94
$37.00
December 18
April 3
1992-93
$33.00
April 4
1991-92
$32.00
1990-91
$32.00
1989-90
$29.00
1980s
Ticket Price
Season Pass Price

Pass Payback

Opening Day

Closing Day

Skier Visits

1988-89
$29.00
November 24
1987-88
$25.00
1985-86
$22.00
December 14
1980-81
$16.00
1970s
Ticket Price
Season Pass Price

Pass Payback

Opening Day

Closing Day

Skier Visits

1978-79
$13.00
1977-78
$12.00
December 10
1976-77
$10.50
January 8
1975-76
$9.75
$195.00
20.0 days
December 21
1974-75
$8.50
1973-74
$8.00
1972-73
$8.50
December 16
1971-72
$8.00
$160.00
20.0 days
December 18
1970-71
$8.00
December 19
1969-70
$8.00
1960s
Ticket Price
Season Pass Price

Pass Payback

Opening Day

Closing Day

Skier Visits

1968-69
$7.00
1967-68
$7.00
1966-67
$7.00
1965-66
$6.50
December 18
1964-65
$5.50
Visitor Memories
"The Stack was where I learned to ski. In fact, I first started learning to ski right before Haystack closed in 1980/81, over in the lower base area on Cascade and Fanny Hill. Fun times, great memories. For the 1981-1984 seasons, I kept learning to ski over at Mt.Snow and Stratton. I vividly remember returning to ski at Haystack after it had been re-opened, because I first skied the upper mountain then via the transfer lift. I remember Haystack back before The Witches opened, before there was an upper base lodge, and before ANY of the new lifts were installed. I'm sad to see that Haystack isn't open to the public any longer, because it truly was a great mountain. "
Ben Schaeffer, Feb. 12, 2019
"I remember hiking here during the summer of 2006, whilst the ski area was in one of its defunct phases. The lower base lodge had been somewhat recently demolished. The upper base lodge was still standing, but curiously had a bunch of equipment sitting outside. The Haymaker Double was still standing, as were towers from the Transfer and Oh No Doubles. The trails were still relatively clear."
Jeremy Clark, Jul. 15, 2015
"I grew up skiing at Haystack in the 60's..before the transfer lift we were shuttled by vans with the license plates 'HOOT' 'TOOT' & 'WHISTLE'. I joined my father and sister teaching in the ski school and taught Rosie Greer, many blind, deaf, and amputee skiers, as well as others from 5-90 years old. It was a wonderful place to ski and work."
Jane MacKugler, Jul. 14, 2015
---
External Links
Hermitage Club - official site
Last updated: December 7, 2016