Hermon Mountain Ski Area
Hermon, Maine
Status:
Open
First Season:
1960s
Vertical Drop:
350 feet
Standing Lifts:
1 double, surface lifts
Past Lifts:
Surface lifts
Left: The double chairlift (2015)
Recent NewEnglandSkiIndustry.com News:
5/27/2022: Hermon Mountain For Sale
12/26/2016: Maine Lift Ticket Prices Up 9%
Located just west of Bangor, Maine, Hermon Mountain has been serving local (and in many cases due to its proximity to the airport, international) skiers for over half a century.


Rope Tow Years

New Hermon Mountain likely opened by the Jackson family at some point in 1964 (though some sources claim it may have opened in 1962-63), perhaps under the name of Hermon Slope (later becoming Hermon Mountain or Mt. Hermon, depending upon the publication). At this time, the ski area was served by one or more rope tows.



Early Growth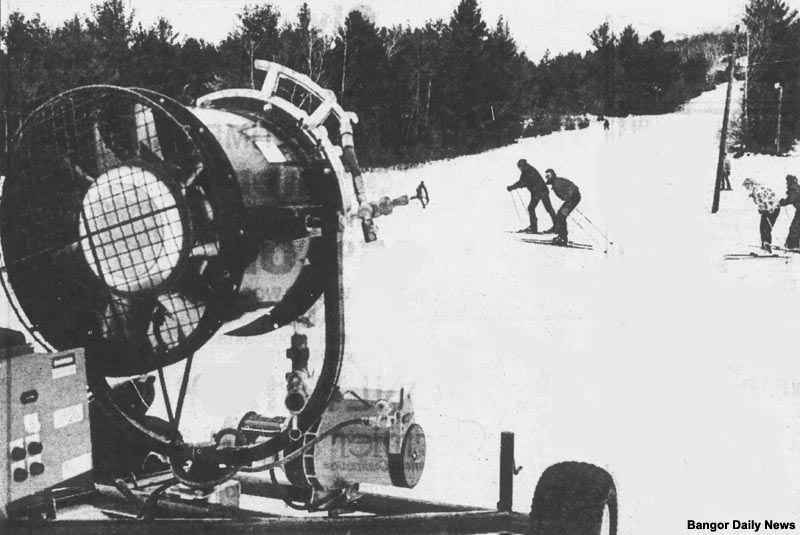 An SMI snowgun at Hermon in the mid 1980s

Hermon Mountain moved forward for the 1966-67 season by installing a 2,000 foot long Poma T-Bar. A new lodge was constructed for the following season. Snowmaking was possibly installed by the end of the decade.

A new expert trail was added for the 1970-71 season. A second T-Bar was added in 1972, serving novice terrain. By the time 1974-75 started, Hermon was advertising having snowmaking and lights on nearly all of its terrain.

Hard times soon hit Hermon. Less than two years after renovations, the Hermon Mountain base lodge burned to the ground on January 5, 1981. A group of local lawyers likely took control of the mountain circa 1984. $120,000 was invested in improving snowmaking for the 1984-85 season, following multiple years of poor snowfall.


New Hermon Mountain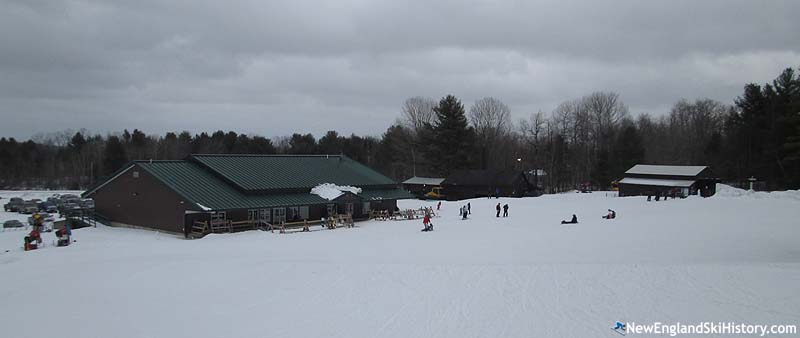 The base area (2015)

New Hermon Mountain, Inc., owned by Bill and Marlene Whitcomb, took over the ski area in 1988. Snowmaking firepower was reportedly tripled in 1990.

After a decade of building up New Hermon Mountain, the Whitcombs installed a refurbished double chairlift for the 1998-99 season.

Aging night skiing lights were replaced for the 2001-2002, while the snowmaking electrical system was improved. A tubing operation was added for the 2002-2003 season, diversifying winter activities.

A large scale lodge expansion was conducted for the 2005-2006 season.

NewEnglandSkiConditions.com Reports

Month
Average Percent of Terrain Open
January
40% (3 reports)
February
85% (1 report)
March
70% (3 reports)

-- start conditions table -->

Recent Conditions Reports

Mar. 11, 2022 by newenglandskier13
Spring Snow, Spring Snow
Feb. 11, 2022 by newenglandskier13
Spring Snow, Spring Snow
Jan. 12, 2022 by newenglandskier13
Packed Powder, Frozen Granular
Mar. 16, 2021 by newenglandskier13
Loose Granular, Frozen Granular
Jan. 7, 2021 by newenglandskier13
Packed Powder, Powder

Hermon Mountain Ski Area on NewEnglandSkiConditions.com

Image Gallery

Lifts
Click on lift name for information and photos
Maps

Year by Year History
Adult Weekend Full Day Lift Ticket; Adult Full Price Unlimited Season Pass

2020s
Ticket Price
Season Pass Price

Pass Payback

Opening Day

Closing Day

Skier Visits

2021-22
$55.00
$520.00
9.5 days
December 27
March 20
2020-21
December 28
March 21
2019-20
$35.00
$385.00
11.0 days
December 19
March 15
2010s
Ticket Price
Season Pass Price

Pass Payback

Opening Day

Closing Day

Skier Visits

2018-19
$32.00
$350.00
10.9 days
December 15
March 31
2017-18
$32.00
$350.00
10.9 days
December 21
March 31
2016-17
$27.00
$275.00
10.2 days
December 17
March 26
2015-16
$27.00
$275.00
10.2 days
December 26
March 13
2014-15
$27.00
$275.00
10.2 days
December 21
March 29
2013-14
$27.00
$275.00
10.2 days
December 13
March 29
2012-13
$25.00
$275.00
11.0 days
2011-12
$25.00
$275.00
11.0 days
December 23
March 17
2009-10
$275.00
March 13
2000s
Ticket Price
Season Pass Price

Pass Payback

Opening Day

Closing Day

Skier Visits

2008-09
$25.00
$275.00
11.0 days
March 22
2007-08
$20.00
$255.00
12.8 days
2006-07
$20.00
$255.00
12.8 days
2004-05
$20.00
1990s
Ticket Price
Season Pass Price

Pass Payback

Opening Day

Closing Day

Skier Visits

1997-98
December 5
1996-97
March 30
1995-96
December 2
1994-95
December 16
1992-93
December 11
1991-92
$17.00
1990-91
December 15
1989-90
$15.00
December 1
1980s
Ticket Price
Season Pass Price

Pass Payback

Opening Day

Closing Day

Skier Visits

1987-88
$235.00
December 19
March 20
1986-87
$13.00
$200.00
15.4 days
December 23
1985-86
$11.00
December 10
1984-85
December 25
February 10
1981-82
December 17
1970s
Ticket Price
Season Pass Price

Pass Payback

Opening Day

Closing Day

Skier Visits

1977-78
December 17
1971-72
December 4
1970-71
$80.00
1969-70
$3.50
December 20
March 21
1960s
Ticket Price
Season Pass Price

Pass Payback

Opening Day

Closing Day

Skier Visits

1964-65
$2.00
$30.00
15.0 days
Visitor Memories
"Our oldest daughter learned to ski here when se was 4, 1985. What a great family area. Just a T-bar in those days but that was plenty. We have a lot of great memories from Hermon Mountain. "
Peter Provencher, May. 27, 2022
"I was the (Kitchen Lady) (Cook) still get called that after all those years later.you are in my back yard and still enjoy watching you make snow after all theses years."
Cindy Boudreau, Feb. 6, 2017
"I was a member of the National Ski patrol back in the 1960's working at this ski area while stationed at Dow AFB. Great memories of this little mountain."
Richard Davis, Nov. 20, 2016
---
External Links
Hermon Mountain - official site
Hermon Mountain Ski Area - SmallSkiAreas.com
Last updated: December 23, 2016