Chickley Alp Ski Area
Hawley, Massachusetts
Status:
Lost/Defunct
First Season:
1937-38
Last Season:
1978-79
Vertical Drop:
300 feet
Standing Lifts:
0
Past Lifts:
Surface lifts
Left: Chickley Alp circa the 1950s
Recent NewEnglandSkiIndustry.com News:
Located adjacent to the Chickley River at the base of Hawks Mountain in Hawley, Chickley Alp was once a major ski area.


Development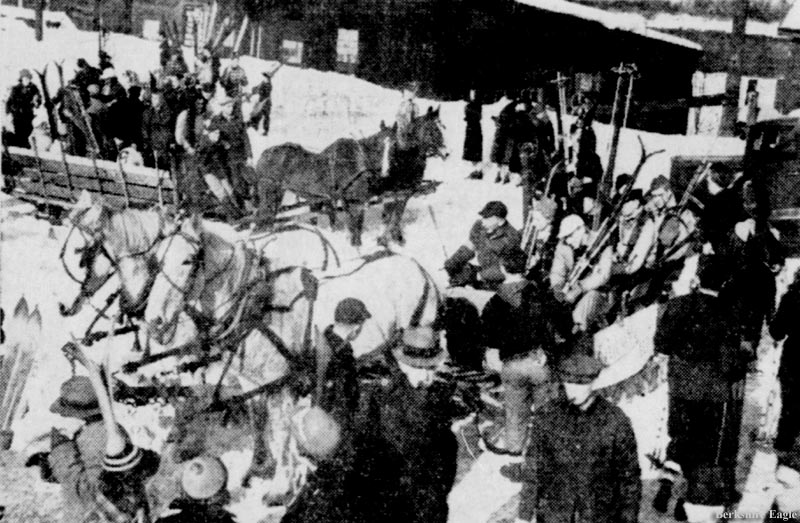 The first snow train arrives in Charlemont (January 1938)

John Basciano, a native of Italy, and his wife Josephine, a native of Switzerland, departed from New York in search of a place to develop a Swiss-like ski area. After reportedly traveling 6,000 miles throughout New England, they settled on the small town of Hawley, Massachusetts. The couple purchased a farmhouse and 210 acre tract of land along Route 8A from Ida Neary in May 1937. A 1,400 foot rope tow was installed, serving three trails and slope. A "rustic" 20 by 30 foot warming hut was constructed with a stove and "refreshment alcove." Hans Thorner, future developer of Magic Mountain, served as ski school director. The area debuted on December 19, 1937.


Chickley Quickly Becomes Popular

In the days before the Interstate Highway System, snow trains quickly made Chickley Alp a destination for skiers from hundreds of miles away. Charlemont's first snow train arrived to the cheers of locals in late January 1938, bringing some 450 passengers from Connecticut via the New York, New Haven, and Hartford and Boston & Maine lines. Locals provided fifteen sleighs (horse and oxen-drawn) free of charge to bring skiers from the train station to Chickley Alp and the new Mohawk Trail Skiers Project ski areas. A later snow train passenger to Chickley Alp was Arthur Parker, who would become inspired to develop Thunder Mountain ski club near the tracks. Thunder Mountain would later grow to become Berkshire East.

Building on the energy of the debut season, many new improvements were made for 1938-39, including the construction of a ski jump (perhaps inspired by regular visits by US National Ski Jumping Champion and future United States Ski Hall of Famer Strand H. Mikkelsen) and a 500 foot toboggan slide. In addition, a 1,170 vertical foot trail, named the Hawks-Joch Run, was cut for those willing to hike to the summit of Hawks Mountain. The trail was designed with the help of Thorner and Massachusetts CCC ski trail planner Charles L. Parker.

By the time the 1940-41 season rolled around, Chickley Alp had five trails and two rope tows in operation and hired Countess Anna Hartmann of Hartenau as its ski instructor. A native of Austria, Hartmann was a reportedly an accomplished cross-country ski racer and a movie star who had learned to ski at Hannes Schneider's ski school. Locals reportedly staged a large reception for her, only to find out she was unable to ski New England hard-packed conditions.

Further improvements were made for the 1941-42 season, including lengthening the shorter tow and adding a "new wide steep trail." Weekend crowds resulted in lines that were a hundred feet long in January 1942. A third tow may have been opened that winter and limited weekday operations were also advertised.

The area may have curtailed or suspended operations for a portion of World War II. The 1943-44 season was cancelled due to gas shortages.



Chickley Changes Hands

Former New York businessman Joseph A. Graham, a Yale graduate and veteran of World War I and World War II, purchased Chickley Alp from the Bascianos in October 1946. The Bascianos, who retained their next-door home, granted Graham a right of way to expand Chickley Alp to another tract of land they owned and later loaned him $6,000 for the ski area in 1948.

Six rope tows were in place for Graham's first season, including a unique new bi-directional tow named the "chow line," which transported skiers between the warming hut and snack bar. After serving in the Army during World War II, Strand Mikkelsen took over the Chickley Alp ski school around this time.

Seven lifts were advertised for the 1947-48 season. A 1949 New York Times review noted that "You can't beat the combination of snow and suitable terrain for skiing," identifying trails such as Landry, South, Chickley, North, Parsenn, and Blizter as having "plenty of sport in them."



Snow White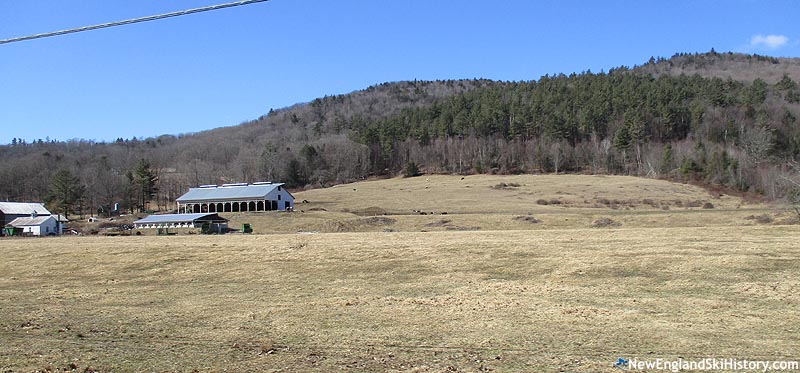 The former Snow White slope (2016)

Circa 1947, J. Phelps Ingersoll procured a five year agreement to use a pasture on Albert White's farm, one mile up the road from Chickley Alp. The mid-50s president of marine equipment manufacturer Wilcox, Crittenden, and Company was reportedly had a bad experience with a ski instructor and decided to develop an area for easy skiing. His company manufactured two ski tows at its Middletown, Connecticut plant, which were in place at Snow White for the 1948-49 season.

Riding on the coattails of Chickley Alp, Snow White sometimes drew sizable crowds and offered night skiing, but suffered through multiple mild winters. While the ski area was gradually improved and even had a new tow installed to increase the vertical drop in 1951-52, operations ceased that March when Ingersoll did not renew his lease. Though there was a passing mention of Snow White being part of a tourism association in 1955, the area likely never reopened.



The 1950s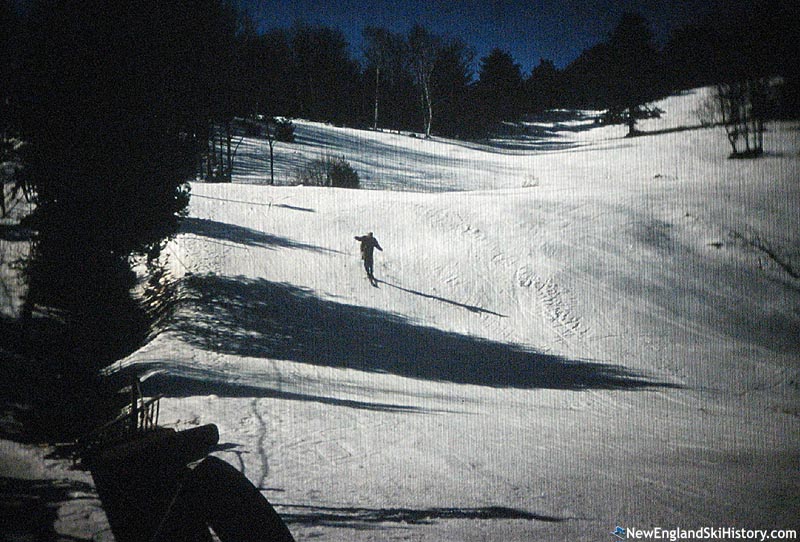 Chickley Alp circa the 1950s

The "chow line" tow was removed in 1950-51, as food service was relocated to the warming hut. A new beginner slope named Snow Bunny was added for 1951-52, served by a 200 foot tow. By the late 50s, the area was down to five rope tows.

As larger areas started to sprout up with chairlifts and snowmaking, Chickley started to fade. The Hartford Courant even went as far to say that Graham "opened the area at his convenience with complete disregard to the time, or to how many skiers might be waiting. Skiers were often compelled to supply gasoline for the car engines that were used to power the tows."

Thinking about retirement, Central Motors of Marblehead owner Everett Peabody purchased Chickley Alp from Graham in October 1959 and tried to repair the area's facilities (reportedly down to 4 rope tows by 1961) and reputation. Though his wife Anna was reportedly against the move, she soon found joy in running the base area operations and tending to the children.

While "primitive sanitary facilities" were the norm when Chickley Alp first opened, they were the source of many complaints as the years passed. As a result, the Peabodys constructed bathrooms. Though there were also plans to install a new lift circa 1961, they did not come to fruition, perhaps due to a "so-so season." Thunder Mountain opened nearby in 1961-62, instantly drawing large crowds as Chickley's waned.

Former ski school director Strand Mikkelsen passed away in February 1964 at the age of 59.



No Longer Only Rope Tows

Richard G. Desmarais, a Korean War veteran and owner of Desmarais Oil Company in Chicopee, came upon Chickley Alp during the 1960s while searching for an uncrowded place to ski. He soon started helping out the Peabodys, who were thinking more about retirement.

Desmarais purchased Chickley Alp from the Peabodys in April 1964 and was joined by his family that off-season as they worked to repair and improve the aging ski area. Rope tows were overhauled and a new warming hut was constructed. In addition, rental equipment was reportedly offered for the first time. Desmarais's wife Therese operated the food court, while her brother Leo Chartier was named ski school director. The 1964-65 season was unfortunately a rough one, with a late start and likely a February closing.

Despite the rough start, investments were soon made, with Ronald Douville joining as a partner in Chickley Alp Ski Center, Inc. Construction on a new base lodge started, with the cement block first floor and fieldstone fireplace debuting for the 1966-67 season. By this point, Al "Bobo" Bobowiec had taken over as ski school director.

After thirty years with only rope tows, Chickley Alp took a big step forward for the 1967-68 season when it installed a T-Bar. Lawrence and June Kruz joined as partners in the ski area for the T-Bar expansion, while others may have also purchased shares of stock in exchange for season pass and dividend benefits. The new lift debuted the weekend prior to New Year's Day 1968.

Desmarais worked to diversify the revenue stream by opening a summertime camping area circa 1968.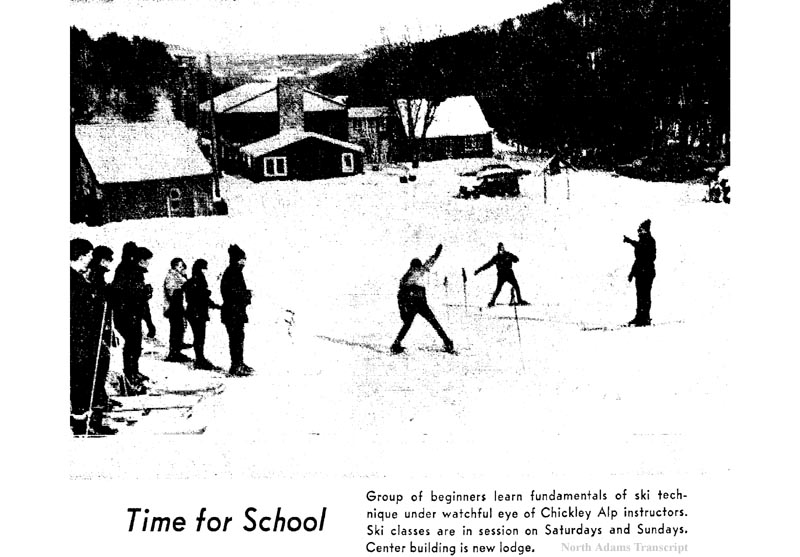 Ski school in the late 1960s

Chickley's multi-year lodge construction continued into the 1968-69 season, with a new fireplace debuting in early January.

Ski school director Al "Bobo" Bobowiec departed for Berkshire East for the 1969-70 season, with Leo Chartier likely taking back the post at Chickley.

The relatively aggressive expansions put the ski area in financial trouble, Shelburne Falls Savings Bank attempted to auction it in the fall of 1970. The ownership was able to keep the area and enjoyed a long 1970-71 season. Nevertheless, attendance was down and overhead was rising. In the spring of 1971, Desmarais estimated the area had $15,000 to $20,000 of overhead expenses as compared to revenue of $17,000.

In addition to the attempts at starting a campground, circa 1971 Chickley began offering its lodge as a hunting camp during deer season.

1971-72 was another down year. 1972 off season work included smoothing trails and putting wall-to-wall carpet in the lodge. Following the 1972-73 season, Desmarais transferred the property from their name to Chickley Alp Ski Center, Inc.

Though the 1972-73 season was an improvement, 1973-74 was a disaster. Opening day didn't arrive until mid-January and closing day came soon thereafter in early February. Desmarais declared it the worst season of his ownership thus far.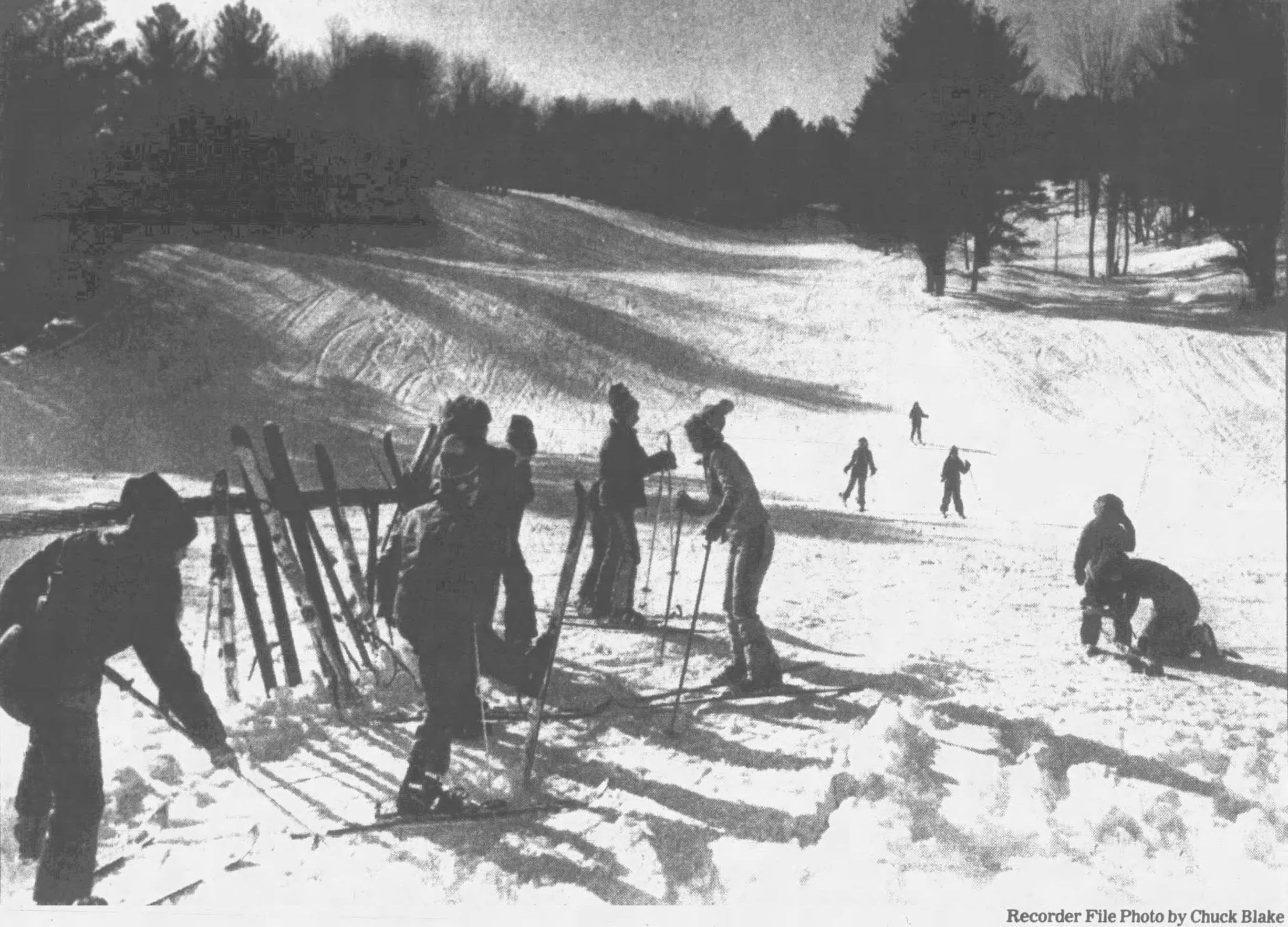 Chickley Alp circa the 1970s

1974-75 was a rebound year, as Chickley posted record revenues with 32 days of operation, ending the season with a profit. Nevertheless, $3,869 in back taxes nearly resulted in an auction in the fall. Financing from Chicopee Savings Bank likely saved the area.

The 1975-76 season got off to a strong start, however a mid-season thaw put a damper on business.

Upon graduating from Castleton State College, Richard Desmarais's son Dave took over as manager of Chickley Alp for the 1976-77 season, adding a separate ski shop. He later reflected that, "I've skied since age 3 and I still get excited here. That's what draws the families." Plagued with poor snowfall, the season started in January and was over by early March.

Chickley Alp's luck improved for the 1977-78 season, as early snow allowed for a mid-December opening day. The season ended just before the end of calendar winter.

A holiday storm resulted in the 1978-79 season starting on the day after Christmas. It is not known if skiing lasted beyond mid-January. The season resulted in a $12,500 loss.


Closure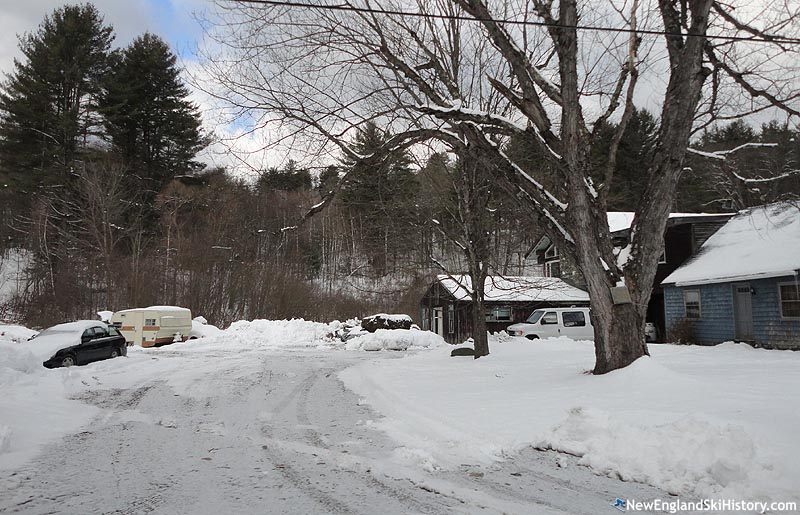 The former base area (2013)

Though Chickley Alp was set to operate for the 1979-80 season, its slopes remained bare. By the start of February, Richard Desmarais reported a loss of $15,000 to $20,000 from on-going expenses without any operating revenue, making it the worst winter he had seen in nearly two decades of ownership.

Still idle in late February, Chickley Alp advertised a "ski shop going out of business" cash and carry sale. Soon thereafter, word emerged that the ski area was for sale. Desmarais told the Greenfield Recorder that, "It's a financial decision. I wouldn't give it up if it weren't for that," adding that, "When the day comes and somebody buys it, I'm gonna feel it." Chickley Alp would never operate again.

The ski rental inventory was likely liquated in a November 1980 sale. Much of the ski infrastructure was still on site in 1985, when Chickley Alp was sold to Stella Xifaras's Amvex, Inc. Plans were announced to reopen the area as a four-season recreation center, including the installation of snowmaking. Not much is known about the New Bedford, Massachusetts company, but it reportedly defaulted on mortgage payments, resulting in the property transferring back to Desmarais. Salvageable items from the ski area were eventually sold, including the T-Bar.

Chickley Alp founder John Basciano passed away in December 1980 at the age of 93. His widow Josephine passed away in March 1985 at the age of 92. Former owner Everett Peabody passed away in July 1987 at the age of 87. His wife Anna passed away in November 1992 at the age of 92.

Richard Desmarais permanently moved from Chicopee to Hawley in 1994, becoming active in town government. He passed away on Christmas Eve 2012 at the age of 80.



Image Gallery





Lifts
Click on lift name for information and photos




Maps


Year by Year History
Adult Weekend Full Day Lift Ticket; Adult Full Price Unlimited Season Pass

1970s
Ticket Price
Season Pass Price

Pass Payback

Opening Day

Closing Day

Skier Visits

1978-79
December 26
1977-78
$6.00
December 17
March 19
1976-77
$5.00
January 8
March 6
1975-76
$4.00
December 26
1974-75
7,000
1973-74
January 12
1972-73
December 16
February 25
1971-72
January 1
March 19
1970-71
$4.00
December 19
April 4
1969-70
$4.00
December 27
1960s
Ticket Price
Season Pass Price

Pass Payback

Opening Day

Closing Day

Skier Visits

1968-69
$4.00
$40.00
10.0 days
1967-68
$2.50
December 30
1966-67
$2.50
1965-66
$2.50
1964-65
$2.50
1963-64
$2.50
March 22
1962-63
March 31
1961-62
$2.00
1960-61
$2.00
March 26
1959-60
January 2
April 3
1950s
Ticket Price
Season Pass Price

Pass Payback

Opening Day

Closing Day

Skier Visits

1958-59
December 20
March 27
1957-58
January 11
April 6
1956-57
December 15
1955-56
February 4
April 1
1954-55
January 29
March 27
1952-53
January 4
March 8
1951-52
December 16
March 30
1950-51
December 27
March 18
1949-50
$1.50
March 26
1940s
Ticket Price
Season Pass Price

Pass Payback

Opening Day

Closing Day

Skier Visits

1948-49
$1.50
March 20
1946-47
$1.50
$15.00
10.0 days
1930s
Ticket Price
Season Pass Price

Pass Payback

Opening Day

Closing Day

Skier Visits

1937-38
December 19
Visitor Memories
"I learned to ski at Chickley and skied there in the late 60s and early 70s. Early Sunday morning, my aunt would load her 4 kids in the family station wagon. She would stop in Holyoke to pick up my sister Ann and I in route to Charlemont. A lift ticket was the bargain price of $5 and we always brought a brown bag lunch as well as an extra $1 to get fries and hot cocoa at the concession stand. There was one downhill trail that was a slower run and went through the woods. If I was lucky, I often found I was the only one skiing on a pristine trail of fresh snow. To echo David Thibodeau sentiments, it was skiing as skiing was meant to be."
Ellen Robbins, Jan. 2, 2023
"This was my go to place to ski. Skied there late 60,s to mid 70's. Freshman year of Ludlow High school trips. Moved on to cheap rooms at the Charlemont Inn. So many memories. Still ride by the old slopes at least 2 times a year. Just to reminisce. Sure miss the times I spent there. "
Ken Lysik, Mar. 23, 2021
"In 1970 on an overcast Friday night in January, the Chicopee Comp ski team drove to Chickley Alp to spend the night as the guests of the Desmarais family, in the small lodge with practice planned for the next day. The room in which we stayed was 14' x 16' at best, warmed with a wood stove. This was an event! Being in the mountains, staying on the mountain in the dead of winter was too good to be true. For me, it would not have been any better at a high mountain lodge in the best of Vermont. The following morning we were surprised by 8 inches of new snow and the bluest of blue skies and the promise of a surprisingly warm day ahead. I wandered out to the base of the rope tow to find the operator, a pleasing older gentleman with a pipe anchored in his teeth who looked as though he might have come to help out between milkings at a nearby farm. He was using a broom to sweep the new snow off of a 3' wide x 4'long x 2'deep, unpainted upside down plywood box which covered an engine which was in its rightful place on the frame of a long since unroadworthy truck. All that remained of the truck which was backed up to the hill was a completely rust covered frame, was a straight-6 motor with the spark plugs on its top, a 2 foot long shifter protruding from the transmission and a large cold steel wheel with the 1-2' thick ropetow rope wound three times around. With the snow cleared and the box removed, the key was turned, the motor started quickly, the shifter shoved into gear and with the turning of the wheel our means of transport up the mountain was complete. I share this story with my children and their spouses and I will soon be sharing it with my grandchildren with fond regards of an simpler time. I have since skied everywhere with great enjoyment but little compares to the pleasure of a 400 foot vertical mountain under the clearest skies, with fresh snow and no lift (tow) lines, knowing I was experiencing skiing as it was meant to be."
David Thibodeau, Nov. 22, 2014
"Was looking at a map and Chickley A. came to mind. We lived in Granby Mass and spent many wonderful days skiing my age at that time 8 to 15. My mother broke her leg there but the pictures show she was still having a good time."
Mickey Smith, Nov. 22, 2013
"I skied there once or twice...in the early or mid 60's. It was a nice little get-away for some of us city slickers who were not able to go as far as Vermont, etc..Does anyone remember Eddie Goulet who was an instructor at Chickley? "
Elllen Snow, Nov. 8, 2013
"Our family skied at Chickey Alps in the late 60's. I fondly remember the T-Bar lift we wrestled with. I recently found a 'Chickley Alps' patch meant to be sewn onto a ski jacket. I've proudly affixed it to my golfing jacket as a memento of my youth."
Lynn Cynar, Nov. 3, 2013
"My family along with two other families, the Wheelers, the Jacksons, and the Marshalls skied here from 1969 to the mid 70's. We were 10 kids in all. The adults stayed upstairs in the lodge with picnic baskets and thermoses of soup and hot chocolate. Lift tickets were about 6 dollars, stapled onto your jacket. I would get private lessons from Mr. Morton if he wasn't busy. I got be be quite an accomplished skier thanks to his pointers and eventually went off to college in Vt. where I still live. I remember an older man at the T bar, but I can't recall his name. My father used to like to go out and lend a hand loading. Does anyone remember Leo, head of the ski school? Mr. Desmaris kindly let our 3 families sleep downstairs in the lodge in our sleeping bags on several occasions. (We all had long drives back home). Their daughter Donna would join us, as she was close in age to us. I remember one of the sons Steve ran the rental shop.North Trail and South Trail were for experts. They ran along side the T Bar. I used to love those narrow chutes. The best was the big wide dip that landed you in front of the lodge for all to see.So many fond memories.Jane (Wheeler) Williams"
Jane Williams, Feb. 15, 2013
---
External Links
Chickley Alp Ski Center - New England Lost Ski Areas Project
Last updated: October 11, 2022