Mt. Watatic Ski Area
Ashby, Massachusetts
Status:
Lost/Defunct
First Season:
1930s
Last Season:
1982-83
Vertical Drop:
550 feet
Standing Lifts:
0
Past Lifts:
2 doubles, surface lifts
Left: The main lodge in the 1960s
Recent NewEnglandSkiIndustry.com News:
Located near the New Hampshire border, 1,832 foot Mt. Watatic is one of the highest mountains east of the Connecticut River in Massachusetts. Prior to the rise of Wachusett, Mt. Watatic was home to a mid-sized alpine ski area.


Development of Skiing on Mt. Watatic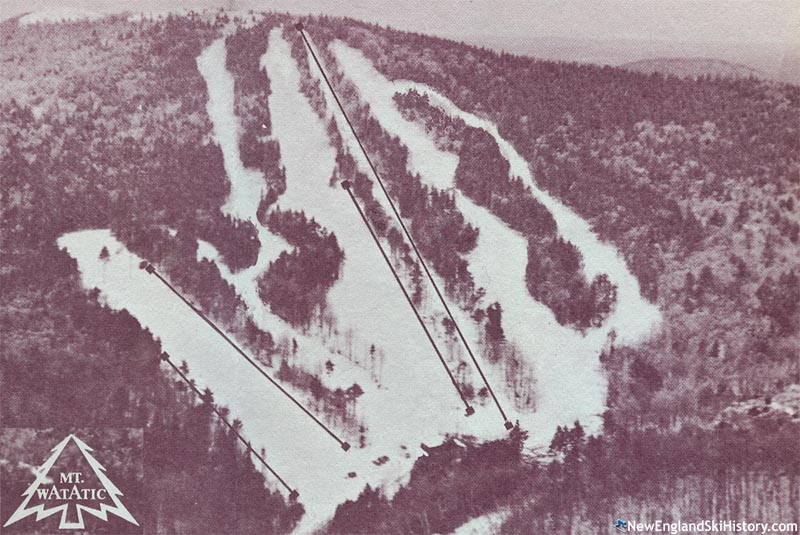 The Mt. Watatic layout of the late 1960s

Lift served skiing on Mt. Watatic may date back as far as the 1930s, when a rope tow may have operated somewhere at the base of the mountain. Not much is known about this operation.

Fast forward to May of 1964, when Mt. Watatic, Inc. was formed. Land on the mountain was transferred to the corporation, headed by Joseph DeGrace, that September. In May of 1965, the corporation advertised an offering of 2,750 shares of $100 common stock. A $35,000 mortgage was taken out in the fall of 1965.



Mt. Watatic Opens

Mt. Watatic opened as a T-Bar served area in 1965-66 under General Manager Al DeGrace. Two trails and one slope were cut, serviced by the T-Bar and two rope tows. Carl and Bonnie Besse ran the ski school, which experimented with parachute braking techniques.

Incremental expansion took place during the late 1960s, including a second T-Bar possibly installed for the 1966-67 season and a night skiing terrain expansion in 1967-68. The area was advertised as being under new management for the 1968-69 season, however ownership and overall management remained the same.



The 1970s


Mt. Watatic's 1970s logo

A series of mortgages were taken out starting with $60,000 in the fall of 1969. A $100,000 mortgage was taken out in the fall of 1971, possibly funding the installation of snowmaking (costing some $100 per hour to operate), while a $160,000 mortgage was taken out in the spring of 1972.

The Little Dipper trail was added for the 1970-71 season, providing a second intermediate option from the summit.

Around this time, Watatic billed itself as the 'largest night skiing area in Eastern Massachusetts.' Brochures claimed that "[a] nice thing about Mt. Watatic is that it doesn't remind you of the European Alps. There's no quaint narrow streets, no 'leder-hosened' farmers, no throaty Tryolean [sic] dialects and no stiff bathroom paper." Ski magazine noted the trails were "filled from early morning to late at night during the week with school and business groups." The Snow Drift Lounge was open with a "warm fireplace" for "a perfect ending to a perfect day."

Also during the mid 1970s, the area boasted of an "extensive system of touring trails" that connected to the Wapack Trail into New Hampshire.

Though privately owned, Mt. Watatic did solicit skiers to own a piece of the area. Circa the late 1970s, if you purchased 40 shares of stock, you would get a free season pass.

Heading into the 1980s, Mt. Watatic became a popular concert venue during the non-snow months.

A three year ski shop lease was awarded to Langlaufer, Inc. starting in 1980. A beginner double chairlift was installed for the 1980-81 season, replacing two rope tows.


Closure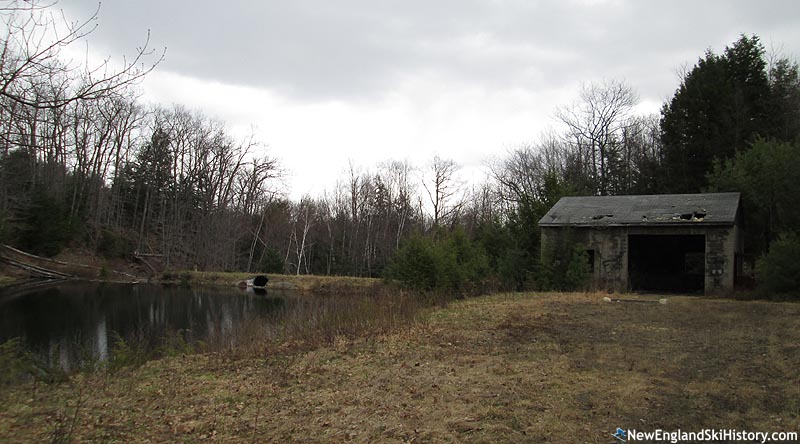 The former snowmaking pond (2014)

Ten acres of snowmaking were added for the 1982-83 season, which may have been Watatic's last. In part due to increased competition from the expanded Wachusett ski area, Watatic was soon out of business. The property was likely transferred to Jabar, Inc. in the fall of 1983.


Attempts at Reopening Mt. Watatic

An unsuccessful attempt by Bill Krikorian was made to reopen the ski area for the 1988-89 season with two double chairlifts (the second chairlift, from Blanchard Hill, was only partially installed during this attempt). Another attempt was made for the 1989-90 season, including plans for a new quad chairlift, however Watatic would never reopen. Instead, circa 2002, the area was protected as conservation land.

It is unlikely that Mt. Watatic will ever reopen as a lift served alpine ski area. The primary recreational use of Mt. Watatic is now hiking, as the popular Wapack Trail crosses over the mountain en route to New Hampshire.



Image Gallery





Lifts
Click on lift name for information and photos




Maps


Year by Year History
Adult Weekend Full Day Lift Ticket; Adult Full Price Unlimited Season Pass

1980s
Ticket Price
Season Pass Price

Pass Payback

Opening Day

Closing Day

Skier Visits

1982-83
$10.00
1981-82
$10.00
1980-81
$9.00
1979-80
$8.00
1970s
Ticket Price
Season Pass Price

Pass Payback

Opening Day

Closing Day

Skier Visits

1978-79
$8.00
$130.00
16.3 days
1977-78
$8.00
$120.00
15.0 days
1975-76
$7.50
$100.00
13.3 days
1974-75
$90.00
1971-72
$6.00
1970-71
$6.00
1969-70
$5.00
1960s
Ticket Price
Season Pass Price

Pass Payback

Opening Day

Closing Day

Skier Visits

1968-69
$5.00
$65.00
13.0 days
1967-68
$5.00
Visitor Memories
"Learned to ski here in the 60's with lots of local folks from New Ipswich and Ashby. Great place headed up by dedicated locals. "
Dean Lizotte , Oct. 22, 2022
"I learned to ski at Pheasant Run in Leominster (anyone remember that local place?!) in the 70s and trips to Watatic and Wachusett were the big mountains!! If you smacked the big spring on the T-bar with your pole it sounded just like a light saber (remember circa 1977 with the release of Star Wars). Fond memories. Now building a house on the lake that bears the mountains name everything comes full circle."
John Bangrazi, Jan. 19, 2022
"Great article. Grew up on Mt. Watatic. It was a great family ski area. Challenging runs ( first 500 feet). Very good grooming and snowmaking at that time. I missed it when it closed. "
Alan Couturier , Aug. 21, 2020
"Skied there in the 70s. Loved it! I was a local. "
Jeff Fewell, Jul. 26, 2019
"Just came down from skiing Mt. Wachusett. Still feel a little bit of a traitor cause I was a Watatic bratt with Kendra Lahtinen. We were lucky kids to grow up on that great mountain."
Lisa Caron, Dec. 7, 2018
"Started skiing there 1966 at age 4, lots of fun with family and friends. Us kids had it made there! Awesome race team! Miss it so much! I got a tattoo of the mnt last December."
Kendra Lahtinen , Jun. 7, 2018
"From the drop of the bull dozer blade in making the access road to the lodge until the last run down the hill, I will always remember Mt. Watatic and all the fun it was growing up on that hill. Packing snow with Bob Lahtinen (my dad) during snow storms and sleeping in the ski patrol shack, picking rocks and burning brush, life was good."
Susan Lahtinen, Nov. 14, 2017
"Live at the base of the Mountain on Bennett Road since 1966. We could ski home down the mountain road. Worked at Watatic for a couple years. Brings back a lot of memories."
David Okerman , Sep. 8, 2017
"I have great memories of skiing Watatic in the 70's with family and friends. The moguls at the top were pretty intense for a casual skier, but that's what made it so exciting. During the early 80's they had great summer concerts on the mountain which gave me a clear indication of what woodstock was like. Use your imagination on that one. Now in my 50's I spend much of the year hiking around Watatic. Thank you Lord!"
David Barnes, Aug. 14, 2014
"Skied there when I went to a boarding school in New Hampshire called Appleton Academy in New Ipswich. Season pass for the winter of 1969-1970 for my winter sport. Loved it......"
Brooks Hoffman, Apr. 26, 2014
---
External Links
Last updated: February 3, 2019