| | |
| --- | --- |
| | |
Located in popular vacation destination North Conway, Cranmore Mountain Resort is one of New England's oldest and most storied ski areas.


Early Years

One of the earliest known Cranmore ski references was during the winter of 1935-36, when the Boston Globe made note of the "Cranmore Mountain slope and trail."

In January 1937, locally-raised developer and international financier Harvey Dow Gibson reportedly acquired the slopes of 1,667 foot Cranmore Mountain and started a plan to make North Conway into a winter destination. Later in the year, the North Conway Chamber of Commerce started a fundraising campaign for ski trails and slopes. Meanwhile, a group led by Gibson acquired the Hotel Randall in North Conway in August, renaming it to the Eastern Slope Inn. The hotel was subsequently renovated for year-round use and placed under the management of National Hotel Management Company. The Eastern Slope Ski Club made the hotel its headquarters.

A 1,000 foot rope tow was installed on the lower slopes of Cranmore for the winter of 1937-38, in conjunction with a new trail. The lift debuted on January 15, 1938, serving twelve acres of terrain. Meanwhile, the Works Project Administration reportedly cleared additional slopes on the mountain. In February, a snow train from New York City carried 300 skiers to the Eastern Slope region, including Cranmore.



The Skimobile and Hannes Schneider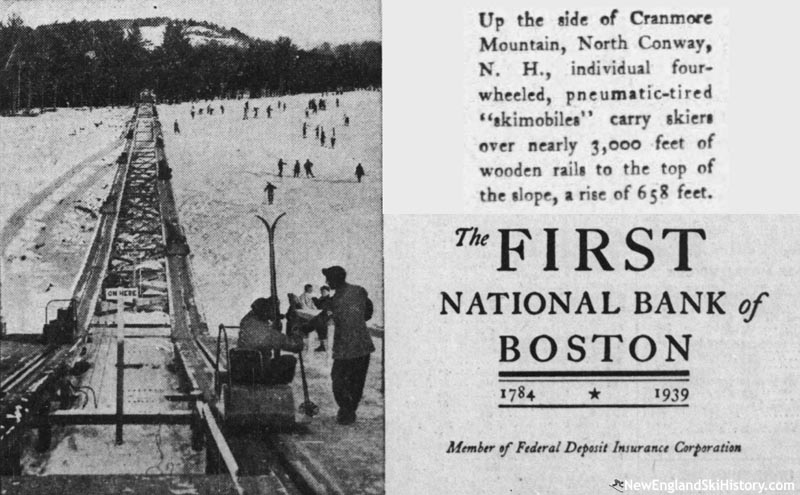 The Lower Skimobile circa 1939

In the era of rope tows, a cutting edge lift named the Skimobile was constructed for the 1938-39 season. Consisting of a set of cars on a track, it was only the second lift in the state that allowed the skier to be seated while riding up the mountain. Local mechanical guru George Morton was hired to design and construct the lift, which carried passengers halfway up the mountain in about 10 minutes. The New York Times described it by stating, "the device consists of a 3,000-foot board track with a vertical rise which approximates the height of a fifty-story building."

The Skimobile became very popular, sometimes giving thousands of rides per day. A rope tow helped to disperse crowds on busy days.

After negotiating with Heinrich Himmler, Gibson was able to get legendary ski instructor Hannes Schneider released from Nazi Germany and transported to the United States in January of 1939. Gibson then accompanied Schneider to a massive welcoming party in North Conway, after which Schneider essentially took the reins of Cranmore.

When poor conditions threatened an early end to the ski season, a snowstorm came to the rescue in March. The "Rattlesnake Ravine" complex officially debuted, drawing very generous comparisons in the press to Tuckerman Ravine and Gulf of Slides. The complex was described as consisting of three slopes, two of which were adjoining, and one connected by a short trail. Improvised upper mountain lift service for the complex was facilitated via 20-person sleigh pull via a cable attached to a mountaintop power plant.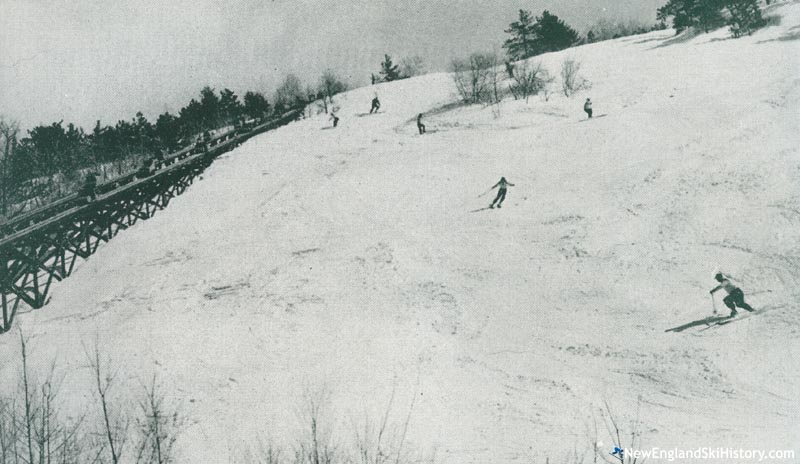 The Ledges circa the 1940s

Upon the initial recommendation of Hannes Schneider, an upper portion of the Skimobile was added for the 1939-40 season.

The first snow train of the season arrived in late January, coinciding with the first good conditions of the winter. The Boston Globe estimated that 90% of the Boston & Maine train-goers disembarked in Conway. A few weeks later, the Skimobile carried 4,920 passengers in a single day. Over the course of the winter, the Skimobile carried 122,000 passengers, a figure that was more than double Cannon Mountain's tramway's tally.

Three new trails were added for the 1940-41 season including the Toni Matt Trail, the Middle Trail, and the Koessler Trail. A few inches of snow in late November set the stage for the earliest Boston & Maine snow train in history, bringing 168 skiers in early December to enjoy warm temperatures, albeit with bare spots due to the thin base. Subsequent conditions were hit or miss with thin cover, ice, and some closures. In late February, a "giant mat" made out of chain and "1000 long steel spikes" was dragged around the slopes to try to break up the ice crust. Snow finally arrived in mid-March, resulting in strong spring crowds.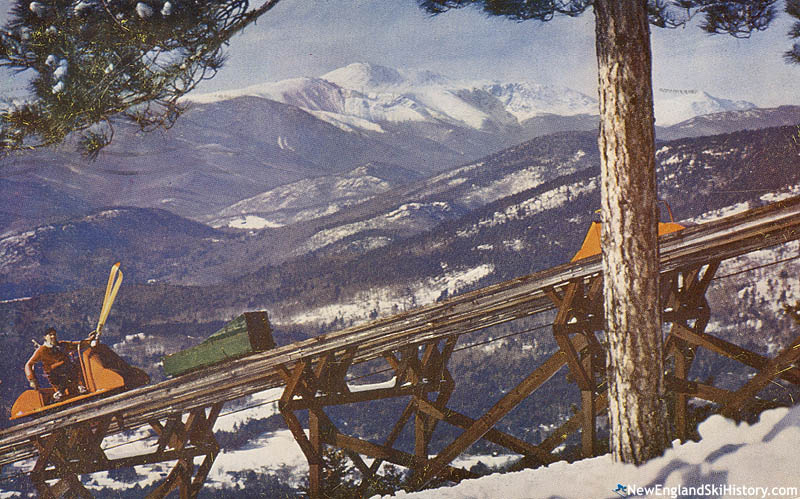 The Cranmore Skimobile circa the late 1940s or early 1950s

Cranmore branched outside of skiing and sightseeing in August 1941, when it hosted the first annual Eastern Slope Regional Fair and Horse Show. Events planned included 32 equine events, as well as a motorcycle race on the ski slopes.

The upper mountain Big Ben Trail was extended to the base of the mountain for the 1941-42 season, while Kandahar and Little Kandahar were widened and graded. A 1,000 foot rope tow was installed on the South Slope, while the Skimobile cars were painted red, white, and blue. The season likely started a week after the attack on Pearl Harbor. Improvements continued following World War II, as the Skimobile base station was rebuilt and expanded. The Alberg trail opened in late December of 1946. By this point, Harvey Gibson had invested $1,000,000 in the snow train destination resort.

Building on the popularity of the Arlberg Trail, in 1948 Schneider cut a new trail in the vicinity of the defunct Rolling Rock trail and named it the North Conway trail. A second rope tow was added to the South Slope that off season as well.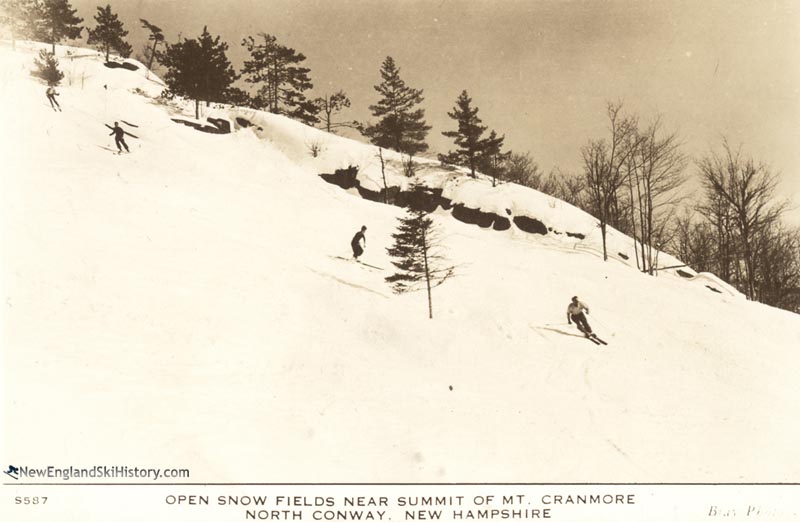 The upper mountain

While the 1949-50 season got off to a promising start with the earliest opening ever on December 11, the new decade was overshadowed by deaths, the first of which being Harvey Gibson in September.

The Artist Falls Trail debuted for the 1952-53 season. A larger expansion was being planned.

The winter of 1954-55 provided a boon for Cranmore, as each month saw significant increases over the prior year. As a result, the expansion to the back side of the mountain was ready to come to fruition. Unfortunately, while laying out the expansion in April of 1955, Hannes Schneider suffered a fatal heart attack. Though his death was a major blow to Cranmore, the East Bowl expansion project continued that off season with Herbert Schneider taking over for his father. Opening in December of 1955, the double chairlift served complex was complemented with a new Poma lift on the South Slope. The development also brought forth rumors of further expansion to Black Cap, however only one trail/access road was partially cut.

A new version of the Rattlesnake Trail was cut for the 1957-58 season. A new 4,000 foot Poma lift was advertised for the following season, however it was never fully installed.

Circa the early to mid 1960s, longtime Cranmore general manager Phil Robertson retired, later developing nearby Mt. Attitash. Herbert Schneider was named Cranmore's manager for the 1962-63 season, which turned out to be a record. Following the season, Cranmore installed its second double chairlift for its quarter century anniversary. Around this time, night skiing was discontinued, with Schneider remarking "we were paying more to pick up empty beer and soda bottles than we were taking in."

Unfortunately, a decline in business was starting. Not only were larger mountains being developed, but Interstates 89 and 93 were soon providing easier travel to these new places. In January of 1968, the Portsmouth Herald issued a scathing review, stating "Cranmore has had nothing new to offer the skier in recent years. Our displeasure with Cranmore is increased when we compare it with the Granite State's two oldest areas, Cannon and Gunstock!"



The Snowmaking Era Begins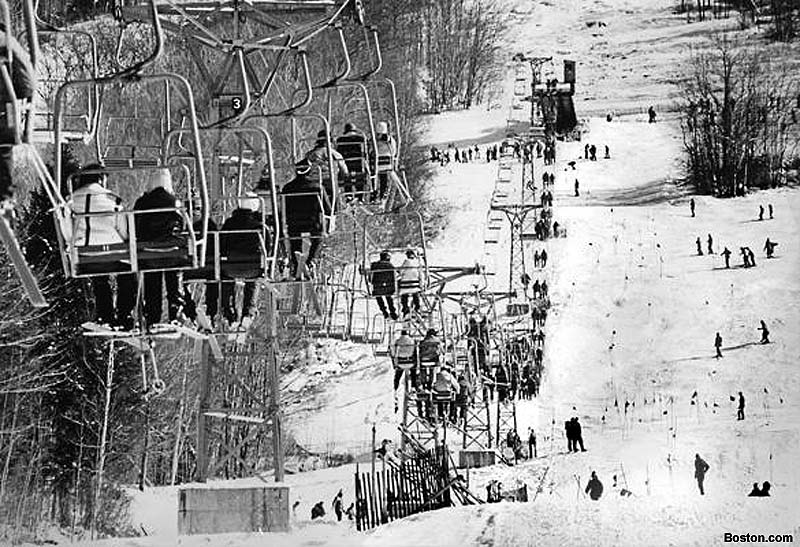 The Mid Double circa 1974

A third double chairlift was likely installed for the 1969-70 season (it may not have opened until 1971), serving the lower mountain. A snow drought that winter threatened the area's economy, resulting in local business owners joining together to rent snowmaking equipment for the South Slope. A $250,000, 44 acre snowmaking system was installed for the 1970-71 season, helping to prevent anymore lack-of-snow closures.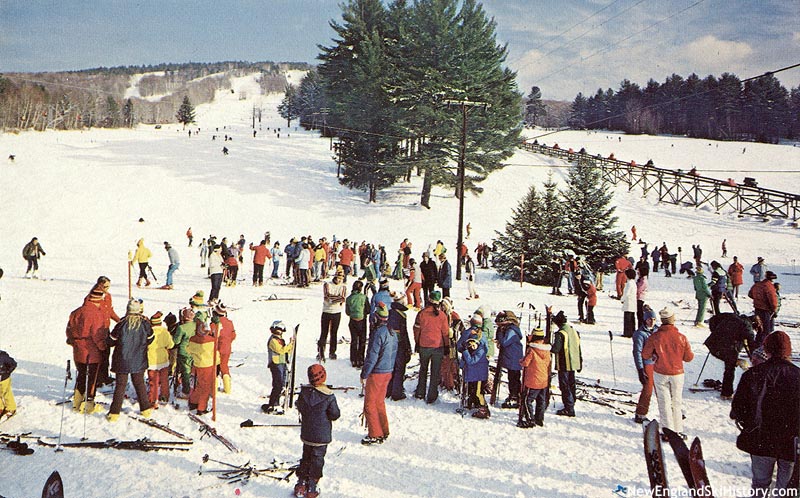 The base area circa the 1970s

Following a fire, the East Bowl double was mostly replaced with Mueller parts for the 1973-74 season. Meanwhile, the recently installed snowmaking system came in handy, as Cranmore was the only Mt. Washington Valley ski area to open in December of 1973.

The Mount Cranmore Tennis and Recreation Club was constructed for 1975, when the Volvo International Tennis Tournaments were relocated from the Mount Washington Hotel to Cranmore's 8,200 seat stadium. The clay courts hosted a decade long run of the tournament, which had famous victors such as Jimmy Connors and Ivan Lendl.



Schneider Sells Cranmore

Lacking the capital to keep Cranmore competitive, Herbert Schneider sold the ski area to Ed Mank's Mt. Cranmore, Inc. in the fall of 1984. Rick Lavoie took over as General Manager. While snowmaking was extended to the summit in 1985, that year also marked the departure of the Volvo International Tennis Tournaments to Stratton.

Food service supervisor Marilyn Miller was promoted to General Manager for the 1986-87 season. A $3 million expansion program was completed for that season, including a significant snowmaking expansion, six new trails, a new base lodge, and the installation of a triple chairlift to the summit. Another $1.1 million was invested for 1987-88, including a new chairlift South Slope, increasing snowmaking, and base area improvements, coinciding with a slopeside condominium development.

An off season business was attempted in the summer of 1989, when a golf driving range was opened on the Beginner's Luck slope. Top to bottom night skiing was also added that year, as 120 poles were set with high pressure sodium light fixtures. Five trails off the summit were lit, as well as the South Slope.

This was not enough, however, to keep Cranmore from sinking. While Cranmore enjoyed successful decades at the beginning of its history, it was eventually overshadowed by its larger nearby competitors, such as Attitash, Bretton Woods, and Wildcat.

After operating the Skimobile on a limited schedule and celebrating its 50th anniversary in 1988-89, Cranmore discontinued the lift at the start of the 1989-90 season, citing excessive operating and maintenance costs. A spokesperson noted that "every time it snows, we need to use eight employees to keep it running all night."

While there was talk of retaining the Skimobile as a summer attraction, Cranmore began removing the lift in the spring of 1990.

Debt was adding up. Bay Bank assumed ownership in November of 1991, keeping Mt. Cranmore, Inc. onboard in a management capacity. As a last ditch effort, in 1994 Ed Mank attempted to create a corporation named Alpenuity, which would be owned by 1,000 shareholders. The goal of the new entity was to absorb the $4.5 million in debt and to install a new high speed quad. The plan did not come to fruition, as in August of 1994, Bay Bank brought in Sno-Engineering to operate the ski area for a season as it looked for a buyer. Ken Lydecker served as interim General Manager. By 1995, three prospective buyers emerged.


LBO and Booth Creek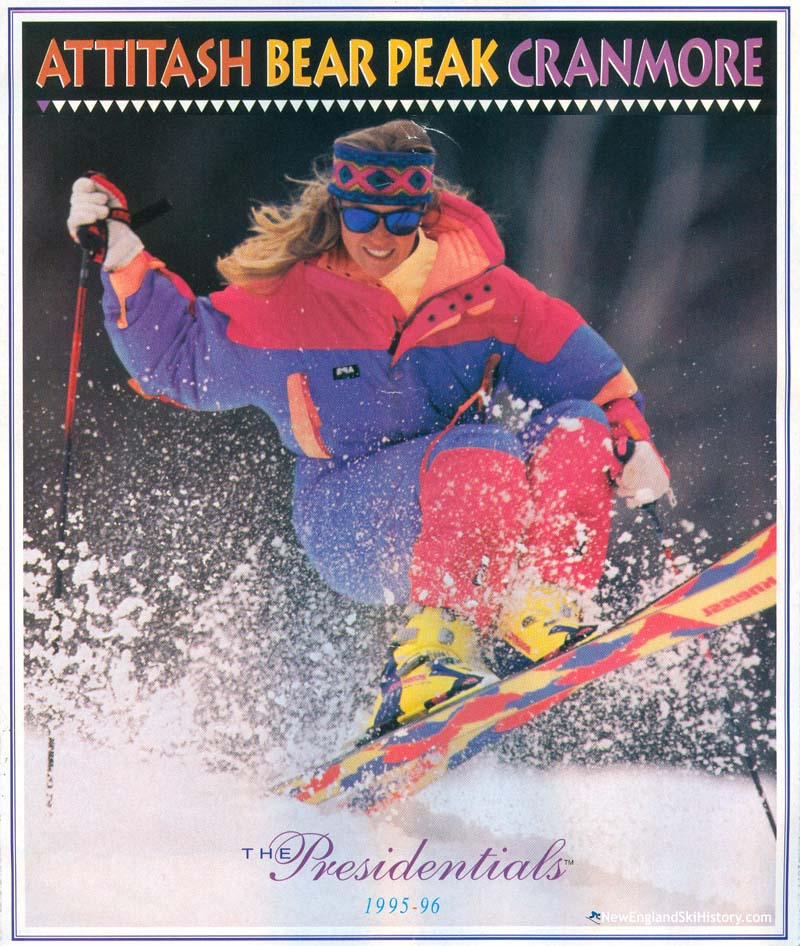 Attitash Bear Peak Cranmore jointly advertised by LBO Resorts in 1995

In June of 1995, Les Otten's LBO Resort Enterprises Corp. purchased Cranmore and subsequently installed a Doppelmayr high speed detachable quad, climbing 1,123 vertical feet to the summit. Tim Harris was named General Manager. The area was co-marketed with Otten's other recent acquisition, Attitash Bear Peak.

A merger with S-K-I Ltd. in 1996 resulted in the formation of American Skiing Company and a Justice Department order to sell Cranmore due to antitrust concerns. As such, American Skiing Company sold Cranmore and Waterville Valley to Booth Creek Ski Holdings, Inc. in November of 1996.
Branching out from just being a ski area, Cranmore added lift served mountain biking in 1996 and snow tubing in 1997, to go along with its lighted snowboard halfpipe and terrain park. Following Tim Harris's departure to the Canyons, Ted Austin took over as General Manager in 1997. Also in 1997, Booth Creek CEO George Gillett announced plans to expand Cranmore to the top of Black Cap in one to two years. The proposal would not come to fruition.

Night skiing was briefly discontinued for the 2001-02 season.

Bretton Woods Marketing Director Ben Wilcox was named Cranmore General Manager in June 2004.



FO Resorts Purchases Cranmore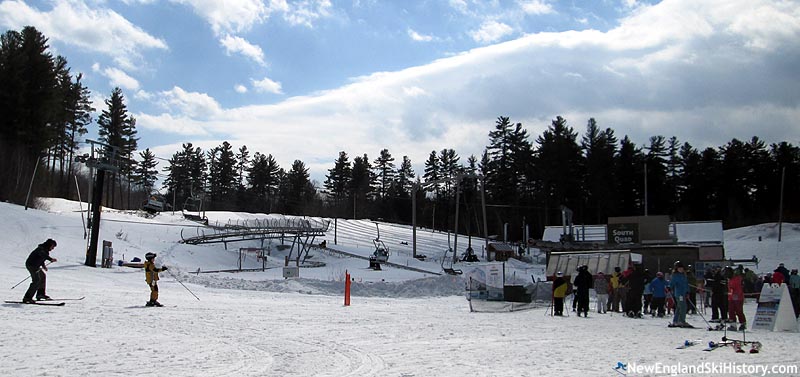 The South Quad and non-skiing amenities (2016)

Booth Creek would own and operate Cranmore through the 2009-2010 season. On June 15, 2010, Booth Creek sold Cranmore to Brian Fairbank, Tyler Fairbank, and Joseph O'Donnell, the operators of Jiminy Peak in Massachusetts. An aggressive expansion project was immediately started, including the installation of a mountain coaster and a fixed grip quad chairlift. The outdoor clay tennis courts were also removed that year.

The historic East Bowl double chairlift was removed in 2012 and replaced with a Doppelmayr triple chairlift. Additional terrain was opened in the East Bowl to complement the new lift.

In September 2016, ground was broken on new real estate development in the base area, which is expected to eventually result in new base facilities for skiers. As a result, the base terminal of the South Quad was relocated to make way for the first phase of Kearsarge Brook condos. Construction on the second phase commenced in 2019.

Following the 2021-22 season, the base lodge was demolished to make way for a new structure.



NewEnglandSkiConditions.com Reports

Month
Average Percent of Terrain Open
November
15% (3 reports)
December
31% (5 reports)
January
82% (3 reports)
February
88% (3 reports)
March
86% (3 reports)

-- start conditions table -->

Recent Conditions Reports

Mar. 11, 2023 by skiit
Loose Granular, Loose Granular
Feb. 12, 2023 by rocket21
Loose Granular, Loose Granular
Nov. 26, 2022 by newenglandskier13
Loose Granular, Frozen Granular
Mar. 5, 2022 by skiit
Packed Powder, Loose Granular
Feb. 2, 2020 by nordicgal
Loose Granular, Frozen Granular

Cranmore Mountain Resort on NewEnglandSkiConditions.com
NewEnglandSkiIndustry.com News
Expansion History
Image Gallery
Lifts
Click on lift name for information and photos
Maps
Year by Year History
Adult Weekend Full Day Lift Ticket; Adult Full Price Unlimited Season Pass

2020s
Ticket Price
Season Pass Price

Pass Payback

Opening Day

Closing Day

Skier Visits

2023-24
$119.00
November 24
2022-23
$109.00
November 25
April 2
2021-22
$99.00
$959.00
9.7 days
December 3
March 27
2020-21
$99.00
December 4
March 27
2019-20
$89.00
$879.00
9.9 days
November 16
March 15
2010s
Ticket Price
Season Pass Price

Pass Payback

Opening Day

Closing Day

Skier Visits

2018-19
$83.00
$855.00
10.3 days
November 17
April 7
2017-18
$75.00
$749.00
10.0 days
November 24
April 1
2016-17
$72.00
$729.00
10.1 days
December 3
April 2
2015-16
$70.00
$699.00
10.0 days
November 27
March 20
2014-15
$64.00
$679.00
10.6 days
November 22
April 5
2013-14
$63.00
$639.00
10.1 days
November 23
April 6
2012-13
$59.00
$639.00
10.8 days
November 23
March 31
2011-12
$64.00
$619.00
9.7 days
November 26
March 21
117,351
2010-11
$59.00
$569.00
9.6 days
November 27
March 27
118,000
2009-10
$55.00
$529.00
9.6 days
December 12
March 21
2000s
Ticket Price
Season Pass Price

Pass Payback

Opening Day

Closing Day

Skier Visits

2008-09
$55.00
$529.00
9.6 days
December 6
March 29
2007-08
$49.00
$499.00
10.2 days
December 8
April 6
2006-07
$47.00
$429.00
9.1 days
December 9
March 25
2005-06
$45.00
$399.00
8.9 days
December 10
March 26
108,000
2004-05
$39.00
$349.00
8.9 days
December 11
March 27
128,000
2003-04
$35.00
$349.00
10.0 days
December 13
March 28
102,000
2002-03
$35.00
$459.00
13.1 days
November 29
March 30
119,000
2001-02
$32.00
$489.00
15.3 days
December 15
March 24
96,000
2000-01
$29.00
$459.00
15.8 days
November 25
April 1
129,000
1999-00
$29.00
December 4
March 26
100,000
1990s
Ticket Price
Season Pass Price

Pass Payback

Opening Day

Closing Day

Skier Visits

1998-99
$29.00
December 16
112,000
1997-98
$39.00
November 28
100,000
1996-97
March 30
1995-96
April 7
1994-95
$35.00
December 10
1993-94
December 18
April 3
1992-93
$33.00
1991-92
$33.00
$775.00
23.5 days
March 29
1990-91
$29.95
December 8
March 30
110,000
1989-90
$29.00
December 2
1980s
Ticket Price
Season Pass Price

Pass Payback

Opening Day

Closing Day

Skier Visits

1988-89
$28.00
December 10
1987-88
$26.00
December 19
1986-87
$22.00
December 6
1985-86
$19.00
1984-85
$18.00
$400.00
22.2 days
1983-84
$400.00
1982-83
$17.00
$400.00
23.5 days
1981-82
$17.00
1980-81
$14.00
$330.00
23.6 days
1979-80
$13.00
1970s
Ticket Price
Season Pass Price

Pass Payback

Opening Day

Closing Day

Skier Visits

1978-79
$12.00
1977-78
$10.00
December 17
1976-77
$10.00
$200.00
20.0 days
1975-76
$10.00
1974-75
$9.00
December 22
1973-74
$9.00
1972-73
$8.00
$150.00
18.8 days
1971-72
$8.00
1970-71
$8.00
April 11
1969-70
$8.00
1960s
Ticket Price
Season Pass Price

Pass Payback

Opening Day

Closing Day

Skier Visits

1965-66
March 25
1964-65
$6.00
1963-64
$5.50
December 7
1962-63
$5.50
1961-62
November 24
April 8
1959-60
$5.50
1950s
Ticket Price
Season Pass Price

Pass Payback

Opening Day

Closing Day

Skier Visits

1958-59
$5.00
April 5
1957-58
April 13
1955-56
December 10
1953-54
December 16
1952-53
December 13
1949-50
December 10
1940s
Ticket Price
Season Pass Price

Pass Payback

Opening Day

Closing Day

Skier Visits

1947-48
December 13
1945-46
December 22
1930s
Ticket Price
Season Pass Price

Pass Payback

Opening Day

Closing Day

Skier Visits

1937-38
January 15
Visitor Memories
"I grew up in Acton,Maine and have fond memories sking the upper icy slopes in 1948-1949. Unfortunately the ski patrol was very active transporting skiers with broken bone to No Conway hospital for broken bones. I have lived in South Carolina for 60 years but still remember the Skimobile and those wonderful times. "
Richard A. Beals, Oct. 23, 2023
"I learned how to ski here back in 2010! Haven't skied Cranmore since but heard lots of good things about it. I'll have to go ski there again someday"
Liam McNeil, Nov. 18, 2019
---
External Links
Cranmore Mountain Resort - official site
Cranmore Mountain - FranklinSites.com Hiking Guide
Last updated: July 19, 2022