Ski Ward
Shrewsbury, Massachusetts
Status:
Open
First Season:
1939-40
Vertical Drop:
220 feet
Standing Lifts:
1 triple, surface lifts
Past Lifts:
1 double, surface lifts
Left: Winter's Magic (2014)
Recent NewEnglandSkiIndustry.com News:
Located on 529 foot Union Hill in Shrewsbury, Ski Ward is a popular, year-round local recreation center.


Early Years at Ward Hill

Ski Ward's ski history dates back to as early as 1939, when Ward Hill ski area may have first opened on the Ward family's farm on Union Hill. According to the Patriot Ledger, the hill received its name because bonfires were lit atop it during the Civil War when the Union Army won battles.

Ward Hill received press in December 1942 as being one of the few ski operations near cities allowed to have night skiing, as it was located just outside of the wartime dim-out restriction area. Operators Warren Tyler and Louis Payne made improvements to the ski slope in advance of the 1942-43 season.

The area has likely been in continuous operation since at least the mid-1950s.


Ward Hill Ski Area Corp.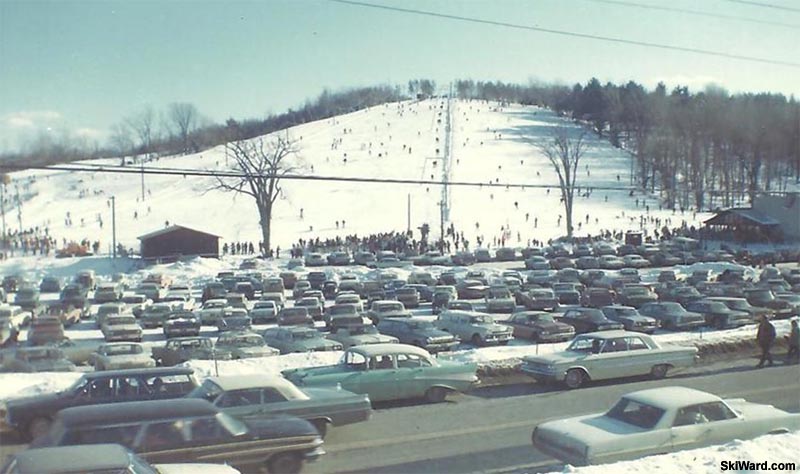 Ski Ward in 1965

After a quarter century of operating with rope tows, big changes took place at Ward Hill in 1965. In September of 1965, Ward Hill Ski Area Corp. was established by Robert Martin, Brenda DeCoteau, and Paul O'Connell, with Edwin Fedeli being named Treasurer. The entity was reportedly established in conjunction with long time operator Robert "Bob" Rochette. That month, the corporation entered into a 15 year lease with Florence B. Ward and her son Bruce B. Ward for the 40 acre ski area. Bruce Ward was locally known for operating a trucking company; he plowed local roads and highways with a green plow truck into his late 80s.

Leveraging financing from Guaranty Bank & Trust Company of Worcester, a new Mueller T-Bar was installed for the 1965-66 season, while base facilities were improved for 1967-68. A second T-Bar was likely installed for the 1968-69 season in the present day Tuba Slide area. Meanwhile, instructor Steve Morrow helped garner more attention for Ward Hill by being named to the PSIA Demonstration Team in the late 1960s. The son of another Ward Hill ski school director, Bill Morrow, Steve later moved on to run a program at Sugarloaf.

A key component to Ward Hill's growth in the late 1960s was the installation of night skiing lights on two thirds of the ski area. Night time operations helped to grow the school group business while also giving adults the ability to learn the sport after work. Co-owner Bob Rochette remarked that, without snowmaking and night skiing, there would be little reason to attempt to operate such a small ski area. Ward Hill also made a name for itself by having a strong racing program. Not only did it host local ski races, but Ward Hill also had skiers make strong showing in various prominent regional races.


Modernization and Diversification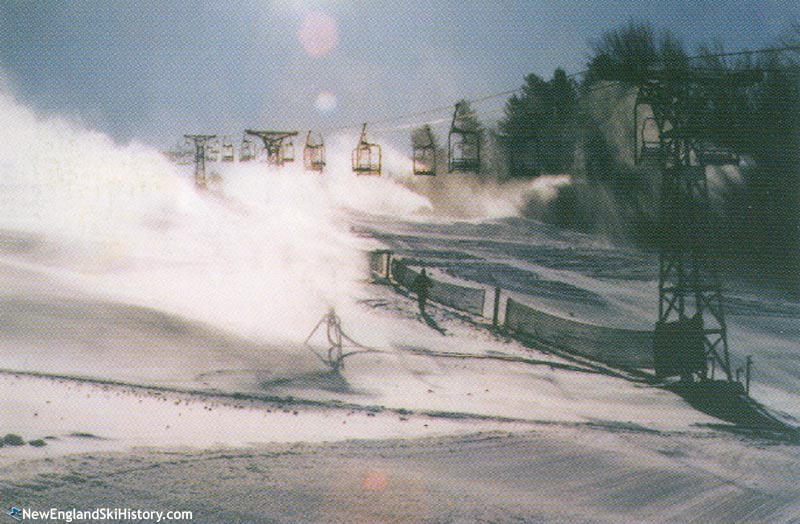 Winter's Magic (circa late 1990s)

Ward Hill entered the chairlift age in 1983-84, when a used Mueller double chairlift was installed in front of the lodge. Snowmaking continued to be a focus, with improvements made during the mid-1980s to ensure the area could operate during frequent lean winters.

In the fall of 1990, the LaCroix family formed Ski Ward, Inc. and took over Ward Hill. Three decades later, the LaCroix family continues to own and operate the ski area. John LaCroix briefly expressed interest in also taking over Blue Hills in 2000, helping the Metropolitan District Commission to develop proposals for a new lease.

After twenty years of service, Ski Ward's Mueller double chairlift was retired following the 2002-03 season. A new Partek triple chairlift was installed in its place, while the lattice Mueller towers were retained.

Ski Ward continued its decades-long relationship with the Ward family when it entered into a new 20 year lease for the 40 acre tract in April 2007. Bruce Ward passed away in 2012 at the age of 90. Three years later, his granddaughter was married atop Ski Ward.

In the early 2010s Ski Ward built out summer operations, including tubing, a terrain park, a BigAirBag, and volleyball. Activities were further diversified with the inception of the Shrewsbury Farmer's Market in 2014.

John LaCroix's son Mikey began making headlines in the 2010s when the teenager started notching wins in national snowboard competitions. He was named to the US Ski and Snowboard Team in 2019.



NewEnglandSkiIndustry.com News





Image Gallery





Lifts
Click on lift name for information and photos




Maps


Year by Year History
Adult Weekend Full Day Lift Ticket; Adult Full Price Unlimited Season Pass

2020s
Ticket Price
Season Pass Price

Pass Payback

Opening Day

Closing Day

Skier Visits

2022-23
$65.00
$640.00
9.8 days
November 25
March 13
2021-22
$60.00
$580.00
9.7 days
December 4
2020-21
$57.00
$580.00
10.2 days
December 13
2019-20
$55.00
$550.00
10.0 days
November 16
March 8
2010s
Ticket Price
Season Pass Price

Pass Payback

Opening Day

Closing Day

Skier Visits

2018-19
$55.00
$579.00
10.5 days
November 24
March 17
2017-18
$52.00
$550.00
10.6 days
December 9
March 18
2016-17
$49.00
$525.00
10.7 days
December 9
March 19
2015-16
$46.00
$495.00
10.8 days
December 20
March 9
2014-15
$45.00
$495.00
11.0 days
November 21
March 15
2013-14
$42.00
$485.00
11.5 days
November 15
March 16
2012-13
$42.00
$475.00
11.3 days
November 30
March 17
2011-12
$42.00
$475.00
11.3 days
December 12
March 11
2010-11
$40.00
$475.00
11.9 days
November 28
2009-10
$40.00
$475.00
11.9 days
2000s
Ticket Price
Season Pass Price

Pass Payback

Opening Day

Closing Day

Skier Visits

2008-09
$40.00
$475.00
11.9 days
2007-08
$450.00
December 1
2005-06
$31.00
$450.00
14.5 days
2003-04
$29.00
December 5
2002-03
$28.00
November 29
2001-02
$26.00
2000-01
$26.00
November 25
1999-00
$25.00
50,000
1990s
Ticket Price
Season Pass Price

Pass Payback

Opening Day

Closing Day

Skier Visits

1998-99
December 14
1996-97
November 30
1994-95
$17.00
December 13
1970s
Ticket Price
Season Pass Price

Pass Payback

Opening Day

Closing Day

Skier Visits

1971-72
$4.50
1970-71
$4.50
1960s
Ticket Price
Season Pass Price

Pass Payback

Opening Day

Closing Day

Skier Visits

1968-69
$4.50
1967-68
$4.00
Visitor Memories
"During the mid to late 1950's, I skied a lot at Ward Hill. I seem to recall a T-bar or J-bar lift running up the edge of the trees on the right hand side. There may have been a rope tow there too. I also remember there were lots of ski races on the weekends. It was a cool place! "
Bruce Hedquist, Sep. 18, 2022
" My Dad, Pete Tyler, along with his friend, Louis Payne, got Ward Hill Ski Tow up & running in the early 1940's. He LOVED Ward Hill - & spent most winter weekends there as far back as I can remember! Born In 1943, I finally made it on the slopes in 1947...& would wait in line at the bottom of the hill for some kind friend of Dad's to offer to take me up on the rope tow....my skis would be inside his skis, & I would hang on to the rope as best I could! There was no such thing as "grooming" the slopes back then, but the conditions were very acceptable! The ticket house sat at the base of the hill, & we still have pictures of lines stretching far across the base of the hill on fine ski days, as well as an album of newspaper stories & pictures - where Dad recorded the weather & number of skiers for each article! Then came a trailer from which its popular owner served Chile; & then the "halfway House" where skiers could bring or buy lunch AND warm up next to the wood stove! Ward Hill was a really fun place to ski! Mom & Dad had three daughters...Debbie - #1 - was a super skier and racer! #2, Melissa, was also a lifetime skier - who taught each of 6 grandchildren how to ski; & I...STILL love to ski, especially with my grandchildren - each one of whom can zoom by me on any slope! "
Katrine Biddle, Dec. 5, 2020
"Ski Ward has recently diversified a bit..hosting 'Night Weasels'. This is a cyclocross race held under the lights on the lower slopes of the hill...famous for it's technical descents and party atmosphere. The race is the centerpiece of New England's Holy Week of Cyclocross"
Derek Griggs, Mar. 16, 2014
"I learned to ski there in the mid 1980s. At that time on the far left side of the hill I believe there was a rope tow that would easily burn your gloves off. It was just a thick piece of rope that you grabbed onto. I've never seen anything like anywhere else. "
Scott Lowell, Jan. 28, 2014
---
External Links
Ski Ward - official site
Last updated: July 22, 2016