| | |
| --- | --- |
| | |
Located in southern Rhode Island, Yawgoo Valley is Rhode Island's only operating alpine ski area.


Early Years

Yawgoo's ski history likely dates back to the mid 1964, when ski trails were cut on the 295 foot southeast peak of Yorker Hill. A University of Rhode Island student named Max de Wardener was part of the construction crew.

Yawgoo Valley likely opened as a small rope tow served area for the 1964-65 season. One year later, a new Hall double chairlift was installed, making Yawgoo Valley Rhode Island's first chairlift served ski area.



Max de Wardener Purchases Yawgoo Valley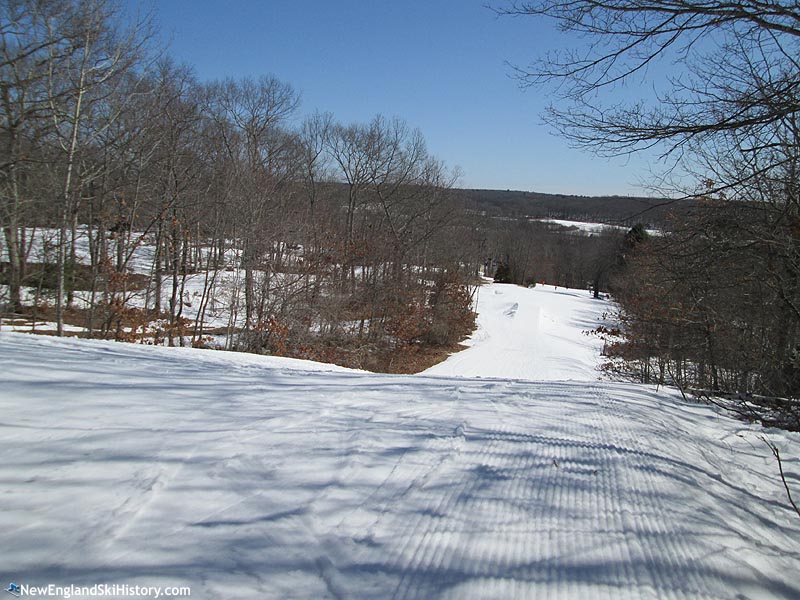 Outback in 2014

Heading into the 1970s, school teacher Max de Wardener ran Yawgoo's ski school. Learning that the ski area was for sale and that he could lose his ski school business, de Wardener's Ski Pro, Inc. purchased Yawgoo Valley from Richard Downs for $300,000 in December of 1980.

Meanwhile, Rhode Island's other ski areas were on the verge of closing. With the closing of Ski Valley after the 1984-85 season, Yawgoo Valley became the state's only ski area. In order to stay in business in an otherwise difficult winter climate, non skiing activities such as a water park and snow tubing were added.

A second double chairlift, named Conan, was installed for the 1989-90 season. Since then, Yawgoo has invested in its snowmaking infrastructure, ensuring it can operate throughout even mild winters.

Yawgoo Valley continues to operate to this day for skiers, snow tubers, and waterpark-goers.

Image Gallery

Lifts
Click on lift name for information and photos
Maps

Year by Year History
Adult Weekend Full Day Lift Ticket; Adult Full Price Unlimited Season Pass

2020s
Ticket Price
Season Pass Price

Pass Payback

Opening Day

Closing Day

Skier Visits

2019-20
$50.00
$449.00
9.0 days
2010s
Ticket Price
Season Pass Price

Pass Payback

Opening Day

Closing Day

Skier Visits

2018-19
$48.00
$475.00
9.9 days
December 8
March 17
2017-18
$47.00
December 16
March 14
2016-17
$49.00
$475.00
9.7 days
December 11
March 19
2015-16
$47.00
$425.00
9.0 days
January 2
March 6
2014-15
$47.00
$425.00
9.0 days
December 13
March 22
2013-14
$45.00
$425.00
9.4 days
November 30
March 16
2012-13
$42.00
$425.00
10.1 days
December 24
2011-12
$42.00
$425.00
10.1 days
December 11
March 4
2010-11
$42.00
$425.00
10.1 days
2009-10
$42.00
2000s
Ticket Price
Season Pass Price

Pass Payback

Opening Day

Closing Day

Skier Visits

2008-09
$40.00
$400.00
10.0 days
2007-08
$38.00
2006-07
$37.00
$370.00
10.0 days
2005-06
$37.00
2004-05
$35.00
$360.00
10.3 days
March 19
2003-04
$34.00
2002-03
$32.00
2001-02
$30.00
2000-01
50,000
1990s
Ticket Price
Season Pass Price

Pass Payback

Opening Day

Closing Day

Skier Visits

1992-93
25,000
1980s
Ticket Price
Season Pass Price

Pass Payback

Opening Day

Closing Day

Skier Visits

1983-84
December 24
1970s
Ticket Price
Season Pass Price

Pass Payback

Opening Day

Closing Day

Skier Visits

1975-76
$6.00
1960s
Ticket Price
Season Pass Price

Pass Payback

Opening Day

Closing Day

Skier Visits

1968-69
$4.50
1967-68
$4.50
Visitor Memories
"Stuart, you are correct about the addition to the vertical but NOT about the fill that was used. The material was boulders, stone, and gravel from the construction of Mill Pond Rd. which was built due to the closing of the Amtrak rail across Yawgoo Valley Rd. Mill Pond Rd., connected to Liberty Rd. and a bridge over the tracks was constructed so residents in the area would not be trapped by a forest fire. The trail that resulted is called North Forte (not forty) the company that constructed the road and dumped the material."
Pati deWardener, May. 19, 2015
"It should be noted that Yawgoo is one of a very few ski areas that increased its vertical in the late 70's with the establishment of a landfill (garbage dump) on the summit. I believe it brought their vertical to just over 200 ft, from 175. I started teaching there in 1974, for 2 years, moving on to Sugarbush and then Utah."
Stuart Cole , May. 12, 2015
---
External Links
Yawgoo Valley - official site
Last updated: June 13, 2016