| | |
| --- | --- |
| | |
Located on 1,690 foot Adams Mountain in western Maine, Evergreen Valley is the largest defunct ski area located in the White Mountain National Forest.


Early Attempts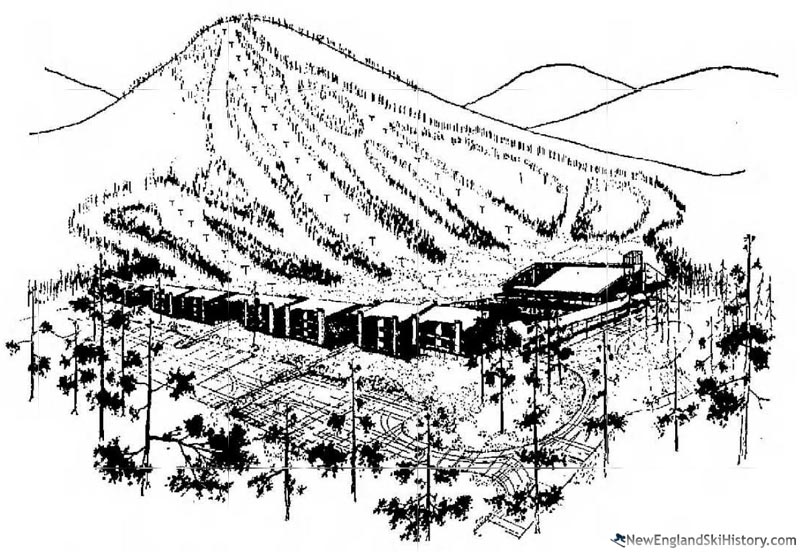 A 1970 Evergreen Valley rendering

The concept of Evergreen Valley reportedly dated back to 1961, when the towns of Lovell and Stoneham expressed interest in developing a ski area to boost the local area. Sel Hannah's Sno Engineering was hired to survey Adams Mountain for potential development.

In December 1962, the Area Planning Company of Lovell, Stoneham, and Sweden was announced with Ervin Lord of Lovell, Carlton Barker of Stoneham, and Edward Bell of Sweden chairing the group. Plans were announced for the development of a family ski area starting in 1963 with a projected opening in the winter of 1965. Two slopes were to be constructed, served by two T-Bars.

By the time 1964 rolled around, the project, now known as Evergreen Valley, had grown to a $299,000 year-round resort. Robert Trent Jones visited site in May to review plans for a nine-hole golf course to be located at the base of the prospective ski area. Volunteers were reportedly already clearing ski terrain, which was now to be served by a chairlift and a T-Bar.

By the end of the summer, the project had grown to a $750,000 three-year plan and stock was being sold for $25 per share. The golf course was now seen as eighteen holes spanning 150 acres, while 1,000 acres of land were reportedly held by the corporation. Planned trails for this iteration were reportedly designed by Sel Hannah and A. Lewis Evans. A winter of 1965-66 opening was now projected.

In February of 1965, the developers of the ski area received a special use permit from the White Mountain National Forest for 310 acres.

As the late 1960s arrived, financing was an outstanding issue. After waiting for legislation for the Maine Recreation Authority to guarantee loans, developers sued when the vast majority of the allocation went to the Olympic-related Bigelow Mountain development, leaving Evergreen Valley without backing for its now $3 million request. Following a lawsuit, the Evergreen Valley developers received the $3 million loan guarantee in the summer of 1967. At this point, American Resort Consultants, Inc. was described in the Portland Press Herald as the "guiding light behind the Evergreen Valley year-round recreation development on which construction will start next spring."

Little tangible progress was made in 1968, as developers continued to line up financing. By the time mid-1969 arrived, the project was now banking on $3.4 million of bonds backed by the Maine Recreation Authority and $1.15 million of non-guaranteed bonds. A reported condition of the financing was that, upon the bonds being paid off in 1998, ownership of the resort would be transferred to the towns of Lovell and Stoneham.

Wright American Inc., a subsidiary of Howard S. Wright Construction Co., was granted a $2.99 million construction contract. Plans now called for two chairlifts, a T-Bar, snowmaking, night skiing, tennis courts, a swimming pool, and the golf course. Condominiums were to be developed by American Resort Consultants president John Lundstrom and Planning Associates Inc.'s Joseph R. Dragone. By this point, the Development Corp. for Evergreen Valley was led by Russell Dudley, owner of a general store in East Stoneham. As the planned groundbreaking neared, the project grew to $10 million.



Construction Begins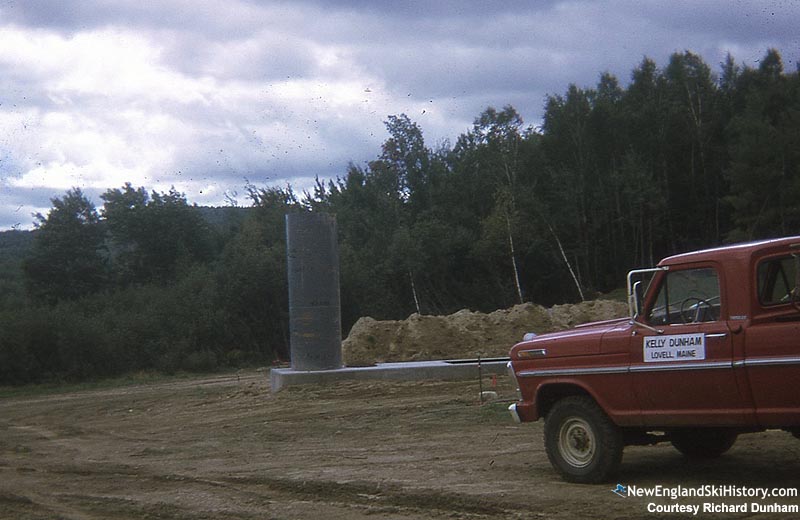 Lift construction (1970)

Environmental challenges slowed the project in 1970, as the Environmental Improvement Commission challenged sewage disposal plans, claiming the treated wastewater would damage Kezar Lake. Nevertheless, ground was finally broken in May 1970. At this point, the project had grown to $40 million and was led by Joseph Dragone. According to the Lost Ski Areas of the Berkshires, Dragone had previously owned Jacob's Ladder ski area in Massachusetts in 1950. Subsequently, Dragone made a run for Mayor of Pittsfield and then became executive director of the Mt. Greylock Tramway Authority. After the Mt. Greylock tramway project was defeated by the Massachusetts Supreme Court, Dragone put his focus on Evergreen Valley. Dragone remained involved in a subsequent development in Western Massachusetts called Greylock Glen.

In addition to Dragone, the team included Keith B. Romney of Utah. A relative of future Senator Mitt Romney, Keith was later given the nickname "Father of the Condominium" for his legal work in the sector.

Designers and planners of the project were Robert M. Engelbrecht and Associates and E. H. Lord-Wood Associates. A complex ownership structure reportedly included the Development Corporation for Evergreen Valley holding bonds, which were backed by the Maine Recreation Authority. The area was then to be leased by American-Evergreen Resorts, Inc., of which Dragone was the President. Branigar Organization, Inc., owned by Union Camp Inc., was to manage the property. Lewiston, Maine native John Clark was hired by Branigar to manage sales and development.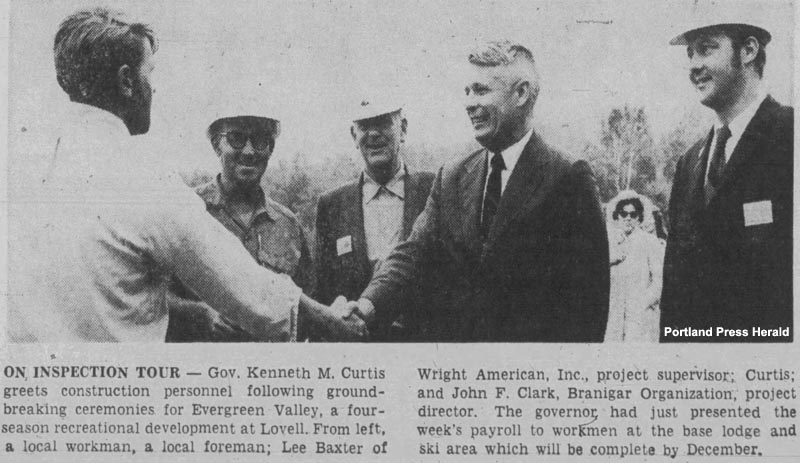 Governor Curtis at Evergreen Valley (July 2, 1970)

A formal groundbreaking ceremony was held on July 2, 1970, with Governor Kenneth Curtis presiding. Curtis called the project "one of the largest and most important recreational developments ever attempted in New England." By this point, the project had over 2,000 acres under ownership or lease.

Construction of the million-dollar base lodge and three chairlifts took place that year with a planned January 1, 1971 opening day. An advanced $300,000 sewage treatment system was designed by E. C. Jordan Company with a capacity of 250,000 gallons per day. Effluent from the treatment facility was to be piped to golf course sprinklers and the snowmaking pond.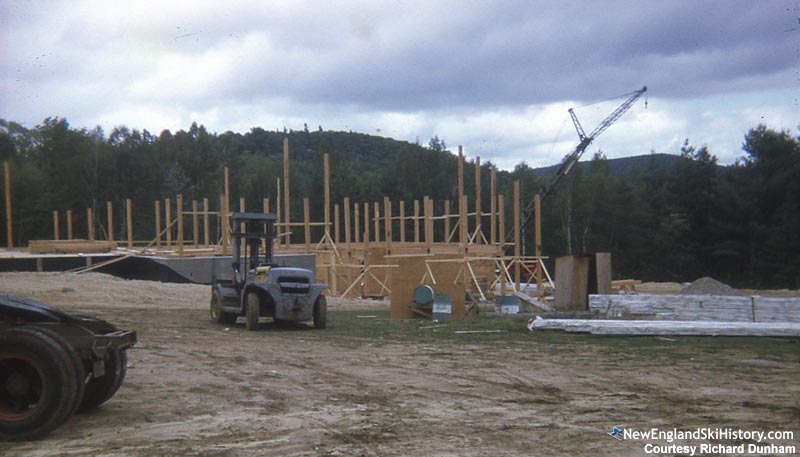 Lodge construction (1970)

Circa December 1970, financing issues halted construction. In addition, the federal government reportedly halted of one of the chairlift installations due to chairs being too close to the ground and cable supports being too far apart. Soon, contractors were filing liens against the corporation for non-payment. Meanwhile, Adams, Massachusetts residents visited Evergreen Valley and cited it as a cautionary tale against Dragone's planned Greylock Glen development.

With Maine Recreation Authority's guarantee reportedly withdrawn, and needing additional funding to complete construction, Evergreen Valley sat idle for the 1971-72 season.



Evergreen Valley Finally Opens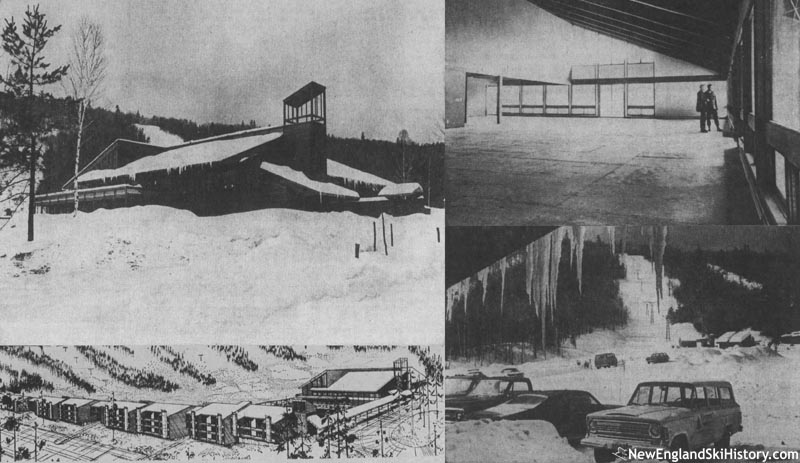 Evergreen Valley sitting idle (early 1971)

In 1971, Robert Friedlander looked at the property and devised a plan to take over the area and open it. A Pleasant Mountain skier, Friedlander's family owned a Boston real estate company. As the 1972-73 season approached, Friedlander was forming the Exeter North Corporation to lease the ski area from the Development Corporation for Evergreen Valley. In addition, Friedlander developed plans to construct a $500,000 motel and condominium building adjacent to the ski area. With the slopes covered in snow in early December 1972, anticipation built for an agreement. Furnishings were finally put into the lodge and the lifts fired up as negotiations continued. Finally, after years of waiting, the ski area began operating on December 16, 1972 with Joseph Salori serving as manager.

Final lease provisions were ironed out in January 1973, formally putting Exeter North in charge. As the season continued, preparations were made for a formal opening ceremony. Advertisements went out in local papers, stating "The world will be a better place. Officially." With Governor Kenneth Curtis on hand, the ski area was dedicated on the afternoon of March 3, 1973. The dedication also served as a groundbreaking for a new 160 bed inn. Following the ceremony, an ice show was held, as well as night skiing, a sold-out dinner buffet, and a torchlight parade.

In addition to a $1 million base lodge (which featured three cocktail lounges), the resort also featured three double chairlifts serving 50 acres of terrain, with snowmaking and night lighting on the lower mountain. Beyond skiing, the resort included a marina on Kezar Lake, a partially constructed Robert Trent Jones 9 hole golf course (an additional 9 holes were planned but never completed), swimming pools, and tennis courts. Winter activities included snowmobiling, bubble enclosed tennis courts, a heated outdoor pool, and equestrian sports. Up to 1,200 acres of condominiums were to be developed.

The new inn debuted in the summer of 1973, while two new trails were added for the upcoming season, including Outer Limb on the upper mountain. These were likely the final trails to ever be developed at Evergreen Valley. Beyond skiing, a Center for Environmental Education was established as a pilot to bring students in to study the native species, as well as the ski area's impact on them.

Unfortunately for Evergreen Valley, its sophomore season was one of the worst snow years on record across New England. Making matters worse, the area's snowmaking system was reportedly not operational. Following the season, General Manager Joe Solari told the Bangor Daily News that the season "was a disaster" and that "we're a long ways from being a profitable business at this point."

In response to the poor 1973-74 winter, Evergreen Valley offered season pass holders a snow insurance policy, which would pay out $25 if the area operated for less than 75 days.

The struggles continued through the 1974-75 season. In mid-July 1975, promoters of the first ever New England Folk Festival were forced abandon their venue in Rhode Island. On July 19, 1975, the promoters moved the event to Evergreen Valley and set the date as the last weekend of the month. With a projected crowd of 30,000 people, the concert immediately generated controversy when state officials declared the event to be unlicensed. Fearing a riot, police did not shut down the festival, but staged checkpoints.

Only an estimated 3,000 people attended the first two days, however crowds grew to 6,000 at the end of the festival for Seals and Crofts and Richie Havens. As was the case with many other prominent outdoor concerts at the time, thousands snuck in without paying. Some crazed attendees went out of control, resulting in drug and gun crimes. In addition, the indoor tennis court bubble was reportedly ruined. 244 concert goers were arrested, while charges were pressed against three concert organizers (including Friedlander). Charges against the organizers were later dropped, in lieu of the companies agreeing to pay fines.

Unfortunately for this phase of Evergreen Valley, the concert was the last hoorah. One week later, Friedlander announced the resort was closing.


First Closure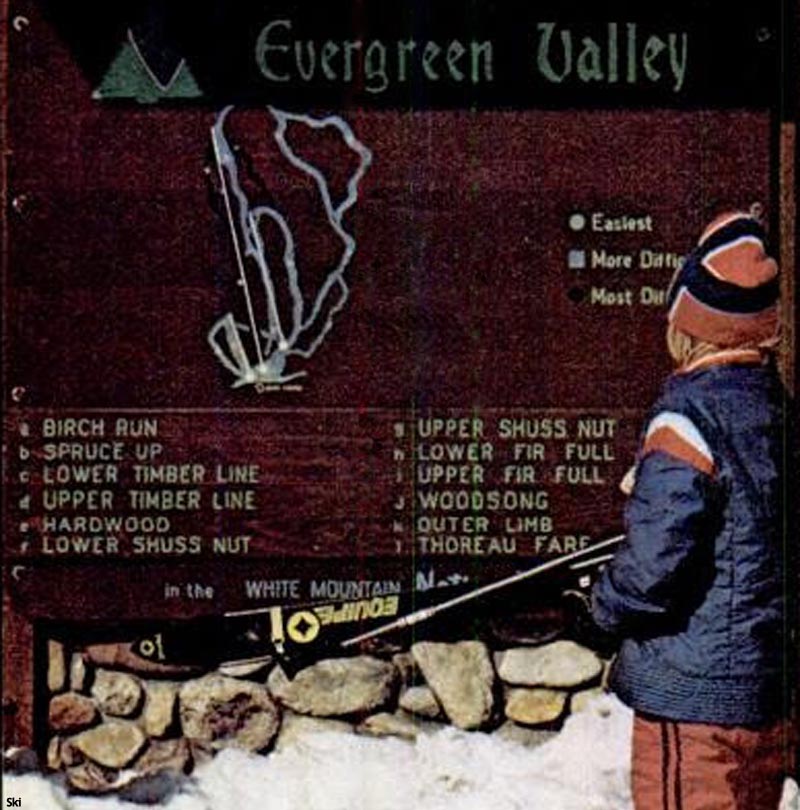 Evergreen Valley in the 1970s

The Maine Guarantee Authority commenced foreclosing procedures in the fall of 1975, resulting in the ski area sitting idle for the 1975-76 ski season. Evergreen Valley hit the auction block for the first time in January, as the Maine Guarantee Authority acquired the area for $1 million with state taxpayers taking an estimated loss of $3 million to date. The Maine Guarantee Authority quickly sought a buyer, initially working on a deal with Fairview Wine Company.

After the deal with Fairview Wine Company fell through, Stoneham voters were presented with a proposal to have the town bid on the resort, which they rejected at a special town meeting. Subsequently, Rupert Aldrich, Henry Paradis, and Bruce Williams outbid an unnamed Boston group, offering the Maine Guarantee Authority $1.25 million. Alrdich was a Norway attorney, Paradis the owner of the Country Way Restaurant in South Paris, and Williams the co-owner of the Windrifter Restaurant and Motel in Wolfeboro, New Hampshire. The group planned to fund part of the purchase with condominium sales, while leasing the ski area to an operator, placing Paradis in charge of food and beverage, and putting Williams in charge of the inn. At the time, Aldrich stated, "I don't think this will be a real money-maker until you build another hotel or motel here."

After acquiring the resort that fall, a further roadblock was encountered when the new owners discovered much of the non-attached equipment and furnishings had been removed when the ownership was disputed. Nevertheless, the area was able to reopen for the 1976-77 season. Aldrich became the sole owner in August of 1977.

After reportedly having a non-functional snowmaking system from the get-go, Evergreen Valley boasted that its snowmaking was operational for the 1977-78 season, covering a small portion of the area. Ironically, the winter of 1977-78 had above average snowfall. A Ski magazine review stated, "The skiing, over a 1,050-foot-vertical drop, is deceptively good. What appear as a few short, open runs turn out to be a dozen choices, some of them genuine trails, all of them scenic delights."



Another Missed Season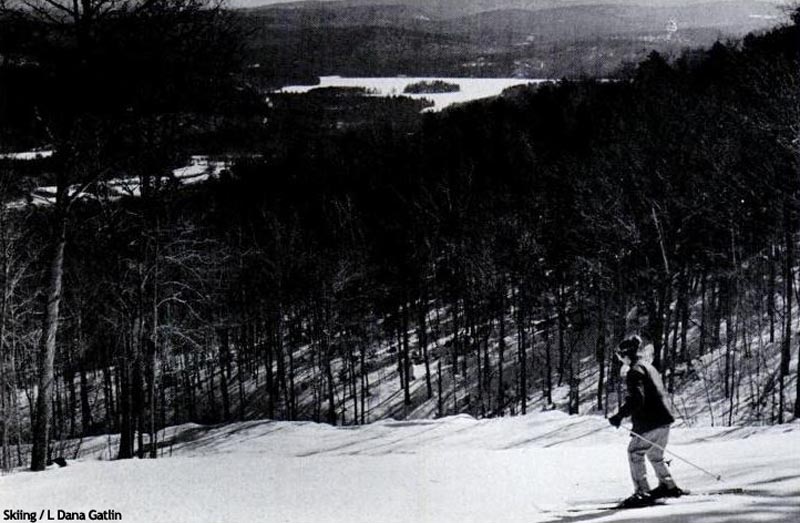 The Woodsong trail in the 1970s

A spokesperson for Evergreen Valley told Ski magazine that "people didn't get as much skiing as they wanted" in 1978-79, so he was expecting a good winter in 1979-80. A new cross country ski center was touted, including a loop from the top of the intermediate lift. Though night skiing was improved, publications no longer advertised snowmaking capabilities at Evergreen Valley. As a result, despite the hopes and investments going into the season, a lack of snow resulted in the area not operating that winter.

Following the rough winter, Rupert Aldrich declared, "It's been profitable, other than this winter, when the lack of snow hit all Maine ski areas hard. But I'm going on 73 years old and I've got other interests." An initial agreement to the sell Evergreen Valley to a group led by Albert Hollis's Bradstone Development corporation was announced in August. Though the prospective owners had plans to develop new time share condominiums and complete the golf course, the deal fell through in the fall of 1980.

To compensate skiers for the 1979-80 closure, Evergreen Valley honored those season passes for the winter of 1980-81.

The Maine Guarantee Authority started foreclosure proceedings once again in 1981.

In early 1982, Ray Denger, Brad Gilton, and Rodney Reed entered into an agreement to purchase the area from Aldrich. Reed was then arrested for fraud (involving the earnest money he put down on the deal), resulting in that transaction falling through. Denger and Gilton then attempted to buy Evergreen Valley without Reed, but were unable to obtain financing. Soon thereafter, Evergreen Valley filed for Chapter 11 bankruptcy. At the time, the company had failed to pay property taxes for two years and was facing electric and telephone disconnection.


Third and Final Closure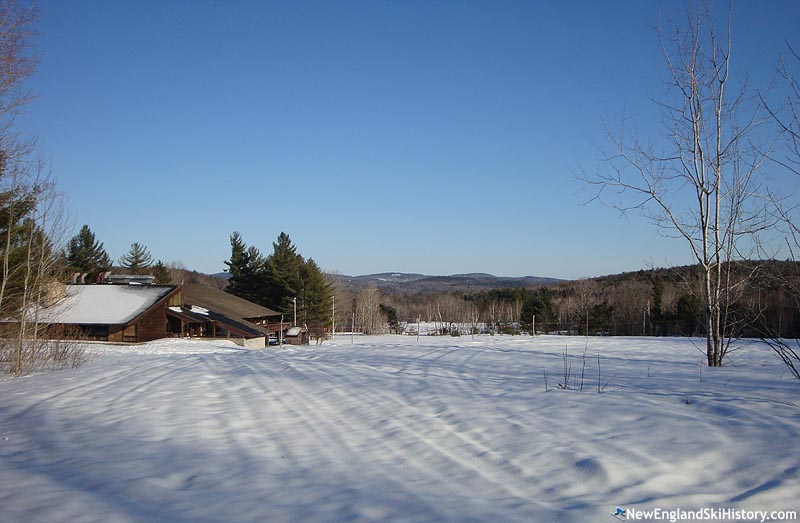 The base area (2009)

The ski area obtained a $75,000 loan in the fall of 1982 to try to continue operating. Whether or not the area had enough funding to open, December and early January were once again warmer than normal and virtually snow free. With no ski revenue coming in at the time the loan was due in early January, Evergreen Valley was facing liquidation. The Maine Guarantee Authority purchased the resort for $500,000 at public auction on May 25, 1983.

Offseason functions continued for at least a short time, including the lodge and pool hosting Rumford High School's senior party in June. However, in October of 1983, the guarantee authority, now operating under the name of Finance Authority of Maine (FAME), voted unanimously to close the resort that fall.


Attempts at Reopening

FAME agreed to sell the resort to Richard Shain and Leonard Zimmerman's Valley Recreation Corp. for $1.6 million in June of 1984. Valley Recreation Corp. intended to reopen the ski area for the 1984-85 season (with future plans to build a hotel and host concerts), however it ended up backing out of the October 31 closing when it discovered defects in the property title.

In March of 1985, Zimmerman agreed to purchase Evergreen Valley from FAME for $1.725 million, with a closing date of May 7, 1985. Shortly after the deal was disclosed, another bidder, George Guinane, filed suit to block the deal, claiming tampering with the sealed bid process, based upon his $1.6 million bid on the property. The suit was ultimately dismissed, resulting in a revised October closing date between FAME and Zimmerman. A planned 1985-86 reopening was announced by Zimmerman in August of 1985. The deal did not close, resulting in Zimmerman forfeiting a non-refundable $222,000 deposit.

In February of 1986, former Maine Guarantee Authority board member and Oxford Plains Speedway owner Robert Bahre entered into an agreement with FAME to purchase the resort. On May 12, 1986, Bahre purchased the area for $1.35 million. While Evergreen Valley was rumored as a possible site for a casino, Bahre later went on to develop the Oxford Casino in 2012.


Chairlifts Removed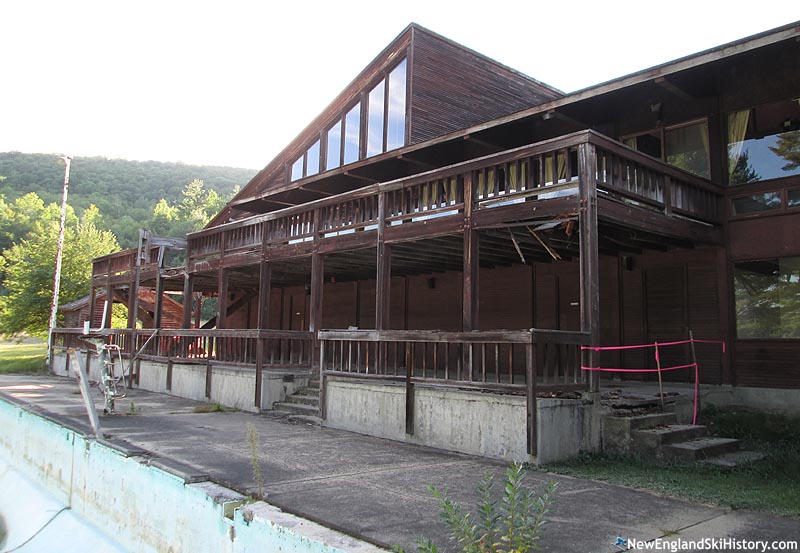 The base lodge (2014)

The lifts were likely removed per US Forest Service orders in the early 1990s. The lifts were purchased by Big Rock ski area, two of which may have been resold.

In 2009, the resort was listed for sale for an estimated $2.8 million. Word emerged in 2017 that Harold Brooks was planning to purchase the property for his Redneck Blank Pig Roast and Music Festival. Local opposition followed, resulting in a change of plans. On December 4, 2017, Ray and Tina Gilliuan purchased a 260 acre tract, including the ski lodge, from Bahre. Brooks remained involved in the project, being Tina's brother. Possible uses for the property may include turning it into an event venue.

With the lifts removed and the US Forest Service lease long expired, it is unlikely that Evergreen Valley will ever reopen as a ski area.



Image Gallery






Lifts
Click on lift name for information and photos




Maps


Year by Year History
Adult Weekend Full Day Lift Ticket; Adult Full Price Unlimited Season Pass

1980s
Ticket Price
Season Pass Price

Pass Payback

Opening Day

Closing Day

Skier Visits

1981-82
$12.00
$220.00
18.3 days
1980-81
$12.00
1979-80
$9.00
1970s
Ticket Price
Season Pass Price

Pass Payback

Opening Day

Closing Day

Skier Visits

1978-79
$8.00
1977-78
$8.00
December 9
1976-77
$8.00
1974-75
$8.00
$140.00
17.5 days
1973-74
$8.00
1972-73
$7.00
December 16
Visitor Memories
"So that's what it was, that asphalt that I thought had to be a tennis court. A indoor tennis bubble... how did the concert goers destroy or damage it? "
CJ Libby, Nov. 7, 2022
"I GREW UP SKIING EVERY WINTER IN THE 70'S AND 80'S AS A KID. lOVED IT. "
TRACY PAVLAS, Oct. 24, 2022
"I worked on building the condos above the Evergreen Inn in 74. The complex was amazing. I did ski there once. My wife and I were in the area on 8/7/22. We took a drive through the area saw the Inn and the condos the rest of the area is all over grown saw the lodge, overgrown and falling apart in the day it was beautiful. I knew it was closed, but it was so sad to see what the area looks like now."
William Soper, Aug. 7, 2022
"I've read all of your comments, and I agree with all of you who would love to see it as a ski area again, but unfortunately, the slopes were leased from the National Forest and they will not allow that to happen again. They can only lease out so much property per year, and they are usually long leases. Oh, well...it was fun while it lasted!"
Pamela Lord Bliss, Jan. 29, 2021
" Around the year 2000 I hiked up the mountain with a friend who in search of a mineral deposit that he read was discovered many years ago.When we came upon the ski lodge we had one of those (blast from the past moments.) As we gazed trough the window we noticed a menu on the wall with prices in pennies for burgers,hot dogs and beverages which gave a clue as to how long it had been since the place had operated."
Don Ernst, Jan. 24, 2021
"I think i might have had it the best only because my family was broke as hell but my dad ran the bar and my mom did ticket sales. you want to talk about run on the place i am the only child i know of that rode those chairs by myself mind you i was born in 75 so i must have been 4 to 6 give or take plus i was the kid with no polls a typical winter would go into the rentals grab my stuff go do runs and i skied every bit of that hill then go into the kitchen ask leon to make my food then go play arcade until dinner summer was even better my neighbor ran the stables so whatever horse i wanted and i even entered a Barrel race and got ribbons as well as slalom damn i misss that place i went up a fee years back was able to get in because the doors were rotted out found my dads timecard in the drawer at the bar broke down and cried my dad has passed but it was one of his fond memories."
Shawn Mclaughlin, Nov. 24, 2020
"I grew up on Evergreen Valley! We skied almost everyday as most of us local kids held passes. I remember the concert, attended with my cousins, learned a lot in those 3 days! Our FA Senior Prom/dance was held at Evergreen! We had some great times there, many fond memories-so sad when it closed and had to watch the deterioration over the years."
Lori Stacy, Oct. 19, 2020
"My father, Ervin Lord, was one of the original local men who tried to come up with a way to keep the local kids here, give them jobs and an honest living. Too many kids were leaving the state (the same as now) for jobs. Yes, he and the other people involved were big dreamers but at least they tried. Some of the original folks involved were Jr. Barker, Mac McBrearty, Hallie Harriman, Luke Evans, Bob Littlefield, Archie Lorton,Wilfred Conary, Neil Dow, John Flynn, Frank Kenniston, Wallace Knights, William Severance and Abel Thurston. I am disappointed in a couple of comments here referring to the original directors as incompetent and their vision "A monument to stupidity, and to hope over reality." You have no idea how hard these folks worked to make Evergreen a reality. They started around 1961 and saw it through to fruition with the help of the Maine Finance Authority and many private investors. I worked there from the day it opened in December of 1971 until it closed in March of 1983. I then worked at the Inn for several years after that at the desk. We made lifelong friends there, we all grew up together, raised our families and had a blast there, along with heartbreak. This was my family's life for many years. We always had hope that things would turn around and Evergreen Valley would become the success we all worked towards, but because of circumstances beyond the employees control, it was not to be. I feel very lucky to have worked there in the glory years, when the skiing was great, the dining room was hopping as well as the nightclub and inn. We had so many great years there, and that's what I will always treasure."
Pamela Bliss, Apr. 28, 2020
"I've always enjoyed the quiet beauty of Evergreen Valley. My father and I would visit every so often from the Stone House Farm during the late 80's and early 90's. The chair lifts were still there. We would even sometimes ride ATV's over from Rattlesnake Mtn. to Adams Mtn. "
Stone House Farm LLC , Oct. 14, 2019
"Reading some of the comments, I see some memories are a little faulty. My family built a summer house on Kezar in '72, and I skiied at EV a few times in the early 70's, right after it opened. Then I worked there the summer of '75, before my last year of college. I ran the day camp, was hired by Jim, forget his last name, who ran the tennis program and some of the outdoor summer stuff for the Friedlanders, he ran adult ed at Lakes County Regional the rest of the year. I think the day camp was set up primarily so the Friedlander kids would have some stuff to do, but they offered day camp to kids of people staying at the resort and to summer people from the lake too, I think by the week. Betsy Alden, who had just graduated from Trinity, and whose family summered on the Lake, worked at the camp too, as did a couple of local high school kids, maybe one of the Davey girls. We had the run of the place, used the marina stuff for sailing and canoes and fishing, used the tennis courts, and the pool and the stables. It was great. Took the kids on hikes up Adams and Sabattus too. Late that summer, a folk/rock concert planned for somewhere, I think in Rhode Island, lost its permits and it got moved at the last minute to Evergreen, they were doing everything they could do for some revenue. My recollection was that Rob Friedlander and family was in the distressed property/business arena, they would buy stuff cheap and sell off the parts, but at first I think they tried to make a go of it at Evergreen for a couple of years, but by '75 they were done putting money in. The concert had virtually no planning, little time to set up, and virtually everyone who worked at EV worked the concert, front gate, security, food, you name it. 20 hours a day leading up to it and during it. People were camped up the hill above the lodge and all over the golf course, the stage was set up facing the hill. the acts stayed at the condos or in the inn. They included Richie Havens, Poco, Seals and Crofts, and Rambling Jack Elliot from Dylan's Rolling Thunder review. I think he had one of Dylan's young kids with him. Also some less known acts, including the White Mountain Blend, a popular local band at the time. The concert was pretty much out of control, a mini Woodstock, no one in charge. People swimming in the snow making pond, "don't eat the green acid" announcements from the stage, fires all up the hill at night (Forest Service folks out of their minds), medical tent full and understaffed. Rock stars stoned out of their gourds in the pool. Some one climbed up the outside of the tennis bubble a few times and inserted a knife and slid down, making huge cuts. Don't think it ever was fixed or re-opened. Another group got busted bringing in a rental box truck full of beer to sell, the back way over the cold river road from Rt 113. Maybe 15000 people showed up over the 3 days, just a guess, maybe more, no one knew. A lot snuck in through the woods. All in all, it was a ton of fun, I was just 22, I had a ball. One of my jobs was to take the members of Poco horse back riding before they went on that night, and try to keep them more or less sober, and also to bring Richie Havens a new bottle of whiskey every few hours, before and after his gig. A few weeks later, Friedlander threw in the towel and sold off pretty much everything that wasn't nailed down, I had an EV ski patrol jacket I used for a few years that I bought at the fire sale for a few dollars. Bankruptcy was filed shortly thereafter. I have been up there many times over the years, watching the lodge slowly melt back into the landscape. One year the pool was full of pollywogs and frogs, another year it had numerous goldfish. the various owners after the Freidlanders were quite a collection of grifters and con men, from Bob Bahre to the guy who wanted to extract spring water for sale and run dozens of trucks over the access road. and the latest group who apparently want to do some kind of campground and events. Its been a tragi-comedy for a long time. Was mis-thought from the beginning, not enough of a mountain to attract a following, not enough infrastructure there or in the area, too hard to get to, especially in the winter. A monument to stupidity, and to hope over reality."
Peter Fenn, Aug. 28, 2019
"Telstar High School class of 1980 ! We had our senior class party there it was an awesome time! My husband and just rode over there this pas weekend and it is so sad to see it in such dis repair 😢 "
Loretta Powers, Jul. 29, 2019
"The summer of 1974 I was the pianist for 'The Troupe' of singing waiters and waitresses. Pippin was one of the popular musicals on Broadway that summer so our opening number was "Magic To Do". Rob Friedlander was at the height of his developer role and we were his 'pet project'. Lots of fun memories. I tried to sell the 10 condos that were built slopeside but, because none of them had saleable titles at that time, I didn't sell any. I was also the EGV Innkeeper and enjoyed my only 'season pass' the winter of '74-75. It was a fun mountain to ski. Greetings to my friends-members of the 'Troupe' who might be reading this."
Kent Howard, Mar. 15, 2019
"Went there a lot as a kid, late 70's early 80's loved the skiing, horse back riding, and broom hockey. The trails were great, real shame it didn't survive! "
Sean Dever, Jul. 20, 2018
"Anne Aldrich (owners daughter) took me from the coast of NC to Maine for the summer. It must have been about 80 or 81 I worked at the front desk and in the dinner room and on the cleaning team. That was the best summer of my life. I met some awesome folks. Including the Aldrich family from Norway Maine. Thank goodness for a memory I will have forever. Donna Stanton Williamson Holden Beach NC "
Donna Stanton, Feb. 28, 2018
"I recently got a little lost driving home from Evans Notch and found myself at the base of Evergreen Valley. It was so cool seeing the old lodge and the memories of learning to ski during school vacations. My church group from Lynn Mass used to stay at Nygren's Camp and ski all five days. Wonderful memories of such simple times, great people and enjoying the outdoors. It's great to share this with others who also have a special place in their hearts for Evergreen Valley."
Ellen Parker, Aug. 28, 2017
"keg&Slice? Rember it well. Butch Kavanagh ran it at one time and told me that I was going to turn into a piece of pizza. My sister Bonnie worked there one season. Us locals called that area the brown bag room. Mastered the Asteroids machine. More memories than I can type. "
Scott Beaudoin, Aug. 26, 2017
"My parents met each other working at Evergreen Valley! They've been married 41 years this August! "
Erin Kavanagh, Jul. 14, 2017
"evergreen valley will always be a part of me ."
scott beaudoin, Apr. 22, 2017
"I learned to ski there in the 70's and in 79 worked at the Keg and Slice downstairs in the lodge. Anyone remember that place? I would ski during the day and work at night. Those were the days!!!"
Susan Brown, Apr. 21, 2017
"Like my brother Joe, I have many fond memories skiing there with our dad and our sister Sara too. Sara and I composed a song, "Undercover Mogul" -- kind of a country-rock number, that we liked to sing on the lift up. Skip was a great instructor, encouraged me and improved my mogul technique. I never had the guts to do inverted aerials, but he brought us to a few freestyle competitions at Pleasant Mt. and maybe Mt. Abram and I felt the thrill of trying to do a good line of moguls or my routine at ballet for the judges. Those were fun times and I've since taught my two kids to ski and skied in France and out west in Utah. You never forget where you learned though. There were some cold days and you really had to want to be out there -- and we did. Sad that EGV's owners seem to have had a bit of an Ozymandias complex and couldn't just go with "Thoreau Fare" and keep things simple. Hindsight is 20/20, I guess."
Jon Delogu, Mar. 18, 2017
"I have terrific memories of EGV. I skied here (when it was open) from the early 70s through to the early 80s. My dad had one of the time share units. I took classes from Woody and Skip. We tried to ski every weekend in the winter - and almost all of it was at EGV. Sadly, with climate change in full force, I don't see how a small resort like this can ever be successful again for skiing... just look at the trouble Saddleback is having at recreating itself. That said, I still have the memories, and the love of skiing - which I now travel to SLC for : )"
Joe Delogu, Mar. 18, 2017
"My first husband's grandfather Rubert owned the place we had gone up a couple of years ( 79 & 80) for the New Years Eve party. My oldest was born 9 months later in 1980 and the following year learned how to climb stairs in one of the timeshare condos. Lots of fond memories of the lodge"
Pattie Glavin Bourque, Mar. 1, 2017
"Spent a lot of time there my father Bud Bowley was the caretaker there for some years and lived in the old farm house. He has since passed away I think he would be saddened if he saw it now as I am."
Jeff Bowley, Feb. 13, 2017
"I learned to ski there when I was 3yrs old. Must have been 1977. With my dad. I remember standing in between his legs and going down the slope. I've been skiing ever since. We used to spend February vacations in one of the timeshares. When I got my driver's license, one of my first rides was finding my way to evergreen. I walked up one of the overgrown slopes and carved my name in one of the trees. Miss those good old days. "
Andew Crockett , Jan. 9, 2017
"Generations of my mothers family (Adams) were born and raised in the farmhouse that was located close to where the tennis bubble was. I my mother was the last to be born there. My father worked there building the golf course and continued to work there after opening. I would go there to ski and use the pool. I learned to ski on the "bunny slope". I find it terrible to see what is there now and how it is neglected. Fond memories!!!"
Andy Thompson, Sep. 11, 2016
"We used to go sledding there in the mid to late 80's, and we went fishing with our youth group. I remember going sledding, and being one of the few people that went to the top of the slope just in front of the lodge, and starting from the ski lift hut to sled down. I ran into someone who decided to set up at the halfway point right in front of me, and it was a total yard sale of sled, inner tube, and people. Great fun!"
Heather America, Jul. 19, 2016
"I attended the concert there in the summer 0f 72 or 73. It was put together hastily after the promoters lost there site in New Jersey. It was a bit chaotic because of the lack of permits if I recall A lot of State and Local police at the gates. The Eagles were the headliner but never showed. Poco and John Prine and Richie Havens were the highlights and a whole lot of other bands over 3 days. A great time and never forget the black car in the sand pit. "
Jay Dee, May. 9, 2016
"i worked in the kitchen there in the mid/late 70s for a while. someone earlier mentioned attending a concert there - i remember that, too. it was outdoors, and if my memory is not TOO fuzzy (c'mon...it was the 70's!), i think i recall the White Mountain National Blend being there, and maybe (as the guy mentioned) the Eagles played, too, or at least some band did a really good job covering some of their songs. a lot of bands were there, though, and some good ones, too."
Bob J., Apr. 11, 2016
"I remember when it was being developed,my Grandfather took me for a ride one Sunday afternoon so to see the work going on. It was a beautiful sunny crisp day! I'm from Fryeburg and I miss those days! Good memories! "
Kathy (Gilman) Defiore, Oct. 30, 2015
"My wife's grandparents owned the old farm on the Evergreen property who sold it to the developers. (Thurstons) She remembers many a wonderful summer spending time up there with aunts and uncles playing in the forests and streams. I grew up in North Lovell and did some work there as a teenager for the local people who were the early developers of the property. We also pastured a beef cow on the Thurston farm on occasion. I don't know what saddens me more to see it sitting vacant or to see this what was once a quiet remote mountain valley covered with the ruins of humanity. "
Neil Wilson, Oct. 28, 2015
"My mother owned a timeshare unit that we went to every February school vacation week. We would ski the mountain for a $20 weekly ski pass. We would ski from the back of the inn down to the main lodge and lifts. We still go back to visit at the inn every year. So sad to see the trails over grown and lifts gone. The main lodge is in sad shape with rotted and caved in decks and broken windows. As a child i thought the lodge always looked massive and majestic. "
Karin Lawler, Mar. 23, 2015
"I was a member of the ski school the first year Skip Meaker was ski school Director. Woody Woodward's daughter was also a member of he school along with Debby, Barbara, Sandy (he was a harbor pilot in Portland)I remember a nice staff party when Rodney Reed was giving out time shares as prizes. He was arrested soon after that. My wife, Faye, and I still talk about all the pleasant memories we have of that place. "
Richard Pelletier, Dec. 17, 2014
"We bought our family timeshare when Rupert Aldrich owned Evergreen Valley. Our family spent numerous wonderful ski vacations there and clung to the hope that someday it would return to its's former glory. The lodge was the most beautiful one that I have ever seen. When the mountain closed, we would drive to Sunday River to ski with the hope that someday it would re-open. To hear it probably will never re-open makes me very sad."
Elaine Scarfo, Nov. 2, 2014
"I worked on the main lodge for about a month in the fall of 1970. I had recently left the military and they were paying around $4.00 per hour . That was about twice as much as most of the other jobs were paying at that time. Sorry it never turned out to be a thriving business."
Royce Rankin, Jul. 31, 2014
"I attended a country rock concert at Evergreen Valley and was trying to figure out details of the show. I was thinking that New Riders of the Purple Sage was on the bill, or maybe it was the Eagles? I'm searching for any information about it if anyone can help. Thank you."
Ken Lipshez, Jun. 23, 2014
"to Ayden DeSanctis, if this came on the market I would be very interested in turning this into a ski mountain again. herd somewhere they tried selling it in the 90's for 550 grand?"
Isaac Seigle, Jun. 2, 2014
"I skied it in 2014 very grown in I hope someone will buy it and make it a ski resort again"
Ayden DeSanctis, May. 27, 2014
"I was a ski instructor at Evergreen Valley back in 1974 when Woody Woodward was director of the ski school. (What an amazing man Woody was!) I was fresh out of college with a Liberal Arts degree and no clue as to what I wanted to do, except ski! So off I went to live on Kezar Lake and work at the mountain. It was a good year for me, but I had no idea the area was struggling so much. I've often wondered what happened, and now I know. It's so sad, but the good times remain in my heart."
Paula Hatch, Mar. 26, 2014
"My Great Grandparents owned that land many years ago. They were Gammons and McKeens. If I could, I would buy the property back and offer it to my Grandaughter Brogan Horton for her animal Rescue . What a nice and peaceful place for abused animals to be rehabilitated and renewed. I have pictures of the old farm and the area. I love to visit 'The Old Home Place'."
Betty C. Horton, Mar. 1, 2014
"As a child, my family vacationed at Evergreen Valley. My grandparents took my mother and her siblings to ski and enjoy it as children and kept their timeshare after the ski lodge closed. We may not be able to ski, but my husband and I are now carrying on the tradition of vacations and long weekends in the mountains. This is easily one of the most beautiful, relaxing places in Maine! We look forward to our next stay!"
Anna Grant, Feb. 10, 2014
"My grandfather Rupert was a very hard-working and honest businessman. He did everything he could to save Evergreen. I worked for him for the final two years along with my Aunt Annie. Rupert lost his fortune but he loved to watch people enjoy themselves at his resort. He lost a leg due to cancer at the age of 18 but never stopped fighting to realize his dreams. I never met anyone who had nothing but nice things to say about him. His legacy of diligence and determination continues to inspire me when I face difficult times. As a child growing up my gramps was my hero and I still miss him very much. I hope to see him in heaven some day. A place where there is no pain or sorrow. "
Mike Aldrich, Jan. 25, 2014
"My father started taking us there in 1980. He still has his membership today. It was during the summers but I remember the the pool, restaurant and horse back riding in full swing. He was going to have a week in winter too so we could start skiing but the trails never reopening. I used my dads week in July 2013. It was great to be back after almost 20 years. It was also disappointing to see the deterioration of pool and clubhouse. I hope one day EVG finds some measure of it's former glory."
Tim Maddocks, Jan. 24, 2014
"My father ski'd here in the 1970s. I hiked to the top and ski'd down in 2010. It was pretty overgrown then. Unless anyone does some tree-trimming I may be one of the last to ever ski it!."
Gus Crothers, Nov. 29, 2013
---
External Links
Last updated: December 13, 2022