Carinthia
West Dover, Vermont
Status:
Merged
First Season:
1960-61
Last Season:
Vertical Drop:
1000 feet
Standing Lifts:
Past Lifts:
2 doubles, surface lifts
Left: The Carinthia base area in 2005
Recent NewEnglandSkiIndustry.com News:
6/7/2016: Mount Snow Removes Ski Baba Chairlift
Currently a trail complex at Mount Snow, Carinthia operated as a standalone ski area for about a quarter of a century.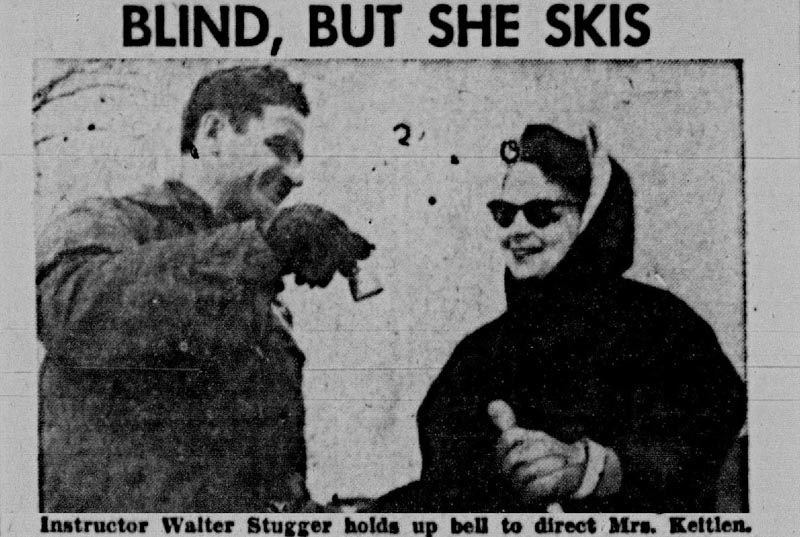 Walter Stugger teaching a blind skier in 1957

Walter Stugger was born on January 27, 1922 in Villach in the Austrian state of Carinthia. Following World War II, Stugger became a professional ski instructor in Austria. Later in the decade, he began playing competitive tennis, reportedly becoming one of the top ten players in Salzburg, Austria.

Stugger came to the United States in 1953 at the urging of Mittersill owner Baron Hubert von Pantz, who was looking to bolster his resort's tennis offering. Stugger eventually settled into the Pittsfield, Massachusetts area, quickly becoming a top tennis player. During the winters of 1954-55 and 1955-56, Stugger taught at Orla Larson's Canadian Ski School at Mt. Snow.

Reportedly using a $500 loan from a ski instructor friend, Stugger purchased a tract of land off Handle Road near Mt. Snow ski area in 1956 with the goal of developing his own ski area. Stugger soon made an inquiry with the Forest Service to acquire a special use permit above his land.

Later that year, Stugger was named ski school director of Bousquet, a position he would hold for three years. After spending the summers developing trails on his property (including teaching himself how to operate a bulldozer), focused on his development full time starting in 1959, incorporating Carinthia Ski Area, Inc. in March. Meanwhile, Mt. Snow increased its Forest Service leaseholding from 544 acres to 912 acres that fall, including the land Stugger had inquired about.



Private Ski Club Origins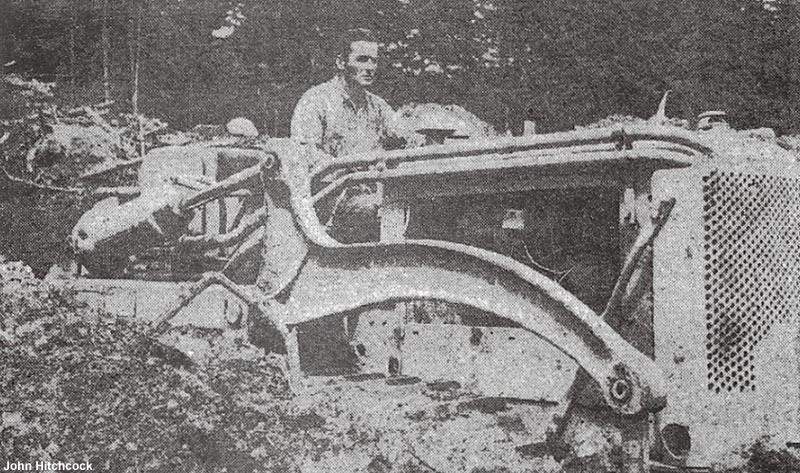 Walter Stugger operating a bulldozer

Named after Stugger's native Austrian province, the Carinthia proposal was advertised as a quiet, uncrowded family experience. The Hartford Courant quoted Stugger in 1959 as saying, "[W]e will concentrate on the refinements of skiing, soft snow, good friends, fine food, and a Continental after-ski life." Stugger would later tell Skiing magazine that "if I could have a small area, and it could support itself, that's all I wanted."

In early 1960, Carinthia applied for a special use permit for 154 acres of land above the property Stugger had purchased. The application was rejected, as Mt. Snow had recently received a permit for the same tract. Construction of Carinthia's T-Bar took place later that year, with a top terminal located just above the private property line. A long term battle with the Forest Service ensued, though Mt. Snow eventually relinquished the half acre tract where the T-Bar had been constructed.

For its debut season of 1960-61, Carinthia offered two trails dropping an advertised 750 vertical feet (in reality closer to 570 feet), served by one of the longest T-Bars in New England. In addition, a rope tow served a novice slope below the main ski area. With lodge construction continuing through the winter, temporary bathrooms were set up, with visitors being invited to Stugger's A-frame house near the base area to boot up. Annual memberships were offered for $60, while weekend day tickets could be reserved in advance. In a time when other regional ski areas had huge weekend lines, Carinthia's club-membership set up kept crowds to a minimum, a concept Stugger labelled as "lebensraum," the German word for "living space." The season extended into April.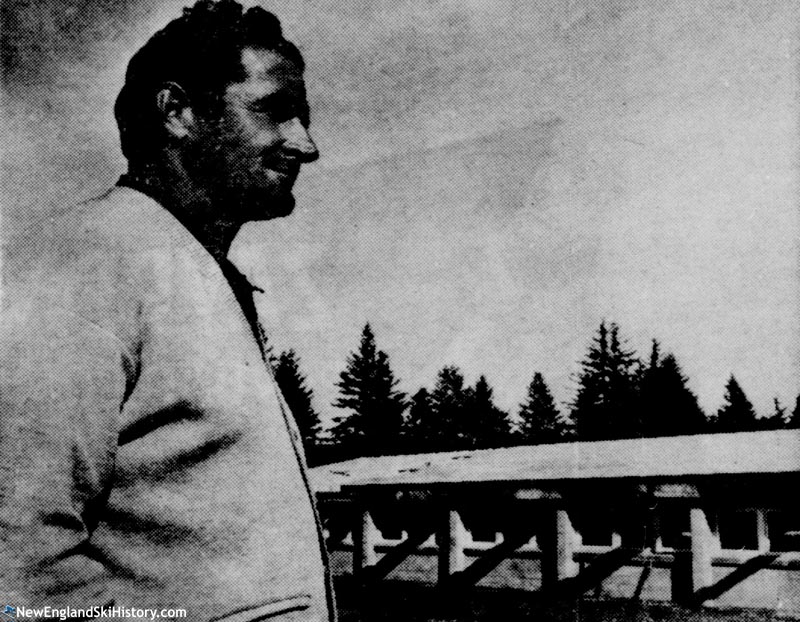 Walter Stugger and the base lodge circa 1961

Dutch Hill ski school director Michael Catrambone was recruited to become Carinthia's general manager and ski school director for the sophomore season (he would depart in 1963 to work at the new Petersburg Pass ski area). The trail count grew to four, including the export Iron Run, named after the two Civil War-era iron mines it weaved through. The first floor of the base lodge was completed at a cost of $70,000, while additonal floors and wings were planned. The season once again stretched into April.

Night skiing was offered starting circa the 1963-64 season.



Upper Mountain Expansion Battles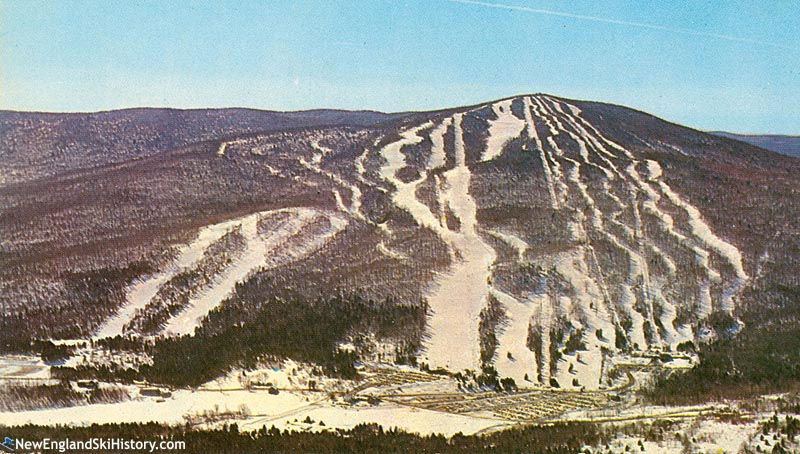 Carinthia (left) and Mt. Snow circa the 1960s

In February 1965, Carinthia requested a Forest Service permit for 350 acres, on which it hoped to install up to three new lifts. In part because it conflicted with the permit already granted to Mt. Snow, the application was rejected, resulting in a prolonged series of appeals.

In June 1969, Stugger married Diana Sprague, daughter of Sprague Electric Co.'s Robert Sprague. Stugger later reflected, "because of Carinthia, I met my wife...I'm a very lucky man."

A new trail may have been cut circa 1970.

Stugger continued to fight to get a Forest Service permit, going up the bureaucratic ladder to the Secretary of Agriculture. The Forest Service escalated the battle to envelope proposals for Haystack and Mt. Snow, resulting in a plan that would block sought-after expansions by all three areas. At an April 1976 meeting, the Carinthia-Mt. Snow dispute was escalated when Mt. Snow's attorney stated they would not contest the Forest Service's denial of its Cold Brook expansion plan, as long as the Forest Service blocked Carinthia's plan.

In May 1977, the Forest Service issued a revised land use plan, allowing Carinthia to expand onto 71 acres of National Forest. Meanwhile, Mt. Snow was acquired by the ownership of Killington, which subsequently developed a better relationship with Carinthia.

With a nearly two-decade battle finally won, Carinthia made plans to install two chairlifts for the 1978-79 season. Financing for a small ski area was not easily obtained, so Carinthia didn't enter the chairlift age until the 1979-80 season, when it installed the novice Ski Baba double chairlift.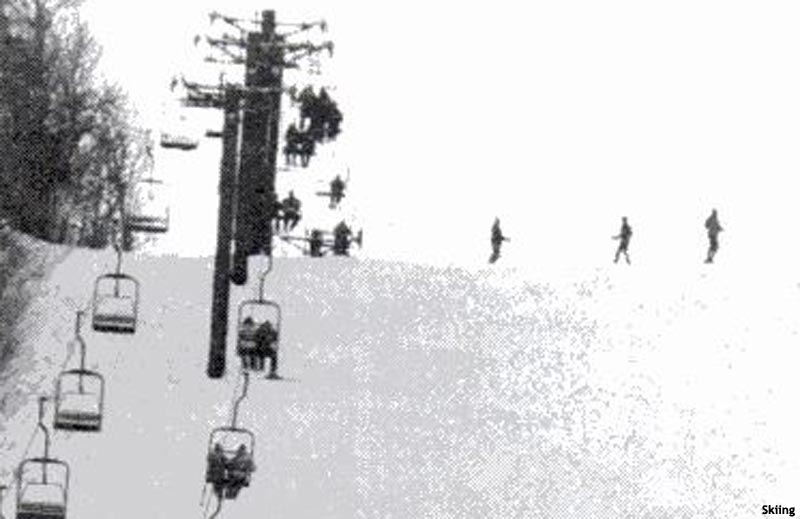 Carinthia double chairlift circa 1984

Struggling through the rough winters of the early 1980s, Carinthia incrementally worked on cutting upper mountain trails, which were to be served by a bubble chairlift. A new (non-bubble) double chairlift was finally installed to the then-new-top of the ski area for the 1983-84 season. The price tag for the expansion was reportedly $1 million.


Mount Snow Purchases Carinthia

After running into financial struggles, Carinthia was purchased by Mount Snow on April 28, 1986. The trails were connected to Mt. Snow for the 1986-87 season, marking an end to Carinthia's standalone era. Snowmaking was also installed that winter, bringing Carinthia to the modern age. Two decades later, the summit double was replaced with a high speed quad. The final remaining lift from the standalone era, the Ski Baba, was removed in 2016.

Stugger and his wife received a warm welcome at Mt. Snow in 2017, as they toured the redevelopment project at the Carinthia base area. Seeing the change to a large terrain park area, Stugger remarked, "Kids do those today. When I was young, I would have done those jumps."

Stugger passed away on November 25, 2018 at the age of 96.



Expansion History

Project

Season

Northwest Area
Cancelled

1980s

Upper Mountain
Open

1983-84
Image Gallery
Lifts
Click on lift name for information and photos
Maps
Year by Year History
Adult Weekend Full Day Lift Ticket; Adult Full Price Unlimited Season Pass

1980s
Ticket Price
Season Pass Price

Pass Payback

Opening Day

Closing Day

Skier Visits

1984-85
$17.00
1980-81
$10.00
1970s
Ticket Price
Season Pass Price

Pass Payback

Opening Day

Closing Day

Skier Visits

1977-78
$8.00
1974-75
$7.00
1971-72
$5.50
1970-71
$5.50
1969-70
$5.00
1960s
Ticket Price
Season Pass Price

Pass Payback

Opening Day

Closing Day

Skier Visits

1967-68
$4.00
1966-67
$4.00
1964-65
$4.00
1963-64
$4.00
1962-63
$5.00
December 15
1961-62
$4.00
December 22
April 22
1960-61
$4.00
$60.00
15.0 days
Visitor Memories
"My family and I skied Carinthia every single Sunday for years in the mid-to-late 70s as part of the Uncle Sam Ski Club out of Albany, NY. Chick Case was the man in charge I believe. That's where I learned to ski. Lots of great memories and even a broken thumb from a nasty header one day! "
Paul Freehauf, Dec. 31, 2020
"Carinthia in it's day was such a wonderful place for me and my sister. My father did work hard to develop it. I didn't get to experience it as much as I would have liked to, since my parents divorced when I was 12. So many nice people skied there and it was like a small close knit community..I remember Bob Yovan so well. He was nicest and friendliest person there. So handsome too!. The fact that Carinthia is a great place for snowboarders if a bit funny. My Dad was not a fan of this new sport and when we skied together years later and my son was boarding, my Dad was always disgruntled about it and just didn't understand how anyone would want to choose snowboarding over skiing! Go figure...but my Dad, living up to his Austrian upbringing, was the most beautiful site on skis....."
Susan Stugger Heravi, Jan. 1, 2018
"My family skied at Carinthia from the late 1960s into the mid 80s… My father Bob Yovan patrolled there for close to 20 years with Dick Larkin. Some of the best times of my life was spent on those slopes. Walter Stuggar was a major jerk. Despite having a wonderful ski patrol crew, he was an irate, nasty, ungrateful person to deal with. Despite all that, some of the best memories of my life were spent on those slopes so many years ago."
Darren Yovan, Jun. 22, 2016
"I started skiing first time at Carinthia in the 70's. Still remember leather lace boots / cable bindings / strapsand of course the ROPE TOW !!! From there is was all up hill ... now ~ 40 years later still at it with the New Haven Ski Club ! "
Roger Milson, Mar. 17, 2016
"I love Carinthia, It is what got me into park skiing and freeriding"
Ben Collins, Nov. 5, 2014
---
External Links
Mount Snow - official site
Last updated: September 2, 2020