Carinthia
West Dover, Vermont
Status:
Merged
First Season:
1960-61
Last Season:
Vertical Drop:
1000 feet
Standing Lifts:
1 double
Past Lifts:
1 double, surface lifts
Left: The Carinthia base area in 2005
Recent NewEnglandSkiIndustry.com News:
6/7/2016: Mount Snow Removes Ski Baba Chairlift
Currently a trail complex at Mount Snow, Carinthia operated as a standalone ski area for about a quarter of a century.


Private Ski Club Origins

The origins of Carinthia date back to the mid 1950s, when Bousquet ski school director (and former Walter Stugger began developing a private ski club in the shadow of rapidly growing Mount Snow. Named after Stugger's native Austrian province, the Carinthia proposal was advertised as a quiet, uncrowded family experience. The Hartford Courant quoted Stugger in 1959 as saying, "[W]e will concentrate on the refinements of skiing, soft snow, good friends, fine food, and a Continental after-ski life." Stugger would later tell Skiing magazine that "if I could have a small area, and it could support itself, that's all I wanted."

The private ski area debuted for the 1960-61 season, advertised as a 750 vertical foot area serviced by a T-Bar and novice rope tow. Perhaps due to a lack of income, Carinthia likely started selling tickets to non-members in 1961.


Upper Mountain Expansion Battles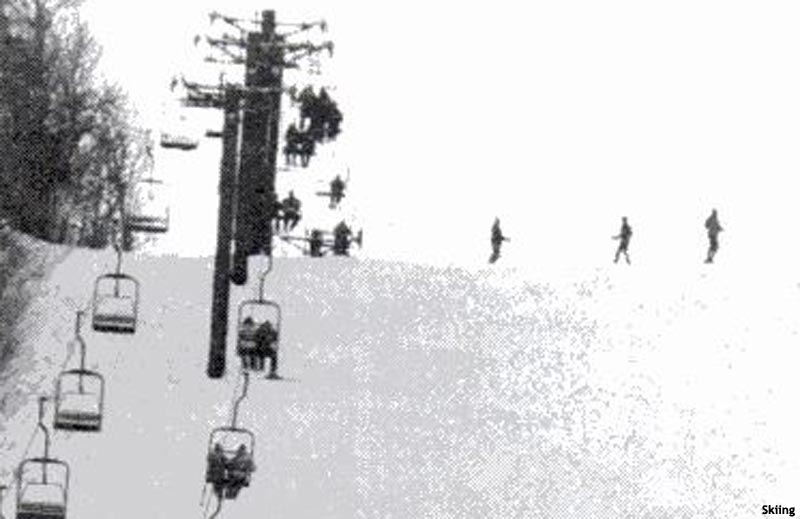 Carinthia double chairlift circa 1984

Though Stugger's original plans called for an upper mountain expansion served by a double chairlift, Carinthia soon ran into a roadblock. While the first phase build out was located on private property, the upper mountain would be located on a 71 acre United States Forest Service owned tract. Though Stugger and the USFS reportedly had an understanding that Carinthia would be allowed to expand onto the land when it had the necessary funds, the USFS awarded Mount Snow development rights. Stugger eventually won an appeal with the Secretary of Agriculture after battling for much of the 1960s and 1970s, getting the permit in 1978.

After the long battle was settled, Carinthia entered the chairlift age in 1979, when it installed the novice Ski Baba double chairlift.

Upper mountain trails were cut in the early 1980s, initially to be served by a bubble chairlift. A new (non-bubble) double chairlift was installed to the then-new-top of the ski area for the 1983-84 season.


Mount Snow Purchases Carinthia

After running into financial struggles, Carinthia was purchased by Mount Snow on April 28, 1986. The trails were connected to Mt. Snow for the 1986-87 season, marking an end to Carinthia's standalone era.

Expansion History

Project

Season

Northwest Area
Cancelled

1980s

Upper Mountain
Open

1983-84

Image Gallery
Lifts
Click on lift name for information and photos
Maps

Year by Year History
Adult Weekend Full Day Lift Ticket; Adult Full Price Unlimited Season Pass

1980s
Ticket Price
Season Pass Price

Pass Payback

Opening Day

Closing Day

Skier Visits

1984-85
$17.00
1980-81
$10.00
1970s
Ticket Price
Season Pass Price

Pass Payback

Opening Day

Closing Day

Skier Visits

1977-78
$8.00
1974-75
$7.00
1971-72
$5.50
1969-70
$5.00
1960s
Ticket Price
Season Pass Price

Pass Payback

Opening Day

Closing Day

Skier Visits

1966-67
$4.00
1964-65
$4.00
1963-64
$4.00
1962-63
$5.00
1961-62
$4.00
December 22
April 22
1960-61
$4.00
Visitor Memories
"Carinthia in it's day was such a wonderful place for me and my sister. My father did work hard to develop it. I didn't get to experience it as much as I would have liked to, since my parents divorced when I was 12. So many nice people skied there and it was like a small close knit community..I remember Bob Yovan so well. He was nicest and friendliest person there. So handsome too!. The fact that Carinthia is a great place for snowboarders if a bit funny. My Dad was not a fan of this new sport and when we skied together years later and my son was boarding, my Dad was always disgruntled about it and just didn't understand how anyone would want to choose snowboarding over skiing! Go figure...but my Dad, living up to his Austrian upbringing, was the most beautiful site on skis....."
Susan Stugger Heravi, Jan. 1, 2018
"My family skied at Carinthia from the late 1960s into the mid 80s… My father Bob Yovan patrolled there for close to 20 years with Dick Larkin. Some of the best times of my life was spent on those slopes. Walter Stuggar was a major jerk. Despite having a wonderful ski patrol crew, he was an irate, nasty, ungrateful person to deal with. Despite all that, some of the best memories of my life were spent on those slopes so many years ago."
Darren Yovan, Jun. 22, 2016
"I started skiing first time at Carinthia in the 70's. Still remember leather lace boots / cable bindings / strapsand of course the ROPE TOW !!! From there is was all up hill ... now ~ 40 years later still at it with the New Haven Ski Club ! "
Roger Milson, Mar. 17, 2016
"I love Carinthia, It is what got me into park skiing and freeriding"
Ben Collins, Nov. 5, 2014
---
External Links
Mount Snow - official site
Last updated: November 25, 2016